Automatic Liquid Filling Market Size, Growth (2022 - 2027):
The Global Automatic Liquid Filling Market size was valued at US$ 2414.95 billion in 2021 and is anticipated to reach the valuation of US$ 3624.19 billion by 2027 and is predicted to register a CAGR of 7.21% during 2022-2027.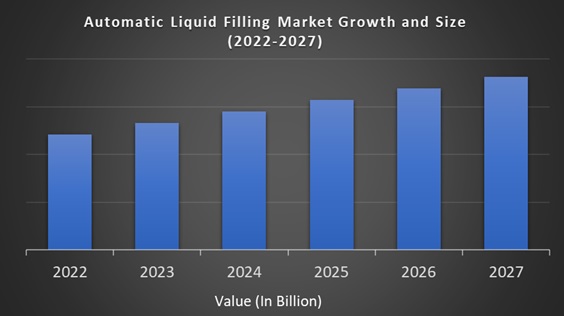 Market Overview:
The automatic filling machine is the equipment used for packaging various products like food & beverage, powder, granular, and far more. Thus the automated filling machines use different containers counting on the merchandise which will be crammed with a bag or bottle. This machine plays a vital role within the production line system, which decides the flow of the entire process. The automated liquid filling machine is typically present on facilities that are engaged in products like milk, chemicals, and beverages. These machines are utilized more dynamically within the field of products like paste, ointment, sauces, honey and lots of other similar products. Speeding up with an automatic filling machine decreases the production line time process. Moreover, there's a less possible factor of human error involved in such a device as they're entirely operated with the assistance of a computer.
With the rise within the need for optimizing the production line process, to extend efficiency, the automated liquid filling machine helps in reducing the production line process, by minimizing human errors.
Recent Developments in Automatic liquid filling Industry:
Krones' process technology solutions for plant-based drinks and other applications – live at the Anuga FoodTec in Cologne. Plant-based beverages are one of the most promising beverage categories right now, especially in Europe and North America. While it has been difficult to picture grocery shelves in Asian countries without milk replacements made from oats, almonds, soya, and other plant sources for many years, North America and Europe are considerably behind the curve in this area.

JBT Corporation announced it has signed an agreement to acquire LEKTRO, Inc., a privately-held manufacturer of electric aviation ground support equipment based in Warrenton, Oregon, with the transaction expected to close during the first quarter of 2019.
Drivers:
The food and beverage business plays a significant part in the global food value chain. The growing global demand for safe, hygienic, and healthful food and beverage items is driving up demand for bottled products, which are readily available and ready to eat. Efforts to build local or regional food value chain market participants are emphasised by governments of many developed and developing countries. Primary initiative of involving innovative business models, that are cost-effective and offer advance product integrity is expected to upshot the demand of filling machines globally. The growing popularity of food and beverage items including milk, fresh fruit and vegetable juices, and other beverages necessitates their preservation for long-term use, increasing the demand for bottle filling equipment. The expansion of the bottle filling machine market will be fuelled by the global beverage industry's rapid development.
In the food and beverage business, these machines are mostly used to fill bottles of various shapes and sizes with the desired liquid. Lot, Al, and Big Data are examples of modern filling machine technologies that show a promising market growth for bottle filling machines. lot aid to achieve highest level of food safety, along with appropriate monitoring and controlling of beverage distribution.
Restraints:
These devices are used not only to fill bottles with liquid products, but also to seal them. The high initial cost of a bottle filling and sealing machine prevents its widespread use in a variety of industries. These machines are integrated with several advanced technologies such as machine vision and loT, adding up to their overall purchasing cost. Furthermore, the equipment's complexity, combined with its high maintenance costs, is limiting its adoption in underdeveloped countries, reducing market potential.
Opportunities:
Cosmetics are now regarded as one of life's most important commodities. Because the market is continually expanding and globalization is at its peak, new cosmetics have demanded appealing packaging forms, and the entire packaging sector centers around customer preferences. This demand for creative packaging has been a major factor in increasing sales.
Challenges:
Companies are always undertaking numerous business reengineering procedures to maximize their working efficiency and minimize operational costs in order to increase profit margins, owing to the increasing competition in the market. Therefore, as the demand for flexible filling solutions is increasing, automatic filling machine can adapt to the changing packaging requirements without incurring much of the costs, varying filling requirements, such as volume, pace, and container type.
REPORT COVERAGE:
| | |
| --- | --- |
| REPORT METRIC | DETAILS |
| Market Size Available | 2021 – 2027 |
| Base Year | 2021 |
| Forecast Period | 2022 - 2027 |
| CAGR | 7.21% |
| Segments Covered | By Liquid Category, By Filling Variation, By Type, By End-user |
| Various Analyses Covered | Global, Regional & Country Level Analysis, Segment-Level Analysis, DROC, PESTLE Analysis, Porter's Five Forces Analysis, Competitive Landscape, Analyst Overview on Investment Opportunities |
| Regions Covered | North America, Europe, APAC, Latin America, Middle East & Africa |
| Market Leaders Profiled | Bosch E-PAK Machinery Federal Mfg Feige Filling Inline Filling Systems Oden Machinery Krones Group Xunjie Filling and Packing Machinery |
Automatic liquid filling Market Segmentation Analysis:
By Liquid Category:
Consumable Liquids

Liquid Drugs

Industrial Liquids

Liquid Chemicals

Cosmetics

Others
With the rise in demand for cosmetics products, like oils, creams, or any gel-based products, cosmetics suppliers see a real opportunity in the forecast period. Thus, in return, it's going to create a marketplace for automatic liquid filling, among the manufactures.
By Filling Variation:
Pressure

Viscosity

Foaming Characteristics
By Type:
Aseptic Filler

Rotary Filler

Volumetric Filler

Net Weight Filler

Piston Filler

Other Types
By End-user:
Food and Beverage

Healthcare and Pharmaceutical

Cosmetic

Other End-users Industries
The industries, like food and beverage, and pharmaceutical, require the method to be free from any contamination. If the products are crammed with the automated filling machine, there's no human touch, and thus, supports the expansion of the automatic liquid filling market.
Geographical Segmentation Analysis:
North America - the United States and Canada

Europe - United Kingdom, Spain, Germany, Italy, and France

The Asia Pacific - India, Japan, China, Australia, Singapore, Malaysia, South Korea, New Zealand, and Southeast Asia

Latin America - Brazil, Argentina, Mexico, and Rest of LATAM

The Middle East and Africa - Africa and Middle East (Saudi Arabia, UAE, Lebanon, Jordan, Cyprus)
Region Analysis:
The marketplace for flavor and fragrance in Europe also be valued at about USD 5 billion in the future. The demand for fragrances is increasing among working women, due to the rise in income. And this might create an enormous market opportunity for the European automated liquid filling market in the foreseen period.
The Asia-Pacific regions feature the best demand for skincare, and particularly luxury products, as stated by L'Oréal. It's favored by the rising income of consumers, the trend of online shopping, including an increasing consumer base of individuals curious about personal hygiene and physical appearance. This is often supported by highly populated countries, like India and China, which will play a crucial role in the expansion of the Asia Pacific automatic liquid filling market.
Key Players in the Market:
Major Key Players in the Global Automatic liquid filling Market are
Bosch

E-PAK Machinery

Federal Mfg

Feige Filling

Inline Filling Systems

Oden Machinery

Krones Group

Xunjie Filling and Packing Machinery