Food Certification Market Growth and Forecast (2021-2026):
The Global Food Certification Market Size was at US$ 4.7 billion in 2021, and it is predicted that it will reach a valuation of US$ 6.2 billion by 2026 with an annual development rate (CAGR) of 5.4% between 2021 and 2026.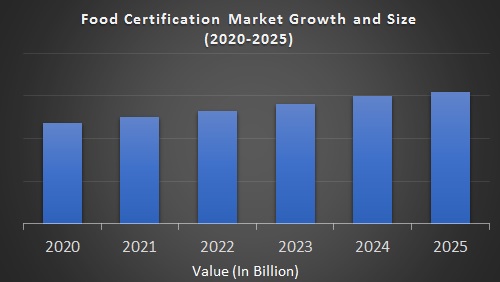 Market Overview:
Food certification is a guarantee that food will not harm consumers after consumption. Food safety hazards include chemical or physical agents in food, biological or food conditions that can have adverse health effects. Food certification helps restaurants, cafeterias and other small catering establishments to comply with food hygiene. Food certification requires that the food and beverage industry sector maintain a clean, safe and hygienic environment for the manufacture of consumables. This is a move to improve food compliance control and increase business reputation as a manufacturer of quality and safe products. Food certification can be implemented at any stage of the food supply chain, from primary production to sales. Today's food standards have gained significant traction throughout the entire supply chain of all food industries. Food certification helps industry and consumers ensure consumer confidence and safety in the quality of food. More and more consumers are aware of the quality and safety of food. Food certification ensures that food is handled, prepared and stored safely throughout the supply chain to avoid potential health risks.
Recent Developments in Food Certification Industry:
In September 2020, Control Union Certifications acquired Finotrol Oy, and through this purchase, the entire capital of Finotrol Oy will be transferred to Control Union.
In November 2019, Bureau Veritas launched Q Certificazioni S.r.l. based in Italy, an independent certification body specialized in organic certification. You have completed the acquisition. This will help the company enter the Italian certified organic food market.
DNV established an Artificial Intelligence Research Center in Shanghai, China, in March 2019, providing new solutions to strengthen its portfolio of audit, inspection and survey services.
Food Certification Market Growth:
The increasing incidence of foodborne illness resulting from the consumption of contaminated food has increased the demand for food certification.
REPORT COVERAGE:
| | |
| --- | --- |
| REPORT METRIC | DETAILS |
| Market Size Available | 2020 – 2026 |
| Base Year | 2020 |
| Forecast Period | 2021 - 2026 |
| CAGR | 5.4% |
| Segments Covered | By Contaminant, Food Type and Region |
| Various Analyses Covered | Global, Regional & Country Level Analysis, Segment-Level Analysis, DROC, PESTLE Analysis, Porter's Five Forces Analysis, Competitive Landscape, Analyst Overview on Investment Opportunities |
| Regions Covered | North America, Europe, APAC, Latin America, Middle East & Africa |
| Market Leaders Profiled | SGS SA, Lloyd's Register Group Limited, Dekra SE, Underwriters Laboratories Inc, DNV GL Group AS, Bureau Veritas, TÜV SÜD AG, Intertek Group plc, AsureQuality Limited, ALS Limited and Others. |
Drivers:
As consumer awareness increases, food manufacturers must be certified by regulatory bodies. Certified food is recognized as safe for customer consumption because it undergoes various verification processes. This has increased the demand in the world market for food certification. The growth of the food certification market is accelerating with the increasing need to adopt food safety standards to avoid nutritional risks and reduce the number of deaths and illnesses from foodborne illness. Regulatory interventions are expected to affect the food certification industry in the future. Increased government-imposed regulations, a wide range of industry standards, and certification requirements are expected to drive market growth. More severe penalties for non-compliant parties can encourage companies to invest to meet certification. Growing concerns related to food poisoning have led to an increase in consumer demand for healthy foods. Strict regulations and a focus on good manufacturing practices are other factors that are supposed to drive the growth of the global Food Certification market during the outlook period. Changes in consumption patterns, increased demand for convenient foods, increased availability of contaminated foods, demand for fresh fruits and vegetables, meat and poultry products, and increased food trade are key factors driving the growth of the global food certification market.
Increasing disposable income in Muslim-based countries like the Middle East is expected to drive the adoption of Halal certification. Growing consumer concerns about meat consumption are supposed to increase demand for certified halal meat products. Factors influencing the growth of the world market are the rise in prevalent foodborne illnesses, increased health awareness among people, and changes in consumption patterns. Strict regulations and standardization of various food and beverage processes drive the growth of food certification. The growing demand for food and beverage products is also one of the main reasons influencing the growth of this market. Increased government regulation, brand interest, and awareness of the quality of healthy and hygienic foods strengthen the global food certification market. The industry is accelerating even further as consumer awareness of quality food increases along with the rise in foodborne illness and contamination. The food certification market is expected to grow in the forecast period due to factors such as the growth of international food trade and the adoption of certification programs by companies to gain consumer confidence and increase the value of the brand. Nonetheless, emerging SMEs present significant opportunities for the growth of the Food Certification market during the forecast period.
Restraints:
The high cost of internal inspection and audit programs is not profitable for SMEs, and the complexity associated with the certification process is a factor that is expected to hamper the global food certification market growth. As impurities in food and food ingredients increase, the number of false labeling, food fraud cases and certifications has increased. While most food fraud incidents do not pose a public health risk, most food fraud involves the replacement of expensive ingredients with lower quality substitutes. If no specific incident is found, there is a growing concern about fraud. Furthermore, consumer demand for safe food is constantly increasing. As a result, as the number of national standards for food safety management increases, the need to harmonize these food safety standards increases and confusion has arisen. Industry experts have proposed unified and harmonized food safety standards to make food safety standards more efficient and reduce the diversity of food laws.
Food Certification Market Segmentation Analysis:
By type, free-from certification is supposed to record the fastest growth in the food certification business over the outlook period. The growing consumer propensity for natural and organic products is an important factor that is expected to drive the growth of the free-from certification market in the food and beverage industry.
By application, the meat, poultry and seafood segment is likely to dominate the food certification market during the outlook period. As the demand for processed meat products increases, so does the case of meat parus. The amount of fruit or defective products is increasing day by day around the world, leading to many health problems that lead to an increase in the certification of meat.
By risk category, the high-risk segment is expected to grow during the envisioned period. Food safety concerns exist due to the huge population consuming these high-risk foods. Therefore, strict regulatory standards are maintained during the processing, storage and transportation of these products.
Impact of COVID-19 on the Food Certification Market:
The coronavirus pandemic is having a huge impact on the food certification market. Protective measures such as tariffs and trade barriers can cause food shortages and increase the value of the product. Product shortages and supply chain disruptions are likely to have a combined impact on market performance in the short term. Some countries are restricting exports due to the coronavirus outbreak, which will further transform the demand for certified food. The economic consequences of social distancing rules for virus suppression also have a profound impact on the market.
Geographical Segmentation Analysis:
North America - the United States and Canada

Europe - United Kingdom, Spain, Germany, Italy, and France

The Asia Pacific - India, Japan, China, Australia, Singapore, Malaysia, South Korea, New Zealand, and Southeast Asia

Latin America - Brazil, Argentina, Mexico, and Rest of LATAM

The Middle East and Africa - Africa and Middle East (Saudi Arabia, UAE, Lebanon, Jordan, Cyprus)
Regional Analysis:
The North American market held the highest share in terms of income in global food certification business, as the incidence of food poisoning among people increased and health awareness increased along with consumer concerns related to contaminated food in the countries of this locale. The European market held the second-highest share in terms of revenue, as government regulations increased and countries in the region increased awareness of ready-to-eat foods. The Asia Pacific market is supposed to experience significant growth in the global food certification market during the foreseen period.
Key Players in the Market:
Major Key Players in the Global Food Certification Market are
SGS SA

Lloyd's Register Group Limited

Dekra SE

Underwriters Laboratories Inc

DNV GL Group AS

Bureau Veritas

TÜV SÜD AG

Intertek Group plc

AsureQuality Limited

ALS Limited
1. Introduction
1.1 Market Definition
1.2 Scope of the report
1.3 Study Assumptions
1.4 Base Currency, Base Year and Forecast Periods
2. Research Methodology
2.1 Analysis Design
2.2 Research Phases
2.2.1 Secondary Research
2.2.2 Primary Research
2.2.3 Data Modelling
2.2.4 Expert Validation
2.3 Study Timeline
3. Report Overview
3.1 Executive Summary
3.2 Key Inferencees
4. Market Dynamics
4.1 Impact Analysis
4.1.1 Drivers
4.1.2 Restaints
4.1.3 Opportunities
4.2 Regulatory Environment
4.3 Technology Timeline & Recent Trends
5. Competitor Benchmarking Analysis
5.1 Key Player Benchmarking
5.1.1 Market share analysis
5.1.2 Products/Service
5.1.3 Regional Presence
5.2 Mergers & Acquistion Landscape
5.3 Joint Ventures & Collaborations
6. Market Segmentation
6.1 Food Certification Market, By Type
6.1.1 BRC
6.1.2 ISO 22000
6.1.3 IFS
6.1.4 SQF
6.1.5 Kosher
6.1.6 Halal
6.1.7 Free-From Certification
6.1.8 Market Size Estimations & Forecasts (2021-2026)
6.1.9 Y-o-Y Growth Rate Analysis
6.1.10 Market Attractiveness Index
6.2 Food Certification Market, By Application
6.2.1 Poultry, Meat & Seafood
6.2.2 Infant Food
6.2.3 Dairy
6.2.4 Bakery & Confectionery
6.2.5 Beverages
6.2.6 Market Size Estimations & Forecasts (2021-2026)
6.2.7 Y-o-Y Growth Rate Analysis
6.2.8 Market Attractiveness Index
6.3 Food Certification Market, By Risk Category
6.3.1 High
6.3.2 Medium
6.3.3 Low
6.3.4 Market Size Estimations & Forecasts (2021-2026)
6.3.5 Y-o-Y Growth Rate Analysis
6.3.6 Market Attractiveness Index
7. Geographical Landscape
7.1 Global Identity Governance and Administration Market, by Region
7.2 North America - Market Analysis (2021-2026)
7.2.1 By Country
7.2.1.1 USA
7.2.1.2 Canada
7.2.2 By Type
7.2.3 By Application
7.2.4 By Risk Category
7.3 Europe
7.3.1 By Country
7.3.1.1 UK
7.3.1.2 France
7.3.1.3 Germany
7.3.1.4 Spain
7.3.1.5 Italy
7.3.1.6 Rest of Europe
7.3.2 By Type
7.3.3 By Application
7.3.4 By Risk Category
7.4 Asia Pacific
7.4.1 By Country
7.4.1.1 China
7.4.1.2 India
7.4.1.3 Japan
7.4.1.4 South Korea
7.4.1.5 South East Asia
7.4.1.6 Australia & NZ
7.4.1.7 Rest of Asia-Pacific
7.4.2 By Type
7.4.3 By Application
7.4.4 By Risk Category
7.5 Latin America
7.5.1 By Country
7.5.1.1 Brazil
7.5.1.2 Argentina
7.5.1.3 Mexico
7.5.1.4 Rest of Latin America
7.5.2 By Type
7.5.3 By Application
7.5.4 By Risk Category
7.6 Middle East and Africa
7.6.1 By Country
7.6.1.1 Middle East
7.6.1.2 Africa
7.6.2 By Type
7.6.3 By Application
7.6.4 By Risk Category
8. Key Player Analysis
8.1 SGS SA
8.1.1 Business Description
8.1.2 Products/Service
8.1.3 Financials
8.1.4 SWOT Analysis
8.1.5 Recent Developments
8.1.6 Analyst Overview
8.2 Lloyd's Register Group Limited
8.3 Dekra SE
8.4 Underwriters Laboratories Inc
8.5 DNV GL Group AS
8.6 Bureau Veritas
8.7 TÜV SÜD AG
8.8 Intertek Group plc
8.9 AsureQuality Limited
8.10 ALS Limited
9. Market Outlook & Investment Opportunities
Appendix
List of Tables
List of Figures
Global, regional and country-level analysis and forecasts of the study market; providing Insights on the major countries/regions in which this industry is blooming and to also identify the regions that are still untapped

The Segment-level analysis in terms of By Contaminant, Food Type and along with market size forecasts and estimations to detect key areas of industry growth in detail

Identification of key drivers, restraints, opportunities, and challenges (DROC) in the market and their impact on shifting market dynamics

Study of the effect of exogenous and endogenous factors that affect the global market; which includes broadly demographic, economics, and political, among other macro-environmental factors presented in an extensive PESTLE Analysis

Study the micro environment factors that determine the overall profitability of an Industry, using Porter's five forces analysis for analysing the level of competition and business strategy development

A comprehensive list of key market players along with their product portfolio, current strategic interests, key financial information, legal issues, SWOT analysis and analyst overview to study and sustain the market environment

Competitive landscape analysis listing out the mergers, acquisitions, collaborations in the field along with new product launches, comparative financial studies and recent developments in the market by the major companies

An executive summary, abridging the entire report in such a way that decision-making personnel can rapidly become acquainted with background information, concise analysis and main conclusions

Expertly devised analyst overview along with Investment opportunities to provide both individuals and organizations a strong financial foothold in the market
Global Food Certification Market By Region, From 2021-2026 ( USD Billion )

Global Food Certification Market By Type, From 2021-2026 ( USD Billion )

Global BRC Market By Region, From 2021-2026 ( USD Billion )

Global ISO 22000 Market By Region, From 2021-2026 ( USD Billion )

Global IFS Market By Region, From 2021-2026 ( USD Billion )

Global SQF Market By Region, From 2021-2026 ( USD Billion )

Global Kosher Market By Region, From 2021-2026 ( USD Billion )

Global Halal Market By Region, From 2021-2026 ( USD Billion )

Global Free-From Certification Market By Region, From 2021-2026 ( USD Billion )

Global Food Certification Market By Application, From 2021-2026 ( USD Billion )

Global Poultry, Meat & Seafood Market By Region, From 2021-2026 ( USD Billion )

Global Infant Food Market By Region, From 2021-2026 ( USD Billion )

Global Dairy Market By Region, From 2021-2026 ( USD Billion )

Global Bakery & Confectionery Market By Region, From 2021-2026 ( USD Billion )

Global Beverages Market By Region, From 2021-2026 ( USD Billion )

Global Food Certification Market By Risk Category, From 2021-2026 ( USD Billion )

Global High Market By Region, From 2021-2026 ( USD Billion )

Global Medium Market By Region, From 2021-2026 ( USD Billion )

Global Low Market By Region, From 2021-2026 ( USD Billion )