Titanium Dioxide Market Size (2022- 2027):
Titanium Dioxide Market was expected to be valued at USD 13 billion in 2021 and is estimated to be valued at around USD 17.3 billion by 2027, raising at a CAGR of 9.4% throughout the foreseen period.
Titanium dioxide also called titanium (IV) oxide or titania is a white crystalline powder that is made up of ilmenite and rutile that are employed as the primary raw materials. It is made with the assistance of either the chloride process or sulfuric acid, known as the sulfate process. Titanium dioxide is highly employed as a white pigment in paints and coatings applications. Nevertheless, titanium dioxide is not formed in usable conditions in nature. It must be carefully mined in one of its purest forms like rutile, anatase beach sand, and refined into an even more elegant element size.
Titanium dioxide, one of the whitest materials on the globe, is a naturally occurring oxide of titanium in three types, anatase, rutile, and brookite. It has the most refractive index of all material until founded by man, including the diamond. Titanium dioxide is employed in paints, coatings, plastics, paper, cosmetics, pharmaceuticals, foods, and different other applications.
Titanium Dioxide Market Drivers and Restraints:
The rising call of the automobile, construction business, and applications of pigments in different companies is probable to drive the global titanium dioxide market expansion. The rising call from cosmetics, paints, and coatings and plastics is estimated to boost the development in the global titanium dioxide market throughout the forecast period. In addition to that, technological innovations aimed at enhancing making procedures to escalate product yield while making sure high-quality is estimated to have a positive effect on the titanium dioxide market over the forecast period.
Nevertheless, strict safety rules by regulatory agencies due to its carcinogenic properties may have significant ripple effects on the expansion of the global titanium dioxide market throughout the forecast period. Environmental standards like carcinogenic properties and volatile costs of raw materials are the major factors that can restrain the global titanium dioxide market expansion in the foreseen period.
Recent Developments in the Titanium Dioxide Market Industry:
Evonik introduces the latest developmental surface-treated titanium dioxide. VP NKT 65 is a novel hydrophobic sub-pigmentary fumed titanium dioxide (TiO2) grade that is surface treated with an alkylsilane. It has been mainly developed as a price-efficient additive to enhance the flow and charge properties of the toner, plastics, and polymer powders. In particular, it offers excellent charge stability to toner formulations under various environmental conditions. A weak negative triboelectric charge characterizes VP NKT 65. Other applications could include UV filter and refractive index modulator for optoelectronic applications, displays, and films. This development product VP NKT 65 is complimenting the already well-established titanium dioxide (TiO2) grades of Evonik such as AEROXIDE® TiO2 P 25, AEROXIDE® TiO2 T 805, and AEROXIDE® TiO2 NKT 90.
TITANIUM DIOXIDE MARKET REPORT COVERAGE:
REPORT METRIC

DETAILS

Market Size Available

2021– 2027

Base Year

2021

Forecast Period

2022- 2027

CAGR

9.4%

Segments Covered

By Grade

Application

By Region

Various Analyses Covered

Global, Regional & Country Level Analysis, Segment-Level Analysis, DROC, PESTLE Analysis, Porter's Five Forces Analysis, Competitive Landscape, Analyst Overview on Investment Opportunities

Regions Covered

North America

Europe

Asia Pacific

Latin America

Middle East & Africa

Market Leaders Profiled

Chemours Company, Cristal, Kronos Worldwide Inc., E. I. du Pont de Nemours and Company, Huntsman International LLC, Evonik, Argex Titanium Inc, Pangang Group Vanadium Titanium & Resources Co., Ltd., Yunnan Dahutong Industry & Trading Co., Ltd, Henan Billions Chemicals Co. Ltd., and Tronox Limited

Titanium Dioxide Market Segmentation as per the research report until 2027.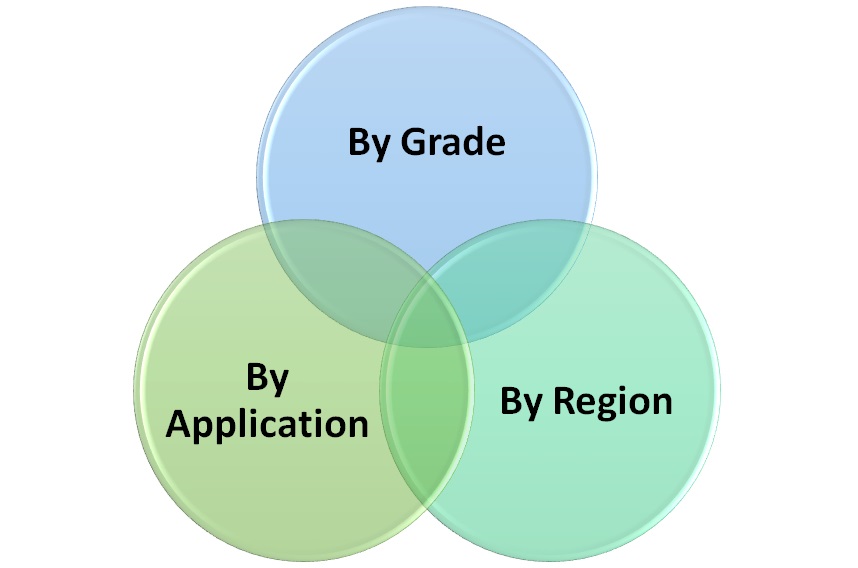 Titanium Dioxide Market - By Grade
Titanium Dioxide Market - By Application
Paints and Coatings

Paper and Pulp

Plastics

Cosmetics
The sector of paints and coatings is projected to be the biggest industry for titanium dioxide throughout the estimated period. In addition to that, the use is expected to experience more expansion during the estimated period due to its characteristic properties like high refractive index and degree of transparency. The increase in a number of residential and non-residential construction projects, the fast expansion in automobile production, and the rising call for anti-corrosive architectural coatings in pigments, will be some of the major factors boosting the appeal for TiO2 in paint uses.
Titanium Dioxide Market – By Region
North America

Latin America

Europe

Asia Pacific

Middle East & Africa
On the basis of the region, the European titanium dioxide market dominated the global business. It has been analyzed into nations of Germany, France, the United Kingdom, Italy, and Spain. Germany being the highest economy is the biggest customer and is projected to maintain the name followed by France and the UK. Europe is probable to have high expansion and will hold a large chunk of the titanium dioxide market share owing to the rising demand for cosmetic products in Italy, UK, Germany, and France. The rise in disposable income and awareness relating to personal grooming will propel the market in the next coming years. This place of the industry is set to develop in the near coming years owing to the escalating population of Europe.
Asia-Pacific is estimated to show the most rapid expansion in the worldwide industry, throughout the forecast period. In addition to that, the development of the automotive business in the Asia-Pacific region and raising funds in the construction and infrastructure business is supporting further growth in the market. Increasing urbanization, buying strength, and awareness for looks and grooming has been the primary reason which has been driving the cosmetic market in the region in the last few years that has boosted high expansion in the titanium dioxide industry during the estimated period. In addition to that, escalating calls in Europe for architectural paints, automotive coatings, industrial coatings, and coil coatings is likely to have a good effect on the worldwide industry.
The rising call for cosmetic products in South America and the Middle East is estimated to escalate the consumption of titanium dioxide in the region throughout the foreseen period. The Asia Pacific is the most buying customer of the worldwide titanium dioxide industry followed by an escalation in the consumption of titanium dioxide industry in the European region. The market in the area of Asia-Pacific accounted for near to 46% of worldwide demand in 2019. The third place for the biggest market of titanium dioxide in North America. The regions of Latin America and the Middle East also experienced their development of titanium dioxide market owing to several application
Some of the major players in the global titanium dioxide market
Chemours Company

Cristal

Kronos Worldwide Inc.

E. I. du Pont de Nemours and Company

Huntsman International LLC

Evonik

Argex Titanium Inc

Pangang Group Vanadium Titanium & Resources Co., Ltd.

Yunnan Dahutong Industry & Trading Co., Ltd

Henan Billions Chemicals Co. Ltd.

Tronox Limited