Machine Vision Market Size, Growth and Forecast (2022-2027)
The Global Machine Vision Market size was valued at US$ 11.8 billion in 2021 and is anticipated to reach the valuation of US$ 15.9 billion by 2027 and is predicted to register a CAGR of 7% during 2022-2027.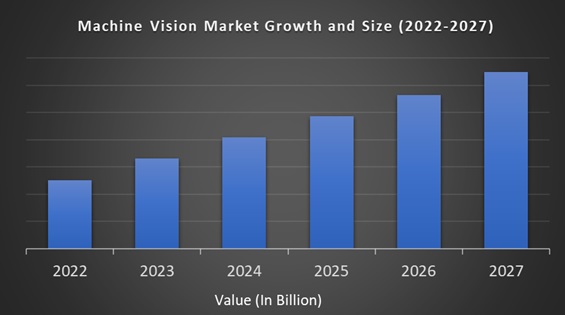 Recent Developments in Machine Vision Industry:
Basler Vision Solutions for Warehouse Automation Use Basler's significant experience with computer vision systems to improve the speed, accuracy, and efficiency of your logistics. From the entrance of products to delivery, automation is the key to making intralogistics more efficient and cost-effective.

The 3D-A1000 Item Detection System is a new product from Cognex Corporation (NASDAQ: CGNX), a leader in industrial machine vision. The 3D-A1000 is a motion-capable smart camera that can accurately detect the presence or absence of objects on all sorts of sorters operating at production line speeds. The 3D-A1000 platform is being extended into new applications to help retail and logistics customers decrease delivery failures, boost throughput, and improve fulfilment efficiency.
MACHINE VISION MARKET REPORT COVERAGE:
| | |
| --- | --- |
| REPORT METRIC | DETAILS |
| Market Size Available | 2021–2027 |
| Base Year | 2021 |
| Forecast Period | 2022 - 2027 |
| CAGR | 7% |
| Segments Covered | By Component, By Type, By Application, By Industry Vertical |
| Various Analyses Covered | Global, Regional & Country Level Analysis, Segment-Level Analysis, DROC, PESTLE Analysis, Porter's Five Forces Analysis, Competitive Landscape, Analyst Overview on Investment Opportunities |
| Regions Covered | North America, Europe, APAC, Latin America, Middle East & Africa |
| Market Leaders Profiled | Cognex Corporation, Teledyne Technologies, Inc., Keyence Corporation, National Instruments Corporation, Texas Instruments, Inc., Basler AG, Baumer Optronic GmbH, Sick AG, Omron Corporation, Allied Vision Technologies GmbH, Intel Corporation, Jai A/S, Canon Inc., Datalogic S.p.A, Microscan Systems, Inc., Adept Technology, IDS Imaging Development Systems GmbH, Machine Vision Technology |
Machine Vision Market Drivers:
Smart cameras frequently assist a machine vision system by digitising and sending frames for analysis by a computer. A single image sensor is incorporated in a smart camera. They're frequently made to order for specific applications that require a small footprint due to space constraints. Smart cameras are used for a variety of automated tasks, whether as part of a larger machine vision system or as standalone image processors. Because they are cost-effective and very simple to operate, smart cameras are regarded an ideal solution for streamlining automation procedures or integrating vision systems into manufacturing operations. Smart cameras are in high demand in industrial production because they are frequently used for inspection and quality assurance.
Machine Vision Market Restraints:
Scanners can simply be used to survey Internet of Things (IoT) devices, allowing for easy vulnerability hacking. Usernames and passwords that are not changed from the factory defaults can act as software flaws that can be found through reverse engineering. As individuals become more reliant on the internet and IoT devices like AI integrated gadgets, cyberattacks are becoming more vulnerable. Manufacturers can profit from AI machine vision and automation, but they must remain vigilant about cyber security principles. Downloading and installing the most recent software and updates, as well as educating employees on the latest cybersecurity safeguards, are all part of cyber defence.
Machine Vision Market Opportunities:
The machine vision market has recently undergone substantial changes as a result of vision-guided robotics systems. In the automotive and consumer electronics industries, the usage of industrial robots for automation has exploded. As a result, there is a growing demand for machine vision systems that may be used in conjunction with vision-guided robot controllers. Machine vision systems boost robot efficiency by allowing them to see and adapt to their surroundings. For example, when multiple automobile models are being constructed on a single assembly line, vision-guided robotics systems can recognise the scenario and assure appropriate vehicle assembly. When a robot is applying adhesive beading, a machine vision system can guarantee that there are no gaps. Even without a protective fence, a vision-guided robot can operate side-by-side with humans in a shared office because it avoids collisions.
Machine Vision Market Challenges:
Robotic vision technology is continuously evolving, with new technologies and solutions appearing on the market at a breakneck pace to make solving automation challenges easier. The robotic vision market has seen the development of more improved sensors in terms of both smaller pixels and larger sensors, software platforms that are becoming more precise, and lighting that is becoming brighter and more efficient just in the last decade. The high expense of robotic vision research and development, as well as a lack of user understanding of the quickly expanding robotic vision technology, are important concerns that are expected to stymie the market.
Machine Vision Market Segmentation Analysis:
By Component:
Smart Camera

Embedded System

Frame Grabber

Lighting

Lenses
The smart camera-based machine vision system is predicted to grow at a faster rate during the foreseen period as smart camera-based machine vision systems are cost-effective, compact, and versatile since it's easier to implement changes in these systems supported revised regulations and standards. Additionally, with the advancements in smart camera technology and IoT, which may be easily be integrated with these cameras, the penetration of the smart camera-based machine vision systems is probably going to extend within the next few years.
By Type:
1D Measurement

2D Measurement

3D Measurement
Market by type comprises 1D, 2D, and 3D measurements, of which the 3D Measurement segment is estimated to grow at the best CAGR in the foreseen years due to the trend of 3D imaging within the assembly line of different end-user industries.
By Application:
Positioning

Identification

Verification

Measurement

Flaw Detection
By Industry Vertical:
Industrial

Healthcare

Electronics

Automotive

Others
Automotive is the most prominent industry vertical in the global machine vision market that is likely to expand with a notable growth rate in the coming years. The increasing production of vehicles around the world to meet the growing need of the population in both developed and developing regions is anticipated to create massive growth potential for the machine vision industry in the future.
Geographical Segmentation Analysis:
North America - the United States and Canada

Europe - United Kingdom, Spain, Germany, Italy, and France

The Asia Pacific - India, Japan, China, Australia, Singapore, Malaysia, South Korea, New Zealand, and Southeast Asia

Latin America - Brazil, Argentina, Mexico, and Rest of LATAM

The Middle East and Africa - Africa and Middle East (Saudi Arabia, UAE, Lebanon, Jordan, Cyprus)
Region Analysis:
The Asia Pacific machine vision market is predicted to carry a serious market share during the forecast period as countries in the region like China, Japan, India, and South Korea have a number of prominent manufacturing facilities wherein automation of production processes has been considered as the highest priority. Also, strong competition among consumer electronics companies in the Asia Pacific is probably going to spice up the adoption of machine vision systems within the region over the next few years.
Key Players in the Market:
Major Key Players in the Global Machine Vision Market are
Cognex Corporation

Teledyne Technologies, Inc

Keyence Corporation

National Instruments Corporation

Texas Instruments, Inc

Basler AG

Baumer Optronic GmbH

Sick AG

Omron Corporation

Allied Vision Technologies GmbH

Intel Corporation

Jai A/S, Canon Inc

Datalogic S.p.A

Microscan Systems, Inc

Adept Technology

IDS Imaging Development Systems GmbH

Machine Vision Technology