Middle East and Africa Baby Gourmet Market Growth Rate Analysis:
Middle East and Africa Baby Gourmet Market was worth USD xx million in 2020 and estimated to be growing at a CAGR of xx% to reach USD xx million by 2026. The market is showcasing the evident potential in the mentioned forecasting period. The market continues to gain momentum with rapid development in the industry.
Middle East and Africa Baby Gourmet Market Growth Factors:
Baby gourmet food is any food that is easy to consume and is made particularly for babies, generally between the ages of four to six months and two years. The food is available in multiple varieties and tastes; it may be table food that the rest of the family is eating that has been mashed or otherwise broken down, or it can be purchased ready-made from producers.
Different government initiatives associated with organic food production, a rise in the number of working women, and increasing prevalence of nuclear families have fueled the market growth. But, owing to some government regulations with respect to labeling of these organic baby food products and the high price of the products hinder the market growth.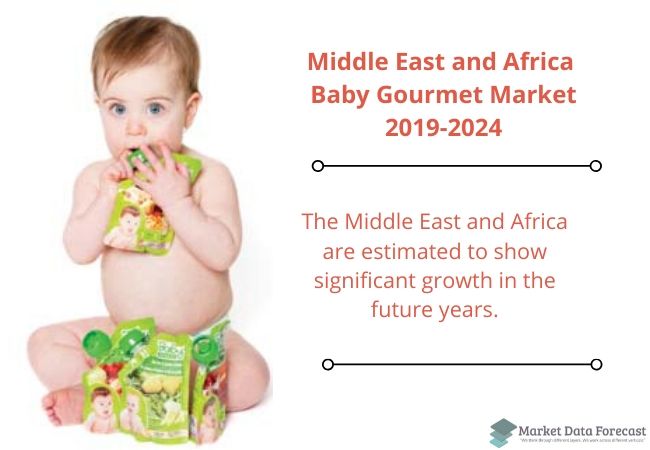 Detailed Segmentation of the Middle East and Africa Baby Gourmet Market:
Market Segment – By Ingredient:
Fruits

Vegetables

Grains & Cereals

Dairy and Others
Market Segment – By Product Type:
Probiotic Cereal

Baby Meals

Snacks

Starting Solids

Others
The Middle East and Africa is estimated to show significant growth in the future years:
On the basis of geography, the Middle East and Africa market are analyzed under various regions namely the Middle East and Africa. The Middle East and Africa are estimated to show significant growth in the future years because of the presence of emerging economies.
Some of the major companies dominating the market are:
Initiative Foods

Vitagermine

Bellamy's Organic

Little Duck Organics

Tasty brand

Olli

Happy Baby

Yummy Spoonfuls
Study Objectives of Baby Gourmet Food Market:
In-depth analysis of macro and micro markets.

To evaluation of market size by Product Segmentation.

To comprehend the demand and supply dynamics as well as supply and consumption concentration representing.

To deliver regional level market analysis and future outlook for classified regions like North America, Asia Pacific, Europe, the Middle East and Africa, and the Rest of the World (ROW) and their countries.

Competitive landscaping valuing key player's strategies taken by top market players in the market.

Company outlining of major players mentioned in the market.

Supply chain analysis and value chain analysis

Study of historical market trends, and new technologies, and present government regulatory requirements.
Reasons to Buy:
This research report includes an in-depth revision analysis of the

baby gourmet food market

.
The report covers market segmentation

by source and nutrition per serving.

It will help in classifying region-wise major suppliers and comprehends consumption patterns.

This report will provide useful and premium insights that will give in investments for

Baby Gourmet Food

and related companies providing details on the fast-growing segments, regions, and countries.

Furthermore, this report provides key findings that will help the companies to increase revenue and improve profitability by using supply chain strategies, the cost-effectiveness of various products which are mentioned in the report.
1. Introduction
1.1 Market Definition
1.2 Study Deliverables
1.3 Base Currency, Base Year and Forecast Periods
1.4 General Study Assumptions
2. Research Methodology
2.1 Introduction
2.2 Research Phases
2.2.1 Secondary Research
2.2.2 Primary Research
2.2.3 Econometric Modelling
2.2.4 Expert Validation
2.3 Analysis Design
2.4 Study Timeline
3. Overview
3.1 Executive Summary
3.2 Key Inferences
3.3 Epidemology
4. Drivers, Restraints, Opportunities, and Challenges Analysis (DROC)
4.1 Market Drivers
4.2 Market Restraints
4.3 Key Challenges
4.4 Current Opportunities in the Market
5. Market Segmentation
5.1 Ingredients
5.1.1 Introduction
5.1.2 Fruit
5.1.3 Vegetable
5.1.4 Grains & Cereals
5.1.5 Dairy
5.1.6 Others
5.1.7 Y-o-Y Growth Analysis, By Ingredients
5.1.8 Market Attractiveness Analysis, By Ingredients
5.1.9 Market Share Analysis, By Ingredients
5.2 Type
5.2.1 Introduction
5.2.2 Probiotic Cereal
5.2.3 Baby Meals
5.2.4 Snacks
5.2.5 Starting Solids
5.2.6 Others
5.2.5 Y-o-Y Growth Analysis, By Type
5.2.6 Market Attractiveness Analysis, By Type
5.2.7 Market Share Analysis, By Type
6. Geographical Analysis
6.1 Introduction
6.1.1 Regional Trends
6.1.2 Impact Analysis
6.1.3 Y-o-Y Growth Analysis
6.1.3.1 By Geographical Area
6.1.3.2 By Ingredients
6.1.3.3 By Type
6.1.4 Market Attractiveness Analysis
6.1.4.1 By Geographical Area
6.1.4.2 By Ingredients
6.1.4.3 By Type
6.1.5 Market Share Analysis
6.1.5.1 By Geographical Area
6.1.5.2 By Ingredients
6.1.5.3 By Type
6.2 Middle-East
6.3 Africa
7. Strategic Analysis
7.1 PESTLE analysis
7.1.1 Political
7.1.2 Economic
7.1.3 Social
7.1.4 Technological
7.1.5 Legal
7.1.6 Environmental
7.2 Porter's Five analysis
7.2.1 Bargaining Power of Suppliers
7.2.2 Bargaining Power of Consumers
7.2.3 Threat of New Entrants
7.2.4 Threat of Substitute Products and Services
7.2.5 Competitive Rivalry within the Industry
8. Market Leaders' Analysis
8.1 Kuhne Gourmet Selection
8.1.1 Overview
8.1.2 Product Analysis
8.1.3 Financial analysis
8.1.4 Recent Developments
8.1.5 SWOT analysis
8.1.6 Analyst View
8.2 Fig
8.3 Baby Gourmet Foods Inc
8.4 Parent's Choice
8.5 Squoosh
8.6 Crockery Gourmet
8.7 Grocery & Gourmet Food
8.8 Fresh Gourmet
9. Competitive Landscape
9.1 Market share analysis
9.2 Merger and Acquisition Analysis
9.3 Agreements, collaborations and Joint Ventures
9.4 New Product Launches
10. Market Outlook and Investment Opportunities
Appendix
a) List of Tables
b) List of Figures