Activated Charcoal Supplement Market Size (2022-2027)
Activated Charcoal Supplement Market was worth USD 3.98 billion in 2022, and it is estimated to reach a valuation of USD 9.80 billion by the end of 2027, rising at a CAGR of about 11% during the forecast period.
Activated Charcoal Supplement Market Overview:
Activated charcoal, also known as activated carbon, is a form of processed carbon. Activated carbon is produced by treating organic substances with high carbon content. Physical adsorption is a crucial property of activated carbon, which is useful for purification, cavity removal, metal finishing, chemicals, filters, and removal of contaminants and fuel storage. The liquid and gaseous phases of activated carbon have improved use to remove lead, dissolved radon, other odor-causing compounds, and mercury. The benefits provided by the activated carbon sector will lead to the global industry. Also, the activated charcoal industry grows exponentially in North America and Europe. This allows the resulting solids to exhibit small and small amounts of pores that increase the surface area for adsorption or chemical reactions. It is mainly used for gas and liquid purification in food and beverage treatment, chemical industry, and water treatment.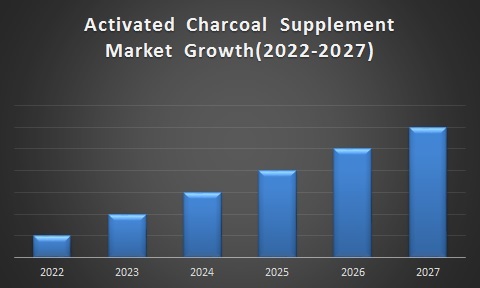 Recent Developments in the Activated Charcoal Supplement Industry:
Cabot Corporation (USA) has opened a new technology center in Shanghai, China for research and development activities on activated carbon.

Calgon Carbon Corporation acquired the auxiliary activated carbon and filter business from CECA, a subsidiary of Arkema Group (France).

Osaka Gas Co., Ltd. has launched an activated carbon revitalization center in Spain to provide services to the drinking water market in the Japanese city.

Cabot Corporation has launched a new activated carbon product under the DARCO H2S HF brand for odor control and hydrogen sulfide removal.
Activated Charcoal Supplement Market Growth
The global activated charcoal supplement market is at the forefront of witnessing recent advances in reactivation service technology and integration with global supply lines. Furthermore, they influenced the dynamics of supply and demand for these solids.
Activated Charcoal Supplement Market Drivers
Serious health risks are continually increasing among consumers when they drink impure water. The growth of the activated carbon industry is underpinned by improved drinking water treatment, increased automobile ownership, and better manufacturing and environmental standards.
Several countries, including China and India, are investing heavily in water purification plants, where demand for activated charcoal is supposed to increase during the forecast period. Due to increased government subsidies and industrialization, the activated carbon sector is also being promoted. Furthermore, the increasing demand for mercury control technology in industrial air purification applications is one of the main drivers of the market. Companies are embracing geographic expansion and new product development as key strategies to stay on the market. Due to technological advances and product development, used activated carbon reactivation applications are increasing. Several companies developed these technologies and launched into the revitalization business that are providing facilities like revitalization services on site. This scenario has prevented many companies from removing and recycling old carbon. These factors are expected to help the market find appeal in new applications.
The increasing need for water treatment plants due to water scarcity and increased pollution is a major driving force in this market. Additionally, the demand for activated carbon applications is increasing due to strict environmental regulations to control carbon emissions and pollutants. The activated carbon sector increases as industrialization and urbanization increase. The government is focused on keeping the environment healthy in terms of water and air safe for life. It also provides subsidies to industries such as the power generation industry to control pollution. As people consume contaminated water and air, a great interest in health issues has increased the application of activated carbon in purification, health and beverage processing, pharmaceutical and medical, automotive, etc. Additionally, high levels of pollution, rising per capita income, and the development and launch of new products will create potential opportunities to expand the global activated charcoal supplement market in the coming years.
Activated Charcoal Supplement Market Restraints
The threat of the adoption of alternative materials, such as silica gel, has provided fierce competition for the dynamics of demand for activated carbon. The adoption of these solids is expected to be inhibited due to the low availability of raw materials such as phenolic resins, coconut shell coal, and wood charcoal (which causes fluctuations in prices) and the presence of expensive derivatives of these solids supports the future growth of the market.
Activated Charcoal Supplement Market

Segmentation Analysis:
Based on Product:
Based on Application:
Antidiarrheal

Detoxification
The market is classified as tablets and capsules, depending on the product type. During the prediction period, both segments are expected to grow faster. Due to the comfort and long-term advantages of capsules compared to tablets, the capsules segment is anticipated to reach nearly USD 6.0 billion by 2025.
In addition to beauty, activated charcoal tablets also affect bowel and stomach problems. It is commonly used as the morning pill and a replacement for several people's multivitamin pills. Due to its extensive use as a detox agent, this category also holds a significant share in the market.
Antidiarrheal, detoxification and swelling removal are included in the application section. Activated supplements of charcoal are used to treat nausea, diarrhea and other disorders of the stomach. It is also used for the treatment of accidental poisoning and drug overdose and the calming feeling of dialysis among people. This functions by combining toxins and creating an enormous mass, too big to penetrate the skin. It can also avoid the degradation and treatment of toxins by the liver. As detoxifiers and anti-aging agents, activated carbon capsules are used. Numerous cellular changes associated with aging are prevented. The cognitive and adaptive functioning of essential organisms, such as the kidney, the liver, and the adrenals, has proved to be a better defense mechanism. In some countries, swelling from injury or illness is reduced.
Activated Charcoal Supplement Market

Regional Presence of the Market:
North America

Europe

Asia Pacific

Latin America

Middle East and Africa
Asia Pacific:
All regions except the Asia Pacific are assumed to see a decline in market share due to active growth in the Asia Pacific region during the outlook period. An economy like China, India, and Japan is foreseen to lead the area in the next six years. Coconut husk is one of the most widely used and proven raw materials to make activated carbon. Several Asian countries, such as the Philippines, Indonesia, Malaysia, India, and Sri Lanka, have an ideal tropical climate for the constant cultivation of coconut, making the Asia Pacific an important source worldwide.
North America:
North America is the second-largest market after the Asia Pacific. Developing countries like North America and Europe are anticipated to show moderate growth due to saturation of end-use industries and especially weak economic scenarios in Europe. Environmental protection, strict rules and standards, and an increase in government initiatives to protect the environment are presumed to help the market during the projection period. As a result, water treatment, air purification, and mercury absorption are some of the applications that are likely to show active growth.
Activated Charcoal Supplement

Key Players
Jacobi Carbons (OSAKA GAS)

Country Life

FORZA

Swanson Premium

Amy Myrers

Schizandu Organics

Carbotech

Nature's Way

Holland & Barrett