Adaptogens Market Size, Share, Growth (2022-2027)
Adaptogens Market has USD 2,841.406 million in 2021 expected to reach USD 3,993.345 million by 2027 with a CAGR of 8.55 % in a given forecast period.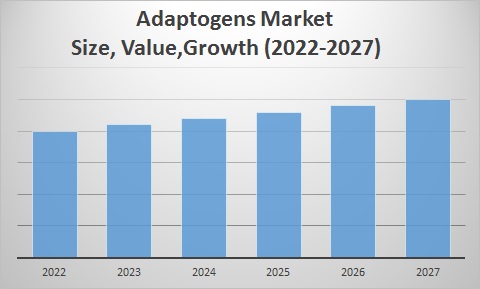 Adaptogens Market Scenario:
Adaptogens are a type of non-toxic plant that acts as a stress resistor in the body. It works to alleviate various types of stress, including biological, chemical, and physical stress. The roots and plants have been used for thousands of years, mainly in China and India. In Ayurvedic and Chinese traditions, it is used as a therapeutic source. Some adaptogens, such as holy basil, are edible and can be consumed as part of a meal. Some are ingested as a supplement and are used in beverages such as teas. One of the most pressing issues today is stress. The rate of stress in an individual is increasing because of the rapid adaption of modern lifestyles. Athletes also take adaptogens to ease mental stress, which benefits the athlete's overall form and performance. Companies are putting a significant amount of money into this product.
Adaptogens are a type of herb that aids the body in achieving equilibrium and regulating its natural metabolism. They also help to build a person's resistance to physical, chemical, and biological stress. Adaptogenic plants thrive in harsh environments; for example, ashwagandha thrives in the desert and maca grows on the highest peaks of the Andes Mountains. Several health advantages have been connected to ingredients such as ashwagandha, maca, cordyceps, and holy basil, including ashwagandha's capacity to promote sleep. There's also some overlap with nootropics, as some compounds have been linked to mental performance enhancement. Adaptogens have typically been found in beverages, powders, and pills, but they are progressively making their way into foods like trail mixes and granola, like nootropic drugs.
Adaptogens Market Growth:
One of the primary growth factors of the global adaptogen market is rising stress levels among people all over the world. Another development driver for adaptogens is the increased desire for healthier foods and beverages.
REPORT COVERAGE:
| | |
| --- | --- |
| REPORT METRIC | DETAILS |
| Market Size Available | 2021 - 2026 |
| Base Year | 2021 |
| Forecast Period | 2022 - 2027 |
| CAGR | 8.5% |
| Segments Covered | By Product, Type, Consumption, Distribution Channel and Region |
| Various Analyses Covered | Global, Regional & Country Level Analysis, Segment-Level Analysis, DROC, PESTLE Analysis, Porter's Five Forces Analysis, Competitive Landscape, Analyst Overview on Investment Opportunities |
| Regions Covered | North America, Europe, APAC, Latin America, Middle East & Africa |
| Market Leaders Profiled | Nutra Industries Inc., Xian Yuensun Biological Technology Co. Ltd., Organic India, PLT Health Solutions, Inc., Amax NutraSource, Inc., Changsha Organic Herb Inc, NutraCap Labs |
Adaptogens Market Drivers:
One of the primary growth factors of the global adaptogen market is rising stress levels among people all over the world. According to the American Institute of Stress, 73 per cent of people experience stress that negatively impacts their mental health, and 48 per cent of people experience sleep issues because of stress.
According to the Global Organization of Stress, 75% of people have experienced moderate to high levels of stress at some point in their lives. Given the rising levels of stress, adaptogens may prove to be a possible therapeutic therapy for stress.CBD, or cannabidiol, is a compound that is used to relieve stress, and pain, improve digestion, and increase mental focus. There has been increasing use of CBD-based products in tinctures, beverages, and yoga apparel, which will see major expansion in the CBD market, but there are significant benefits of adaptogen-based products that are predicted to become a replacement for CBD-based products. Adaptogens are well-known for their stress-relieving qualities, as well as other medicinal benefits, which are predicted to boost demand for adaptogens in the coming years.
Adaptogens Market Restraints:
Due to regulatory concerns by governments around the world, there is a significant hurdle in the market. Manufacturers must adhere to stringent regulatory requirements and avoid going beyond the bounds of the law. Due to a large increase in demand for adaptogen-based products, businesses must alter their tactics. Regulatory concerns and the high cost of R&D efforts, on the other hand, are a bottleneck for the worldwide adaptogen industry.
Recent Developments in the Adaptogens Market:
Project Juice, a California-based juice company, has also recently launched a new line of adaptogen lattes to help clients "combat the stresses of the season."
Adaptogens Market Segmentation:
By Nature:
The organic segment, which is based on nature, has a substantial market share. This is owing to natural herbs' use as a supplement in the food and beverage industry, as well as in cosmetics and pharmaceuticals. Natural herbs are popular among customers since they help to relieve tension in the body. In the future years, the synthetic segment is also predicted to increase at a healthy pace.
By Source:
Ashwagandha

Ginseng

Astragalus

Turmeric

Cordyceps

Others
According to the source, Ashwagandha and Ginseng account for the majority of the market. After a meal, ashwagandha is taken as an extract to lower blood pressure, relieve anxiety and stress, and boost the body's immunity. Ginseng is used for its antioxidant qualities, blood pressure regulation, and to improve the sumptuousness associated with erectile dysfunction. It's also utilized to help with muscle relaxation. Other source-based herbs are projected to increase at a healthy rate in the next years as well.
By Application:
Because adaptogens are used in meals and as supplements, the food and beverage segment holds the largest proportion of the market in terms of applications. Adaptogens are employed in the beverage industry, where a little amount of an extract is mixed into a beverage like tea or milk and ingested as a supplement. Adaptogens of various kinds are ingested with the meal.
Because of the use of adaptogens in medicinal applications, the pharmaceutical market will also see significant expansion. Adaptogens are utilized to ease mental stress, thus the sports nutrition industry is predicted to grow significantly. Athletes are clamouring for the product because it boosts immunity, which improves overall performance in a game.
Adaptogens Market Regional Analysis:
The Asia-Pacific region accounted for 45.53 per cent of the worldwide adaptogens market in 2021. This rise is primarily due to the widespread use of adaptogens in ayurvedic medicine, which is widely practiced in India, resulting in a sizable market in the country. Other Asian countries, such as South Korea and China use herbs extensively in traditional medicine. Herbs like ginseng are also utilized as culinary ingredients. Teas and coffee are other important adaptogenic ingredient groups.
Because of the rising number of stress-related disorders, North America is predicted to grow at the fastest rate by 2027. Ginseng is widely used in Asia and is a significant ingredient in many popular North American goods. According to MDF, approximately 35% of people experience high stress, while 75% of people experience stress that affects their physical health. Stress has become a big health issue due to its tendency to create other adverse health issues such as high blood pressure, heart disease, and obesity. It is one of the six main causes of death in the United States. These factors are influencing the market growth of adaptogens in this region.
The market driver for adaptogens is the increased desire for healthier foods and beverages. Adaptogens can be added to meals in powdered form to assist reduce stress and improving mental clarity. It's also gaining popularity as a substitute for cannabidiol (CBD), which is fueling market demand and thus acting as a major growth driver in the European region.
Adaptogen research and development is attracting a lot of money from companies. Consumer trust and transparency are in desperate need of improvement. Through investments and brand creation, manufacturers are achieving a competitive advantage in the market. Consumer preferences and awareness of the goods they are consuming are both increasing thereby improving the market growth of adaptogens in the Latin American region.
The Middle East And Africa
Adaptogens Market Key Players:
Organic India

PLT Health Solutions, Inc.

Amax NutraSource, Inc.

Changsha Organic Herb Inc

NutraCap Labs