Antimicrobial Coatings Market Size (2021 to 2026)
Antimicrobial Coatings Market was expected to worth USD 4.99 billion in 2021. This market is growing at a CAGR of 14.1% to reach USD 7.29 billion by 2026.
Surfaces of materials are highly prone to contamination by bacteria and other microorganisms. Antimicrobial coatings consist of antimicrobial agents that inhibit the growth of microorganisms when applied to the surface of materials. They have been extensively used in healthcare to prevent fatal hospital-acquired infections. These are used for coating the walls, surfaces of institutions, factories, offices, hotels, stations, and hospitals to protect coated surfaces for an extended period. The innovative polymer is the base of this market, and when it combines with the paint, it will protect the surface from viruses and bacteria. And these transparent coatings can spray without damaging the coated surface.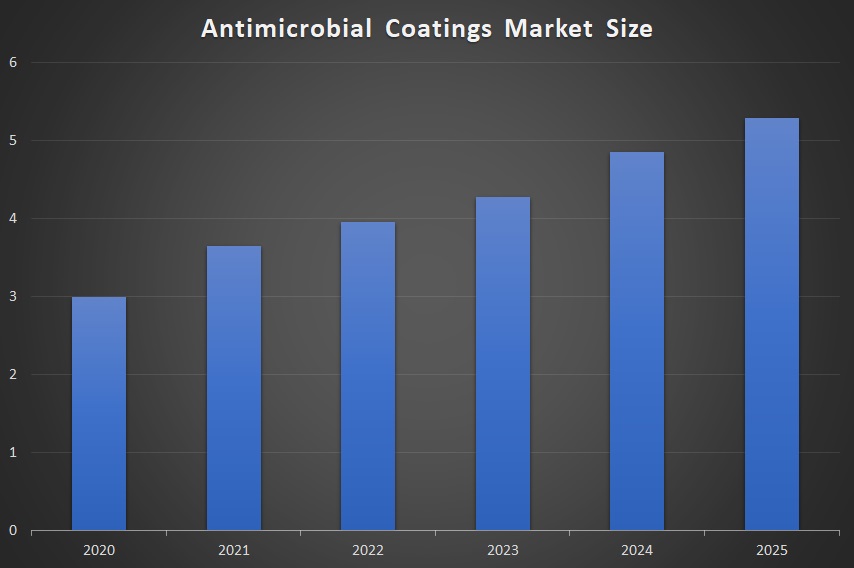 COVID-19 impact on the Antimicrobial Coatings market
The Scenario of the world after the COVID-19 outbreak will change vehemently, and also it hampers the income of many companies. So to increase the business, companies are focusing on Antimicrobial coating products for the medical sector and the use of outdoor climatic changes. The factors which are responsible for the market growth in the future are increasing the number of diseases. The European Institute of Innovation and Technology (EIT) announced € 60 million additional funding to the new antimicrobial researchers to tackle this social and economic challenge.
Role of Antimicrobial Coatings in the Construction Industry
It is projected that by 2100, the global population would reach 10 billion people, creating a demand for about 2 billion homes, which is estimated to boost the global antimicrobial coatings market growth. Such materials are suitable for use indoor handles, floors and carpets, roof systems, workstations, radiators, and accessories due to their ability to prevent surface deterioration and disease spread. Substantial economic growth, job creation, and falling interest rates should further support the residential construction industry and drive growth in the demand for antimicrobial coatings.
Role of Antimicrobial Coatings in the F&B Industry
Due to population growth and increased convenience of large-scale food production, significant demand for heat & service, ready-made, and home-packaged food will drive growth in the packaging industry and raise market demand for antimicrobial coatings. Such products destroy pathogenic microbes that pose the threat of foodborne diseases, improve the quality of shelf life and food. Rising demand for high-quality products aimed at improving living standards and increasing consumer purchasing power should further stimulate antimicrobial coatings market growth.
Role of Antimicrobial Coatings in the Healthcare Industry
Considerable impacts on the health and environment of silver nanoparticles used in antimicrobial coatings are likely to impede the antimicrobial coatings market growth. Exposure to soluble silver compounds can lead to human adverse health effects like eye irritation, damage to the kidney and liver, and respiratory, intestinal, and skin irritation. Such nanoparticles can interfere with soil ecology and may have harmful effects on aquatic organisms, such as inflammation of the gill. Nonetheless, coating manufacturers are making considerable efforts to develop biodegradable antimicrobial coatings with significantly lower toxicity and high usability that should cause market growth.
The medical devices antimicrobial coating market anticipates the growth of the market in the forecast period. This hydrophilic coating on medical devices helps to reduce infections and offers lubricity. These devices are used by surgeons to conduct the surgeries successfully. Hydromer antimicrobial medical device coatings will break through the antimicrobial coatings market in the coming future.
REPORT COVERAGE
| | |
| --- | --- |
| REPORT METRIC | DETAILS |
| Market Size Available | 2019 to 2025 |
| Base Year | 2020 |
| Forecast Period | 2021 to 2026 |
| Segments Covered | By Type, Application, and Region |
| Various Analyses Covered | Global, Regional & Country Level Analysis, Segment-Level Analysis, Drivers, Restraints, Opportunities, Challenges, PESTLE Analysis, Porter's Five Forces Analysis, Competitive Landscape, Analyst Overview on Investment Opportunities |
| Regions Covered | North America, Europe, Asia Pacific, Latin America, Middle East & Africa |

This market research report on the global antimicrobial coatings market has been segmented and sub-segmented based on type, application, and region.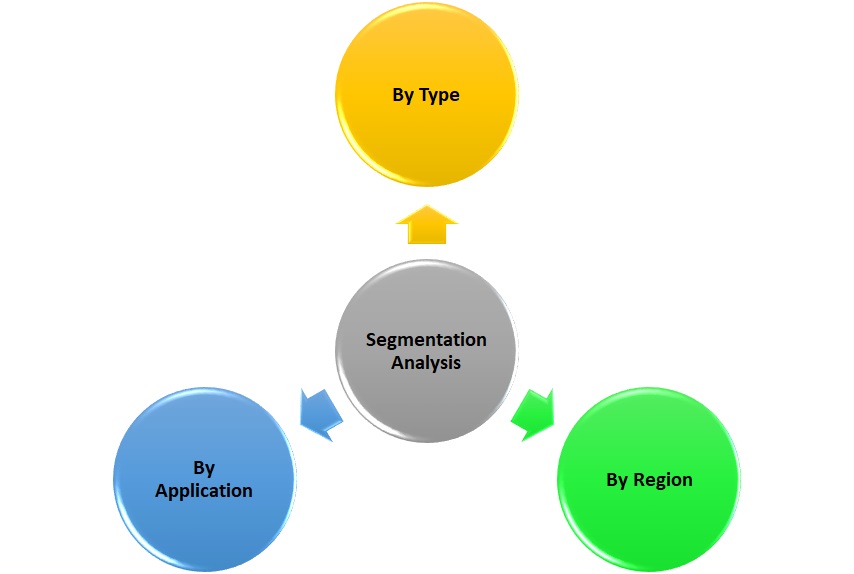 Antimicrobial Coatings Market - By Type
Copper

Silver

Polymer

Others
Based on type, the Silver coatings segment is the largest market segment as silver can effectively counter various kinds of microorganisms. The polymers segment is the fastest-growing segment due to the advances in material sciences to produce antimicrobial polymers.
Antimicrobial Coatings Market - By Application
Healthcare

Building And Construction

Indoor Home Appliances

Mold Remediation

Food And Beverages

Textiles

Cosmetics

Others
Based on the application, the Indoor home appliances segment leads the antimicrobial coatings market due to the increasing demand in residential and institutional buildings. The healthcare segment is expected to be the fastest-growing segment due to the growing initiatives to keep hospitals and clinics free of germs and to prevent hospital-acquired infections.
Antimicrobial Coatings Market Regional Analysis
North America leads the antimicrobial coatings market due to the high adoption rate of antimicrobial coatings in the healthcare sector as this region witnesses high mortality due to hospital-acquired infections.
The Asia Pacific is expected to be the fastest-growing market due to the increasing applications in buildings and construction, growing health awareness, and increasing healthcare expenditure.
Antimicrobial Coatings Market key players:
Some of the major players in the global antimicrobial coatings market profiled in this report are
Akzonobel

Nippon Paint Company

DOW Chemical Company

Damond Vogel

Sherwin Williams

BASF SE

Axalta Coating Systems

RPM International

Lonza Group

Royal DSM
AkzoNobel N.V. Believes in inorganic growth with the approach of mergers and acquisitions to develop in different markets. It also strengthens its presence in Asia-Pacific and other emerging economies through new product innovations and modern production plants. In emerging revenue markets, the company focuses on expansions. In 2016, the company expanded its Indonesian quality coating plant to meet the growing Asia-Pacific demand. In its marine and protective coatings, this expansion is expected to increase its efficiency by 40%.
1. Introduction
1.1 Market Definition
1.2 Study Deliverables
1.3 Base Currency, Base Year and Forecast Periods
1.4 General Study Assumptions
2. Research Methodology
2.1 Introduction
2.2 Research Phases
2.2.1 Secondary Research
2.2.2 Primary Research
2.2.3 Econometric Modelling
2.2.4 Expert Validation
2.3 Analysis Design
2.4 Study Timeline
3. Overview
3.1 Executive Summary
3.2 Key Inferences
3.3 Epidemology
4. Drivers, Restraints, Opportunities, and Challenges Analysis (DROC)
4.1 Market Drivers
4.2 Market Restraints
4.3 Key Challenges
4.4 Current Opportunities in the Market
5. Market Segmentation
5.1 Type
5.1.1 Introduction
5.1.2 Copper
5.1.3 Silver
5.1.4 Polymer
5.1.5 Others
5.1.5 Y-o-Y Growth Analysis, By Type
5.1.6 Market Attractiveness Analysis, By Type
5.1.7 Market Share Analysis, By Type
5.2 Application
5.2.1 Introduction
5.2.2 Healtcare
5.2.3 Building & Construction
5.2.4 Indoor Home Appliances
5.2.5 Mold Remedation
5.2.6 Food & Beverages
5.2.7 Textiles
5.2.8 Cosmetics
5.2.5 Y-o-Y Growth Analysis, By Application
5.2.6 Market Attractiveness Analysis, By Application
5.2.7 Market Share Analysis, By Application
6. Geographical Analysis
6.1 Introduction
6.1.1 Regional Trends
6.1.2 Impact Analysis
6.1.3 Y-o-Y Growth Analysis
6.1.3.1 By Geographical Area
6.1.3.2 By Type
6.1.3.3 By Application
6.1.4 Market Attractiveness Analysis
6.1.4.1 By Geographical Area
6.1.4.2 By Type
6.1.4.3 By Application
6.1.5 Market Share Analysis
6.1.5.1 By Geographical Area
6.1.5.2 By Type
6.1.5.3 By Application
6.2 North America
6.1.1 Introduction
6.1.2 United States
6.1.3 Canada
6.3 Europe
6.2.1 Introduction
6.2.2 U.K
6.2.3 Spain
6.2.4 Germany
6.2.5 Italy
6.2.6 France
6.4 Asia-Pacific
6.3.1 Introduction
6.3.2 China
6.3.3 India
6.3.4 Japan
6.3.5 Australia
6.3.6 South Korea
6.5 Latin America
6.4.1 Introduction
6.4.2 Brazil
6.4.3 Argentina
6.4.4 Mexico
6.4.5 Rest of Latin America
6.6 Middle East & Africa
6.5.1 Introduction
6.5.2 Middle-East
6.5.3 Africa
7. Strategic Analysis
7.1 PESTLE analysis
7.1.1 Political
7.1.2 Economic
7.1.3 Social
7.1.4 Technological
7.1.5 Legal
7.1.6 Environmental
7.2 Porter's Five analysis
7.2.1 Bargaining Power of Suppliers
7.2.2 Bargaining Power of Consumers
7.2.3 Threat of New Entrants
7.2.4 Threat of Substitute Products and Services
7.2.5 Competitive Rivalry within the Industry
8. Market Leaders' Analysis
8.1 Akzonobel
8.1.1 Overview
8.1.2 Product Analysis
8.1.3 Financial analysis
8.1.4 Recent Developments
8.1.5 SWOT analysis
8.1.6 Analyst View
8.2 Snippon Paint Company
8.3 DOW Chemical Company
8.4 Damond Vogel
8.5 Sherwin Williams
8.6 BASF SE
8.7 Axalta Coating Systems
8.8 RPM International
8.9 Lonza Group
8.10 Royal DSM
9. Competitive Landscape
9.1 Market share analysis
9.2 Merger and Acquisition Analysis
9.3 Agreements, collaborations and Joint Ventures
9.4 New Product Launches
10. Market Outlook and Investment Opportunities
Appendix
a) List of Tables
b) List of Figures
Global and country-level analysis and forecasts of the study market; providing Insights on the major countries/regions in which this industry is blooming and to also identify the regions that are still untapped
Segment-level analysis in terms of Type, by Application along with market size forecasts and estimations to detect key areas of industry growth in detail
Identification of key drivers, restraints, opportunities, and challenges (DROC) in the market and their impact on shifting market dynamics
Study of the effect of exogenous and endogenous factors that affect the global market; which includes broadly demographic, economics, and political, among other macro-environmental factors presented in an extensive PESTLE Analysis
Study the micro environment factors that determine the overall profitability of an Industry, using Porter's five forces analysis for analysing the level of competition and business strategy development
A comprehensive list of key market players along with their product portfolio, current strategic interests, key financial information, legal issues, SWOT analysis and analyst overview to study and sustain the market environment
Competitive landscape analysis listing out the mergers, acquisitions, collaborations in the field along with new product launches, comparative financial studies and recent developments in the market by the major companies
An executive summary, abridging the entire report in such a way that decision-making personnel can rapidly become acquainted with background information, concise analysis and main conclusions
Expertly devised analyst overview along with Investment opportunities to provide both individuals and organizations a strong financial foothold in the market
Global Antimicrobial Coatings Market, By Region, From 2021-2026(USD Million)

Global Antimicrobial Coatings Market, By Type, From 2021-2026(USD Million)

Global Copper Market, By Region, From 2021-2026(USD Million)

Global Silver Market, By Region, From 2021-2026(USD Million)

Global Polymer Market, By Region, From 2021-2026(USD Million)

Global Others Market, By Region, From 2021-2026(USD Million)

Global Antimicrobial Coatings Market, By Application, From 2021-2026(USD Million)

Global Healthcare Market, By Region, From 2021-2026(USD Million)

Global Building & Construction Market, By Region, From 2021-2026(USD Million)

Global Indoor Home Appliances Market, By Region, From 2021-2026(USD Million)

Global Mold Remediation Market, By Region, From 2021-2026(USD Million)

Global Food & Beverages Market, By Region, From 2021-2026(USD Million)

Global Textiles Market, By Region, From 2021-2026(USD Million)

Global Cosmetics Market, By Region, From 2021-2026(USD Million)

Global Others Market, By Region, From 2021-2026(USD Million)