Global Biological Safety Cabinets Market Size (2022 to 2027)
The size of the global biological safety cabinets market was worth USD 149.6 million in 2021. This value is predicted to grow at a CAGR of 8.24% from 2022 to 2027 and is worth USD 161.93 million in 2022 and USD 240.58 million by 2027.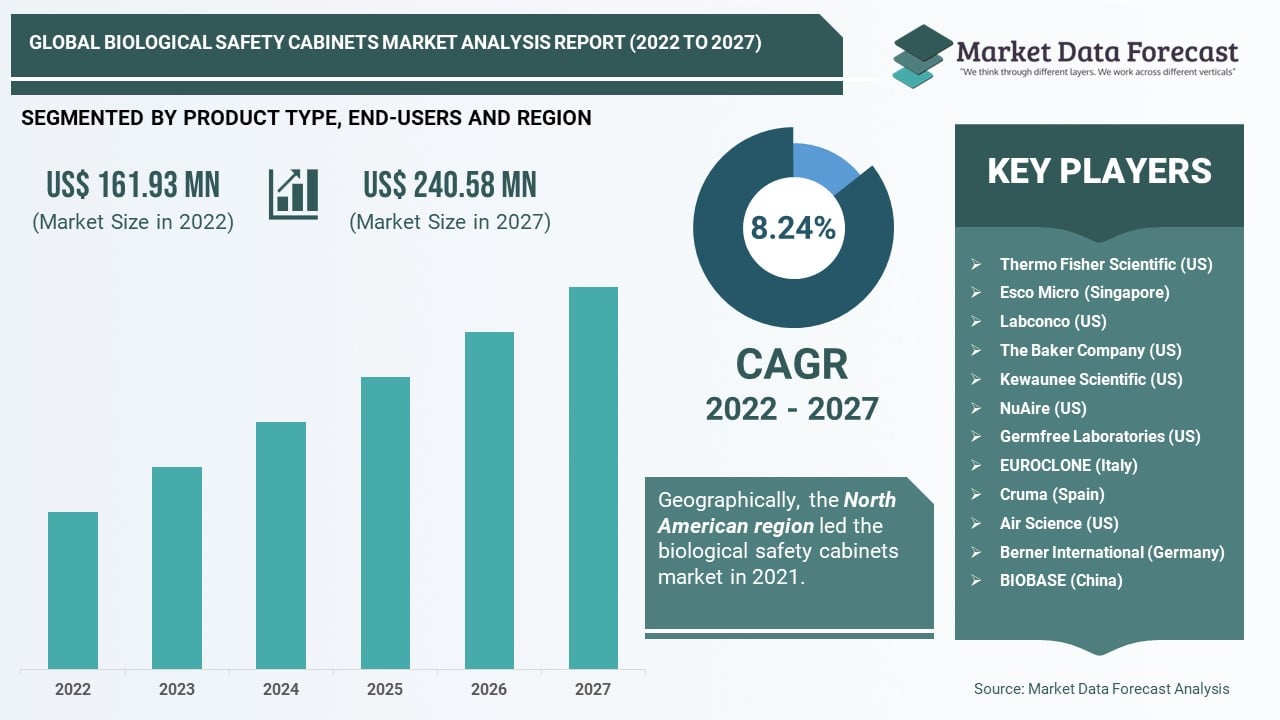 Biological safety cabinets are biocontainment equipment commonly used in biological research institutes and laboratories to secure researchers' safety and prevent environmental hazards. Biological Safety Cabinets are divided into three categories: Class I, Class II, and Class III. Class I cabinets are designed to keep workers and the environment safe. The cabinet is not meant to safeguard products, and sample contamination is one of the higher-risk concerns in the class I category. Biological safety cabinets are used to keep infectious diseases and hazardous chemicals contained while doing research. Basic systems such as HEPA filters, Laminar Airflow, work stations, ventilated cabinets, and exhausts are included in these cabinets. These safety cabinets must be ISO certified and meet international requirements.
Impact of COVID-19 on the global biological safety cabinets market:
The COVID-19 has infected several businesses and industries. Sudden changes in the global economy and a reduction in production units have produced widespread uncertainty. As a result of this situation, researchers and vaccines against dangerous viruses have been developed. Several organizations have expanded their research and research-related spending. As a result of these issues, the market for biological safety cabinets has grown in popularity. COVID-19 samples are processed in laboratories, which necessitates a high level of security for those participating in the testing. During the pandemic, such elements are boosting the overall growth of the biological safety cabinet market. Pharmaceutical companies also use diagnostic labs to assess the microbiological quality of their products. The broad pandemic and rising viral infections have boosted the global biological safety cabinet market's overall growth.
MARKET DRIVERS:
The rising threat of pandemics and viral infections worldwide is one of the significant factors promoting the growth of the global biological safety cabinets market.
Pandemics and infectious diseases have become much more common in recent years. On the other hand, chronic illness is rising; thus, pharmaceutical companies are boosting their production of medicines to meet the rising demand. These are a few of the key drivers of the biological safety cabinets market. Furthermore, the increasing prevalence of chronic diseases such as cancer, respiratory ailments, and Alzheimer's has prompted more research, resulting in a greater demand for enhanced safety equipment. Furthermore, favorable regulations encourage the usage of biological safety cabinets in the healthcare industry, which is adding to the market's growth.
Pharmaceutical businesses concentrate on medicine microbiological quality, and medicines' microbiological purity is critical for their efficacy and patient safety. The norms and legislation very strictly regulate quality control. The drug's microbial contamination could harm patients' health and result in long-term consequences such as cancer or other health problems. These factors create a lucrative opportunity for the industry's expansion. The rise in biopharmaceutical and pharmaceutical companies' R&D activities, the rapid growth in biologics, the increase in healthcare infrastructure investment in developing economies, and the increase in life sciences are all significant factors driving the biological safety cabinets market. Furthermore, growth in research and development efforts and improved healthcare results are estimated to generate new opportunities for the physical safety cabinets market.
MARKET RESTRAINTS:
Increasing prices for cabinet setup and production and frequent cabinet maintenance necessitate concentrated efforts and large expenditures. These are the key restrictions on the market's development. Reluctance to accept the product on the market is also regarded as a challenge to the market's overall expansion. The constraints and regulations regulating the use of UV lights in safety cabinets are also seen as a significant barrier to the expansion of the market. Alternative containment cabinets and the high cost of biological safety cabinets are two main concerns estimated to hinder market growth and pose a further challenge to the expansion of the global biological safety cabinets market.
REPORT COVERAGE:
| | |
| --- | --- |
| REPORT METRIC | DETAILS |
| Market Size Available | 2021 to 2027 |
| Base Year | 2021 |
| Forecast Period | 2022 to 2027 |
| Segments Covered | By Product Type, End-user, and Region |
| Various Analyses Covered | Global, Regional & Country Level Analysis, Segment-Level Analysis, Drivers, Restraints, Opportunities, Challenges, PESTLE Analysis, Porter's Five Forces Analysis, Competitive Landscape, Analyst Overview on Investment Opportunities |
| Regions Covered | North America, Europe, Asia Pacific, Latin America, Middle East & Africa |
This research report on the global biological safety cabinets market has been segmented and sub-segmented based on product type, end-user, and region.
Biological Safety Cabinets Market – By Product Type:
Class I

Class II

Class II Type A

Class II Type B

Class III
In 2020, the class II segment had the largest share of the global biological safety cabinets market. The increasing number of research and development facilities around the world is credited with the segment's rise. Furthermore, the increased number of product launches and widespread usage of class II biosafety cabinets are expected to provide a lucrative opportunity for segment expansion throughout the forecast period.
Biological Safety Cabinets Market – By End-User:
Pharmaceutical and Biopharmaceutical Companies

Diagnostics & Testing Laboratories

Academic & Research Organizations
The pharmaceutical and biotechnology segment holds a considerable share in the biological safety cabinets market and is expected to maintain this trend over the forecast period. The Pharmaceutical and Biotechnology Segment is driven by advanced technology-based goods, increased research and development efforts, and rising investments in the medical sector and life sciences because microbial contamination of pharmaceuticals generates detrimental effects on patient health in terms of morbidity and mortality, as well as long-term unfavorable consequences such as cancer, pharmaceutical, and biotechnology businesses require microbiological quality of drugs for efficacy and patient safety.
Biological Safety Cabinets Market – By Region:
North America

Asia Pacific

Europe

Latin America

The Middle East and Africa
The growing geriatric population in North America and improving medical infrastructure and technology are propelling the North American biological safety cabinets market forward. Furthermore, due to the increased research and development activities in the pharmaceutical and biotechnology industries and the increased risk of pandemics and infectious diseases in this region, North America is expected to hold a significant share in the global biological safety cabinet market during the forecast period. Furthermore, the widespread use of technologically improved biological safety cabinets and a well-developed healthcare sector are driving the entire regional market forward.
Over the forecast period, the Asia Pacific area is expected to have the highest CAGR. This is due to increased spending by both domestic and foreign companies, a large pool of skilled personnel, and governments' move toward fundamental research and entrepreneurship.
Regions such as Latin America, the Middle East, and Africa are still in their beginnings. However, investments by leading market players and other government initiatives in these regions are projected to assist the market in developing significantly in the future by upgrading healthcare infrastructure and focusing on better patient care.
KEY MARKET PARTICIPANTS:
Thermo Fisher Scientific (US), Esco Micro (Singapore), Labconco (US), The Baker Company (US), Kewaunee Scientific (US), NuAire (US), Germfree Laboratories (US), EUROCLONE (Italy), Cruma (Spain), Air Science (US), Berner International (Germany) and BIOBASE (China) are a few of the prominent companies operating in the global biological safety cabinets market profiled in this report.
RECENT MARKET DEVELOPMENTS:
Telstar introduced the ergonomic BiOptima cabinet on July 1st, 2019, a Class II biological safety cabinet with a high-end for cleanability, higher performance, and energy savings.

Thermo Fisher Scientific introduced Class II Biological Safety Cabinets (BSCs) on May 13th, 2019, which aided in the development of the optimization of preventing contamination and the preservation of information and its administration.

EuroClone SpA acquired AddLife on January 1, 2020, to improve the healthcare sector. This partnership provides the healthcare industry with high-quality, cost-effective solutions and products.