Bottled Water Testing Equipment Market Size (2023-2028)
The Global Bottled Water Testing Equipment Market Size was worth US$ 5.2 billion in 2022, and it is estimated to reach a value of US$ 6.64 billion by the end of 2028, rising at an annual growth rate of 5.3% between 2023 and 2028. The demand for sick water test kits is increasing rapidly as people's awareness of waterborne illness increases.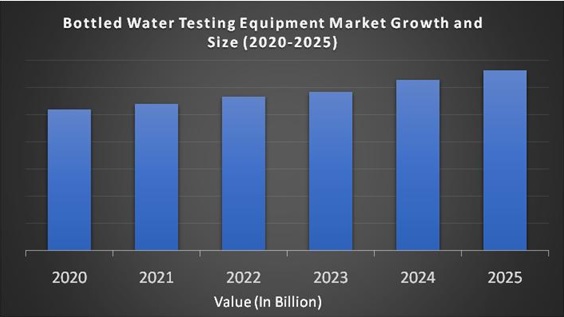 Market Overview:
Bottled Water Testing Equipment as bottled water becomes one of the needs of the moment; the size of the market is likely to grow to a moderate CAGR. This test kit consists of multiple barrier methods, including distillation, microfiltration, reverse osmosis, carbon filtration, ultraviolet (UV), and ozone. This product is widely used to detect organisms such as Vibrio cholera, E. coli and other pathogens. This test in bottled water is necessary to recognize heterotrophs, E. coli, mold, yeast, E. coli, pH, turbidity, conductivity, and ozone residues.
Recent Developments in Bottled Water Testing Equipment Industry:
In 2018, the World Health Organization (WHO) was able to reduce people's health by conducting formal studies of water bottles sold in China and India filled with plastic parts. Nestlé's pure bottled water contains 10,000 plastic particles per litre of water.
REPORT COVERAGE:
| | |
| --- | --- |
| REPORT METRIC | DETAILS |
| Market Size Available | 2022 – 2028 |
| Base Year | 2022 |
| Forecast Period | 2023 - 2028 |
| CAGR | 5.3% |
| Segments Covered | By Technology, Test Type, Component and Region |
| Various Analyses Covered | Global, Regional & Country Level Analysis, Segment-Level Analysis, DROC, PESTLE Analysis, Porter's Five Forces Analysis, Competitive Landscape, Analyst Overview on Investment Opportunities |
| Regions Covered | North America, Europe, APAC, Latin America, Middle East & Africa |
| Market Leaders Profiled | Bio-Rad laboratories Inc, Agilent Technologies Inc, Waters Corporation, Thermo Fisher Scientific Inc, Perkinelmer Inc, Shimadzu Corporation, Sigma-Aldrich Corporation, Accepta, Lamotte Company and Others. |
Bottled Water Testing Equipment Market Growth:
The global bottled water testing equipment market is likely to thrive due to the rise in water quality testing, increased consumption of bottled water worldwide, and the stringent regulatory requirements of various regulatory agencies.
Drivers:
Increased water bottle consumption is one of the main factors driving the demand for advanced bottled water testing equipment. In order to meet these demands, technological advances are always underway to replace old methods with more effective ones. The evolving water bottle testing process is expected to reduce testing costs and increase effectiveness. Increasing awareness of the health impact of contaminated water is supposed to accelerate the growth of the global bottled water test equipment market. The government also imposes strict rules on the processes and equipment used for testing bottled water, which will strengthen the global market. Today, many water bottle manufacturers use UV disinfection to assess water quality. This process also helps protect the shelf life and aroma of the water. Because waterborne pathogens can occur in bottled water, treatment and testing processes, such as UV disinfection, play an essential role in the production of bottled water.
Waterproof equipment that does not produce toxic substances or by-products and does not use hazardous chemicals for processing is considered the right equipment. In addition, manufacturers are developing bottled water test kits that leave no residue, do not adversely affect product stability, and do not change aroma, color, fragrance, or pH values. Innovations in bottling technology, supported by the growth and availability of health and wellness issues, new packaging initiatives, green packaging, and a variety of segments of flavored sparkling mineral water, are expected to increase demand for bottled water worldwide in the future. The development of low-cost equipment for small bottling operations and the use of non-toxic raw materials to package bottled water are creating opportunities for the global bottled water market. The bottled water test takes an hour and involves the use of multiple barrier methods such as reverse osmosis, distillation, microfiltration, carbon filtration, ozone, and ultraviolet (UV).
The bottled water test kit is mainly used to detect organisms like E. coli, Vibrio cholera and other pathogens. Bottled water tests include E. coli, nutrient-dependent plate counts, yeast, fungi, and Pseudomonas sp. pH, total dissolved solids, conductivity, turbidity and ozone residues. Awareness of waterborne diseases increases the demand for water quality testing and promotes the growth of bottled water testing equipment. Also, the EU Commission's food and pharmaceutical regulation will likely contribute significantly to the size of the tap water test equipment market in the future. Increased investment in R&D to develop new technologies for physical testing of water quality, microorganisms, chemicals, such as pesticide contaminants, toxic by-products, and pharmaceutical waste is likely to make a significant investment in the size of the bottled water testing equipment market for the expected period.
Restraints:
The high cost of test equipment is one of the biggest challenges in the Bottled Water Testing Equipment market. Furthermore, the adoption of advanced testing methods is proportional to the sample testing price. Water analysis laboratories and bottled water manufacturers have difficulty adapting to the various techniques and principles of updated technology. Negative environmental impacts, such as uncontrolled use and waste in PET packaging, are among the biggest challenges in the growth of the bottled water testing industry.
Bottled Water Testing Equipment Market Segmentation Analysis:
By Technology:
Traditional

Rapid

Spectroscopy

Chromatography

Testing Kits

Others
By Test Type:
Chemical

Physical

Microbial

Radiological
By Component:
Instruments

Reference Materials

Consumables

Reagents

Other Components
Geographical Segmentation Analysis:
North America - the United States and Canada

Europe - United Kingdom, Spain, Germany, Italy, and France

The Asia Pacific - India, Japan, China, Australia, Singapore, Malaysia, South Korea, New Zealand, and Southeast Asia

Latin America - Brazil, Argentina, Mexico, and Rest of LATAM

The Middle East and Africa - Africa and Middle East (Saudi Arabia, UAE, Lebanon, Jordan, Cyprus)
Regional Analysis:
The global bottled water testing equipment market is divided into seven regions: Asia Pacific (APEJ), Japan and the Middle East and Africa (MEA), except North America, Latin America, Western Europe and Eastern Europe, and Japan. APEJ has contributed to and dominates the global bottled water test equipment market in terms of sales and sales volume. North America and Western Europe also provided a significant share of the global bottled water testing equipment market, followed by APEJ, and are expected to post moderate growth rates during the forecast period due to strict rules and regulations of regulatory agencies like the US FDA and the EU Commission.
Japan also recorded a healthy market share as an import in the world market for drinking water test equipment. Latin America and MEA are in the early stages of the bottled water testing equipment market worldwide, due to their lack of knowledge about water quality testing and the lack of local regulatory regulations. Overall, global bottled water testing equipment is assumed to grow significantly during the forecast period.
Top Leading Company:
The presence of Indian manufacturers of giant bottled water testing equipment, including PepsiCo (Aquafina), Nestlé and Coca-Cola (Kinley), has fuelled significant progress by proclaiming India as a market with great potential. Even the largest companies in the Indian bottled water manufacturing industry are experiencing a massive increase in consumer demand.
Key Players in the Market:
Major Key Players in the Global Bottled Water Testing Equipment Market are
Bio-Rad laboratories Inc

Agilent Technologies Inc

Waters Corporation

Thermo Fisher Scientific Inc

Perkinelmer Inc

Shimadzu Corporation

Sigma-Aldrich Corporation

Accepta

Lamotte Company