Ceramic Matrix Composites Market Size, Share, Growth & Forecast (2021 - 2026)
The Ceramic Matrix Composites Market size was close to USD 11.4 billion in 2021 and is estimated to grow at a CAGR of around 11.5% to reach USD 15.6 billion by the end of 2026.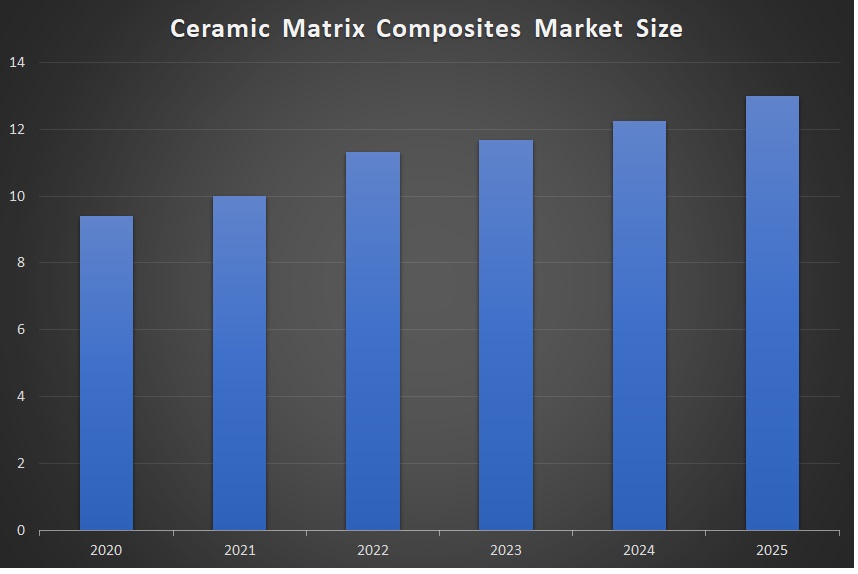 Ceramic matrix composites are elements that include ceramic fibers inserted in a matrix and making a ceramic matter. Nevertheless, carbon fibers are also termed as ceramic matter. Ceramic matrix composites are utilized in several applications like aerospace, defense, thermal studies, and others in order to enhance execution and firm shape. They are estimated to returned traditional alloys and additional metal components as they toil at "no cooling" medium due to more thermal stability. The fare of ceramic matrix composites is very much affected by the unstable prices of the ceramic fibers. So many multinational firms are highly funding in the developing regions to meet the escalating call for these composites. GE Aviation is one of the huge makers of jet and marine engines that is highly spending on research & development of ceramic matrix composites for making aircraft engines.
What are the Ceramic Matrix Composites?
Ceramic matrix composites (CMCs) are explained as a class of composite materials having ceramic fibers implanted in a ceramic matrix. Ceramic materials are inorganic and non-metallic solids that are crystalline in nature. CMCs show enhanced crack resistance, and they do not rupture easily under heavy loads when compared to traditional technical ceramics. Owing to improved properties of oxide, compounds having high fracturing toughness, no oxidation, and the less costly production procedure showcase high call from energy & power, aerospace, and defense applications. Ceramic matrix composites are materials involving ceramic fibers implanted in making a ceramic material. Nevertheless, carbon and carbon fibers are also known as ceramic material.
Recent Developments
Safran consolidates its research into ceramic matrix composites. The newly inauguration of Safran Ceramics, a research center devoted to ceramic matrix composites (CMCs), underlines the Group's desire to raise its expertise relating to these materials, whose properties are especially interesting for the aerospace segment
Market Drivers in the Ceramic Matrix Composites Market
The key factors that are estimated to be driving the CMC market are strict government regulations relating to fuel efficiency, a high call from aerospace & defense, automotive, and energy & power end-use markets, and the ability to live at extreme temperatures. It is important for makers to lessen the load of automobiles to gain good efficiency. This, in turn, will support to combat the effect of inclining fuel costs and decrease carbon emissions. Also, the permeability to high-temperatures and exceptional tensile strength curb the usage of cooling air in automobile engines that can result in enhanced performance. Ceramic matrix composites are anticipated to substitute traditional alloys and metal components in vehicle engines as conventional alloys require high dedicated cooling air while ceramic matrix components can work with little or no cooling
Restraints of Ceramic Matrix Composites Market
The cost of ceramic matrix composites has been a challenge for this business over the last 100 years. It is observed that the prices of ceramic fibers have a direct impact on the expense involved in these composites. The expenses of carbon-ceramic matrix composites are consonantly lower than silicon carbide and oxide ceramic matrix composites owing to the huge-scale production of carbon fibers in the last some years. On the other side, the production of alumina and silicon carbide fibers is still very less. An alternative factor crediting to the high expenses of ceramic matrix composites is the creating of the matrix; the production of a matrix requires very expensive heap procedures at extreme temperatures in a suitable aura.
Growth Opportunities in the Ceramic Matrix Composites Market
The customization requirement for ceramic matrix composites for specific uses involves higher expenses and has affected the industry development of ceramic matrix composites in the past years. The huge-scale manufacturing of easy shapes, like plates and pipes, would assist in getting rid of the laboring steps included in the processing of ceramic matrix composites. Apart from the standardization procedures in these composites, producers are now focusing on the development of the novel compounds with the help of comprehensive techniques.
Major Challenges in the Ceramic Matrix Composites Market
The increasing awareness associated with ceramic matrix composites repairing techniques and the rising number of skilled manpower will lower the effect in the coming years. In addition, the incapability to recycle the components irrespective of its long shelf life can be considered as a severe threat to development.
REPORT COVERAGE
| | |
| --- | --- |
| REPORT METRIC | DETAILS |
| Market Size Available | 2019 – 2025 |
| Base Year | 2020 |
| Forecast Period | 2021 - 2026 |
| CAGR | 11.5% |
| Segments Covered | By Product, Type, Application and Region |
| Various Analyses Covered | Global, Regional & Country Level Analysis, Segment-Level Analysis, DROC, PESTLE Analysis, Porter's Five Forces Analysis, Competitive Landscape, Analyst Overview on Investment Opportunities |
| Regions Covered | North America, Europe, APAC, Latin America, Middle East & Africa |
| Market Leaders Profiled | Rolls-Royce plc, COI Ceramics, Inc., SGL Group, UNITED TECHNOLOGIES, CeramTec, Lancer Systems, CoorsTek Inc., Ultramet, Thin Films Composites Horizons, Starfire Systems, Inc., GrafTech International, PYROMERAL SYSTEMS |

Ceramic Matrix Composites Market segmentation as per the research report until 2026.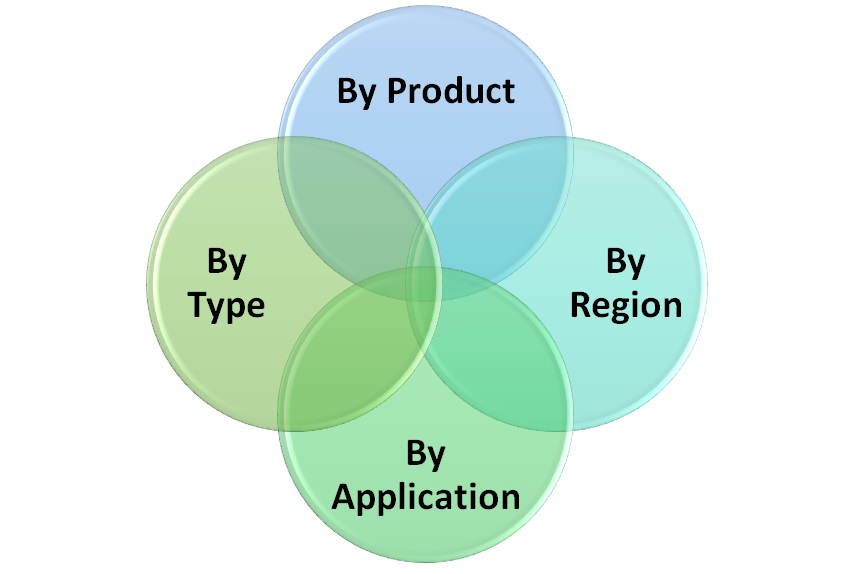 On the basis of Type, the market is separated into C/C ceramic matrix composite materials, C/SIC ceramic matrix composites, oxide/oxide ceramic matrix composites, matrix composite materials ceramic SIC/SIC.
On the basis of Application, the market is separated into aerospace and defense. The aerospace and defense sector is also subdivided into gas turbine engines, nozzles, and nose plugs. The automotive segment is also divided into brake discs and motors. The energy and energy sector are also subdivided into nuclear reactors and next-generation heat exchangers. The Electricity and Electronics segment is subdivided into electronic packaging systems. The Other segment is divided into industrial, marine, and biomedical sectors.
Ceramic Matrix Composites Market – By Region
North America

Europe

Asia Pacific

Latin America

Middle East & Africa
North America Ceramic Matrix Composites Market is the biggest and the quickest-advancing ceramic matrix composites industry. In this area, the aerospace and defense sector is the most considerable contributor to the ceramic matrix composites business. The proximity of a huge number of ceramic matrix composites makers builds the area as the most key industry for ceramic matrix composites. The occupancy of an advanced ceramic matrix composites industry and extreme call for ceramic matrix composites from the aerospace & defense employment in the United States are predicted to drive the ceramic matrix composites industry in North America. The United States is the most major industry for ceramic matrix composites in the area, where makers are funding in the latest matrix kinds and R&D activities. The expansion of the aviation sector in a positive way, funding in R&D activities, and the adoption of environmental rules would drive the ceramic matrix composites business in the US. The Asia Pacific is another area expanding at a rapid rate due to the rising funding in novel nuclear power plants, defense, power stations, and aerospace.
Ceramic Matrix Composites Market key players:
General Electric

Rolls-Royce plc

COI Ceramics, Inc.

SGL Group

UNITED TECHNOLOGIES

CeramTec

Lancer Systems

CoorsTek Inc.

Ultramet

Thin Films Composites Horizons

Starfire Systems, Inc.

GrafTech International

PYROMERAL SYSTEMS, etc
1. Introduction
1.1 Market Definition
1.2 Study Deliverables
1.3 Base Currency, Base Year and Forecast Periods
1.4 General Study Assumptions
2. Research Methodology
2.1 Introduction
2.2 Research Phases
2.2.1 Secondary Research
2.2.2 Primary Research
2.2.3 Econometric Modelling
2.2.4 Expert Validation
2.3 Analysis Design
2.4 Study Timeline
3. Overview
3.1 Executive Summary
3.2 Key Inferences
3.3 Epidemology
4. Drivers, Restraints, Opportunities, and Challenges Analysis (DROC)
4.1 Market Drivers
4.2 Market Restraints
4.3 Key Challenges
4.4 Current Opportunities in the Market
5. Market Segmentation
5.1 Type
5.1.1 Introduction
5.1.2 C / C ceramic
5.1.3 C / SIC ceramic
5.1.4 others
5.1.5 Y-o-Y Growth Analysis, By Type
5.1.6 Market Attractiveness Analysis, By Type
5.1.7 Market Share Analysis, By Type
5.2 Application
5.2.1 Introduction
5.2.2 aerospace
5.2.3 defense
5.2.4 others
5.2.5 Y-o-Y Growth Analysis, By Application
5.2.6 Market Attractiveness Analysis, By Application
5.2.7 Market Share Analysis, By Application
6. Geographical Analysis
6.1 Introduction
6.1.1 Regional Trends
6.1.2 Impact Analysis
6.1.3 Y-o-Y Growth Analysis
6.1.3.1 By Geographical Area
6.1.3.2 By Type
6.1.3.3 By Application
6.1.3.4 By Indication
6.1.4 Market Attractiveness Analysis
6.1.4.1 By Geographical Area
6.1.4.2 By Type
6.1.4.3 By Application
6.1.4.4 By Indication
6.1.5 Market Share Analysis
6.1.5.1 By Geographical Area
6.1.5.2 By Type
6.1.5.3 By Application
6.1.5.4 By Indication
6.2 North America
6.1.1 Introduction
6.1.2 United States
6.1.3 Canada
6.3 Europe
6.2.1 Introduction
6.2.2 U.K
6.2.3 Spain
6.2.4 Germany
6.2.5 Italy
6.2.6 France
6.4 Asia-Pacific
6.3.1 Introduction
6.3.2 China
6.3.3 India
6.3.4 Japan
6.3.5 Australia
6.3.6 South Korea
6.5 Latin America
6.4.1 Introduction
6.4.2 Brazil
6.4.3 Argentina
6.4.4 Mexico
6.4.5 Rest of Latin America
6.6 Middle East & Africa
6.5.1 Introduction
6.5.2 Middle-East
6.5.3 Africa
7. Strategic Analysis
7.1 PESTLE analysis
7.1.1 Political
7.1.2 Economic
7.1.3 Social
7.1.4 Technological
7.1.5 Legal
7.1.6 Environmental
7.2 Porter's Five analysis
7.2.1 Bargaining Power of Suppliers
7.2.2 Bargaining Power of Consumers
7.2.3 Threat of New Entrants
7.2.4 Threat of Substitute Products and Services
7.2.5 Competitive Rivalry within the Industry
8. Market Leaders' Analysis
8.1 Thin Films Composites Horizons
8.1.1 Overview
8.1.2 Product Analysis
8.1.3 Financial analysis
8.1.4 Recent Developments
8.1.5 SWOT analysis
8.1.6 Analyst View
8.2 General Electric
8.3 Rolls-Royce plc
8.4 COI Ceramics
8.5 SGL Group
8.6 UNITED TECHNOLOGIES
8.7 CeramTec
8.8 Lancer Systems
8.9 CoorsTek Inc
8.10 Ultramet
9. Competitive Landscape
9.1 Market share analysis
9.2 Merger and Acquisition Analysis
9.3 Agreements, collaborations and Joint Ventures
9.4 New Product Launches
10. Market Outlook and Investment Opportunities
Appendix
a) List of Tables
b) List of Figures
Global,Regional and country-level analysis and forecasts of the study market; providing Insights on the major countries/regions in which this industry is blooming and to also identify the regions that are still untapped

Segment-level analysis in terms by matrix type,by end user,along with market size forecasts and estimations to detect key areas of industry growth in detail

Identification of key drivers, restraints, opportunities, and challenges (DROC) in the market and their impact on shifting market dynamics

Study of the effect of exogenous and endogenous factors that affect the global market; which includes broadly demographic, economics, and political, among other macro-environmental factors presented in an extensive PESTLE Analysis

Study the micro environment factors that determine the overall profitability of an Industry, using Porter's five forces analysis for analysing the level of competition and business strategy development

A comprehensive list of key market players along with their product portfolio, current strategic interests, key financial information, legal issues, SWOT analysis and analyst overview to study and sustain the market environment

Competitive landscape analysis listing out the mergers, acquisitions, collaborations in the field along with new product launches, comparative financial studies and recent developments in the market by the major companies

An executive summary, abridging the entire report in such a way that decision-making personnel can rapidly become acquainted with background information, concise analysis and main conclusions

Expertly devised analyst overview along with Investment opportunities to provide both individuals and organizations a strong financial foothold in the market
Global Ceramic Matrix Composites Market By Region, From 2021-2026( USD Billion )

Global Ceramic Matrix Composites Market By Type, From 2021-2026( USD Billion )

Global C / C ceramic Market By Region, From 2021-2026( USD Billion )

Global C / SIC ceramic Market By Region, From 2021-2026( USD Billion )

Global others Market By Region, From 2021-2026( USD Billion )

Global Ceramic Matrix Composites Market By Application, From 2021-2026( USD Billion )

Global aerospace Market By Region, From 2021-2026( USD Billion )

Global defense Market By Region, From 2021-2026( USD Billion )

Global others Market By Region, From 2021-2026( USD Billion )