Cinnamon Market Size, Share, Growth, Value (2023-2028)
Cinnamon Market size is expected to grow from USD 0.9 billion in 2023 to USD 1.3 billion by the end of 2028 with a CAGR of about 7.60 % within a given forecast period.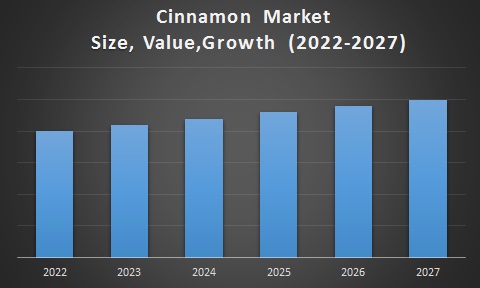 Cinnamon Market overview
Cinnamon is a kind of spice that is obtained from the inner bark of tropical tree species of the genus Cinnamomum. It is available mainly in two varieties, namely Cinnamomum cassia and Cinnamomum zeylanicum. Of, Cinnamomum cassia is a popular spice in North America that has a dark brown color and stronger flavor and is more widely used to flavor various food products. Cinnamon zeylanicum is also known as Ceylon cinnamon or real cinnamon, which appears in a lighter color with a milder and more delicate flavor than cassia cinnamon. The most widely used cinnamon varieties are pale-looking, parchment-looking cinnamon. Cinnamon is primarily used in various baked goods, such as cakes, pancakes, and other baked goods, as well as milk and rice pudding. It is also used in fruit desserts and chocolate dishes, mainly in pears and apple desserts. Cinnamon can also be used to flavor creams, syrups, and wines. Cinnamon powder is also used to enhance a variety of drinks, soups, and sweets.
Recent Developments in Cinnamon Market:
Diageo Plc sold 19 low-end liquor brands, including Canadian Seagrams VO whiskey and Goldschlager cinnamon brandy, in Sazerac, based in the United States, for $ 550 million because it focuses on its premium labels like Johnnie Walker in the United States.

Organic India launched World's First Fairtrade-certified supplements. Certified herbal supplements included Tulsi (Holy Basil), Cinnamon, Ginger, and Trikatu.

Nestle launched Starbucks creamers inspired by its signature drinks. The creamers were in three flavors with one being Cinnamon Dolce.
REPORT COVERAGE:
| | |
| --- | --- |
| REPORT METRIC | DETAILS |
| Market Size Available | 2022–2028 |
| Base Year | 2022 |
| Forecast Period | 2023-2028 |
| CAGR | 7.60% |
| Segments Covered | By Type, BY Application, By Distributional Channels. and By Region |
| Various Analyses Covered | Global, Regional & Country Level Analysis, Segment-Level Analysis, DROC, PESTLE Analysis, Porter's Five Forces Analysis, Competitive Landscape, Analyst Overview on Investment Opportunities |
| Regions Covered | North America, Europe, APAC, Latin America, Middle East & Africa |
| Market Leaders Profiled | Pure Ceylon Cinnamon, Adam Group, Bio Foods (Pvt) Ltd, HDDES Group, SDS SPICES (PVT) LTD, Ceylon Spice Company, Elite Spice, First Spice Mixing Company, C.F. Sauer Company, EHL Ingredients, and Bart Ingredients |
Cinnamon Market Drivers:
As people become more aware of healthy attributes, cinnamon is expected to experience significant demand in the food and beverage industry. With the increasing need to flavor various food products, the demand for cinnamon is supposed to remain high.
Cinnamon sales are assumed to primarily increase demand for different food products on the world market. The increasing demand for chocolate dishes and sweets contributed to the growth of the world market during the review period. To take advantage of the benefits of cinnamon, its consumption continues to spread to tea and coffee. The preference for cinnamon flavor has led the food industry to use cinnamon in various baked goods increasingly. The growth of the world market is anticipated to accelerate due to these factors. The demand for cinnamon continues to accelerate, linked to the growing need to control blood pressure and improve diabetes conditions. Furthermore, the prevalence of various digestive diseases is also presumed to have a positive impact on the growth of the world market. Parkinson's disease, Alzheimer's disease, chronic wounds, multiple sclerosis, and HIV are some of the common medical conditions that can be kept at bay with cinnamon consumption. Its consumption continues to lower cholesterol levels in patients with type I and type II diabetes.
Cinnamon Market Restraints:
As cinnamon consumption increases, the blood sugar level will allow diabetic patients to lose weight. Linked to these factors, the demand for cinnamon remains high in the world market. Cinnamon is rich in antioxidants, antifungal, anticancer, and anti-inflammatory properties. Attributed to its anti-inflammatory and antifungal properties, cinnamon is increasingly used by manufacturers for the production of drugs such as felbinac, ibuprofen, piroxicam, diclofenac, and ketoprofen. The increasing prevalence of skin disorders, infections, and diseases has led to an increased demand for cinnamon in the pharmaceutical industry. The need for cinnamon is expected to accelerate due to the increasing prevalence of eczema, acne, and pimples. Cosmetics manufacturers are increasingly using cinnamon for the production of acne masks, facial scrubs, and treatment solutions for hair growth. The increase in the production of facial cosmetics will continue to have a positive impact on the growth of the world cinnamon market.
Cinnamon Market segmentation:
Based on Type:
Ceylon Cinnamon

Cassia Cinnamon

Saigon Cinnamon

Korintje

Cinnamon

Others
Based on Application:
Food & Beverages

Medicines

Cosmetics
Based on Distribution Channel:
Hypermarkets

Supermarkets

Online Retailers

Convenience Stores

Specialty Stores
Cinnamon Market Regional Analysis:
North America (the U.S. and Canada)

Europe (U.K., France, Germany and Rest of Europe)

Asia Pacific (Japan, China, India and Rest of APAC)

Latin America (Brazil, Mexico and Rest of Latin America)

Middle-East & Africa (GCC and Rest of MEA)
North America Cinnamon Market:
North America cinnamon market dominated the global business, accounting for 35.5% of total revenue in 2018. Shifting consumer preferences towards herbal and healthy products is the primary driver of the market. Cinnamon is a vital source of a number of nutrients and minerals, it is an anti-inflammatory, and it is rich in antioxidants and is known to aid in weight loss. The spice has also shown beneficial effects against diseases such as Alzheimer's disease, diabetes, and HIV-1. The high prevalence of these health problems in the region should stimulate demand for products. Ceylon cinnamon is particularly in need in the United States because of its ultra-low levels of coumarin, a substance known to cause liver damage. According to a study published in the journal Gastroenterology in 2009, liver disease is the second leading cause of death among all digestive disorders in the United States. The number of liver cancer cases diagnosed in the country will reach an annual figure of almost 40,000. These alarming statistics have forced consumers to be more aware of coumarin consumption, leading to increased demand for Ceylon cinnamon.
Asia Pacific is the prominent region in the world market that has the highest usage of cinnamon, especially in nations like India, China, etc. The majority of Indian cuisines inculcate cinnamon to enhance the overall aroma of foods, along with the awareness of health benefits associated with this spice. This region is foreseen to register the highest CAGR in the coming years.
Cinnamon Market key players:
Pure Ceylon Cinnamon

Adam Group

Bio Foods (Pvt) Ltd

HDDES Group

SDS SPICES (PVT) LTD

Ceylon Spice Company

Elite Spice

First Spice Mixing Company

C.F. Sauer Company

EHL Ingredients

Bart Ingredients