Eggshell Membrane Market Size, Growth, Forecast (2022-2027)
The global Eggshell Membrane Market size was assessed at USD 105 billion in 2021, and it is predicted that it will reach USD 169 billion by 2027 at a CAGR of 10.1% during the calculated period. The market is majorly promoted by the rising adoption of eggshell membranes in dietary supplements.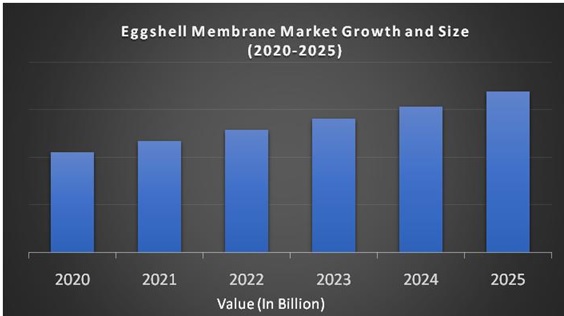 Market Overview:
The eggshell membrane is a double layer wall membrane of egg white and eggshell. The outer and inner membranes consist of protein fibers that tangle together, while the inner membrane is relatively heavy and compact. The derivatives of the eggshell membrane mainly contain proteins such as osteopontin, collagen and the protein sialo. Eggshell membrane derivatives have been shown to have excellent biocompatibility and have been reported to provide satisfactory results as biological dressings for burn donor or skin graft sites. The eggshell membranes contain large amounts of collagen and glycosaminoglycans, which are known to promote strong joints and reduce arthritis pain when taken as a supplement, and used in cosmetics where collagen affects the appearance of the skin. They were officially named "Phoenix Cloth" and are often used to treat chronic ulcers and bone cracks for various periods. The eggshell membranes have been shown to improve the condition of people with osteoarthritis and gastrointestinal problems. It also has antibacterial, anti-inflammatory, anti-wrinkle and healing properties.
Recent Developments in Eggshell Membrane Industry:
In March 2020, Stratum Nutrition (USA) signed a distribution agreement with 3i Solutions (USA) to expand the consumer base in the human nutrition sector.

In January 2019, Stratum Nutrition (USA) became the National Animal Supplement Council (NASC) supplier of choice for its product line, including the natural ingredients of the eggshell membrane, calcium from the eggshell, curcumin, and eggshell collagen in the United States.

Biova LLC during January 2018 made a deal with Stauber Performance Ingredients to improve the sales channels for eggshell membrane in the United States.
Eggshell Membrane Market Growth:
Eggshell Membrane market is expected to expand over the evaluation period, as both demand and supply have a high preference for hydrolyzed eggshell membranes.
REPORT COVERAGE:
| | |
| --- | --- |
| REPORT METRIC | DETAILS |
| Market Size Available | 2021 – 2027 |
| Base Year | 2021 |
| Forecast Period | 2022 - 2027 |
| CAGR | 10.1% |
| Segments Covered | By Type, Application, Product Form and Region |
| Various Analyses Covered | Global, Regional & Country Level Analysis, Segment-Level Analysis, DROC, PESTLE Analysis, Porter's Five Forces Analysis, Competitive Landscape, Analyst Overview on Investment Opportunities |
| Regions Covered | North America, Europe, APAC, Latin America, Middle East & Africa |
| Market Leaders Profiled | Microcore Research Laboratories India Pvt. Ltd, Kewpie Corporation, Biova, LLC, Eggshell Membrane Technologies, MitushiBiopharma, Eggnovo SL, covatec Solutions Inc and Others. |
Drivers:
The rising awareness related to health and changes in eating patterns are accelerating the development of the global eggshell membrane market. Eggshell membranes are becoming a healthier and more sustainable solution for dietary supplement consumers. Climate change, global warming, busy lifestyles, and excessive population growth around the world face many health problems. These are factors that cause health problems and other diseases in humans. Eggshell membranes are also used to meet the essential skin and joint health needs of the pet food industry and to meet the nutritional needs of pets. The growth of the eggshell membrane powder market will be driven by consumer-focused innovation, and the main market players are constantly on the lookout for changing market trends. The brand participates in a variety of conferences, promotional events, and online marketing campaigns due to the fact that an excellent range of products has been achieved and will be the key to improving sales performance. There are changes that have drawn attention worldwide as natural products. Demand for eggshell membranes will emerge as both the pharmaceutical and beauty industries are sincerely embracing. The idea of high adoption of this product is not only natural, but also due to its high level of properties such as hyaluronic acid, keratin and elastin. These are good for joint health, as they are a source of calcium, protein, enzymes and acids in the diet, as well as skin and hair that provide important elements of moisture and elasticity.
Additionally, market participants are paying attention to continuous improvement of existing products and new product prototypes and investing in strategic alliances with prominent companies operating in the life sciences sector. Research and development will be the epicenter of the manufacturer's growth strategy. Food drugs are the main users of eggshell membranes in the manufacture of drugs for the treatment of the gastrointestinal tract, joint pain, osteoarthritis, periodontal disease, wound healing and many other drugs. Eggshell membranes act as cosmetic nourishing ingredients that help maintain overall skin health, block skin, meet essential skin needs, and provide many other benefits to skin-related problems. It leads the growth of the global market for eggshell membranes. Cosmetics and personal care industries have fueled the growth of the global market for eggshell membranes.
Restraints:
The rapid shift to vegetarianism and veganism is likely to have a major impact on the penetration of eggshell membranes in the coming years. This trend is responsible for the development and commercialization of ethical and plant-based alternatives, but it creates a rather difficult scenario for market players to sustain growth in the environment of eggshell derivatives.
Eggshell Membrane Market Segmentation Analysis:
The market for eggshell membrane is sectioned by product form, type, application and region.
By product form, the powder segment is anticipated to record the most elevated CAGR during the conjecture time frame because of its expanded applications and utilization across ventures, for example, food and drinks, beauty care products and individual consideration, dietary enhancements, and useful nourishments. Also, the acknowledgment of powders among shoppers is ascending when contrasted with tablets, containers, and chewy candies and bites, as it disposes of the dread identified with the utilization of pharmaceutical items for medical advantages. Subsequently, the powdered portion is anticipated to increase huge offer during the estimate time frame because of its expanding request from the end-use industry makers for their line of items.
By the type, the hydrolyzed portion is anticipated to represent the biggest portion in the worldwide eggshell membrane business. This is because of key components, for example, its substance of film and its fixation and mass accessibility because of the nearness of significant eggshell layer makers creating the fixing in the hydrolyzed structure. Also, a greater part of the end-clients expends hydrolyzed eggshell layer in their line of items. Consequently, these components are anticipated to drive the development of this portion, because of which it is anticipated to command the worldwide market. Notwithstanding, among different sorts of eggshell films accessible, the unhydrolyzed section is anticipated to record the most noteworthy CAGR during the estimated time frame.
By application, the global market is separated into nutraceuticals, food & beverages, cosmetics & personal care products, and pharmaceuticals. Cosmetics and personal care segment is foreseen to contribute a significant portion to the worldwide market.
Impact of COVID 19 on the Eggshell Membrane Market:
In 2019, the worldwide eggshell membrane market has encountered critical development. Despite what might be expected, in 2020, the market is relied upon to see extreme effect significantly as a result of the network transmission of Covid-19, over numerous economies. Be that as it may, the worldwide market will recoup quick after the pandemic on account of constant improvement in research with respect to eggshell films.
Geographical Segmentation Analysis:
North America - the United States and Canada

Europe - United Kingdom, Spain, Germany, Italy, and France

The Asia Pacific - India, Japan, China, Australia, Singapore, Malaysia, South Korea, New Zealand, and Southeast Asia

Latin America - Brazil, Argentina, Mexico, and Rest of LATAM

The Middle East and Africa - Africa and Middle East (Saudi Arabia, UAE, Lebanon, Jordan, Cyprus)
Regional Analysis:
Market growth in the Asia-Pacific market includes a higher concentration of egg shell membrane manufacturers in the region. In addition, egg production remains at the highest level in the world, reducing the cost of purchasing raw materials worldwide. Therefore, due to the development of technology and the demand for abundant raw materials, manufacturers have produced and supplied eggshell membranes to various industries at competitive prices, and have an advantage over competitors in other regions. Additionally, increased awareness of the benefits of eggshell membranes in food and beverages, functional foods and cosmetics, and personal care applications is expected to drive demand for eggshell membranes, which has led to high exports due to the overproduction of eggshell membranes in the region. These factors are expected to contribute significantly to the eggshell membrane market in Asia Pacific. North American consumers know food well and care more about their health than other regions. North America have become one of the prominent regions in the global eggshell membrane market due to the high economy of consumers and the increased need for healthy and nutritious food supplements.
Key Players in the market:
Major Key Players in the Global Eggshell Membrane Market are
Microcore Research Laboratories India Pvt. Ltd

Kewpie Corporation

Biova, LLC

Eggshell Membrane Technologies

MitushiBiopharma

Eggnovo SL

covatec Solutions Inc
1. Introduction
1.1 Market Definition
1.2 Scope of the report
1.3 Study Assumptions
1.4 Base Currency, Base Year and Forecast Periods
2. Research Methodology
2.1 Analysis Design
2.2 Research Phases
2.2.1 Secondary Research
2.2.2 Primary Research
2.2.3 Data Modelling
2.2.4 Expert Validation
2.3 Study Timeline
3. Report Overview
3.1 Executive Summary
3.2 Key Inferencees
4. Market Dynamics
4.1 Impact Analysis
4.1.1 Drivers
4.1.2 Restaints
4.1.3 Opportunities
4.2 Regulatory Environment
4.3 Technology Timeline & Recent Trends
5. Competitor Benchmarking Analysis
5.1 Key Player Benchmarking
5.1.1 Market share analysis
5.1.2 Products/Service
5.1.3 Regional Presence
5.2 Mergers & Acquistion Landscape
5.3 Joint Ventures & Collaborations
6. Market Segmentation
6.1 Eggshell Membrane Market, By Type
6.1.1 Hydrolyzed
6.1.2 Unhydrolyzed
6.1.3 Market Size Estimations & Forecasts (2022-2027)
6.1.4 Y-o-Y Growth Rate Analysis
6.1.5 Market Attractiveness Index
6.2 Eggshell Membrane Market, By Application
6.2.1 Nutraceuticals
6.2.2 Food & Beverages
6.2.3 Cosmetics & Personal Care Products
6.2.4 Pharmaceuticals
6.2.5 Market Size Estimations & Forecasts (2022-2027)
6.2.6 Y-o-Y Growth Rate Analysis
6.2.7 Market Attractiveness Index
6.3 Eggshell Membrane Market, By Product Form
6.3.1 Powder
6.3.2 Capsule
6.3.3 Tablet
6.3.4 Market Size Estimations & Forecasts (2022-2027)
6.3.5 Y-o-Y Growth Rate Analysis
6.3.6 Market Attractiveness Index
7. Geographical Landscape
7.1 Global Identity Governance and Administration Market, by Region
7.2 North America - Market Analysis (2022-2027)
7.2.1 By Country
7.2.1.1 USA
7.2.1.2 Canada
7.2.2 By Type
7.2.3 By Application
7.2.4 By Product Form
7.3 Europe
7.3.1 By Country
7.3.1.1 UK
7.3.1.2 France
7.3.1.3 Germany
7.3.1.4 Spain
7.3.1.5 Italy
7.3.1.6 Rest of Europe
7.3.2 By Type
7.3.3 By Application
7.3.4 By Product Form
7.4 Asia Pacific
7.4.1 By Country
7.4.1.1 China
7.4.1.2 India
7.4.1.3 Japan
7.4.1.4 South Korea
7.4.1.5 South East Asia
7.4.1.6 Australia & NZ
7.4.1.7 Rest of Asia-Pacific
7.4.2 By Type
7.4.3 By Application
7.4.4 By Product Form
7.5 Latin America
7.5.1 By Country
7.5.1.1 Brazil
7.5.1.2 Argentina
7.5.1.3 Mexico
7.5.1.4 Rest of Latin America
7.5.2 By Type
7.5.3 By Application
7.5.4 By Product Form
7.6 Middle East and Africa
7.6.1 By Country
7.6.1.1 Middle East
7.6.1.2 Africa
7.6.2 By Type
7.6.3 By Application
7.6.4 By Product Form
8. Key Player Analysis
8.1 Microcore Research Laboratories India Pvt. Ltd
8.1.1 Business Description
8.1.2 Products/Service
8.1.3 Financials
8.1.4 SWOT Analysis
8.1.5 Recent Developments
8.1.6 Analyst Overview
8.2 Kewpie Corporation
8.3 Biova, LLC
8.4 Eggshell Membrane Technologies
8.5 Mitushi Biopharma
8.6 Eggnovo SL., LLC
8.7 Ecovatec Solutions Inc
9. Market Outlook & Investment Opportunities
Appendix
List of Tables
List of Figures
Global Eggshell Membrane Market By Region, From 2022 - 2027 ( USD Billion )

Global Eggshell Membrane Market By Type, From 2022 - 2027 ( USD Billion )

Global Hydrolyzed Market By Region, From 2022 - 2027 ( USD Billion )

Global Unhydrolyzed Market By Region, From 2022 - 2027 ( USD Billion )

Global Eggshell Membrane Market By Application, From 2022 - 2027 ( USD Billion )

Global Nutraceuticals Market By Region, From 2022 - 2027 ( USD Billion )

Global Food & Beverages Market By Region, From 2022 - 2027 ( USD Billion )

Global Cosmetics & Personal Care Products Market By Region, From 2022 - 2027 ( USD Billion )

Global Pharmaceuticals Market By Region, From 2022 - 2027 ( USD Billion )

Global Eggshell Membrane Market By Product Form, From 2022 - 2027 ( USD Billion )

Global Powder Market By Region, From 2022 - 2027 ( USD Billion )

Global Capsule Market By Region, From 2022 - 2027 ( USD Billion )

Global Tablet Market By Region, From 2022 - 2027 ( USD Billion )