Environmental Test Chambers Market Size, Share (2022 – 2027)
The main drivers of this market include the increase in the number of regulations in sectors such as aerospace and defense, and the automotive; growing need to monitor the effects of various stressors; and support for government initiatives.
Environmental test chambers are devices that are used for various simulated environmental tests, such as production tests, reliability tests, accelerated stress tests, prototype evaluation, etc. The test chamber consists of exposing and testing the products to controlled environmental conditions. Environmental test chambers are widely used in the automotive, aerospace, defense and other industries.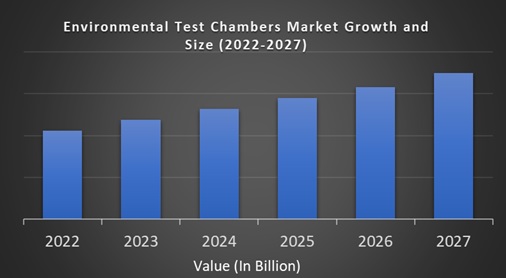 Recent Developments in Environmental Test Chambers Industry:
Thermotron is satisfied to report that two new natural chambers have been added to the famous SE Series line of ecological test chambers: the SE-300-10-10 and SE-400-15-15. These minimized and incredible ecological chambers have been intended to give the most precise and dependable test results available.
The manufacturer of environmental simulation systems Vötsch yesterday inaugurated its new production hall in Balingen, which represents an investment of 3 million euros by the company in the development of the site.

NI (NASDAQ: NATI) and Konrad Technologies (KT) announced today that they have signed a strategic agreement to develop test systems and solutions for self-driving hardware and software validation. Together, the companies plan to deliver new technologies to help top tier automotive suppliers and OEMs leverage real-world road data and simulations to help improve vehicle and passenger safety and deliver faster delivery. Promise of autonomous driving (AD) on the roads.

SPX Corporation (NYSE: SPW) declared today that it has finished the offer of its Thermal Product Solutions (TPS) business to Resilience Capital Partners for roughly $ 43 million.
Drivers and Restraints of Environmental Test Chambers Market:
Drivers:
The increasing demand for environmental test chambers in the automotive industry due to the increase in automobile production worldwide is a major factor that is expected to boost the growth of the global environmental test chamber market in the long term.
In addition, the increasing use of these test chambers in aerospace industries to test varieties of components under different environmental conditions to improve marketability and reduce product costs. This is another factor that is likely to drive the growth of the target market to a great extent. Furthermore, the increasing demand for various environmental test chambers in different industries is due to the evaluation of the potential success or failure of the component or product. This is one of the other factors that is expected to drive the growth of the environmental test chamber market in the long term.
Restraints:
However, changes in testing requirements and short product life are important factors that can slow down the growth of the target market in the long term. Additionally, the high running cost associated with the camera is another factor that can hamper potential market growth.
ENVIRONMENTAL TEST CHAMBERS MARKET REPORT COVERAGE:
| | |
| --- | --- |
| REPORT METRIC | DETAILS |
| Market Size Available | 2021 – 2027 |
| Base Year | 2021 |
| Forecast Period | 2022 - 2027 |
| CAGR | xx% |
| Segments Covered | By Type, Application, and Region. |
| Various Analyses Covered | Global, Regional & Country Level Analysis, Segment-Level Analysis, DROC, PESTLE Analysis, Porter's Five Forces Analysis, Competitive Landscape, Analyst Overview on Investment Opportunities |
| Regions Covered | North America, Europe, APAC, Latin America, Middle East & Africa |
| Market Leaders Profiled | ESPEC, CM Envirosystems Pvt. Ltd., VotschIndustrietechnik, Scientific Climate Systems, Russells Technical Products, FentronKlimasimulation, Caron, Thermal Product Solutions, Hastest Solutions Inc., Envsin Instrument Equipment Co. Ltd., Weiss Technik UK, Konrad Technologies GmbH, Thermotron, Binder, Eckel Noise Control Technologies, CSZ, Bahnson Environmental Specialties LLC, and Memmert and Others. |
Environmental Test Chambers Market Segmentation Analysis:
By Type:
Temperature & Humidity Chamber

Thermal Shock

Corrosion Test Chamber

Xenon Test Chamber

Other
Temperature and humidity chambers are expected to have the largest market share in 2024. Manufacturers of environmental test chambers mainly produce temperature and humidity chambers as a standard product or catalog product used for steady-state stability testing, cycle times, basic and accelerated temperature. Resistance tests of products or components associated with industries. A temperature and humidity chamber is essential to assess the potential success or failure of a product in the field.
By Application:
Automotive

Aerospace

Electronics

Biological

Pharmaceutical
The automotive industry environmental test chamber market is expected to grow at the fastest CAGR by 2024. Increasing automobile production in all countries is likely to increase the demand for testing capabilities for a variety of components, including seat belts, security, electronics, airbags, motors, lithium-ion batteries, etc. Automotive and automotive component testing is conducted in test labs and manufacturing centers to help manufacturers improve product marketability and reduce costs in the pre-production phase. Therefore, the automotive industry is expected to experience a growing demand for environmental test chambers during the forecast period.
Geographical Segmentation Analysis:
North America - the United States and Canada

Europe - United Kingdom, Spain, Germany, Italy, and France

The Asia Pacific - India, Japan, China, Australia, Singapore, Malaysia, South Korea, New Zealand, and Southeast Asia

Latin America - Brazil, Argentina, Mexico, and Rest of LATAM

The Middle East and Africa - Africa and Middle East (Saudi Arabia, UAE, Lebanon, Jordan, Cyprus)
Environmental Test Chambers Market Region Analysis:
The North American market is expected to represent a moderate revenue share in the target market, followed by the European market. This is due to the increasing demand for these cameras in the aerospace and automotive industries of the countries of the regions.
APAC is the largest contributor to the overall size of the environmental test chamber market. Many economically advanced countries have their manufacturing units in APAC developing economies, particularly China and India. The domestic markets of the APAC region are growing rapidly due to rising per capita income of the middle class. In addition, consumers are increasingly aware of the importance of quality products in this region. Environmental test chambers play an important role in testing the effects of specific environmental conditions on biological articles, industrial products, electronic devices / components, and materials. Therefore, the demand for these rooms in most APAC countries is likely to increase in the coming years.
IMPACT OF COVID-19 ON ENVIRONMENTAL TEST CHAMBERS MARKET:
As part of the COVID-19 epidemic globally, the environmental test chamber market offers 360 degrees of investigation, flexible chain, import control, and tariffs to provincial government strategy and future business impact. Detailed survey of the state of the market (2020-2025), example of rivalry between companies, points of interest and obstacles of elements of large companies, industry improvement models (2020-2025), attributes of modern territorial format and macroeconomic approaches, the mechanical arrangement has also been incorporated. The environmental test chamber market, from raw materials to end customers in this industry, is broken down by inference, the pricing models and the environmental test chamber market offer channel will also be introduced. In light of COVID-19, this report offers in-depth, top-down investigation into how the scourge is driving this shift.
Key Players in the Market:
Major Key Players n the Global Environmental Test Chambers Market are
ESPEC

CM Envirosystems Pvt. Ltd

VotschIndustrietechnik

Scientific Climate Systems

Russells Technical Products

FentronKlimasimulation

Caron

Thermal Product Solutions

Hastest Solutions Inc

Envsin Instrument Equipment Co. Ltd

Weiss Technik UK

Konrad Technologies GmbH

Thermotron

Binder

Eckel Noise Control Technologies

CSZ

Bahnson Environmental Specialties LLC

Memmert