Filling Equipment Market Size, Growth, Forecast (2023-2028)
The global Filling Equipment Market size was worth US$ 6.7 billion in 2022, and it is estimated to reach a valuation of US$ 8.32 billion by the end of 2028, rising at an annual compound rate of 4.2% between 2023 and 2028. Increasing partnerships and contracts with customers and suppliers are essential trends in the filling equipment market.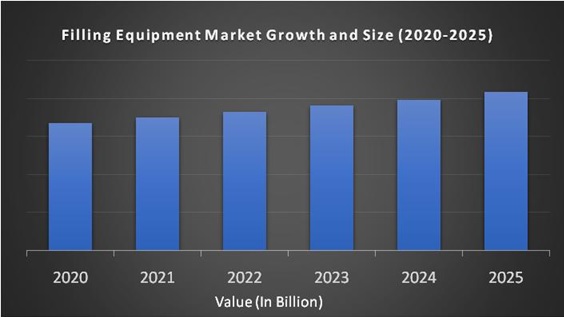 Market Overview:
Filling equipment is the equipment used to fill various products such as liquids, pastes, powders, tablets, thick products, granules, etc. Reduced human effort and manual errors are the main benefits of filling equipment. In addition, vibration reduction and high-speed connectivity are some of the characteristics of filling material. Technological advances provide a new way to supply equipment. The equipment used to fill various products such as tablets, liquids, thick products, pastes, granules, powders, etc. it is known as filling equipment. It is mainly used to reduce manual and human errors. The charging equipment can be easily connected to the PLC and the computer via the Ethernet network.
It offers several advantages, such as high-speed connection and vibration cancellation. Technological advances have opened a new way to fill equipment. These are used in a number of production processes. This filling equipment is semi-automatic and manual. The semi-automatic filling equipment is partially automated, making it impossible to supply and fire it. On the other hand, the standard loading equipment is robust and straightforward and does not depend on pneumatic and electrical equipment.
Recent Developments in Filling Equipment Industry:
The AFG 5000 filling and closing machine developed by Bosch Packaging Technology has been awarded the internationally reclaimed 'Red Dot Award' at Zentrum Nordrhein-Westfalen Design. The design of these products is mainly based on standards like official quality, innovation level, and durability.

IndustriaMacchineAutomaticheSpA, a renowned filling machine maker based in Italy acquired 70% of Spreafico Automation, which is known for the production, design and marketing of automatic filling machines and other automatic devices for making single-supply capsules, coffee and other water-soluble products.

Sacmi Filling S.p.A. announced a new Sacmi quick fill line that plays a vital role at China Brew and Beverage, an international trade fair for beverage and beverage processing technology accessible in Asia.
REPORT COVERAGE:
| | |
| --- | --- |
| REPORT METRIC | DETAILS |
| Market Size Available | 2022 – 2028 |
| Base Year | 2022 |
| Forecast Period | 2023 - 2028 |
| CAGR | 4.2% |
| Segments Covered | By Industry, Type, Process, Product and Region |
| Various Analyses Covered | Global, Regional & Country Level Analysis, Segment-Level Analysis, DROC, PESTLE Analysis, Porter's Five Forces Analysis, Competitive Landscape, Analyst Overview on Investment Opportunities |
| Regions Covered | North America, Europe, APAC, Latin America, Middle East & Africa |
| Market Leaders Profiled | Krones AG, Accutek Packaging Equipment Companies Inc, Robert Bosch GmbH, Bosch Packaging Technology, Coesia S.P.A, Tetra Laval Group, GEA Group AG, KHS GMBH, JBT Corporation, Ronchi Mario S.P.A, Scholle Packaging and Others. |
Filling Equipment Market Growth:
Development of new filling technologies, robotics and automation of the filling industry and growing demand for small packaging products are some of the factors in the global filling equipment market, which increases the demand for loading equipment.
Drivers:
The global filling equipment industry is one of the most famous in the packaging equipment industry. Industrial applications of filling machines favor market growth, and the trend is expected to continue during the forecast period. Industrial development, purchasing power assessment, and the adoption of automation technologies are supposed to accelerate market growth. Technical support, desired production results, robotics, and minimal human intervention are some of the factors that drive manufacturers to choose technical support in their operating processes. In accordance with strict government regulations for beverages, food and related industries, machine manufacturers must choose standardization to maintain the desired hygiene and quality of their products. People's increased propensity for packaging and processed products, rising incomes, population growth, urbanization, and health awareness seem to drive demand for filling machines during the projection period.
The United States is the most famous market in North America. The strong presence of the US food and beverage industry is promoting the regional business. The packaging machine market is experiencing significant growth as the application of packaging machines increases in sectors such as food and beverage, cosmetics and healthcare. Factors such as increased demand for consumer goods increased deployment of automated packaging machines, and increased adoption of energy-efficient devices promote the growth of the packaging market. The high demand for packaging robots in many end-user industries is a significant factor fueling the packaging machine market during the outlook period. This growth in the packaging industry will consequently drive the need for filling equipment and accelerate market growth. Volumetric filling machines are assumed to grow significantly in the country due to their ease of use, ease of maintenance, and excellent performance in a variety of foods and other industrial products.
Economies such as North America and Europe, are competing in terms of product innovation and quality processes through technical support, with moderate growth expected. The Asia Pacific is envisioned to lead the world market during the forecast period. Planned investments in research and technology will improve China's economic performance during the prediction period. As lifestyles change, the demand for small food and beverage packages that are easy to transport and handle increases. Ultimately, this leads to better demand for advanced filling equipment in the manufacturing industry. Filling equipment players may have an opportunity in the global filling equipment service market. Government funding and initiatives for the adoption of filling equipment in small enterprises may increase demand for the filling equipment market in the coming years.
Restraints:
Increased energy and power costs, high maintenance costs, and technical deficiencies can hinder the growth of the global filling equipment market to some extent.
Filling Equipment Market Segmentation Analysis:
By Industry:
Food

Beverage

Pharmaceutical

Cosmetics
By Type:
Rotary

Volumetric

Aseptic

Net Weight
By Process:
Manual

Semi-Automatic

Automatic
By Product:
Geographical Segmentation Analysis:
North America - the United States and Canada

Europe - United Kingdom, Spain, Germany, Italy, and France

The Asia Pacific - India, Japan, China, Australia, Singapore, Malaysia, South Korea, New Zealand, and Southeast Asia

Latin America - Brazil, Argentina, Mexico, and Rest of LATAM

The Middle East and Africa - Africa and Middle East (Saudi Arabia, UAE, Lebanon, Jordan, Cyprus)
Regional Analysis:
Regions like North America, Asia Pacific, Europe and Latin America, the Middle East and Africa (LAMEA) will experience tremendous growth in this business. The Asia-Pacific filling equipment market was the leading regional market in 2018, and the trend is expected to continue throughout the forecast period. As the demand for prepared foods increases, the filling machine market in this region is anticipated to grow. An increase in the middle-class population, high energy consumption, large populations of young people who prefer processed and packaged foods, increased health awareness, and increased interest in foreign investors in the Asia Pacific benefit the growth of the market in the area. Exponential growth in the region can have a positive impact on the global cargo equipment market, along with an increase in disposable income.
Furthermore, the abundance of middle-class people and increased consumption opportunities are foreseen to strengthen the global market in the near future. North America is suspected of growing significantly. Europe is one of the crucial contributors to market growth. Various strategies for market expansion in Europe, including mergers and acquisitions, partnerships, joint ventures, and developments, are contributing to the growth of the global market.
Key Players in the Market:
Major Key Players in the Global Filling Equipment Market are
Krones AG

Accutek Packaging Equipment Companies Inc

Robert Bosch GmbH

Bosch Packaging Technology

Coesia S.P.A.

Tetra Laval Group

GEA Group AG

KHS GMBH

JBT Corporation

Ronchi Mario S.P.A.

Scholle Packaging