Food Grade Gases Market Growth and Forecast (2020-2025):
The global Food Grade Gases Market size was worth US$ 6.4 billion in 2020, and it is estimated to value about US$ 8.1 billion by the end of 2025, rising at an annual compound rate of 3.2% between 2020 and 2025. Interest in tasty foods and carbonated beverages has increased, so the food-grade gas market is accelerating.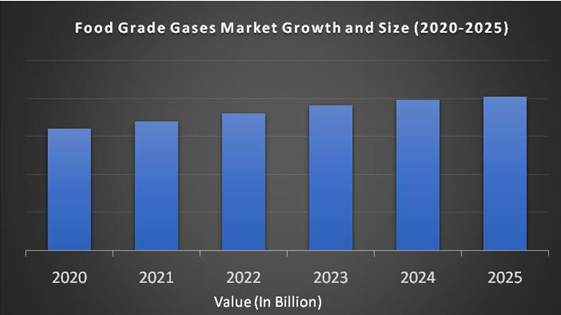 Market Overview:
Food grade gas is used as a processing aid or as an additive to food quality standards. Food grade gas plays a vital role in the food packaging process and general preservation. This gas is primarily used to freeze, refrigerate, grind, and pack a variety of products, including bakery and dairy products, beverages, meat and poultry, fruits and vegetables, and ready meals. However, food-grade gases as additives or processing aids can be used in the food industry. The gases that are often used in industries are nitrogen, carbon dioxide and oxygen. The change in consumer diet patterns, which focus more on the consumption of fresh foods irrelevant to climate and location, is majorly driving the business for these gases. Besides, the rise in intake of packaged meals like vegetables, fruits, meat and seafood, dairy products, dairy products, carbonated drinks and others is also boosting this market boom.
Recent Developments in Food Grade Gases Industry:
Linde AG converged with Praxair, Inc in October 2018 to form Linde Plc. This merger will further enhance the market position of the two players in the food-grade gas market.

In July 2018, together with CVC Capital Partners Fund VII ("CVC"), the Messer Group carried out the majority of Linde's gas operations in North America and specific activities in South America.

May 2017, Praxair Inc. (USA) promoted XactCO2, the initial response of renewable carbonated beverages to restaurants and bars.

In September 2017, Air Products and Chemicals (USA) introduced the Freshline LIN-IS framework. It uses liquid nitrogen to provide fast and accurate temperature control to the blender or blender/processor and enables food manufacturers to improve the processing speed and quality of items.

Air Products & Chemicals in November 2018 collaborated with King Abdullah University of Science and Technology to perform researches and introduce innovative technologies to the market.
REPORT COVERAGE:
| | |
| --- | --- |
| REPORT METRIC | DETAILS |
| Market Size Available | 2019 – 2025 |
| Base Year | 2019 |
| Forecast Period | 2020 - 2025 |
| CAGR | 3.2% |
| Segments Covered | By Type, Application, End-Use and Region |
| Various Analyses Covered | Global, Regional & Country Level Analysis, Segment-Level Analysis, DROC, PESTLE Analysis, Porter's Five Forces Analysis, Competitive Landscape, Analyst Overview on Investment Opportunities |
| Regions Covered | North America, Europe, APAC, Latin America, Middle East & Africa |
| Market Leaders Profiled | Athersys, Linde Group, Air Products and Chemicals, Air Liquide, Messer Group, TAIYO NIPPON SANSO CORPORATION, WESFARMERS LIMITED, SOL Group, Gulf Cryo, AIR WATER INC, Massy Group and Others. |
Food Grade Gases Market Growth:
In the process of submitting new items to the food business and developing them in packages, there are development requirements for food-grade gas for various end uses.
Drivers:
The increasing market demand for certain gases is expected to accelerate the growth of the global food grade gases market in the near future due to the latest advances in refrigeration and packaging technology. Year-round consumer demand for fresh vegetables and food is supposed to fuel the food-grade gas market. Food-grade gases are widely used in a variety of applications, such as long shelf life, freezing and refrigeration, preservation and carbonation, and various beverage containers. The rise in healthy foods is a major driving force in the global market for food-grade gases. Customers need natural foods without preservatives or less processing without chemical treatment. This again promotes the growth of the worldwide market. Food grade gas is used for other applications such as cooling, coagulation, pooling, extended usability, protection, and carbonation of other beverages. Expanding wellness awareness is a real driving force for gas use, as shoppers must have food additives or non-critical additives, no prescription drugs, fewer preparations and a generic structure. as
Food manufacturers and merchants, from the assembly stage to the utilization organization, require customers to use food-grade gas to meet their food safety needs directly. In the food and beverage industry, new grouping systems, such as changes in air grouping and stock control, depend on the expansion of requests for food-grade gas in the estimation period. The global market for food-grade industrial gas is assumed to witness growth during the outlook period as its application in the fields of packaging and storage of frozen foods, fruits, vegetables, beverages, meat, seafood, prepared foods, bakeries and confectioneries. Growing consumer concerns about contamination and the safety of nutritional products have forced companies to implement food-grade gases in packaging and storage applications.
As Modified Atmosphere Packaging (MAP) increases in importance to control microbial growth in the food and beverage industry, market demand is presumed to grow in the near future. The need for food-grade gas is likely to increase as the distribution of NSF H1 standards increases in the food and beverage industry. It is expected that awareness of aroma and texture preservation will increase and shelf life in the nutrition industry will have a positive impact on the market during the forecast period.
Restraints:
Food grade gas must be controllable and readily available at the point of use, and the means of delivery are critical to ensure system compatibility and safe transportation. Various storage containers are used for this purpose, such as bulk containers, cryogenic cylinders, gas cylinders, and glass bottles (ampoules). Other specific boxes include leaky tubes and secure delivery systems. Bulk gas can be supplied through stationary cylinders, horizontally mounted tube trailers or pipelines. Stationary cylinders must be periodically replenished from gas lines or cryogenic tank trailers. Cryogenic tank trailers can deliver liquid gas in bulk. Pipeline delivery is only available near gas production plants. In all these cases, the safe and proper management of the stored gas is essential. Food grade gas manufacturers must avoid the environmental hazards and dangers associated with the transportation, storage, and moving of highly toxic gases.
Food Grade Gases Market Segmentation Analysis:
By Type:
Carbon Dioxide

Nitrogen

Oxygen
By Application:
Freezing & Chilling

Packaging

Carbonation
By End-Use:
Dairy & Frozen Products

Beverages

Meat

Poultry & Seafood
Geographical Segmentation Analysis:
North America - the United States and Canada

Europe - United Kingdom, Spain, Germany, Italy, and France

The Asia Pacific - India, Japan, China, Australia, Singapore, Malaysia, South Korea, New Zealand, and Southeast Asia

Latin America - Brazil, Argentina, Mexico, and Rest of LATAM

The Middle East and Africa - Africa and Middle East (Saudi Arabia, UAE, Lebanon, Jordan, Cyprus)
Regional Analysis:
The Asia Pacific is anticipated to be one of the largest markets during the projection period. Due to the development of processing technology and increased consumption nationwide, the rise of the food and beverage industry in India and China is expected to accelerate demand for food-grade gases in the next seven years. In the European food and beverage business, the importance of hygiene and compliance with phytosanitary regulatory standards is supposed to have a positive impact on the market during the outlook period. The strong manufacturing base of the US food and beverage industry is expected. USA Combined with EPA regulations aimed at implementing safety measures in food packaging, they will have a positive impact on the market for the next seven years. The growth of the food and beverage industry in Saudi Arabia is foreseen to be a favorable factor for the market in the near future as domestic consumption increases as the halal standard is set domestically.
Key Players in the Market:
Major Key Players in the Global Food Grade Gases Market are
Athersys

Linde Group

Air Products and Chemicals, Inc

Air Liquide

Messer Group

TAIYO NIPPON SANSO CORPORATION

WESFARMERS LIMITED

SOL Group

Gulf Cryo

AIR WATER INC

Massy Group
1. Introduction
1.1 Market Definition
1.2 Study Deliverables
1.3 Base Currency, Base Year and Forecast Periods
1.4 General Study Assumptions
2. Research Methodology
2.1 Introduction
2.2 Research Phases
2.2.1 Secondary Research
2.2.2 Primary Research
2.2.3 Econometric Modelling
2.2.4 Expert Validation
2.3 Analysis Design
2.4 Study Timeline
3. Overview
3.1 Executive Summary
3.2 Key Inferences
3.3 Epidemology
4. Drivers, Restraints, Opportunities, and Challenges Analysis (DROC)
4.1 Market Drivers
4.2 Market Restraints
4.3 Key Challenges
4.4 Current Opportunities in the Market
5. Market Segmentation
5.1 Type
5.1.1 Introduction
5.1.2 Carbon Dioxide
5.1.3 Nitrogen
5.1.4 Oxygen
5.1.5 Y-o-Y Growth Analysis, By Type
5.1.6 Market Attractiveness Analysis, By Type
5.1.7 Market Share Analysis, By Type
5.2 Application
5.2.1 Introduction
5.2.2 Freezing & Chilling
5.2.3 Packaging
5.2.4 Carbonation
5.2.5 Y-o-Y Growth Analysis, By Application
5.2.6 Market Attractiveness Analysis, By Application
5.2.7 Market Share Analysis, By Application
5.3 End Use
5.3.1 Introduction
5.3.2 Dairy & Frozen Products
5.3.3 Beverages
5.3.4 Meat
5.3.5 Poultry & Seafood
5.3.6 Y-o-Y Growth Analysis, By End Use
5.3.7 Market Attractiveness Analysis, By End Use
5.3.8 Market Share Analysis, By End Use
6. Geographical Analysis
6.1 Introduction
6.1.1 Regional Trends
6.1.2 Impact Analysis
6.1.3 Y-o-Y Growth Analysis
6.1.3.1 By Geographical Area
6.1.3.2 By Type
6.1.3.3 By Application
6.1.3.4 By End User
6.1.3.5 By Indication
6.1.4 Market Attractiveness Analysis
6.1.4.1 By Geographical Area
6.1.4.2 By Type
6.1.4.3 By Application
6.1.4.4 By End User
6.1.4.5 By Indication
6.1.5 Market Share Analysis
6.1.5.1 By Geographical Area
6.1.5.2 By Type
6.1.5.3 By Application
6.1.5.4 By End User
6.1.5.5 By Indication
6.2 North America
6.1.1 Introduction
6.1.2 United States
6.1.3 Canada
6.3 Europe
6.2.1 Introduction
6.2.2 U.K
6.2.3 Spain
6.2.4 Germany
6.2.5 Italy
6.2.6 France
6.4 Asia-Pacific
6.3.1 Introduction
6.3.2 China
6.3.3 India
6.3.4 Japan
6.3.5 Australia
6.3.6 South Korea
6.5 Latin America
6.4.1 Introduction
6.4.2 Brazil
6.4.3 Argentina
6.4.4 Mexico
6.4.5 Rest of Latin America
6.6 Middle East & Africa
6.5.1 Introduction
6.5.2 Middle-East
6.5.3 Africa
7. Strategic Analysis
7.1 PESTLE analysis
7.1.1 Political
7.1.2 Economic
7.1.3 Social
7.1.4 Technological
7.1.5 Legal
7.1.6 Environmental
7.2 Porter's Five analysis
7.2.1 Bargaining Power of Suppliers
7.2.2 Bargaining Power of Consumers
7.2.3 Threat of New Entrants
7.2.4 Threat of Substitute Products and Services
7.2.5 Competitive Rivalry within the Industry
8. Market Leaders' Analysis
8.1 Athersys
8.1.1 Overview
8.1.2 Product Analysis
8.1.3 Financial analysis
8.1.4 Recent Developments
8.1.5 SWOT analysis
8.1.6 Analyst View
8.2 Linde Group
8.3 Air Products and Chemicals, Inc
8.4 Air Liquide
8.5 Messer Group
8.6 TAIYO NIPPON SANSO CORPORATION
8.7 WESFARMERS LIMITED
8.8 SOL Group
8.9 Gulf Cryo
8.10 AIR WATER INC
8.11 Massy Group
9. Competitive Landscape
9.1 Market share analysis
9.2 Merger and Acquisition Analysis
9.3 Agreements, collaborations and Joint Ventures
9.4 New Product Launches
10. Market Outlook and Investment Opportunities
Appendix
a) List of Tables
b) List of Figures
Global, regional and country-level analysis and forecasts of the study market; providing Insights on the major countries/regions in which this industry is blooming and to also identify the regions that are still untapped

The Segment-level analysis in terms of By Type, Application, End-Use and along with market size forecasts and estimations to detect key areas of industry growth in detail

Identification of key drivers, restraints, opportunities, and challenges (DROC) in the market and their impact on shifting market dynamics

Study of the effect of exogenous and endogenous factors that affect the global market; which includes broadly demographic, economics, and political, among other macro-environmental factors presented in an extensive PESTLE Analysis

Study the micro environment factors that determine the overall profitability of an Industry, using Porter's five forces analysis for analysing the level of competition and business strategy development

A comprehensive list of key market players along with their product portfolio, current strategic interests, key financial information, legal issues, SWOT analysis and analyst overview to study and sustain the market environment

Competitive landscape analysis listing out the mergers, acquisitions, collaborations in the field along with new product launches, comparative financial studies and recent developments in the market by the major companies

An executive summary, abridging the entire report in such a way that decision-making personnel can rapidly become acquainted with background information, concise analysis and main conclusions

Expertly devised analyst overview along with Investment opportunities to provide both individuals and organizations a strong financial foothold in the market
Global Food Grade Gases Market By Region, From 2021-2026( USD Billion )

Global Food Grade Gases Market By Type, From 2021-2026( USD Billion )

Global oxygen Market By Region, From 2021-2026( USD Billion )

Global nitrogen Market By Region, From 2021-2026( USD Billion )

Global others Market By Region, From 2021-2026( USD Billion )

Global Food Grade Gases Market By Application, From 2021-2026( USD Billion )

Global freezing and refrigeration Market By Region, From 2021-2026( USD Billion )

Global packaging Market By Region, From 2021-2026( USD Billion )

Global others Market By Region, From 2021-2026( USD Billion )

Global Food Grade Gases Market By end-use , From 2021-2026( USD Billion )

Global beverages Market By Region, From 2021-2026( USD Billion )

Global meat Market By Region, From 2021-2026( USD Billion )

Global others Market By Region, From 2021-2026( USD Billion )