Hydronic Control Market Size, Growth, Share (2022 – 2027)
The Hydronic Control Market size is expected to increase at a CAGR of 3.1 percent from 2022 to 2027, from USD 32.40 billion to USD 37.70 billion.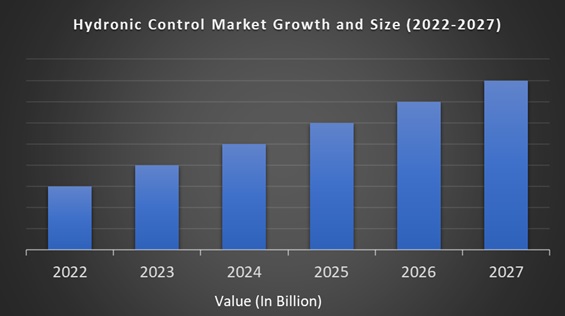 Market Overview:
In heating and cooling systems, Hydronics refers to the use of a liquid heat-transfer medium. Water, glycol, or mineral oil are commonly used as working fluids. Steam and hot-water radiators are two of the oldest and most prevalent forms. A hydronic system may comprise both a chilled and a heated water loop to offer both heating and air conditioning in large-scale commercial buildings such as high-rise and campus facilities in the past.
Recent Developments in Hydronic Control Industry:
The new Compact Axial VP140 arrangement pressure free control valve adds to the current line of ball valve models by offering a little valve size with very powerful execution for a long existence of exact and autonomous control of the pressure.

Siemens presents another line of best in class actuators for little valves.

Schneider Electric, the global specialist in energy management and automation, today announced the debut of Pressure Independent Balancing and Control Valves (PIBCV) in North America to enhance valve functionality and temperature control in buildings.

Danfoss has reported its association with Hydronic Technology, Inc., which will give the provinces of Louisiana and Mississippi with educated deals and administration regarding the Danfoss hydronic solace controls portfolio.
Drivers and Restraints of Hydronic Control Market:
Market Drivers:
Hydronic systems are the mainstay of the hydronic controls business. The rise in the building industry throughout the world is driving up demand for hydronic controls. The rapid urbanization of APAC's emerging countries has resulted in a tremendous need for hydronic controls. For example, in India, planned initiatives linked to smart cities, bullet trains, and infrastructure development are fueling the expansion of the hydronic systems and controls market. The market for hydronic systems is driven by population increase and urbanization, and the market for hydronic controls follows suit.
The Middle East's construction sector is being boosted by an increasing number of public-private partnership (PPP) projects. The development of the Tarif International Airport in Saudi Arabia is a perfect example of a PPP project, as it entails the construction of an airport capable of handling 5 million people per year. Several development projects are underway in Qatar in preparation for the FIFA World Cup in 2022. Construction projects in the UAE that were put on hold owing to the global economic crisis have now been completed. As a result of the construction boom, demand for hydronic systems is increasing, propelling the hydronic controls industry forward.
Market Restraints:
The hydronic sector is expected to develop at a breakneck pace, but trained personnel is needed at all stages of the value chain. To perform effectively and avoid failure, hydronic systems require delicate tweaking and specific manufacture of parts during installation. If the installation is not done by a competent professional, the end-user will either have to spend more money on repairs in the long run or the system will not work effectively. The system is projected to incur increased expenditures as a result of the need for trained manpower. Hydronic equipment installation prices in residential, commercial, and industrial applications are determined by a variety of factors. For example, in a residential application, the cost of installing all hydronic equipment is determined by the size of the home, the kind of equipment, and the equipment's SEER value. As a result, the hydronic control market's adoption and expansion are hampered by the need for experienced workers, as well as high installation prices.
Market Opportunities:
Efforts are being undertaken all across the world to preserve energy and conserve our planet's resources. The public's knowledge of environmental issues has risen dramatically in recent years. The competition to become more energy efficient is a major motivator, particularly in the new construction industry, where low-carbon legislation is being implemented. The push to attain zero-carbon buildings and households is projected to increase in the near future, indicating the hydronic control market's tremendous development potential. Various new laws are being enacted across the world to encourage the adoption of energy-efficient devices.
Market Challenges:
To guarantee that the hydronic control systems work smoothly and have a longer life period, trained and competent employees are necessary for maintenance and repair. Trained professionals are also required to monitor and enhance the building's systems infrastructure. Furthermore, consumers have issues with proprietary building automation software since these systems can only be repaired by the system vendor's own service experts. Because of the scarcity of such professionals in emergency situations, building owners are hesitant to use hydronic control systems, limiting the market's growth.
HYDRONIC CONTROL MARKET REPORT COVERAGE:
| | |
| --- | --- |
| REPORT METRIC | DETAILS |
| Market Size Available | 2021 – 2027 |
| Base Year | 2021 |
| Forecast Period | 2022 - 2027 |
| CAGR | xx% |
| Segments Covered | By Equipment, Installation Type, Sector, and Region. |
| Various Analyses Covered | Global, Regional & Country Level Analysis, Segment-Level Analysis, DROC, PESTLE Analysis, Porter's Five Forces Analysis, Competitive Landscape, Analyst Overview on Investment Opportunities |
| Regions Covered | North America, Europe, APAC, Latin America, Middle East & Africa |
| Market Leaders Profiled | Danfoss, Schneider Electric, Siemens, Johnson Controls., IMI, Caleffi S.p.a., GIACOMINI S.P.A., BELIMO Holding AG, Flamco, Spirotech BV, Honeywell International Inc., IMI plc, CAREL INDUSTRIES S.p.A., Grainger, Inc., Oventrop GmbH & Co. KG, Reflex Winkelmann GmbH, Controlled Hydronics Inc and Memmert and Others. |
Hydronic Control Market Segmentation Analysis:
By Equipment:
Actuators

Valves

Control Panels

Flow Controllers

Others
The actuators act as an interface between the mechanical system and the hydraulic control system. This device receives signals from the controllers and consequently controls valves and dampers in the hydraulic system. Through the building management system (BMS) and bus communication, the actuators can be accessed remotely. This saves time during installation and commissioning of the system. The flow controller ensures that the correct flow is directed to the correct location to increase the efficiency of the hydraulic system. Automatic flow controllers are mainly used in district heating systems. The controller closes when the flow rate is exceeded from its preset position. These attributes translate into a high growth rate of the flow controllers during the forecast period.
By Installation Type:
New Installation

Retrofit Installation
The new facility offers advantages over renovations for the implementation of hydraulic control solutions at an early stage. The benefits help reduce the operating cost required to implement hydraulic control solutions. Upgrading new equipment to an old system is called an upgrade. The green building initiative and the measures taken to reduce the negative environmental effects caused by old hydraulic control systems are leading to the adoption of hydraulic controls in renovations. The adoption of IoT and smart technologies supports the growth of modernization facilities.
By Sector:
Residential

Commercial

Industrial
The industrial sector includes manufacturing and processing facilities. Energy consumption in industries is greater than that of residential or commercial installations; however, a significant amount of energy in industrial plants is used to process and manufacture machinery. Adopting hydraulic controls can help drive hydraulic systems efficiently, while increasing business productivity. Through the use of hydraulic controls in warehouses, production areas, administrative offices, control rooms, and distribution centers, the water temperature can be maintained in accordance with industry standards. HVAC devices, such as air conditioners, consume almost 50% of the total energy supplied to a residential building. To achieve energy efficiency in a residential building, hydronic systems must be optimally managed. Various hydraulic control equipment, such as actuators, valves, relays, sensors, and thermostats, allow efficient use of energy. Hydronic and HVAC systems are assumed to consume a significant amount of energy for residential applications; thus, governments formulate regulations and act to promote the use of hydraulic controls.
IMPACT OF COVID-19 ON HYDRONIC CONTROL MARKET:
Consumers around the world are unsure whether HVAC air filtration systems can protect them from exposure to COVID-19. The COVID-19 pandemic has forced many companies, including manufacturers and service providers in the HVAC market, to halt their business operations to comply with new government rules and regulations. This closure of operations has a direct impact on the revenue stream of market players and, therefore, on the global hydraulic control market. Additionally, researchers cannot rule out the possibility of the coronavirus spreading through heating, ventilation and air conditioning (HVAC) systems. Installation and maintenance operations would be hampered as contact prevention standards reduce the number of orders that HVAC companies can process per day. Therefore, the hydraulic drives market is expected to be negatively affected in 2020.
Geographical Segmentation Analysis:
North America - the United States and Canada

Europe - United Kingdom, Spain, Germany, Italy, and France

The Asia Pacific - India, Japan, China, Australia, Singapore, Malaysia, South Korea, New Zealand, and Southeast Asia

Latin America - Brazil, Argentina, Mexico, and Rest of LATAM

The Middle East and Africa - Africa and Middle East (Saudi Arabia, UAE, Lebanon, Jordan, Cyprus)
Hydronic Control Market Region Analysis:
North America dominates the market for hydraulic drives due to the increasing growth of advanced infrastructure and construction of residential and commercial buildings in this region.
Among these regions, Asia-Pacific could be the dominant region in the global hydraulic drives market due to the growth of the construction business in the region.
In addition, increasing development and construction activities in developing countries in the Middle East and Africa are driving demand for hydraulic control and are likely to drive market growth.
Key Players in the Market:
Major Key Players in the Global Hydronic Control Market are
Danfoss

Schneider Electric

Siemens

Johnson Controls

IMI

Caleffi S.p.a

GIACOMINI S.P.A

BELIMO Holding AG

Flamco

Spirotech BV

Honeywell International Inc

CAREL INDUSTRIES S.p.A

Grainger, Inc

Oventrop GmbH & Co. KG

Reflex Winkelmann GmbH

Controlled Hydronics Inc