hydropower turbine market Value and Growth Analysis:
The global hydropower turbine market is predicted to grow at a CAGR of 4.29% and exceed $ 2.740.9 billion by 2026. Escalating efforts to develop renewable technologies to alleviate dependency on conventional generation systems power will drive the market size of the hydropower turbine market.
Hydropower turbines are extremely energy-efficient, capable of converting almost 90% of energy into electricity. They are easy to maintain and require no fuel to operate. A reaction turbine develops energy from the combined action of pressure and moving water. These turbines are employed to generate maximum power from a low available water load and high speeds. Almost 60% of the turbines employed in hydroelectric power plants are reaction turbines. The hydropower industry, which is the largest end-user of hydro turbines, has seen significant expansion in recent years in Asia-Pacific and is predicted to be the fastest-growing region.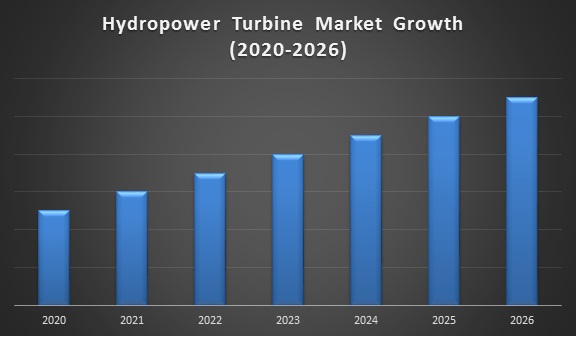 hydropower turbine market Trends:
The worldwide shift towards renewable energy sources is driving the expansion of the global hydropower turbine market. Hydropower is the main source of renewable energy, responsible for more than 16% of civil electricity production. The use of hydropower turbines is essential for this energy production. The introduction of strict regulations to minimize carbon emissions, coupled with an exponential increase in call for electricity from manufacturing sectors, will increase market share. Additionally, continued investments in decommissioning coal-fired power plants will further enhance product acceptance.
Recent Developments and Trends
Starting in July this year, NTN Corporation will launch the "NTN Micro Hydro Turbine" compact stand-alone electric type hydrogenerator, which can generate electricity simply by placing it in the water channels. existing.

WEG launches a new hydrogenator for hydropower plants. GH20 Hydro compact design hydrogenerators provides more optimization and supplied with an assembled sliding turbine.
Hydropower Turbine Market Drivers
New hydropower turbines capable of supplying energy from small water sources and supplying clean energy to small cities, towns and even for personal use are being innovated, ensuring the expansion of this market. Hydropower turbines find utility in cooling, ventilation and heating systems in building automation, as well as in the aviation industry. The high call for hydropower, the excellent energy conversion, low maintenance costs, applications in building automation, the maritime and the aviation sector, need for less fuel and low complexity are important factors that are influencing the expansion of the global hydropower turbine market. Factors such as the escalating call for energy on a worldwide scale, the growing need for cleaner technologies for power generation, and stringent emissions policy targets are likely to drive the hydropower turbine market. Also, hydropower power is the largest source of renewable electricity generation in the world, representing 15.9% of the world's electricity produced in 2018, and with the approval of new hydropower projects, the call for hydropower turbines is predicted to increase. Increased investment in the renovation and modernization of existing hydropower facilities, as well as the growing awareness of the benefits of renewable technologies will stimulate call for products.
Restraints:
High price of setting up hydropower turbines owing to the requirement for supporting infrastructure.
Opportunities in the Hydropower Turbine Market:
Mitigating the mismatch between supply and call has been a major concern for utilities, resulting in high funds in the advancement of sustainable energy production sources, including hydropower. Escalating investments to replace traditional power generation technologies with advanced, sustainable and clean solutions will drive the industry.
Challenges:
Lack of standardization of policies on hydropower turbines. However, some drawbacks, such as turbine design challenges, ecological concerns with dams, long gestation periods, and the high cost of dam installation, hinder the expansion of the studied market.
REPORT COVERAGE:
| | |
| --- | --- |
| REPORT METRIC | DETAILS |
| Market Size Available | 2020 – 2025 |
| Base Year | 2020 |
| Forecast Period | 2021 - 2026 |
| CAGR | 4.29% |
| Segments Covered | By Product, Type, Consumption, Distribution Channel and Region |
| Various Analyses Covered | Global, Regional & Country Level Analysis, Segment-Level Analysis, DROC, PESTLE Analysis, Porter's Five Forces Analysis, Competitive Landscape, Analyst Overview on Investment Opportunities |
| Regions Covered | North America, Europe, APAC, Latin America, Middle East & Africa |
| Market Leaders Profiled | General Electric, Andrits, Toshiba Energy, Kirloskar Brothers Lts., Siemens, Canyon Industries Inc., Hitachi Ltd., Cornell Pump Co., Canadian Hydro Components Ltd., WWS Wasserkraft GmbH, Capstone Turbine, Gilbert Gilkes & Gordon |

Hydropower Turbine Market Segmentation:
By type:
The pressure of the water hitting the impeller varies with the volume of water available, making it ideal for use where tanks can provide water and constant pressure to ensure a constant supply.
By capacity:
Less than 1 MW

Between 1 – 10 MW

Above 10 MW
Less than 1 MW is a growing sector with very little of its full potential, micro hydropower plants can have negligible impact on their environment and are an excellent source of power generation for employment in the immediate vicinity of the industry. UNIDO is implementing these projects in Africa, China and India.
By application:
Power Generation

Power Storage

Marine

Aeronautics
Energy storage is essential to meet energy needs during peak periods of energy use. Most of the energy storage (over 99%) comes from pumped hydropower power. This sector completely dominates the energy storage segment and continues to grow along with growing energy needs around the world.
Hydropower Turbine Regional Analysis:
North America

Europe

Asia Pacific

Latin America

Middle East & Africa
North America is investing heavily in hydropower generation, as well as unlocking the potential application of hydropower turbines in the maritime and aeronautical field. Europe has some of the most developed hydropower turbine sectors in the world. Norway generates more than 90% of its energy needs through hydropower power. Europe gives priority to renewable energies and therefore stimulates the European market for hydropower turbines. The largest and fastest-growing region for this market,
Asia-Pacific has excellent hydropower potential as well as an enormous call for energy. China is the world leader in hydropower generation and India has enormous hydropower potential that it is only realizing. Although it is a small market, this region has the most untapped hydropower potential in the world. The escalating industrialization and urbanization of this region is responsible for a growing call for energy that can be met by hydropower. International organizations such as UNIDO strongly promote the establishment of micro and small hydropower plants throughout the region. South America has relatively less hydropower potential compared to other areas as it is an underutilized area.
Hydropower Turbine Market Key Players:
Some of the major players operating in the global hydropower turbine market are General Electric, Andrits, Toshiba Energy, Kirloskar Brothers Lts., Siemens, Canyon Industries Inc., Hitachi Ltd., Cornell Pump Co., Canadian Hydro Components Ltd., WWS Wasserkraft GmbH, Capstone Turbine, Gilbert Gilkes & Gordon
1. Introduction
1.1 Market Definition
1.2 Scope of the report
1.3 Study Assumptions
1.4 Base Currency, Base Year and Forecast Periods
2. Research Methodology
2.1 Analysis Design
2.2 Research Phases
2.2.1 Secondary Research
2.2.2 Primary Research
2.2.3 Data Modelling
2.2.4 Expert Validation
2.3 Study Timeline
3. Report Overview
3.1 Executive Summary
3.2 Key Inferencees
4. Market Dynamics
4.1 Impact Analysis
4.1.1 Drivers
4.1.2 Restaints
4.1.3 Opportunities
4.2 Regulatory Environment
4.3 Technology Timeline & Recent Trends
5. Competitor Benchmarking Analysis
5.1 Key Player Benchmarking
5.1.1 Market share analysis
5.1.2 Products/Service
5.1.3 Regional Presence
5.2 Mergers & Acquistion Landscape
5.3 Joint Ventures & Collaborations
6. Market Segmentation
6.1 Hydropower Turbine Market, By Type
6.1.1 Reactive
6.1.2 Impulse
6.1.3 Gravity
6.1.4 Market Size Estimations & Forecasts (2019-2024)
6.1.5 Y-o-Y Growth Rate Analysis
6.1.6 Market Attractiveness Index
6.2 Hydropower Turbine Market, By Application
6.2.1 Power Generation
6.2.2 Power Storage
6.2.3 Marine
6.2.4 Aeronautics
6.2.5 Market Size Estimations & Forecasts (2019-2024)
6.2.6 Y-o-Y Growth Rate Analysis
6.2.7 Market Attractiveness Index
6.3 Hydropower Turbine Market, By Capacity
6.3.1 Less than 1 MW
6.3.2 Between 1 – 10 MW
6.3.3 Above 10 MW
6.3.4 Market Size Estimations & Forecasts (2019-2024)
6.3.5 Y-o-Y Growth Rate Analysis
6.3.6 Market Attractiveness Index
7. Geographical Landscape
7.1 Global Identity Governance and Administration Market, by Region
7.2 North America - Market Analysis (2018 - 2024)
7.2.1 By Country
7.2.2 By Type
7.2.3 By Application
7.2.4 By Capacity
7.3 Europe
7.3.1 By Country
7.3.2 By Type
7.3.3 By Application
7.3.4 By Capacity
7.4 Asia Pacific
7.4.1 By Country
7.4.2 By Type
7.4.3 By Application
7.4.4 By Capacity
7.5 Latin America
7.5.1 By Country
7.5.2 By Type
7.5.3 By Application
7.5.4 By Capacity
7.6 Middle East and Africa
7.6.1 By Country
7.6.2 By Type
7.6.3 By Application
7.6.4 By Capacity
8. Key Player Analysis
8.1 General Electric
8.1.1 Business Description
8.1.2 Products/Service
8.1.3 Financials
8.1.4 SWOT Analysis
8.1.5 Recent Developments
8.1.6 Analyst Overview
8.2 Andrits
8.3 Toshiba Energy
8.4 Kirloskar Brothers
8.5 Siemens AG
8.6 Canyon Industries Inc
8.7 Hitachi Ltd
8.8 Cornell Pump Co
8.9 Canadian Hydro Components Ltd
8.10 WWS Wasserkraft GmbH
9. Market Outlook & Investment Opportunities
Appendix
List of Tables
List of Figures
Global, regional and country-level analysis and forecasts of the study market; providing Insights on the major countries/regions in which this industry is blooming and to also identify the regions that are still untapped

Segment-level analysis in terms of technology, component, and type along with market size forecasts and estimations to detect key areas of industry growth in detail

Identification of key drivers, restraints, opportunities, and challenges (DROC) in the market and their impact on shifting market dynamics

Study of the effect of exogenous and endogenous factors that affect the global market; which includes broadly demographic, economics, and political, among other macro-environmental factors presented in an extensive PESTLE Analysis

Study the micro environment factors that determine the overall profitability of an Industry, using Porter's five forces analysis for analysing the level of competition and business strategy development

A comprehensive list of key market players along with their product portfolio, current strategic interests, key financial information, legal issues, SWOT analysis and analyst overview to study and sustain the market environment

Competitive landscape analysis listing out the mergers, acquisitions, collaborations in the field along with new product launches, comparative financial studies and recent developments in the market by the major companies

An executive summary, abridging the entire report in such a way that decision-making personnel can rapidly become acquainted with background information, concise analysis and main conclusions

Expertly devised analyst overview along with Investment opportunities to provide both individuals and organizations a strong financial foothold in the market
Global Hydropower Turbine Market By Region, From 2021-2026 ( USD Billion )

Global Hydropower Turbine Market By Type, From 2021-2026 ( USD Billion )

Global Reactive Market By Region, From 2021-2026 ( USD Billion )

Global Impulse Market By Region, From 2021-2026 ( USD Billion )

Global Gravity Market By Region, From 2021-2026 ( USD Billion )

Global Hydropower Turbine Market By Application, From 2021-2026 ( USD Billion )

Global Power Generation Market By Region, From 2021-2026 ( USD Billion )

Global Power Storage Market By Region, From 2021-2026 ( USD Billion )

Global Marine Market By Region, From 2021-2026 ( USD Billion )

Global Aeronautics Market By Region, From 2021-2026 ( USD Billion )

Global Hydropower Turbine Market By Capacity, From 2021-2026 ( USD Billion )

Global Less than 1 MW Market By Region, From 2021-2026 ( USD Billion )

Global Between 1 – 10 MW Market By Region, From 2021-2026 ( USD Billion )

Global Above 10 MW Market By Region, From 2021-2026 ( USD Billion )