Industrial and Factory Automation Market Size (2023 – 2028)
The Industrial and Factory Automation Market size was worth USD 133.1 billion in 2022, so it is estimated to reach USD 197.8 billion by 2028, growing at a CAGR of 3.16 % during the forecast period 2023 - 2028.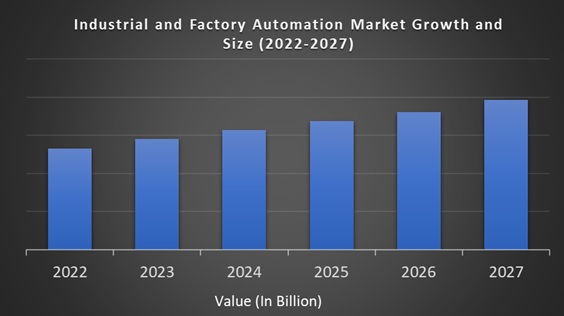 Market Overview:
The advent of business partnership and the need for bulk creation of goods, favorable government initiative to encourage automation systems, implementation of evolving technologies like IoT and AI in industry applications, insistence on automation technology and optimized resource consumption and financial policies framed by local financial firms to retain production facilities during the COVID-19 emergency are among the factors responsible for the growth. Industrial automation is the use of control systems, like machines or robotics, and information technology for the management of various processes and equipment in manufacturing to replace human beings. This is the second step after mechanization in the area of industrialization. Such automation allows most industries to work with versatility and improved efficiency.
Recent Developments in Industrial and Factory Automation Industry:
SAP and Endress+Hauser partnered in the design of the Industrial Internet of Things (IIoT) solutions for the manufacturing industry in June 2018. The aim is to incorporate Endress+Hauser field methods as virtual twins into the SAP web platform. All businesses want to take advantage of the products and smart devices provided by SAP's Leonardo platform as well as Endress+Hauser's IIoT product. The intention is to jointly incorporate master and sensor information as well as assessment values into consumer, distribution and manufacturing processes and to create new digital services that rely on quantitative maintenance and predictive performance.

Picnik Robotics and Formant formed a working relationship in October 2021 to extend both groups' capabilities and bring cloud-based mobile manipulation to the forefront of robotics.

MOV.AI debuted its innovative Robotics Engine Platform in October 2021, allowing AMR manufacturers, automation integrators, and manual logistics vehicle manufacturers to construct AMRs suitable for 85 percent dynamic situations swiftly. The platform is powered by the most recent version of the MOV.AI software.

Epson Conquers Automation Limitations with No-Code, Convenient Epson RC+ Express Robot Teaching Environment in Oct 2021. Epson RC+ Express, an instinctive visual-based instructional environment, gives rapid, practical Epson SCARA robots for customers with very little to no coding experience, allowing manufacturers to rapidly and effortlessly build automated programs to alleviate time and cost barriers associated with running industrial robots.

The Omron VT-S1080 3D AOI will be introduced in October 2021 as the most sophisticated combination of AI-assisted, new Omron technology to target the vital solder joint inspection process. The adaptability of the capabilities and the quantitative, IPC-compliant inspection technique contribute to the quality and dependability of your products. In addition, Omron's sophisticated offline productivity and data analysis solutions enable businesses to work more efficiently, lower skill levels, and achieve actual process improvement
REPORT COVERAGE:
| | |
| --- | --- |
| REPORT METRIC | DETAILS |
| Market Size Available | 2022 – 2028 |
| Base Year | 2022 |
| Forecast Period | 2023- 2028 |
| CAGR | 3.16 % |
| Segments Covered | By Solution, By Component, By Industry |
| Various Analyses Covered | Global, Regional & Country Level Analysis, Segment-Level Analysis, DROC, PESTLE Analysis, Porter's Five Forces Analysis, Competitive Landscape, Analyst Overview on Investment Opportunities |
| Regions Covered | North America, Europe, Asia Pacific, Latin America, Middle East, and Africa |
| Market Leaders Profiled | General Electric, ABB Ltd., Emerson Electric Co., Rockwell Automation Inc., Siemens AG, Endress+Hauser Group, Schneider Electric, Yokogawa, Omron Corporation, Mitsubishi, Honeywell. |
Drivers:
The upsurge of the notion of a business partnership is propelling the global industrial & factory automation market forward. The productive flow of information throughout various units in enterprises is critical for efficient manufacturing operations. It allows businesses to grasp the method of transforming resources into products by utilizing IoT and IP systems. Internet-of-things systems can be used to monitor the position of field devices, ensure the correct flow of materials, maintain track of the inventory status, and notify goods as they move through the supply chain. Integrated companies can also quickly obtain the flow of data through the production chain, making it more straightforward for them to react to changes in the business environment. Real-time data assists producers in lowering operational costs, recognizing cyber theft risks, and producing following market demands. The elevated demand for improved productivity and the production of high-quality product lines is fueling the growth of innovative equipment and software systems. This requirement can be met by deploying advanced manufacturing strategies and applications provided by industrial and factory automation.
Restraints:
The introduction of a new automated production facility necessitates the use of cutting-edge automation innovations and technologies. Data collection with them aids in reducing calculation errors while improving product quality and manufacturing plant efficiency. The establishment of these production facilities necessitates significant capital investments in machinery, operating systems, and instruction. For new companies who are establishing their first facility, investing such a substantial amount is challenging. As a result, before implementing industrial and factory automation systems, these businesses must conduct a thorough analysis of their return on investment.
Furthermore, due to the high costs of new and advanced systems and the lack of interoperability in legacy systems, several companies cannot replace their existing legacy systems. These legacy systems communicate using proprietary protocols, making connecting them to systems based on new technologies complicated. As a result, manufacturers incur high additional costs when upgrading their existing systems. Furthermore, the automation software systems used in industries necessitate ongoing maintenance and upgrade. As a result, small businesses cannot afford such costs. As a result, the charge is a significant impediment to the growth of the industrial & factory automation market. Following the initial capital investments, there is a need to maintain and upgrade industrial and factory automation systems and solutions. Maintaining and upgrading industrial and factory automation systems and solutions necessitates significant capital reinvestment. As a result, the need for substantial initial investments and maintenance reinvestments limit the growth of the industrial & factory automation market.
Industrial and Factory Automation Market Segmentation Analysis:
By Solution:
SCADA (Supervisory Control and Data Acquisition)

PLC (Programmable Logic Controller)

DCS (Distributed Control System)

MES (Manufacturing Execution System)

Industrial Safety

PAM (Plant Asset Management)
The market is segmented into SCADA (Supervisory Control and Data Acquisition), PLC (Programmable Logic Controller), DCS (Distributed Control System), MES (Manufacturing Execution System), Industrial Safety, PAM (Plant Asset Management).
In 2019, the Distributed Control System (DCS) captured the largest market share. A distributed control system (DCS) is a digital automated industrial control system with spatially separated control loops across a production plant, device, or regulation zone, instead of being centralized. DCSs are placed so that each element of a production facility is governed by one or more controllers, enabling different parts of the plan to receive instructions.
By Component:
Sensors

Industrial Robots

Machine Vision

Control valves

Industrial PC

Control devices
The market is categorized into Sensors, Industrial Robots, Machine Vision, Control valves, Industrial PC, Control devices.
Sensors captured the largest market share in 2019. Sensors are growing in popularity in the industrial automation control market due to their widespread use in automotive, medical services, consumer devices, and armed services. In addition, makers are heavily automating these tasks with robotics, thanks to advancements in technology, force/torque sensors, and end-effectors. Polishing is an example of a repetitive and strenuous activity that can be automated for effective results.
By Industry:
Process Industry

Discrete Industry
The market can be categorized into Process Industry and Discrete Industry. In 2019, the process industry dominated the global market. Additives, food, beverages, petroleum, base metals, paper and paper products, drug companies, and other sectors illustrate process industries. The process industry is the primary end-user of DCS (Distributed Control System) because it typically involves monitoring and managing fluids such as oil, milk, and water. Throughout the manufacturing process, the DCS, in conjunction with valves and other tools, constantly regulates and controls the liquid flow and the blending of these industrial components. In addition, PLCs (Programmable Logic Controller) is extensively used in process industries like food services, oil and gas, and water services.
Regional Analysis:
Industrial and Factory Automation Market are divided into three regions based on regional analysis: North America, Europe, and the Asia Pacific. Over the projected period, Asia Pacific is anticipated to witness significant growth in the Industrial and Factory Automation market, followed by Europe. North America is comprised of three countries: the United States, Mexico, and Canada. This area's affluence is due to its seamless integration of markets. In terms of profit, the market is growing steadily. The United States dominates the economy of the North American region due to its highly diverse industrial demand. Compared to Europe and some parts of Asia, producers in this region have a lot more flexibility in terms of improvements and advancement. Nevertheless, a few businesses in North America have attained a saturation point, necessitating the development of new approaches to conquer market inadequacies.
Impact of COVID-19 on Global Industrial & Factory Automation Market:
COVID-19 harmed the industrial & factory automation market in 2020, resulting in lower consignments of industrial & factory automation components and solutions and profits made from them. As a consequence, the industry's overall growth slowed in the first half of 2020. This momentum is projected to reverse in the second half of the year as demand rises due to more profound concern for intelligent automation, improving energy efficiency. The COVID-19 pandemic has had a significant impact on the value chain of the industrial & factory automation market. The United States, China, South Korea, and Japan have been hit hard by the pandemic, accounting for a sizable share of global industrial and factory automation manufacturing. The discrete and process industries are experiencing low demand, which is expected to persist in the short term due to the worldwide slowdown.
Key Players in the Market:
Major Key Players in the Global Industrial & Factory Automation Market are
General Electric

ABB Ltd

Emerson Electric Co

Rockwell Automation Inc

Siemens AG

Endress+Hauser Group

Schneider Electric

Yokogawa

Omron Corporation

Mitsubishi

Honeywell