Industrial Motors Market Growth and Forecast (2022 - 2027):
The Industrial Motors Market size was valued at US$ 19.81 billion in 2021 and is anticipated to reach the valuation of US$ 23.87 billion by 2027 and is predicted to register a CAGR of 2.97% during 2022-2027.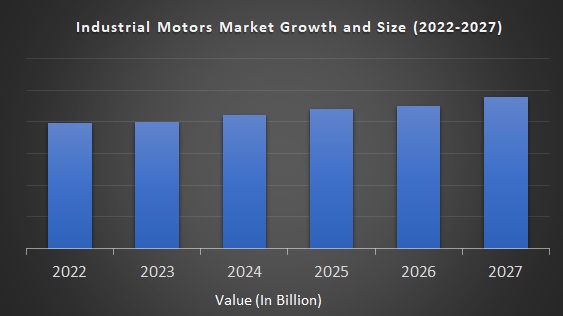 Market Overview:
Industrial motors are widely utilized in industrial fans, machine tools, household appliances, and power tools. The motors are powered by DC or AC sources like batteries, automobiles or rectifiers, power systems, inverters, or generators. Motors with highly standardized characteristics are utilized in industries as they supply available mechanical power. These motors have a longer life and less maintenance and are widely used for ship propulsion, pipeline compression, and pumped-storage applications.
Recent Developments in Industrial Motors Industry:
ABB and Samsung Electronics will form a global cooperation to supply jointly developed solutions for energy conservation, energy management, and smart Internet of Things (IoT) connectivity in both residential and commercial buildings. Buildings account for about 40% of yearly global CO2 emissions1, and the two firms' collaboration will provide a platform for long-term collaboration on smart technology, smart control, and smart devices.

KAWASAKI, JAPAN (Japan) — Toshiba Electronic Devices & Storage Corporation ("Toshiba") has introduced the "TPH9R00CQH," a 150V N-channel power MOSFET that employs Toshiba's latest generation process, "U-MOSX-H," and is suitable for use in switching power supplies for industrial equipment, such as data centres and communications base stations. The drain-source On-resistance of TPH9R00CQH is roughly 42% lower than that of TPH1500CNH, a 150V product that uses the current generation method, U-MOSVIII-H. The trade-off between the drain-source On-resistance and two charge characteristics has been enhanced thanks to the redesigned MOSFET's structure, resulting in superior low-loss characteristics. Furthermore, during switching operation, the spike voltage between the drain and source is lowered, which helps to reduce electromagnetic interference (EMI) in switching power supplies.
INDUSTRIAL MOTORS MARKET REPORT COVERAGE:
REPORT METRIC

DETAILS

Market Size Available

2021 – 2027

Base Year

2021

Forecast Period

2022 – 2027

CAGR

3 .63%

Segments Covered

By Type of Motors, By Voltage, By End-User

Various Analyses Covered

Global, Regional & Country Level Analysis, Segment-Level Analysis, DROC, PESTLE Analysis, Porter's Five Forces Analysis, Competitive Landscape, Analyst Overview on Investment Opportunities

Regions Covered

Market Leaders Profiled

ABB Group

ARC Systems, Inc.

Asmo Co., Ltd.

Brook Crompton UK Ltd.

Dr. Fritz Faulhaber GmbH

Emerson Electric

Maxon Motors AG

Regal Beloit Corporation

Rockwell Automation, Inc.

Siemens AG
Industrial Motors Market Drivers:
Heating, ventilation, and air conditioning (HVAC) systems maintain the quality of the indoor air while also providing thermal comfort. They're an important part of today's infrastructure, particularly in enormous office buildings and shopping malls. Electric DC motors are frequently utilised in HVAC systems to maximise their life and power while achieving great efficiency in airflow systems. The need for HVAC systems is increasing throughout Asia Pacific, particularly in China and India, because their industrial and commercial sectors continue to expand. According to Timetric Construction Intelligence Centre (CIC), a market intelligence firm, USD 1.08 trillion is estimated to be invested in the global construction sector over the next four to five years, particularly for the development of industrial sectors, which is further driving the global industrial motors market growth in the next coming years.
Furthermore, according to the most recent market forecasts, the utilisation of brushless DC motors, a common type of electric motor used in automotive and HVAC applications, is predicted to be high. The overall number of brushless DC motors installed in electric cars (EV)/hybrid electric vehicles (HEV) has increased as a result of substantial advancements in electric vehicle technology. The ongoing rise of China's and India's industrial and commercial sectors has increased demand for HVAC systems in Asia Pacific, propelling the industrial motor market share during 2022-2027.
Industrial Motors Market Restraints:
A few Chinese manufacturers control the prices of raw materials such as permanent magnets, copper wires, steel bars and precision thin metals such as speciality alloys, which are needed to create electric motors. There is limited product differentiation, and the price of the product determines the market domination of specific providers. Manufacturers and suppliers, for example, are unable to pass on price changes in rare-earth permanent magnets during the manufacturing process to end-use consumers. As a result, raw material suppliers' profit margins are impacted significantly, which hinders the global industrial motors market growth.
Over 95% of all rare-earth oxides are currently sourced from China, which has complete control over the market. China also has a 65% share of hard ferrite production and nearly half of aluminium nickel cobalt and samarium cobalt production. In addition, China has placed export limitations and export tariffs on rare-earth elements of up to 25%. As a result, these limits may limit the expansion of the European industrial motor market.
Industrial Motors Market Opportunities:
With substantial advancements in electric car technology, the global automobile industry is moving to electric mobility. As a result of active steps taken to decarbonize society, electric vehicles with electric motors have become more popular in Europe. Advances in battery technology have resulted in lower battery costs and faster charging times. Increasing government assistance in the form of tax exemptions and incentives to promote environmentally friendly electric vehicles driven by electric motors is also giving the industrial motor sector a chance to thrive. China is predicted to account for half of all global passenger electric vehicles by 2025, according to the International Energy Agency.
Furthermore, in the near future, growing robotics technology is projected to provide various chances for participants in the Europe industrial motor sales market. Robots are widely utilised in industry for simple, repetitive activities, as well as in dangerous environments involving direct contact with explosive chemicals and radioactive substances. Assembly-line labour, military services, space exploration, warehouse deliveries, medical help, mine clearance, undersea exploration, duct cleaning, and commercialised agricultural activities all utilise this technology.
Industrial Motors Market Challenges:
Electric motors are a highly fragmented market, with a large number of domestic and foreign manufacturers. Product quality is a critical criterion for differentiation in this market. In the industrial motor industry, the organised sector mostly caters to industrial consumers and maintains high product quality, whereas the unorganised sector provides low-cost options for tapping local markets. In most countries, local makers of electric motors target the unorganised sector and fight fiercely with global suppliers in their own marketplaces. Leading industry companies are currently facing fierce competition from unorganised suppliers of low-cost, low-quality electric motors. This is a significant barrier to the industrial motor market's expansion. Electric motors also suffer from low resistance, electrical overload, pollution, frequent vibrations and overheating as a result of their low quality and affordability. All of these reasons could pose a threat to the electric motor market, lowering the efficiency of machinery that uses these low-quality electric motors.
Industrial Motors Market Segmentation Analysis:
By Type of Motors:
Alternating Current (AC) Motors

Direct Current (DC) Motor

Other sorts of Motors
By Voltage:
High Voltage (HV)

Medium Voltage (MV)

Low Voltage (LV)
The benefits like the direct supply of voltage form substations and efficiency improvements compared to multiple small systems in massive industry setup are majorly driving the high voltage segment in the world marketplace. This makes the HV segment essential for the vendors.
By End-User:
Oil and Gas

Power Generation

Mining and Metals

Water and Wastewater Management

Chemicals and Petrochemicals

Discrete Manufacturing

Paper and Pulp

Others
For more excellence in operations and enhanced return on investments, there's an increased preference by industrial users for custom-made motors compared to plain engines thanks to constraints related to space and extreme operating conditions. End-user industries like mining, cotton and paper, and pulp are foreseen to drive the demand for custom-made motors in the coming years. Power generation and discrete manufacturing are also among the prominent end-users contributing to the business demand across the globe.
Geographical Segmentation Analysis:
North America - the United States and Canada

Europe - United Kingdom, Spain, Germany, Italy, and France

The Asia Pacific - India, Japan, China, Australia, Singapore, Malaysia, South Korea, New Zealand, and Southeast Asia

Latin America - Brazil, Argentina, Mexico, and Rest of LATAM

The Middle East and Africa - Africa and Middle East (Saudi Arabia, UAE, Lebanon, Jordan, Cyprus)
Region Analysis:
In 2018, North America accounted for the best share and is anticipated to secure the leading position in the global industrial motors market during the forecast period. This is often attributed to industrial growth and the expansion of the aerospace industry. The USA is the pioneer within the regional market. The industrial motor market in the USA has the highest share among the North American countries.
The Asia Pacific is among the rapidly evolving markets in the global industrial motors business. China is the largest motor producer, which is likely to drive the demand for industrial motors in this region.
Key Players in the Market:
Major Key Players in the Global Industrial Motors Market are
ABB Group

ARC Systems, Inc.

Asmo Co., Ltd.

Brook Crompton UK Ltd.

Dr. Fritz Faulhaber GmbH

Emerson Electric

Maxon Motors AG

Regal Beloit Corporation

Rockwell Automation, Inc.

Siemens AG