Industrial Safety Market Size, Growth and Forecast (2022 - 2027)
The Global Industrial Safety Market size was worth US$ 6.3 billion in 2021, and is expected to grow to US$ 8.8 billion by 2027, with a CAGR of 6.8% from 2022 to 2027.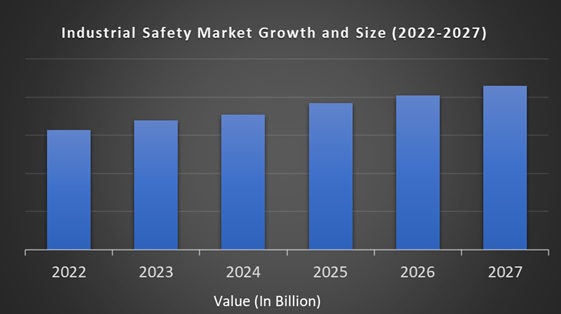 Market Overview:
Industrial safety is playing a big role in practices and measures adopted for ensuring occupational safety in various industries. The system is employed for preventing multiple occupational hazards and in many cases, eliminate the explanation for industrial accidents, thus protecting personnel, the economic environment, and equipment and assets. Moreover, the systems for industrial safety are increasingly being demanded in several process industries, including paper and pulp, metal and mining, water and wastewater, power generation, and food manufacturing. Programmable safety systems like safety PLCs are an integral part of safety instrumented systems. Safety PLCs got to be certified with IEC 61508, the industrial safety standard for electrical/programmable electronic safety-related systems. Unlike regular PLCs, a security PLC, alongside logic solver, has redundancy and other safety diagnostics that ensure successful execution of required safety instructions
The global industrial safety market's expansion is propelled by the mandates for safety regulations, rising demand for safety systems within the oil & gas industry, rising need for reliable safety systems for personnel and asset protection, a technological revolution like 4.0, and growing automation in hazardous industrial areas.
Recent Developments in Industrial Safety Industry:
The very first integrated safety system was manufactured by ABB almost 30 years ago. It was installed in more than 500 offshore applications across the world. Safeguard is certified for SIL3 according to the IEC 61508 standard. It can be installed individually as a security system or in combination with the System 800xA control system.

EcoStruxure Triconex Safety Systems are an integral factor of EcoStruxure Plant, Schneider Electrics, where IoT allowed architecture for actionable business insight. With over 30 years of continuous safe function, EcoStruxure Triconex Safety Systems have delivered more than one billion safe working hours. Proven in the most demanding industries and challenging applications, EcoStruxure Triconex Safety Systems gives a lifetime of performance.
Drivers:
The expansion of the industrial safety industry is mostly due to mandates for safety laws. The US government and governments in Europe are working to prevent mishaps by enforcing regulations relating to people and process safety and putting certified equipment in hazardous locations, such as explosion-proof sensors, switches, and actuators. Safety standards and regulatory measures have been implemented by organisations such as the Occupational Safety and Health Administration (OSHA), the International Electrotechnical Commission (IEC), the International Standard Organization (ISO), and the American National Standards Institute (ANSI) to monitor and improve the efficiency of industrial processes. The expansion of the industrial safety product market has been fostered by laws such as the EU Machinery Directives and OSHA regulations in North America.
Restraints:
In order to protect personnel, machines, and production lines in the event of an emergency, industrial safety systems must be built. The cost of industrial safety components, as well as the costs of installation and maintenance and repair, place a significant strain on the organization's budget. Small and medium-sized businesses may find it difficult to handle these costs, even while giant corporations can. Furthermore, industrial safety must adhere to government regulations. As a result of technical improvements and new laws, safety standards are routinely changed, putting enterprises under pressure to upgrade their safety systems. Additional safety components and systems will be required as part of this upgrade. As a result, this aspect is a stumbling block, particularly for small and medium-sized businesses.
INDUSTRIAL SAFETY MARKET REPORT COVERAGE:
| | |
| --- | --- |
| REPORT METRIC | DETAILS |
| Market Size Available | 2021 – 2027 |
| Base Year | 2021 |
| Forecast Period | 2022 - 2027 |
| CAGR | 8.6% |
| Segments Covered | By Product Type, Component, Industry, and Region. |
| Various Analyses Covered | Global, Regional & Country Level Analysis, Segment-Level Analysis, DROC, PESTLE Analysis, Porter's Five Forces Analysis, Competitive Landscape, Analyst Overview on Investment Opportunities |
| Regions Covered | North America, Europe, APAC, Latin America, Middle East & Africa |
| Market Leaders Profiled | Electric Co. (US), Honeywell International, Inc. (US), Rockwell Automation, Inc. (US), ABB Ltd (Switzerland), Schneider Electric SE (France), General Electric (US), Yokogawa Electric Corp. (Japan), Hima Paul Hildebrandt GmbH (US), Omron Corporation (Japan), Siemens AG (Germany), Proserv Ingenious Simplicity (UK), Johnson Controls (Ireland), Balluff (US), Euchner (Germany), and Fortress Interlocks (UK),Eaton PLC (Ireland), 3M (US), Tusker Industrial Safety (UK), W.W. Grainger, Inc. (US), Ceasefire (India), Panduit (US), and DuPont (US) and Others. |
Industrial Safety Market Opportunities:
The Internet of Things is opening up new possibilities for integrated safety and compliance services. The IIoT may collect data from sensors that detect pressure, level, flow, temperature, and vibration and send it to monitoring systems. The data is transmitted across wired and wireless networks, enabling for real-time analysis, alarms, and potential emergency remedies. Companies can use the IIoT to integrate their activities with safety systems and monitor them in real time. IIoT enables real-time monitoring, analysis, and control of physical systems, as well as virtual administration of physical systems, resulting in increased performance. During the forecast period, the need for industrial safety is expected to rise due to the increasing usage of IIoT.
Industrial Safety Market Challenges:
Complete machine guarding necessitates a risk assessment that includes input from machine operators, maintenance workers, supervisors, engineers, safety specialists, machine guarding experts, and original equipment manufacturer (OEM) representatives, in addition to guard designers. It's difficult for a designer to foresee all the dangers involved with equipment setup, operation, inspection, and maintenance on their own. When personnel need to reach locations inside machine guards, meticulous planning and execution are required. Inadequate risk assessment can also lead to the omission of important requirements for the design and performance of interlock devices and monitoring components like relays and safety-rated programmable logic controllers, which are employed for protection until further safeguarding procedures are taken.
Industrial Safety Market Segmentation Analysis:
By Product Type:
• F&GM
• BMS
• HIPPS
• ESD
• TMC
An emergency shutdown (ESD) system is designed to avoid dangerous conditions. It can start the shutdown of a plant, unit, or equipment. Sensors are utilized to detect undesired situations and logic solvers respond to sensors by taking final factors such as valves and pumps to secure states. In an emergency, an ESD system shuts down the process in a secure and orderly manner, resulting in high demand for this product type.
By Component:
• Programmable Safety Systems
• Safety Valves
• Safety Switches
• Safety Sensors
• Emergency Stop Devices
By Industry:
• Chemicals
• Metals & Mining
• Food & Beverages
• Pharmaceuticals
• Oil & Gas
• Power Generation
Mandatory industrial safety laws compelled many sectors to put in safety systems for employee safety and asset safety using safety sensors and relays. The expansion in the oil & gas industry require much safety system thanks to the hazardous environment. Therefore, this segment accounts for the central part of the industrial safety market. The developing technologies like the Internet of Things and AI and their pacing incorporation with the system are predicted to foster the global industrial safety market growth in the future.
Geographical Segmentation Analysis:
North America - the United States and Canada

Europe - United Kingdom, Spain, Germany, Italy, and France

The Asia Pacific - India, Japan, China, Australia, Singapore, Malaysia, South Korea, New Zealand, and Southeast Asia

Latin America - Brazil, Argentina, Mexico, and Rest of LATAM

The Middle East and Africa - Africa and Middle East (Saudi Arabia, UAE, Lebanon, Jordan, Cyprus)
Region Analysis:
The North American industrial safety market dominated the worldwide business, occupying a share of roughly 30% of the entire revenue. Government initiatives and policies favoring the security of workers and employees at manufacturing facilities and the emergence of Industry 4.0 have contributed to the adoption of industrial safety systems in this region. The Asia-Pacific industrial safety market is estimated to witness the best growth during the foreseen period 2020–2025. The region has witnessed a surge within the number of industrial facilities in developing countries including Taiwan and India. The increasing number of commercial facilities is predicted to fuel the expansion of the global market in Asia-Pacific.
Key Players in the Market:
The major players of the global industrial safety market are
Emerson Electric Co. (US)

Honeywell International, Inc. (US)

Rockwell Automation, Inc. (US)

ABB Ltd (Switzerland)

Schneider Electric SE (France)

General Electric (US)

Yokogawa Electric Corp. (Japan)

Hima Paul Hildebrandt GmbH (US)

Omron Corporation (Japan)

Siemens AG (Germany)

Proserv Ingenious Simplicity (UK)

Johnson Controls (Ireland)

Balluff (US), Euchner (Germany)

Fortress Interlocks (UK)

Eaton PLC (Ireland)

3M (US)

Tusker Industrial Safety (UK)

W.W. Grainger, Inc. (US)

Ceasefire (India)

Panduit (US)

DuPont (US)