Infant Formula Ingredients Market Growth and Forecast (2020-2025):
The global Infant Formula Ingredients Market Size was worth USD 16.7 billion in 2020, and it is estimated to reach a valuation of USD 25.5 billion by the end of 2025, expanding at a CAGR of above 7% during the forecast period.
Market Overview:
Infant Formula Ingredients are used from 12 months of age to babies and are generally safe for the consumer, as most products are cow based. Infant formulas contain typically functional ingredients. The core of these includes long-chain polyunsaturated fatty acids, prebiotics, nucleotides, and probiotics. Producers in the baby food market are modifying their lactose content, probiotic ratio, rice starch, and hydrolyzed protein to diversify their product portfolio. In general, health professionals tend to monitor infant formulas closely. Formulations that satisfy babies' diverse clinical conditions are also driving the launch of new products on the market. Some of the trends they are dealing with are gastrointestinal disorders, allergies, lack of fat metabolism, and kidney failure. In general, they support the baby's healthy physical growth and provide enough replacements for suitable biological quality protein components.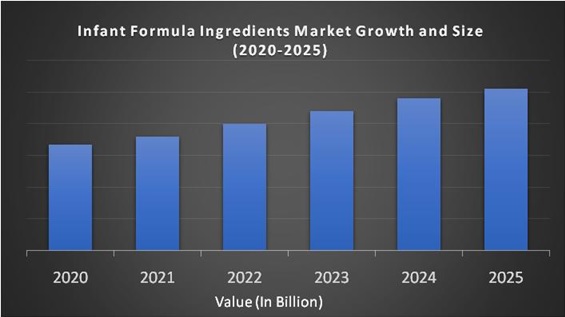 Recent Developments in Infant Formula Ingredients Industry:
In 2019 Nestlé (Switzerland) opened a new R&D center in Ireland. The company has invested $ 30 million. The center will focus on the development of products for child nutrition.

BASF (Germany) and GlycoSyn (USA) have formed associations that concentrate on the field of infant nutrition. This included the development and commercialization of human milk oligosaccharides (HMO).

In 2019 BASF launched the first PREBILAC 2'-FL HMO for the infant nutrition market. Therefore, many major companies participate, and the market is very competitive.
Infant Formula Ingredients Market Growth:
One of the main factors that are expected to increase the global infant formula ingredients market is the number of women who have joined the labor force after childbirth, as mothers cannot consume lactates and fathers seeking additional sources of nutrition for their babies will promote the sale of these ingredients in the coming years. Separately, infant formula manufacturers are presumed to invest in R&D to drive the growth of the formula industry in the future.
REPORT COVERAGE:
| | |
| --- | --- |
| REPORT METRIC | DETAILS |
| Market Size Available | 2019 – 2025 |
| Base Year | 2019 |
| Forecast Period | 2020 - 2025 |
| CAGR | 7% |
| Segments Covered | By Type, Application, Form, Source, and Region |
| Various Analyses Covered | Global, Regional & Country Level Analysis, Segment-Level Analysis, DROC, PESTLE Analysis, Porter's Five Forces Analysis, Competitive Landscape, Analyst Overview on Investment Opportunities |
| Regions Covered | North America, Europe, APAC, Latin America, Middle East & Africa |
| Market Leaders Profiled | AAK AB (Sweden), Fonterra Co-operative Group Limited (New Zealand), Carbery Food Ingredients Limited (Ireland), Royal Friesland Campina N.V. (Netherlands), Sachsenmilch Leppersdorf GmbH (Germany), BASF SE (Germany), Koninklijke DSM N.V. (Netherlands), Arla Foods amba (Denmark), Chr. Hansen Holdings A/S (Denmark), Kerry Group plc (Ireland) and Others. |
Drivers:
Industrial growth is primarily driven by the growing population of women working in middle-class families in various regions, including North America, Asia Pacific, and Latin America. Consuming protein as an ingredient in a variety of applications, such as growing milk and specialty formulations, is expected to increase overall demand for infant formula ingredients in the coming years. In infant formulas, the protein is used to prepare alternative hypoallergenic protein foods for babies with milk allergies, celiac disease, and gluten intolerance. The increasing demand for prebiotics and individual dairy protein fractions as the population grows is a key factor supporting the constant development of the market. The dynamics of the baby food market are supposed to be characterized by high levels of regulation. For example, all primary ingredients like lipids, carbohydrates, and proteins should have a maximum, minimum range for effectiveness.
In the coming years, specialized formulas are expected to gain more traction among players. As the middle class grows, demand for the consumption of probiotic ingredients in the form of infant formulas increases, and convenience and retail store owners are always striving for relevance with product prices and offerings. Most of the growth in the retail sector is presumed to come from mergers and acquisitions of international companies. For a better formulation, it is essential to assess the clinical symptoms of cow allergies. In addition, the protein components of infant formulas are generally prepared for a bottle or cup feeding on powdered or liquid solutions. They are made for babies only because of their simplicity with breast milk or their suitability as a total or partial replacement for breast milk.
Infant formula ingredients contain protein, carbohydrate and fat components, which are necessary to provide the baby with the macronutrients and energy he needs. Proteins as component segments are available in different forms, including powders, ready-to-use formulations, or concentrated liquids, which are then mixed with other liquids such as milk. A variety of animal protein ingredients, including whey or casein protein, are used to design infant nutrition products that meet the baby's metabolic and intestinal needs. It is also foreseen to help the overall growth of the market in the coming years as the use of plant proteins like soy to make products specifically designed for babies with hereditary lactase deficiency and galactosemia.
Restraints:
However, a lack of awareness of the benefits of infant nutritional content, a lack of advertising activity and the presence of numerous players in the market with fierce competitors are the main limitations in the market.
Infant Formula Ingredients Market Segmentation Analysis:
By Ingredient Type:
Carbohydrates

Oils & Fats

Proteins

Vitamins

Minerals

Prebiotics
By Application:
Growing-up Milk

Standard Infant Formula

Follow-on Formula

Specialty
By Form:
Infant formula ingredients are generally used in powdered form due to their ease of handling compared to ingredients in liquid infant formula. Many types of ingredients for infant formula such as carbohydrates, proteins, certain fats, and prebiotics are widely used by infant formula manufacturers in powdered form. Therefore, for powder infant formula manufacturers, especially from emerging countries, high growth prospects are ahead in the coming years.
By Source:
Due to its acceptance as a cost-effective manufacturing process, cow-milk-based ingredients are widely used across Europe and North America, and cow-milk-based ingredients are available in bulk.
Geographical Segmentation Analysis:
North America - the United States and Canada

Europe - United Kingdom, Spain, Germany, Italy, and France

The Asia Pacific - India, Japan, China, Australia, Singapore, Malaysia, South Korea, New Zealand, and Southeast Asia

Latin America - Brazil, Argentina, Mexico, and Rest of LATAM

The Middle East and Africa - Africa and Middle East (Saudi Arabia, UAE, Lebanon, Jordan, Cyprus)
Infant Formula Ingredients Market Regional Analysis:
By region, North America had a significant market share and is expected to grow significantly during the forecast period. The area is considered a prominent local market that meets increasing demand. The standard infant formula is anticipated to be one of the promising applications on the German market. The country has become the second-largest producer of these formulations in Europe. Therefore, the standard infant formula segment is suspected of generating significant demand for products during the outlook period. Demand for infant formula is most important in regions like the Middle East and Africa, and the Asia Pacific, and the retail sector in the United States is expanding rapidly. As exposure to foreign or western life increases, it is contributing significantly to markets in Middle Eastern countries such as Saudi Arabia.
However, the infant formula sector has not yet reached its full potential in the Middle East. The Asia Pacific region has led the global baby food market in recent years. As urbanization increases and the demand for natural foods increases, the market for various formulas is foreseen to kick in as the global infant formula market grows significantly. The Asia-Pacific region is one of the largest consumers of baby and toddler ingredients, making the Chinese market dominant. China benefits from trade because it is one of the leading international baby and toddler ingredient traders in other countries such as New Zealand.
Leading Company:
With the launch of new products from Infant Formula Ingredients manufacturers, including Friesland Campina and Arla Foods, the importance of infant formulas with improved nutritional content is expected to limit the use of vitamin ingredients.
Key Players in the Market:
Major Key Players in the Infant Formula Ingredients Market are
AAK AB (Sweden)

Fonterra Co-operative Group Limited (New Zealand)

Carbery Food Ingredients Limited (Ireland)

Royal Friesland Campina N.V. (Netherlands)

Sachsenmilch Leppersdorf GmbH (Germany)

BASF SE (Germany)

Koninklijke DSM N.V. (Netherlands)

Arla Foods amba (Denmark)

Chr. Hansen Holdings A/S (Denmark)

Kerry Group plc (Ireland)
1. Introduction
1.1 Market Definition
1.2 Study Deliverables
1.3 Base Currency, Base Year and Forecast Periods
1.4 General Study Assumptions
2. Research Methodology
2.1 Introduction
2.2 Research Phases
2.2.1 Secondary Research
2.2.2 Primary Research
2.2.3 Econometric Modelling
2.2.4 Expert Validation
2.3 Analysis Design
2.4 Study Timeline
3. Overview
3.1 Executive Summary
3.2 Key Inferences
3.3 Epidemology
4. Drivers, Restraints, Opportunities, and Challenges Analysis (DROC)
4.1 Market Drivers
4.2 Market Restraints
4.3 Key Challenges
4.4 Current Opportunities in the Market
5. Market Segmentation
5.1 Ingredient Type
5.1.1 Introduction
5.1.2 Carbohydrates
5.1.3 Oils & Fats
5.1.4 Proteins
5.1.5 Vitamins
5.1.6 Minerals
5.1.7 Prebiotics
5.1.8 Y-o-Y Growth Analysis, By Ingredient Type
5.1.9 Market Attractiveness Analysis, By Ingredient Type
5.1.10 Market Share Analysis, By Ingredient Type
5.2 Application
5.2.1 Introduction
5.2.2 Growing-up Milk
5.2.3 Airport
5.2.4 Standard Infant Formula
5.2.5 Follow-on Formula
5.2.6 Specialty
5.2.7 Y-o-Y Growth Analysis, By Application
5.2.8 Market Attractiveness Analysis, By Application
5.2.9 Market Share Analysis, By Application
5.3 Form
5.2.1 Introduction
5.2.2 Y-o-Y Growth Analysis, By Form
5.2.3 Market Attractiveness Analysis, By Form
5.2.4 Market Share Analysis, By Form
5.4 source
5.2.1 Introduction
5.2.2 Y-o-Y Growth Analysis, By Source
5.2.3 Market Attractiveness Analysis, By Source
5.2.4 Market Share Analysis, By Source
6. Geographical Analysis
6.1 Introduction
6.1.1 Regional Trends
6.1.2 Impact Analysis
6.1.3 Y-o-Y Growth Analysis
6.1.3.1 By Geographical Area
6.1.3.2 By Ingredient Type
6.1.3.3 By Application
6.1.3.4 By Form
6.1.3.5 By Source
6.1.4 Market Attractiveness Analysis
6.1.4.1 By Geographical Area
6.1.4.2 By Ingredient Type
6.1.4.3 By Application
6.1.4.4 By Form
6.1.4.5 By Source
6.1.5 Market Share Analysis
6.1.5.1 By Geographical Area
6.1.5.2 By Ingredient Type
6.1.5.3 By Application
6.1.5.4 By Form
6.1.5.5 By Source
6.2 North America
6.1.1 Introduction
6.1.2 United States
6.1.3 Canada
6.3 Europe
6.2.1 Introduction
6.2.2 U.K
6.2.3 Spain
6.2.4 Germany
6.2.5 Italy
6.2.6 France
6.4 Asia-Pacific
6.3.1 Introduction
6.3.2 China
6.3.3 India
6.3.4 Japan
6.3.5 Australia
6.3.6 South Korea
6.5 Latin America
6.4.1 Introduction
6.4.2 Brazil
6.4.3 Argentina
6.4.4 Mexico
6.4.5 Rest of Latin America
6.6 Middle East & Africa
6.5.1 Introduction
6.5.2 Middle-East
6.5.3 Africa
7. Strategic Analysis
7.1 PESTLE analysis
7.1.1 Political
7.1.2 Economic
7.1.3 Social
7.1.4 Technological
7.1.5 Legal
7.1.6 Environmental
7.2 Porter's Five analysis
7.2.1 Bargaining Power of Suppliers
7.2.2 Bargaining Power of Consumers
7.2.3 Threat of New Entrants
7.2.4 Threat of Substitute Products and Services
7.2.5 Competitive Rivalry within the Industry
8. Market Leaders' Analysis
8.1 AAK AB (Sweden)
8.1.1 Overview
8.1.2 Product Analysis
8.1.3 Financial analysis
8.1.4 Recent Developments
8.1.5 SWOT analysis
8.1.6 Analyst View
8.2 Fonterra Co-operative Group Limited (New Zealand)
8.3 Carbery Food Ingredients Limited (Ireland)
8.4 Royal Friesland Campina N.V. (Netherlands)
8.5 Sachsenmilch Leppersdorf GmbH (Germany)
8.6 BASF SE (Germany)
8.7 Koninklijke DSM N.V. (Netherlands)
8.8 Arla Foods amba (Denmark)
8.9 Chr. Hansen Holdings A/S (Denmark)
8.10 Kerry Group plc (Ireland)
9. Competitive Landscape
9.1 Market share analysis
9.2 Merger and Acquisition Analysis
9.3 Agreements, collaborations and Joint Ventures
9.4 New Product Launches
10. Market Outlook and Investment Opportunities
Appendix
a) List of Tables
b) List of Figures
Global, regional and country-level analysis and forecasts of the study market; providing Insights on the major countries/regions in which this industry is blooming and to also identify the regions that are still untapped
Segment-level analysis in terms of by Ingredient Type, Application, Form and Source, Security Type and along with market size forecasts and estimations to detect key areas of industry growth in detail
Identification of key drivers, restraints, opportunities, and challenges (DROC) in the market and their impact on shifting market dynamics
Study of the effect of exogenous and endogenous factors that affect the global market; which includes broadly demographic, economics, and political, among other macro-environmental factors presented in an extensive PESTLE Analysis
Study the micro environment factors that determine the overall profitability of an Industry, using Porter's five forces analysis for analysing the level of competition and business strategy development
A comprehensive list of key market players along with their product portfolio, current strategic interests, key financial information, legal issues, SWOT analysis and analyst overview to study and sustain the market environment
Competitive landscape analysis listing out the mergers, acquisitions, collaborations in the field along with new product launches, comparative financial studies and recent developments in the market by the major companies
An executive summary, abridging the entire report in such a way that decision-making personnel can rapidly become acquainted with background information, concise analysis and main conclusions
Expertly devised analyst overview along with Investment opportunities to provide both individuals and organizations a strong financial foothold in the market
Global Infant Formula Ingredients Market By Region, From 2020-2025 ( USD Billion )

Global Infant Formula Ingredients Market By Ingredient Type, From 2020-2025 ( USD Billion )

Global Carbohydrates Market By Region, From 2020-2025 ( USD Billion )

Global Oils & Fats Market By Region, From 2020-2025 ( USD Billion )

Global Proteins Market By Region, From2020-2025 ( USD Billion )

Global Vitamins Market By Region, From 2020-2025 ( USD Billion )

Global Minerals Market By Region, From 2020-2025 ( USD Billion )

Global Prebiotics Market By Region, From 2020-2025 ( USD Billion )

Global Infant Formula Ingredients Market Market By Application, From 2020-2025 ( USD Billion )

Global Growing-up Milk Market By Region, From 2020-2025 ( USD Billion )

Global Standard Infant Formula Market By Region, From 2020-2025 ( USD Billion )

Global Follow-on-Formula Market By Region, From 2020-2025 ( USD Billion )

Global Specialty Market By Region, From 2020-2025 ( USD Billion )