Infant Formula Ingredients Market Growth and Forecast (2022 - 2027):
The global Infant Formula Ingredients Market size was valued at USD 16.7 billion in 2021, and it is calculated to reach a value of USD 25.5 billion by 2026 at a CAGR of 7.3% over the evaluated period. The main factors that are supposed to increase this business in the coming years are the number of women who have joined the labor force after childbirth, mothers that cannot consume lactates and fathers seeking additional sources of nutrition for their babies.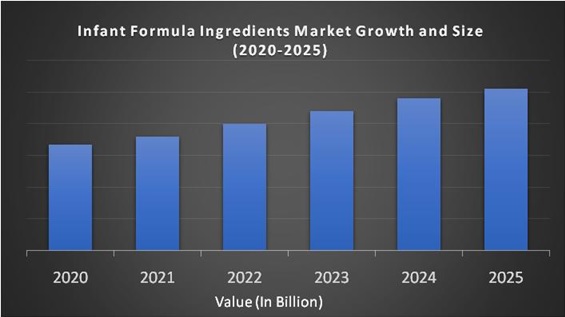 Market Overview:
Breast milk is known to be the best recipe for almost all babies. In addition to somatic growth, breast milk has many other benefits along with the regulation of brain development, immune coexistence, and postpartum bowel function. Breastfeeding is often recommended by healthcare professionals, but this is not a common scenario these days. Infant formula is an industrially produced substitute for infant formula. Baby food ingredients try to include as many edible breast milk compositions as possible. There are also several alternatives to cow-based formulas. Infant formula is used from 12 months of age to infants and is generally safe for consumers and most products are cow based. In general, they help the normal physical growth of a baby and provide a sufficient replacement of protein components of good biological quality.
Recent Developments in Infant Formula Ingredients Industry:
In 2019 Nestlé (Switzerland) opened a new R&D center in Ireland. The company has invested $ 30 million. The center will focus on the development of products for child nutrition.

BASF and GlycoSyn have formed an alliance that focuses on child nutrition. This included the creation and commercialization of human milk oligosaccharides (HMO).

In 2019 BASF launched the first PREBILAC 2'-FL HMO for the infant nutrition market. Therefore, many important companies participate, making the market very competitive.
REPORT COVERAGE:
| | |
| --- | --- |
| REPORT METRIC | DETAILS |
| Market Size Available | 2020 – 2026 |
| Base Year | 2020 |
| Forecast Period | 2021 - 2026 |
| CAGR | 7.3% |
| Segments Covered | By Ingredient Type, Application, Form, Source and Region |
| Various Analyses Covered | Global, Regional & Country Level Analysis, Segment-Level Analysis, DROC, PESTLE Analysis, Porter's Five Forces Analysis, Competitive Landscape, Analyst Overview on Investment Opportunities |
| Regions Covered | North America, Europe, APAC, Latin America, Middle East & Africa |
| Market Leaders Profiled | AAK AB (Sweden), Fonterra Co-operative Group Limited (New Zealand), Carbery Food Ingredients Limited (Ireland), Royal Friesland Campina N.V. (Netherlands), Sachsenmilch Leppersdorf GmbH (Germany), BASF SE (Germany), Koninklijke DSM N.V. (Netherlands), Arla Foods amba (Denmark), Chr. Hansen Holdings A/S (Denmark), Kerry Group plc (Ireland) and Others. |
Infant Formula Ingredients Market Growth:
Infant formula manufacturers are expected to invest in R&D to drive the growth of the industry in the future.
Drivers:
The global baby food market has seen remarkable growth in the past. Growth has occurred due to the health benefits that infant formulas can provide. Some health benefits include a lower risk of cardiovascular disease, reduced cholesterol levels, healthy bone growth, better digestive health, and increased demand for lactose and milk minerals. Also, as the demand for baby food ingredients increases, the demand for infant formula ingredients increases. Industrial growth is majorly driven by the rise in the working women populace in middle-class families in various areas, including North America, Asia Pacific, and Latin America. Consumption of protein as an ingredient in various applications, such as milk farming and special preparations, is expected to increase demand for all infant ingredients in the coming years. In infant formulas, the protein plays a pivotal role as it is used to make alternative hypoallergenic foods for newborns with allergies to milk, celiac disorders, and gluten intolerance. The market includes a wide range of products, from various baby foods to baby formulas.
Demand for this product is seen primarily in mature markets such as the United States, the United Kingdom, and Japan. The increase in consumers and the increase in the working population of women help the growth of the industry. Furthermore, the protein components of infant formulas are generally prepared for bottle or cup feeding from powdered or liquid solutions. They are made for babies only because of their suitability to simulate breast milk or to replace all or part of breast milk. Infant formulas comprise necessary ingredients like protein, carbohydrates and fatty components that are essential to offer the macronutrients and energy to the babies. With the infant formula, it is very convenient for your family to feed your baby with the essential nutrients necessary to stay healthy. The infant formula is FDA approved and provides a solid foundation for your baby's health. Due to these factors, the infant formula ingredients market is growing. Increased awareness and high availability of formulas among working mothers are other factors driving the growth of this market.
Restraints:
Infant formulas are sometimes difficult to digest. Breast milk contains more whey protein, and infant formulas provide more casein protein, which can make it difficult for your baby to digest and cause certain intestinal problems. Also, because it contains nutrients, the cost of the material is very high. These factors are hindering the growth of the infant formula ingredients market. Ingredients for infant formulas create a common formula that may not be suitable for babies because they do not need all of the nutrients mixed in the formula. This hinders the adoption of infant formulas, which hinders the growth of the market for the ingredients in infant condiments.
Infant Formula Ingredients Market Segmentation Analysis:
By Ingredient Type:
Carbohydrates

Oils & Fats

Proteins

Vitamins

Minerals

Prebiotics
By Application:
Growing-up Milk

Standard Infant Formula

Follow-on Formula

Specialty
By Form:
Powder

Liquid & semi-liquid
Infant formula ingredients are generally used in powdered form due to their ease of handling compared to ingredients in liquid infant formula. Many types of ingredients for infant formula such as carbohydrates, proteins, certain fats, and prebiotics are widely used by infant formula manufacturers in powdered form. Therefore, for powder infant formula manufacturers, especially from emerging countries, high growth prospects are ahead in the coming years.
By Source:
Cow Milk

Soy

Protein hydrolysates

Others (Goat milk and camel milk)
Due to its acceptance as a cost-effective manufacturing process, cow-milk-based ingredients are widely used across Europe and North America, and cow-milk-based ingredients are available in bulk.
Geographical Segmentation Analysis:
North America - the United States and Canada

Europe - United Kingdom, Spain, Germany, Italy, and France

The Asia Pacific - India, Japan, China, Australia, Singapore, Malaysia, South Korea, New Zealand, and Southeast Asia

Latin America - Brazil, Argentina, Mexico, and Rest of LATAM

The Middle East and Africa - Africa and Middle East (Saudi Arabia, UAE, Lebanon, Jordan, Cyprus)
Regional Analysis:
By region, North America has a significant market share and is expected to increase significantly during the outlook period. The region is considered a prominent local market that meets growing demand. The standard infant formula is anticipated to be among the high growth possible applications in Germany, which has become the second most significant maker of these formulations in Europe. As a result, the standard infant formula segment is deemed to create tremendous demand for these products over the calculated period. The need for infant formula ingredients is expanding in areas like the Middle East and Africa and Asia Pacific, and is multiplying sales in the US retail sector. As exposure to foreign or western life increases, it is contributing significantly to markets in Middle Eastern countries such as Saudi Arabia. However, the infant formula sector has not yet reached its full potential in the Middle East. Furthermore, due to low manufacturing costs and abundant raw materials, we are moving production bases from developed countries to the Asia Pacific region, especially Japan and Australia. This will fuel the development of the business in the foreseen years. Developing countries like APEJ, Latin America, and parts of Africa are focusing on the use of digestive health products and high protein content, driving the growth of the infant formula ingredients industry. Increasing disposable income of people in the countries mentioned above will increase the prevalence of infant formula ingredients in the area in the near future.
Key Players in the Market:
Major Key Players in the Global Infant Formula Ingredients Market are
AAK AB (Sweden)

Fonterra Co-operative Group Limited (New Zealand)

Carbery Food Ingredients Limited (Ireland)

Royal Friesland Campina N.V. (Netherlands)

Sachsenmilch Leppersdorf GmbH (Germany)

BASF SE (Germany)

Koninklijke DSM N.V. (Netherlands)

Arla Foods amba (Denmark)

Chr. Hansen Holdings A/S (Denmark)

Kerry Group plc (Ireland)
1. Introduction
1.1 Market Definition
1.2 Study Deliverables
1.3 Base Currency, Base Year and Forecast Periods
1.4 General Study Assumptions
2. Research Methodology
2.1 Introduction
2.2 Research Phases
2.2.1 Secondary Research
2.2.2 Primary Research
2.2.3 Econometric Modelling
2.2.4 Expert Validation
2.3 Analysis Design
2.4 Study Timeline
3. Overview
3.1 Executive Summary
3.2 Key Inferences
3.3 Epidemology
4. Drivers, Restraints, Opportunities, and Challenges Analysis (DROC)
4.1 Market Drivers
4.2 Market Restraints
4.3 Key Challenges
4.4 Current Opportunities in the Market
5. Market Segmentation
5.1 Ingredient Type
5.1.1 Introduction
5.1.2 Carbohydrates
5.1.3 Oils & Fats
5.1.4 Proteins
5.1.5 Vitamins
5.1.6 Minerals
5.1.7 Prebiotics
5.1.8 Y-o-Y Growth Analysis, By Ingredient Type
5.1.9 Market Attractiveness Analysis, By Ingredient Type
5.1.10 Market Share Analysis, By Ingredient Type
5.2 Application
5.2.1 Introduction
5.2.2 Growing-up Milk
5.2.3 Airport
5.2.4 Standard Infant Formula
5.2.5 Follow-on Formula
5.2.6 Specialty
5.2.7 Y-o-Y Growth Analysis, By Application
5.2.8 Market Attractiveness Analysis, By Application
5.2.9 Market Share Analysis, By Application
5.3 Form
5.3.1 Introduction
5.3.2 Powder
5.3.3 Liquid & semi-liquid
5.3.4 Y-o-Y Growth Analysis, By Form
5.3.5 Market Attractiveness Analysis, By Form
5.3.6 Market Share Analysis, By Form
5.4 Source
5.4.1 Introduction
5.4.2 Cow Milk
5.4.3 Soy
5.4.4 Protein hydrolysates
5.4.5 Others (Goat milk and camel milk)
5.4.6 Y-o-Y Growth Analysis, By Source
5.4.7 Market Attractiveness Analysis, By Source
5.4.8 Market Share Analysis, By Source
6. Geographical Analysis
6.1 Introduction
6.1.1 Regional Trends
6.1.2 Impact Analysis
6.1.3 Y-o-Y Growth Analysis
6.1.3.1 By Geographical Area
6.1.3.2 By Ingredient Type
6.1.3.3 By Application
6.1.3.4 By Form
6.1.3.5 By Source
6.1.4 Market Attractiveness Analysis
6.1.4.1 By Geographical Area
6.1.4.2 By Ingredient Type
6.1.4.3 By Application
6.1.4.4 By Form
6.1.4.5 By Source
6.1.5 Market Share Analysis
6.1.5.1 By Geographical Area
6.1.5.2 By Ingredient Type
6.1.5.3 By Application
6.1.5.4 By Form
6.1.5.5 By Source
6.2 North America
6.1.1 Introduction
6.1.2 United States
6.1.3 Canada
6.3 Europe
6.2.1 Introduction
6.2.2 U.K
6.2.3 Spain
6.2.4 Germany
6.2.5 Italy
6.2.6 France
6.4 Asia-Pacific
6.3.1 Introduction
6.3.2 China
6.3.3 India
6.3.4 Japan
6.3.5 Australia
6.3.6 South Korea
6.5 Latin America
6.4.1 Introduction
6.4.2 Brazil
6.4.3 Argentina
6.4.4 Mexico
6.4.5 Rest of Latin America
6.6 Middle East & Africa
6.5.1 Introduction
6.5.2 Middle-East
6.5.3 Africa
7. Strategic Analysis
7.1 PESTLE analysis
7.1.1 Political
7.1.2 Economic
7.1.3 Social
7.1.4 Technological
7.1.5 Legal
7.1.6 Environmental
7.2 Porter's Five analysis
7.2.1 Bargaining Power of Suppliers
7.2.2 Bargaining Power of Consumers
7.2.3 Threat of New Entrants
7.2.4 Threat of Substitute Products and Services
7.2.5 Competitive Rivalry within the Industry
8. Market Leaders' Analysis
8.1 AAK AB (Sweden)
8.1.1 Overview
8.1.2 Product Analysis
8.1.3 Financial analysis
8.1.4 Recent Developments
8.1.5 SWOT analysis
8.1.6 Analyst View
8.2 Fonterra Co-operative Group Limited (New Zealand)
8.3 Carbery Food Ingredients Limited (Ireland)
8.4 Royal Friesland Campina N.V. (Netherlands)
8.5 Sachsenmilch Leppersdorf GmbH (Germany)
8.6 BASF SE (Germany)
8.7 Koninklijke DSM N.V. (Netherlands)
8.8 Arla Foods amba (Denmark)
8.9 Chr. Hansen Holdings A/S (Denmark)
8.10 Kerry Group plc (Ireland)
9. Competitive Landscape
9.1 Market share analysis
9.2 Merger and Acquisition Analysis
9.3 Agreements, collaborations and Joint Ventures
9.4 New Product Launches
10. Market Outlook and Investment Opportunities
Appendix
a) List of Tables
b) List of Figures