Magnetic Separator Market Size, Growth, Forecast (2022-2027)
Magnetic separations in biotechnology have increased in recent years, leading to an astonishing variety of particles, affinity mechanisms, and processes. Magnetic separation is an emerging technology that uses magnetism, which is used in combination with conventional separation and identification methods. The magnetic separation technique is used to purify cells, biologically active compounds such as proteins and nucleic acid directly from raw samples.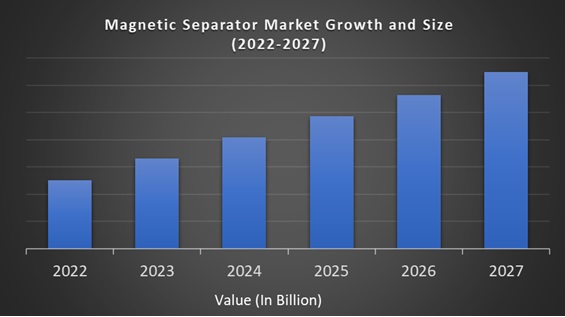 In industries like mining and recycling, magnets play an important role. A magnetic separator helps attract magnetic particles such as impurities or ferrous minerals by generating a strong magnetic flux. A conveyor belt moving in an electric field is used to place the extracted minerals during the magnetic separation process. Thus, the ferrous particles are separated from the mixture of impurities and minerals when they adhere to the magnet. The other particles that are repelled by magnetic force are collected in separate collectors as they fall from the conveyor belt. Innovations in the electronic systems market will pave the way for better magnetic separators. The global market for magnetic separators is experiencing significant growth and will increase significantly in the coming years.
Recent Developments in Magnetic Separator Industry:
Metso Minerals will supply an iron ore upgrade plant to BMM Ispat Ltd's Hospet-Bellary mine in Karnataka, South India. Delivery will be completed by the end of 2010. The total value of the order is approximately 7 million euros.

Magnetic separators to aid in metal recovery through Re-Gen waste enhancement.

Magnetic separators from Douglas Manufacturing Co, based in Pell City, Alabama. They help avoid downtime and protect expensive processing equipment used to purify transported materials.
MAGNETIC SEPARATOR MARKET REPORT COVERAGE:
| | |
| --- | --- |
| REPORT METRIC | DETAILS |
| Market Size Available | 2021 – 2027 |
| Base Year | 2021 |
| Forecast Period | 2022 - 2027 |
| CAGR | xx% |
| Segments Covered | By Type, Magnetic Type, Materials Type, Cleaning Type, End Users, and Region. |
| Various Analyses Covered | Global, Regional & Country Level Analysis, Segment-Level Analysis, DROC, PESTLE Analysis, Porter's Five Forces Analysis, Competitive Landscape, Analyst Overview on Investment Opportunities |
| Regions Covered | North America, Europe, APAC, Latin America, Middle East & Africa |
| Market Leaders Profiled | Douglas Manufacturing Co., Inc.,Eriez Manufacturing Co.,LONGi Magnet Co., Ltd.,Metso Corporation,Mitsubishi Nagasaki Machinery,Noritke Co., Limited,Outotec Oyj,Steinert GmbH,thyssenkrupp AG,Yantai Xinhai Mining Machinery Co., Ltd and Others. |
Drivers and Restraints of Magnetic Separator Market:
Drivers:
The fate of the world market for magnetic separators is linked to that of the mining industry. Mining industries have experienced a streak due to industrialization and urbanization around the world, which in turn has driven the demand for magnetic separators. The upward trajectory of world commodity prices has also boosted the mining industries, which have also increased the demand for magnetic separators. Another factor driving the global market for magnetic separators is the emergence of technologically improved magnetic separators with improved features that provide energy savings, automatic electromagnet cooling, and increased purification capacity that reduce maintenance and repair cost. Countering market growth is the massive expense required for research and development activities.
Restraints:
However, the high cost of magnetic media and magnetic blocks is likely to hamper the growth of the global market for magnetic separators.
Magnetic Separator Market Segmentation Analysis:
By Type:
Standalone Magnetic Separators

Magnetic Separator Equipment
The equipment types segment had the largest market share in 2019 and is expected to remain dominant throughout the forecast period. Contains drums, overbands, rollers, and eddy current separators. The growing demand from different industries such as mining, recycling, ceramics, paper and plastics is driving the growth of this segment. Equipment segment magnetic tape separators are expected to see the fastest growth during the forecast period as they are used to remove large volumes of iron particles from materials.
By Magnetic Type:
Permanent Magnets

Electromagnets
Among them, electromagnets are used to remove large ferrous lumps from mineral gangue mixtures. Permanent magnets find application in the separation of stray ferrous particles from mineral ore. Once the collection of these particles is complete, non-metallic stainless steel is used to remove them from the magnets. Self-cleaning magnets rely on the combined technologies of electromagnets and permanent magnets. These magnets automatically remove and separate magnetic and non-magnetic particles from the mineral ore.
By Materials Type:
By Cleaning Type:
The auto cleaning types segment had the largest market share in 2019 and is expected to remain dominant throughout the forecast period. They reduce or avoid the labor required to clean the magnetic separators and increase the efficiency of the production process. They are safer compared to the manual type of cleaning because metal contaminants are removed automatically. These factors are responsible for driving the automatic cleaning type segment market during the forecast period.
By End Users:
Mining

Ceramics & plastics

Recycling

Food & Beverages

Chemicals & Pharmaceutical

Glass & Textile

Others
On an end-user basis, biotech companies are expected to contribute a high revenue share in the global magnetic separator market. The food and beverage industry segment is expected to see growth at the highest CAGR during the forecast period. Magnetic separators help remove ferrous contaminants from food products which, if consumed, can be harmful to health. The demand for magnetic separators in the food and beverage industry is increasing due to an increase in food consumption, attributed to population growth, as well as the development of new rules and regulations by the food authorities (such as the Law Food Safety Modernization) to improve product quality.
Geographical Segmentation Analysis:
North America - the United States and Canada

Europe - United Kingdom, Spain, Germany, Italy, and France

The Asia Pacific - India, Japan, China, Australia, Singapore, Malaysia, South Korea, New Zealand, and Southeast Asia

Latin America - Brazil, Argentina, Mexico, and Rest of LATAM

The Middle East and Africa - Africa and Middle East (Saudi Arabia, UAE, Lebanon, Jordan, Cyprus)
Magnetic Separator Market Region Analysis:
The magnetic separator market is also expected to grow rapidly in North America due to the rapid advancement of the automotive and renewable energy industries that require advanced tools and devices in their operations.
Europe, which is recovering from an economic downturn, is showing somewhat lackluster growth due to cautious investment in the market.
Among them, Asia-Pacific is a key market driven by the fast-growing developing economies of India and China, which have booming manufacturing sectors. These promote the rapid absorption of high quality mined minerals. Furthermore, the increasing radioactive mining activity in these countries will also promote the market for magnetic separators.
IMPACT OF COVID-19 ON MAGNETIC SEPARATOR MARKET:
The global market for magnetic separators has been significantly affected by the COVID-19 outbreak. New projects around the world are at a standstill, which, in turn, has caused a drop in demand for analog semiconductors. Global factories have struggled to enter the new market for magnetic separators as workers have stayed home, disrupting global supply chains. The impact of COVID-19 on this market is temporary because only the production and supply chain are blocked. Once the situation improves, the production, supply chains and market demand for magnetic separators will gradually increase. This COVID-19 lockdown would help companies think about a more advanced magnetic separator market to improve efficiency.
Key Players in the Market:
Major Key Players in the Global Magnetic Separator Market are
Douglas Manufacturing Co., Inc.

Eriez Manufacturing Co.

LONGi Magnet Co., Ltd.

Metso Corporation

Mitsubishi Nagasaki Machinery

Noritke Co., Limited

Outotec Oyj

Steinert GmbH

thyssenkrupp AG

Yantai Xinhai Mining Machinery Co., Ltd