Meat substitutes Market Growth and Forecast (2020-2025):
The global Meat substitutes Market size was worth US$ 1.6 billion in 2020, and it is estimated to reach a valuation of US$ 3.5 billion by the end of 2025, expanding at an annual compound rate of 12% between 2020 and 2025. The market is mainly driven by the growing demand for vegetable meat products among millennial generations.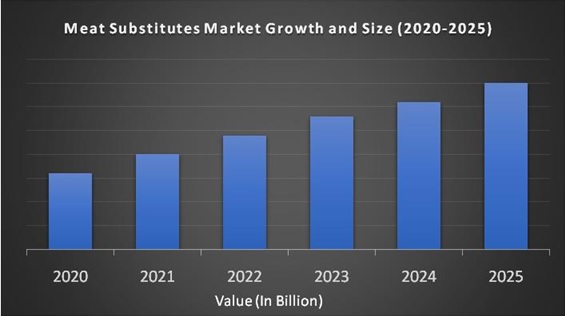 Market Overview:
Meat substitutes, also called meat analogues, simulated meat, artificial meat, or meat alternates, are healthy products that resemble chemical and aesthetic properties, such as taste, flavor, appearance, and the necessary texture of the meat. The market for meat substitutes consists of products made with tofu, tempeh, textured vegetable protein, seitan, quorum and other sources of plant origin. The dietary vegetable protein-based meat substitute (DVT) segment accounts for the majority, as it is the primary ingredient in most soy-based meat substitutes. With increasing awareness of people's health, changes in diet plans, the recent outbreak of animal diseases, and the need for meat replacement due to meat consumption, the meat replacement market is supposed to witness significant growth in this area. With high growth rates, this sector is assumed to prosper on various continents and other categories.
Recent Developments in Meat substitutes Industry:
In 2017, Campbell Soup Company acquired Pacific Foods of Oregon LLC for $ 700 million. The acquisition is expected to help strengthen Campbell's health and wellness portfolio in the growing natural and organic category.

In March 2018, the Kerry Group entered the meat substitute market by acquiring the Dutch company Ojah, an innovative meat substitute.

May 2019: Beyond Meat, Inc. expanded its partnership with Zandbergen World's Finest Meat to produce an innovative vegetable meat brand at a new manufacturing facility Zandbergen is building in Zoeterwoude, The Netherlands.

In 2019 McDonald's launched a new product called Big Vegan TS that includes vegan burgers throughout Germany.

Right Treat purchased an exclusive OmniPork line from the market. The company aims to promote the transition to a vegetative diet as an essential means of addressing global warming and food anxiety problems.
REPORT COVERAGE:
| | |
| --- | --- |
| REPORT METRIC | DETAILS |
| Market Size Available | 2019 – 2025 |
| Base Year | 2019 |
| Forecast Period | 2020 - 2025 |
| CAGR | 12% |
| Segments Covered | By Product Type, Source, Category and Region |
| Various Analyses Covered | Global, Regional & Country Level Analysis, Segment-Level Analysis, DROC, PESTLE Analysis, Porter's Five Forces Analysis, Competitive Landscape, Analyst Overview on Investment Opportunities |
| Regions Covered | North America, Europe, APAC, Latin America, Middle East & Africa |
| Market Leaders Profiled | ADM, Beyond Meat, DowDuPont, Sonic Biochem Limited, Garden Protein International, MorningStar Farms, The Nisshin OilliO Group, Meatless, MGP Ingredients, Amy's Kitchen, Quorn Foods, VBites and Others. |
Meat substitutes Market Growth:
As the incidence of health disorders such as lifestyle diseases increases and consumer health awareness increases, the adoption of vegan products worldwide has expanded.
Drivers:
Environmental problems and growing awareness of the health benefits of meat substitutes are the main drivers of this market. Emerging regions like Latin America and the Asia Pacific are expected to provide tremendous growth opportunities for world markets. The presence of large companies and a focus on collaborating with local universities are foreseen to drive demand for products in North America. Due to various health benefits and environmental concerns, the preference for vegans is one of the main drivers of the market. Therefore, as demand increases, manufacturers are taking practical steps to develop superior products and improve their product portfolio. As consumers become keen on adverse health effects associated with eating meat, they are shifting to a vegan diet. This is likely to contribute to the evolution of meat substitutes worldwide.
In addition, the advantages of cholesterol-free protein with a texture similar to meat products are among the crucial aspects supporting the expansion of meat substitute products. The increase in the incidence of these health disorders is expected to lead to market growth by improving the health and fitness of consumers. Furthermore, the rapid development of the foodservice industry and the company's attractive marketing and promotion strategy for vegetarianism has had a positive impact on the growth of the global market. As health problems in developed countries increase, the number of consumers who prefer vegetarian foods is presumed to grow, providing a favorable opportunity for the market for launching innovative meat replacement products in the coming years.
The vegan diet is high in carbohydrates, making it suitable for athletes' training plans. Vegan proteins include quinoa, peanut butter, high-protein pasta, brown rice, tofu, soy milk, nuts, tempeh, beans, and peas. Vegan foods are rich in specific nutrients, help control weight, prevent certain types of cancer, reduce the risk of heart disease, and reduce various pain caused by arthritis. With growing awareness of the health benefits associated with consuming meat substitutes, most athletes are now turning to veganism.
Restraints:
The constant increase in the number of innovative low-cholesterol meat products, such as lean meat from developed countries, inhibits the growth of the meat replacement market. Due to the high processing costs associated with the production of meat substitutes compared to natural meat, the price of meat substitutes such as tofu, tempeh and other protein substitutes has increased, which is expected to hamper market growth especially, in countries like India, Brazil and Mexico.
Meat substitutes Market Segmentation Analysis:
By Product Type:
Tofu-based

Seitan-based

TVP-based

Quorn-based

Tempeh-based
By Source:
By Category:
Refrigerated

Frozen

Shelf-Stable
Geographical Segmentation Analysis:
North America - the United States and Canada

Europe - United Kingdom, Spain, Germany, Italy, and France

The Asia Pacific - India, Japan, China, Australia, Singapore, Malaysia, South Korea, New Zealand, and Southeast Asia

Latin America - Brazil, Argentina, Mexico, and Rest of LATAM

The Middle East and Africa - Africa and Middle East (Saudi Arabia, UAE, Lebanon, Jordan, Cyprus)
Regional Analysis:
By region, the market has been classified in North America, Europe, Asia Pacific and Latin America, the Middle East and Africa (MEA). The growth of the regional market during the forecast period is attributed to a greater tendency to consume vegan products in countries such as the United States and Canada. Additionally, an awareness of the green environment and growing compassion for animals and maintaining a healthy lifestyle have led to a demand for plant foods in the United States. As a result, it will transform into massive growth in the North American meat substitute industry. The next year. Europe led the world market, followed by North America and the Asia Pacific.
The Asia-Pacific region is likely to record the highest CAGR during the outlook period. Due to the health benefits provided by sources of meat substitutes, such as soy, and the increased health awareness among users, there is a high demand for meat substitutes in developed countries such as Europe and the United States. On the other hand, developing countries like the Asia Pacific have shown remarkable potential in the global market. Wheat gluten is often used in Asian foods, not meat, and has been highly appreciated in Japan, China, and other countries in Southeast Asia and East Asia. Other meat substitutes (for example, tempeh) are one of the best-known food dishes in countries like Indonesia. The accessibility of these alternatives at various grocery stores in the region has increased, making them practical to use.
However, Europe's dominance in the global market is supposed to continue for the next seven years. Strong demand in the European market is assumed to promote market growth. Demand from emerging countries like China, India, Brazil and Argentina will also play an essential role in the expansion of regional markets.
Leading Company:
Quorn Ltd has been increasing in recent years due to the high demand for meat substitute products. Also, the company's DuPont Nutrition & Biosciences offers a wide range of ingredients through the Danisco brand. Along with an improved nutritional profile, the company promises better flavor and texture, and higher profitability.
Key Players in the Market:
Major Key Players in the Global Meat substitutes Market are
ADM (US)

Beyond Meat (US)

DowDuPont (US)

Sonic Biochem Limited (India)

Garden Protein International (Canada)

MorningStar Farms (US)

The Nisshin OilliO Group (Japan)

Meatless (Netherlands)

MGP Ingredients (US)

Amy's Kitchen (US)

Quorn Foods (UK)

VBites (UK)
1. Introduction
1.1 Market Definition
1.2 Study Deliverables
1.3 Base Currency, Base Year and Forecast Periods
1.4 General Study Assumptions
2. Research Methodology
2.1 Introduction
2.2 Research Phases
2.2.1 Secondary Research
2.2.2 Primary Research
2.2.3 Econometric Modelling
2.2.4 Expert Validation
2.3 Analysis Design
2.4 Study Timeline
3. Overview
3.1 Executive Summary
3.2 Key Inferences
3.3 Epidemology
4. Drivers, Restraints, Opportunities, and Challenges Analysis (DROC)
4.1 Market Drivers
4.2 Market Restraints
4.3 Key Challenges
4.4 Current Opportunities in the Market
5. Market Segmentation
5.1 By Product Type
5.1.1 Introduction
5.1.2 Tofu-based
5.1.3 Seitan-based
5.1.4 TVP-based
5.1.5 Quorn-based
5.1.6 Tempeh-based
5.1.7 Others
5.1.8 Y-o-Y Growth Analysis
5.1.9 Market Attractiveness Analysis
5.1.10 Market Share Analysis
5.2 By Source
5.2.1 Introduction
5.2.2 Wheat
5.2.3 Soy
5.2.4 Mycoprotein
5.2.5 Others
5.2.6 Y-o-Y Growth Analysis
5.2.7 Market Attractiveness Analysis
5.2.8 Market Share Analysis
5.3 By Category
5.3.1 Introduction
5.3.2 Refrigerated
5.3.3 Frozen
5.3.4 Shelf-Stable
5.3.5 Y-o-Y Growth Analysis
5.3.6 Market Attractiveness Analysis
5.3.7 Market Share Analysis
6. Geographical Analysis
6.1 Introduction
6.1.1 Regional Trends
6.1.2 Impact Analysis
6.1.3 Y-o-Y Growth Analysis
6.1.3.1 By Geographical Area
6.1.3.2 By Product Type
6.1.3.3 By Source
6.1.3.4 By Category
6.1.4 Market Attractiveness Analysis
6.1.4.1 By Geographical Area
6.1.4.2 By Product Type
6.1.4.3 By Source
6.1.4.4 By Category
6.1.5 Market Share Analysis
6.1.5.1 By Geographical Area
6.1.5.2 By Product Type
6.1.5.3 By Source
6.1.5.4 By Category
6.2 North America
6.1.1 Introduction
6.1.2 United States
6.1.3 Canada
6.3 Europe
6.2.1 Introduction
6.2.2 U.K
6.2.3 Spain
6.2.4 Germany
6.2.5 Italy
6.2.6 France
6.4 Asia-Pacific
6.3.1 Introduction
6.3.2 China
6.3.3 India
6.3.4 Japan
6.3.5 Australia
6.3.6 South Korea
6.5 Latin America
6.4.1 Introduction
6.4.2 Brazil
6.4.3 Argentina
6.4.4 Mexico
6.4.5 Rest of Latin America
6.6 Middle East & Africa
6.5.1 Introduction
6.5.2 Middle-East
6.5.3 Africa
7. Strategic Analysis
7.1 PESTLE analysis
7.1.1 Political
7.1.2 Economic
7.1.3 Social
7.1.4 Technological
7.1.5 Legal
7.1.6 Environmental
7.2 Porter's Five analysis
7.2.1 Bargaining Power of Suppliers
7.2.2 Bargaining Power of Consumers
7.2.3 Threat of New Entrants
7.2.4 Threat of Substitute Products and Services
7.2.5 Competitive Rivalry within the Industry
8. Market Leader Analysis
8.1 ADM
8.1.1 Overview
8.1.2 Product Analysis
8.1.3 Financial analysis
8.1.4 Recent Developments
8.1.5 SWOT analysis
8.1.6 Analyst View
8.2 Beyond Meat
8.3 DowDuPont
8.4 Sonic Biochem Limited
8.5 Garden Protein International
8.6 MorningStar Farms
8.7 The Nisshin OilliO Group
8.8 Meatless
8.9 MGP Ingredients
8.10 Amy's Kitchen
9. Competitive Landscape
9.1 Market share analysis
9.2 Merger and Acquisition Analysis
9.3 Agreements, collaborations and Joint Ventures
9.4 New Product Launches
10. Market Outlook and Investment Opportunities
Appendix
a) List of Tables
b) List of Figures
Global, regional and country-level analysis and forecasts of the study market; providing Insights on the major countries/regions in which this industry is blooming and to also identify the regions that are still untapped

The Segment-level analysis in terms of By Product Type, Source, Category and along with market size forecasts and estimations to detect key areas of industry growth in detail

Identification of key drivers, restraints, opportunities, and challenges (DROC) in the market and their impact on shifting market dynamics

Study of the effect of exogenous and endogenous factors that affect the global market; which includes broadly demographic, economics, and political, among other macro-environmental factors presented in an extensive PESTLE Analysis

Study the micro environment factors that determine the overall profitability of an Industry, using Porter's five forces analysis for analysing the level of competition and business strategy development

A comprehensive list of key market players along with their product portfolio, current strategic interests, key financial information, legal issues, SWOT analysis and analyst overview to study and sustain the market environment

Competitive landscape analysis listing out the mergers, acquisitions, collaborations in the field along with new product launches, comparative financial studies and recent developments in the market by the major companies

An executive summary, abridging the entire report in such a way that decision-making personnel can rapidly become acquainted with background information, concise analysis and main conclusions

Expertly devised analyst overview along with Investment opportunities to provide both individuals and organizations a strong financial foothold in the market
Global Meat Substitutes Market By Region, From 2020-2025 ( USD Billion )

Global Meat Substitutes Market By Product Type, From 2020-2025 ( USD Billion )

Global Tofu-based Market By Region, From 2020-2025 ( USD Billion )

Global Seltan-Based Market By Region, From 2020-2025 ( USD Billion )

Global TVP Based Market By Region, From 2020-2025 ( USD Billion )

Global Quorn-based Market By Region, From 2020-2025 ( USD Billion )

Global Tempeh-based Market By Region, From 2020-2025 ( USD Billion )

Global Others Market By Region, From 2020-2025 ( USD Billion )

Global Meat Substitutes Market By Source, From 2020-2025 ( USD Billion )

Global Wheat Market By Region, From 2020-2025 ( USD Billion )

Global Soy Market By Region, From 2020-2025 ( USD Billion )

Global Microprotein Market By Region, From 2020-2025 ( USD Billion )

Global Meat Substitutes Market By Category, From 2020-2025 ( USD Billion )

Global Refrigerated Market By Region, From 2020-2025 ( USD Billion )

Global Frozen Market By Region, From 2020-2025 ( USD Billion )

Global Shelf-Stable Market By Region, From 2020-2025 ( USD Billion )