Global Medical Camera Market Size (2022 to 2027)
The global medical camera market size is forecasted to grow 4.52 USD billion by 2027 from USD 2.92 billion in 2022, growing at a CAGR of 9.1% during the forecast period.
Medical Camera assists surgeons and clinical staff by providing images during various medical procedures such as endoscopy, spectroscopy, ophthalmology, arthroscopy, and robotic surgery. They help in diagnosing and treating diseases during surgery by revealing the internal organs of a person. It also generates a normal anatomy and physiology database, which makes it possible to identify any abnormalities in a person's internal organs.
Medical cameras using infrared technology generate various wavelengths, which are a series of events that determine properties such as water content, chemical components, and temperature, which cannot be done with a regular camera. Cameras having thermal imaging features can detect inflamed tissue or abnormal blood circulation. 3D medical imaging is used in various applications such as cosmetic surgery simulation, monitoring of rheumatoid arthritis, and dental prosthesis, among others. High-speed imaging techniques can capture and process the movements of a person suffering from muscular-skeletal diseases.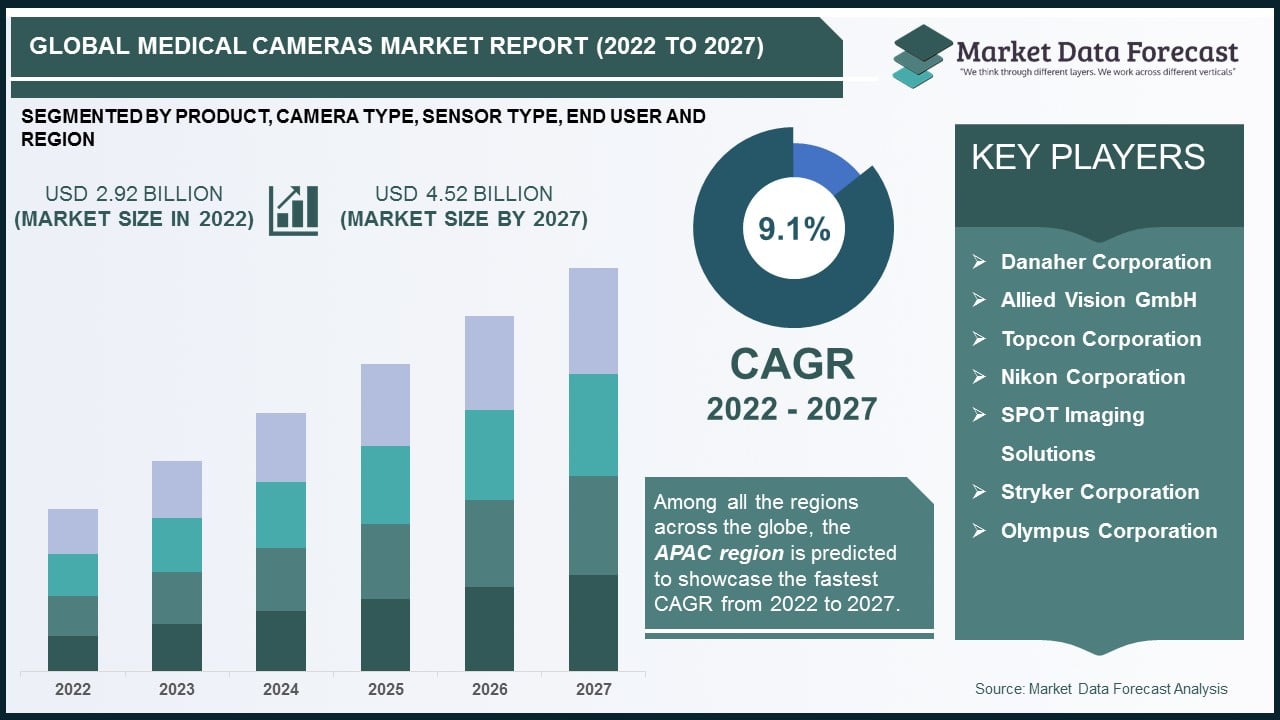 MARKET DRIVERS:
The key drivers of this market are the technological advancements in medical cameras and an increasing number of surgical procedures requiring medical cameras globally. The medical camera assists surgeons and clinical staff by providing images during various medical procedures. They are designed expertly to help doctors to investigate the internal condition of patients. These cameras have advance technologies that help to detect individual particles of light, called photons. These devices are small tools that enable surgeons to perform the procedure through smaller incisions. In addition, cameras are placed in one of the trocars for enhancing, enlarging, and illuminating various organs and structures, therefore, providing a magnified view for better visualization and aiding in the surgical process.
The Global Medical Camera market is driven by factors such as the rising need for medical procedures requiring Medical Cameras, growing technological advancements, favorable laws set by the government, and substantial investment in research and development, among other factors.
Most companies play a vital role in the market growth of the medical camera market. Some of the major players in the market are Carestream Health, Olympus Corporation, and Stryker Corporation. The market represents a concentrated market with companies exhibiting superior economic performance. Implementation of several strategies such as mergers and acquisitions activity, strategic collaborations with several research institutions, and retaining brand loyalty, these companies own commanding shares in their industries. Other market drivers include the prominence of the leading brands, making them less vulnerable to high prices - which is a distinct feature of a concentrated market. However, the expected entry of new entrants with novel and advanced technologies is responsible for strong market dynamics and concentration.
An increase in the geriatric population and an increase in the occurrence of vulnerable diseases, a significant increase in age-related issues also contribute to the market's growth. In addition, factors such as HD visualization for more understanding of the problems by medical professionals contribute to the growth of the market. Growth factors also include rising demand for high-definition visuals in surgical procedures is expected to increase the demand for medical cameras in hospitals. Furthermore, there is a rising number of surgeries across the globe, propelling the market's overall growth.
Manufactured devices have features like high sensitivity and high dynamic range sensors, which are used for many medical applications. In addition, these devices are easy to use and install. These are the high-quality precision cameras that are often utilized in both digital inspection and lab environments. The medical camera is most commonly used in Hospitals, Diagnostic Centres, Specialty Clinics, and Ambulatory Surgery Centres.
MARKET RESTRAINTS
However, the market is constrained by factors like health hazards due to exposure to radiation, the high price of equipment, and insufficient knowledge about operating the devices from workers.
Some other significant market restraints that held back the growth of the medical camera market are many companies across the globe faced losses due to failed quality checks and processes. For instance, Japanese camera companies fought for survival in 2018 but suffered an injury as it got declined roughly by 80%. In addition, some of the radioisotopes being used in the manufacturing of medical camera devices need a high level of proctoring process. One such example for radioisotopes is Technetium-99m is used in gamma cameras and SPECT (a highly sensitive technique to detect the parathyroid adenomas in the human body) for body imaging.
COVID-19 Impact on the global medical camera market:
COVID 19 has a vulnerable impact on many other markets as well as on the medical camera market. As a result of the disruption caused by the COVID-19 pandemic, many researchers will have difficulty meeting the timelines. The funds for research and development are on hold in many countries. The exports of materials and devices have been on hold due to the COVID crisis. There's a significant impact on the constant quality check, manufacturing, production of medical camera devices.
REPORT COVERAGE
| | |
| --- | --- |
| REPORT METRIC | DETAILS |
| Market Size Available | 2021 to 2027 |
| Base Year | 2021 |
| Forecast Period | 2022 to 2027 |
| Segments Covered | By Product, Camera Type, Sensor Type, End-User, and Region |
| Various Analyses Covered | Global, Regional & Country Level Analysis, Segment-Level Analysis, Drivers, Restraints, Opportunities, Challenges, PESTLE Analysis, Porter's Five Forces Analysis, Competitive Landscape, Analyst Overview on Investment Opportunities |
| Regions Covered | North America, Europe, Asia Pacific, Latin America, Middle East, and Africa |
This market research report on the global medical camera market has been segmented and sub-segmented based on the product, camera type, sensor type, end-user, and region.
Medical Camera Market – By Product:
Microscopes

Medical Cameras
Based on product type, the Microscopes segment has a larger share in the segment. It is also expected to grow fastest, owing to the rising geriatric population and rising demand for microscopes in various medical applications.
Medical Camera Market – By Camera Type:
Endoscopy Cameras

Dermatology Cameras

Ophthalmology Cameras

Dental Cameras

Surgery Microscopy Cameras
Based on the camera type, the Endoscopy cameras segment has the largest market share due to the rising number of operations done using endoscopy techniques.
Medical Camera Market – By Sensor Type:
Charged Couple Device

Complementary Metal Oxide Semiconductor (CMOS)
The CMOS has the largest share in the segment based on sensor type since they consume less power, have a high frame rate, and low manufacturing price.
Medical Camera Market – By End User:
Hospitals

Diagnostic Centers

Specialty Clinics & Ambulatory Surgery Centers
Medical Camera Market – By Region:
North America

Europe

Asia Pacific

Latin America

Middle East & Africa
Geographically, the North American medical camera market has the largest market share globally, followed by Europe. However, Asia-Pacific is the fastest-growing market in the world. Factors like rising funding for research, growing demand for Medical Cameras in various surgical procedures, and technological advancements are expected to drive the rise of this market.
North America is the largest in terms of market share for the medical cameras market in 2020 and is expected to retain its position during the forecast period. The enormous technological advancements and significant market players located in the United States and its high investments in research and development (R&D) are the underlying factors for their dominance in the industry. As a result, U.S. medical camera market held a significant industry share. Increasing geriatric population coupled with escalating demand for minimally invasive procedures will drive market growth.
On the other hand, Europe medical camera market is the second-largest life science device technologies market due to the increased geriatric (old age) population combined with the relaxed government regulations aiding the market growth. However, owing to the economic uncertainty and political instability over the past few years, this region is expected to witness a sluggish growth rate during the forecast period.
The Asia-Pacific medical camera market is expected to exhibit the fastest growth due to the continuous advancements in imaging technology, increasing awareness about the timely diagnosis and treatment coupled with rigorous government initiatives implemented to modernize health care infrastructure. In addition, substantial investments in R&D by countries such as China and India and their efforts in developing a highly skilled workforce specializing in science and engineering contribute to the market's growth. China accounts for 20%of global R&D, making it the second-largest country investing in R&D as compared to the United States, which accounts for 27%.
Furthermore, the Latin American medical camera market have significant potential for growth due to developing life science infrastructure and high disposable income. Brazil presents a lucrative future opportunity due to a large patient pool and the ongoing development of healthcare infrastructure.
The Middle East & Africa medical cameras market is predicted to grow at decent CAGR during the forecast period due to the rapid adoption of the latest technology, the presence of advanced healthcare infrastructure, and increasing per capita expenditure on healthcare will further expand the market in this region.
KEY MARKET PLAYERS:
List of key players in the global medical camera market covered in this report are Haag-Streit USA (U.S.), Danaher Corporation (U.S.), Carl Zeiss Meditec AG (Germany), Allied Vision GmbH (Germany), Topcon Corporation (Japan), Nikon Corporation (Japan), SPOT Imaging Solutions (U.S.), JOEL Ltd. (Japan), Stryker Corporation (U.S.), and Olympus Corporation (Japan).
RECENT MARKET DEVELOPMENTS:
In 2019, Olympus launched a small intestine endoscopy system, "power spiral," in Asia, including Hong Kong, India, Europe. In 2018, Olympus launched ENF-VT3, the world's first rhino-laryngo video scope to incorporate 4-direction angulation capability.
In 2018, karlStroz launched a 4mm Endoscopic NIR/ICG Fluorescence Imaging System, enhancing minimally invasive neurosurgery.