Mining Equipment Market Size, Growth, Forecast (2022-2027)
The Global Mining Equipment Market size is estimated to increase at a CAGR of 4.6 percent, from $125,274.0 million in 2021 to $182,119 million in 2027.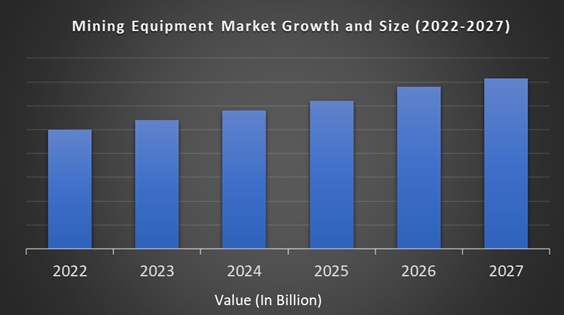 Mining Equipment Market Scenario:
Mining is the extraction of coal, metals, minerals, water, oil, and other natural resources from the soil. Metal mining, mineral mining, and coal mining are the three applications that make up the market. Mineral processing equipment, surface mining equipment, underground mining equipment, mining drills & breakers, crushing, pulverizing, and screening equipment, and others are all featured in the study. Some of the mining equipment used in mining applications include excavators, haulers, articulated dump trucks, crawler dozers, and crawler excavators.
The high cost of mining equipment is a significant factor impeding the growth of the mining equipment industry. The expenses of these machines have risen because of technological breakthroughs, increasing fuel prices, modern parts, and new machinery. The escalating costs of updated mining machinery have provided a significant barrier for poor countries since they cannot afford such large upfront expenditures, resulting in reduced productivity and output. The equipment makers are providing these enterprises with flexible finance and credit options to help them run their operations successfully.
Recent Developments in the Mining Equipment Industry:
The 963K crawler loader will be replaced by the new Cat 963 crawler loader in September 2020. It's a multi-purpose machine that can dig, load, transport, and fill. It offers up to a 10% increase in fuel efficiency, productivity, and cab and controllability. The 963 fulfills Tier 4 Final/EU Stage V emission requirements in the United States. It has a power of 202 HP (151 kW) and a weight of 44,881 lbs (20 358 kg).

Sandvik unveiled its AutoMine Concept vehicle in September 2020, which is built on cutting-edge technology and has fully new sensing capabilities and artificial intelligence to improve mining operations. The AutoMine Concept sees and reacts to its surroundings and environment in three dimensions.
Mining Equipment Market Growth:
The Mining Equipment market growth is predicted to increase significantly over the forecast period, thanks to the increasing usage of electric machinery in underground mining and rising demand for metals and commodities, which account for a considerable portion of the Mining Equipment Market.
MINING EQUIPMENT MARKET REPORT COVERAGE:
| | |
| --- | --- |
| REPORT METRIC | DETAILS |
| Market Size Available | 2021 – 2027 |
| Base Year | 2021 |
| Forecast Period | 2022 - 2027 |
| CAGR | 4.6% |
| Segments Covered | By Type, Application and Region. |
| Various Analyses Covered | Global, Regional & Country Level Analysis, Segment-Level Analysis, DROC, PESTLE Analysis, Porter's Five Forces Analysis, Competitive Landscape, Analyst Overview on Investment Opportunities |
| Regions Covered | North America, Europe, APAC, Latin America, Middle East & Africa |
| Market Leaders Profiled | Sepro Mineral Systems Corp, Volvo Construction Equipment, Sandvik AB, Hitachi Construction Machinery Co. Ltd, Terex Corporation, BelAZ, Komatsu Ltd, Liebherr Group, Metso Oyj and Others. |
Mining Equipment Market Drivers:
Noise, heat, and pollution are produced by diesel engines in deep mining machinery, which can exacerbate already uncomfortable working conditions. Appropriate ventilation is also necessary when using diesel-powered mining equipment. It solves the ventilation problem in underground mines. Because there is no exhaust and cheap operating expenses, using battery-operated or electric mining gear guarantees safer working conditions. It overcomes the problem of ventilation in subterranean mines. The usage of battery-powered subsurface loaders, for example, results in cleaner air, less noise, and less heat. To enable continued underground mining, other batteries can be replaced by high-energy-density batteries. In challenging subterranean conditions, the operator may operate in a quiet, ergonomically constructed cabin with simple and safe access to all service points, ensuring that the operator's safety is not jeopardized.
The market for mining equipment services will be fueled by the demand for effective machinery maintenance and heavy repair equipment services from third-party providers. Because equipment repair and maintenance services are very cost-effective, firms are turning to third parties to provide low-cost services that are dependable and increase productivity by prolonging the equipment's lifetime. Furthermore, the use of maintenance services such as predictive and preventive maintenance services will result in increased system uptime, asset management optimization, and equipment life warranty, all of which will boost Mining Equipment Market share.
Mining Equipment Market Restraints:
The utilization of modern mining machinery is dependent on mining sector investments, which are in turn dependent on the global economic situation. Old mining equipment is preferred by developing countries such as South Africa, Argentina, and Peru, to name a few, because it has a lengthy life cycle if properly maintained. Such machinery is sold from industrialized economies in North America and Europe to South America, the Middle East and Africa, and Southeast Asia at a cheaper cost than new mining technology. This is anticipated to reduce the purchase of new mining equipment, further decreases the global Mining Equipment Market size.
Mining Equipment Market Segmentation Analysis:
By Type:
Mineral processing equipment

Surface mining equipment

Underground mining equipment

Mining Dozers

Mining drills & breakers

Crushing, pulverizing, & screening equipment

Others
In 2020, surface mining equipment accounted for 36.2 percent of the global Mining Equipment Market. Drilling equipment, electric shovels, high wall miners, excavators, dumpers, motor graders, wheel dozers, and other equipment are used in surface mining. According to the Environmental Impact Assessment (EIA), the United States will manufacture 756 million short tons of coal in 2019. Surface mines accounted for 63 percent of total coal output and 63 percent of the total number of mines in the United States. Six of the top ten coal-producing mines in the United States are located in Wyoming, and they are all surface mines. Furthermore, the west coal region's surface mines generate 92 percent of total coal. In 2020, surface mining equipment accounted for 36.2 percent of the mining equipment services market. Drilling equipment, electric shovels, high wall miners, excavators, dumpers, motor graders, wheel dozers, and other equipment are used in surface mining.
By Application:
Metal mining

Mineral Mining

Coal mining
Due to increased demand for services such as metallurgy and process design, analytical services, and so on, metal mining is the fastest expanding category in the Mining Equipment Market, with a CAGR of 4.3 percent expected from 2021 to 2026. Furthermore, the expansion of the residential and non-residential building industries in Southeast Asia and other emerging nations is expected to boost demand for aluminum and copper goods, propelling the market forward. Furthermore, metal mine production in the United States was forecasted to reach $28.1 billion in 2019, up almost $500 million from 2018 and expected to rise in the projection future. Gold (32%), copper (28%), iron ore (19%), and zinc (17%) were the major contributions to the total value of metal mining output in 2019. (7 percent). India's steel mining is expected to reach 97.5 million tons in 2019, according to the World Steel Association. Metals demand is predicted to rise in various nations, propelling market development throughout the forecast period.
Geographical Segmentation Analysis:
North America - the United States and Canada

Europe - United Kingdom, Spain, Germany, Italy, and France

The Asia Pacific - India, Japan, China, Australia, Singapore, Malaysia, South Korea, New Zealand, and Southeast Asia

Latin America - Brazil, Argentina, Mexico, and Rest of LATAM

The Middle East and Africa - Africa and Middle East (Saudi Arabia, UAE, Lebanon, Jordan, Cyprus)
Mining Equipment Market Regional Analysis:
Over the last six years, India and China have emerged as important mining centers, with Asia Pacific mining equipment market share continuing to dominate the Mining Equipment industry. The country's need for mining equipment will be sustained as CMPDI identifies new mining locations and works to boost coal output. The Queensland government's approval of a 60-million-ton coal open cut mine near the Great Barrier Reef in the Galilee Basin is projected to drive up demand for mining equipment in Australia. Furthermore, global mining companies that are increasing their foothold in Asian markets through China are expected to continue doing so through 2021, propelling the market in the nation.
South African gold and diamond mining have decreased dramatically in the last year. Gold mining has decreased by 24%, while diamond mining has decreased by 30%. On the plus side, coal output climbed by over 8%, ensuring that demand for equipment from the country remains consistent, though not high. Swaziland, Tanzania, Mozambique, and Botswana all indicated signs of increased coal output, boosting demand for mining equipment in Africa and the Middle East.
Because of the widespread use of this equipment, North America is expected to grow at a respectable rate. Furthermore, the mining industry is expected to expand significantly while maintaining the consistency of mining equipment needs.
Key Players in the Market:
Major Key Players in the Global Mining Equipment Market are
Sepro Mineral Systems Corp.

Volvo Construction Equipment

Sandvik AB

Hitachi Construction Machinery Co. Ltd

Terex Corporation