Modular Robotics Market Size, Share and Forecast (2022-2027)
The Global Modular Robotics Market size was estimated at USD 5.56 billion in 2021 and is set to grow at a CAGR of 12.0% from 2022 to 2027, to reach USD 16.73 billion by 2027.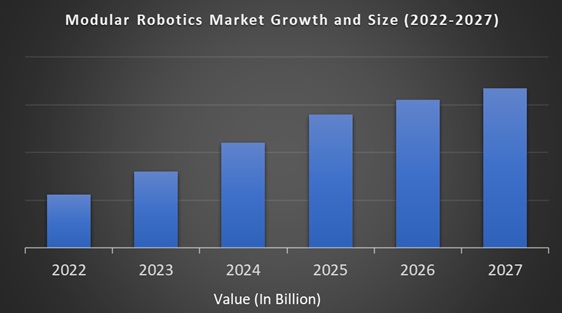 Modular Robotics Market Scenario:
Modular robots are self-configuring robots made up of many independent pieces with no predetermined morphology. They can accomplish a variety of tasks by rearranging their geometric structures in independent and dynamic ways. Modular robots can be combined and recombined to produce a single big model for specialized uses, or they can be divided into little identical models for mass manufacturing. These robots can be readily fixed by exchanging broken atoms with functioning ones since they are made up of numerous similar atoms. Due to their flexibility, resilience, and optimum functioning, modular robots are becoming increasingly popular in automotive, industrial, healthcare, and other industries.
Recent Developments in the Modular Robotics Industry:
February 2019 – Universal Robots has formed a partnership with Bharat Fritz Werner (BFW), an Indian machine tool maker. Through a modular platform, the alliance will aid in the integration of collaborative robot technology with MSME shop floors. Furthermore, it would increase BFW's production capability.
Modular Robotics Market Growth:
The rising residential and industrial infrastructures, such as chemical factories, public gardens, corporate housing, and others, will increase the need for Modular Robotics.
REPORT COVERAGE:
| | |
| --- | --- |
| REPORT METRIC | DETAILS |
| Market Size Available | 2021 – 2027 |
| Base Year | 2021 |
| Forecast Period | 2022 - 2027 |
| CAGR | 12% |
| Segments Covered | By Robot Type, End Users and Region |
| Various Analyses Covered | Global, Regional & Country Level Analysis, Segment-Level Analysis, DROC, PESTLE Analysis, Porter's Five Forces Analysis, Competitive Landscape, Analyst Overview on Investment Opportunities |
| Regions Covered | North America, Europe, APAC, Latin America, Middle East & Africa |
| Market Leaders Profiled | ABB Ltd, Acutronic Robotics, Kuka AG, Mitsubishi Electric Corp, FANUC Corp, Kawasaki Heavy Industries, Yaskawa Electric Corp, Denso Corporation, Universal Robots, Nachi-Fujikoshi Corp and Others. |
Modular Robotics Market Drivers:
The penetration of IIoT in industrial production, which has altered the industrial sector in terms of manufacturing capabilities, is a key trend in the modular robot industry. In contemporary manufacturing, IIoT is helping to establish a new era of industrial growth and development by enhancing efficiency, simplifying simplified maintenance, asset monitoring, and more. Machine maintenance may be planned ahead of time using enhanced data insights and real-time tracking. By transforming linear, traditional manufacturing supply chains into interconnected, dynamic systems, the IIoT is bringing major changes to industries.
Modular Robotics Market Restraints:
One of the primary challenges likely to slow the growth of the worldwide self-reconfiguring modular robot market is the high initial installation cost for low-volume manufacturing applications and, in terms of their designs, the complexity of modular robotics systems.
Modular Robotics Market Segmentation Analysis:
By Robot Type:
Cartesian robots

Scara robots

Collaborative robots (Cobots)

Articulated robots

Parallel robots

Others
The modular robotics market is divided into Cartesian robots, Collaborative robots (Cobots), Articulated robots, Scara robots, Parallel robots, and others based on robot type. Collaborative robots, also known as cobots, held the largest share of the worldwide modular robotics market in 2020, accounting for 26.5 percent. Collaborative robots are ones that can complete tasks by physically engaging with workers throughout an industrial environment. Because cobots may be simply positioned or relocated based on customer demands, they aid in the elimination of any non-productive activities during work hours, assuring maximum flexibility, efficiency, and production capacities for a variety of end-use industries.
Furthermore, these robots are developed with human engagement and cooperation in mind, resulting in a safer working environment, particularly in sectors where human errors can cause large work interruptions, such as medical, food and beverage, and so on. Its market expansion has been influenced by features such as ease of use, cost, and the deployment of plug-and-play and CAD programming possibilities. Adoption of collaborative robots might gradually grow across key end-use verticals, including manufacturing, electronics, medical, and others, in the long run, thanks to technological developments in controllers, diverse robotic modules, and other areas.
By End Users:
Food & Beverages

Automotive

Healthcare

Electrical & Electronics

Chemicals

Metals & Machinery

Others
Food & Beverages, Healthcare, Electrical & Electronics, Metals & Machinery, Automotive, Chemicals, and many other industries have been divided by end-users in the worldwide modular robots market. Due to a rising movement towards automating medical treatment operations such as performing surgeries, running diagnostic tests, and many others with maximum flexibility and simplicity, the healthcare industry is expected to increase at a considerable rate of 14.6 percent through 2026. In the long run, demand for self-configurable robots will expand as hospitals execute a variety of demanding treatments that need a high level of accuracy and precision while eliminating large levels of human interference. Medtronic PLC introduced a robot-assisted surgical platform capable of laparoscopic applications in September 2019. Foot pedals are used in this modular and upgradeable built architecture to assist surgeons in interacting with patients or employees during surgeries. Such advancements are a key component in updating medical surgery techniques in the healthcare industry. CMR Surgical announced in October 2020 that the Versius surgical robotic system would be introduced at Argenteuil Hospital, a prominent public health center in France. In the foreseeable future, this robotic system was designed to strengthen the trend toward accessible and flexible surgical robots throughout worldwide healthcare systems.
Geographical Segmentation Analysis:
North America - the United States and Canada

Europe - United Kingdom, Spain, Germany, Italy, and France

The Asia Pacific - India, Japan, China, Australia, Singapore, Malaysia, South Korea, New Zealand, and Southeast Asia

Latin America - Brazil, Argentina, Mexico, and Rest of LATAM

The Middle East and Africa - Africa and Middle East (Saudi Arabia, UAE, Lebanon, Jordan, Cyprus)
Modular Robotics Market Regional Analysis:
Over the projected period, the APAC region is expected to have a considerable increase in the modular robots market. The expanding domination of industrial sectors such as automotive and electronics in China, India, Japan, and other countries, as well as the developing movement toward Industry 4.0 trends, have been important factors influencing the need for modular robots. High expenditures in research and development, as well as greater support for healthcare facility upgrades, will all contribute to the rise of modular robots in the region. The presence of key market participants such as Mitsubishi Electric Corporation, Yaskawa Electric Corporation, Toshiba Machine Co Ltd., and others have fueled the strong demand for modular robots. Mitsubishi Electric plans to debut a series of collaborative robots called MELFA ASSISTA in Indian markets in August 2020. These robots are equipped with safety features such as collision detection, as well as international safety and robotic standards, in order to provide end-user clients with the highest levels of productivity, flexibility, and automation. Such improvements are also expected to have a favorable influence on the modular robots market's long-term growth.
Key Players in the Market:
Major Key Players in the Global Modular Robotics Market are
Kawasaki Heavy Industries

Yaskawa Electric Corp

Denso Corporation

Universal Robots

Nachi-Fujikoshi Corp

Rethink Robotics