Non-Destructive Testing (NDT) Equipment Market (2022-2027)
The global Non-Destructive Testing (NDT) Equipment market size was estimated at USD 16.72 billion in 2021 and is expected to rise at a CAGR of 6.7% from 2022 to 2027, to reach USD 24.64 billion by 2027.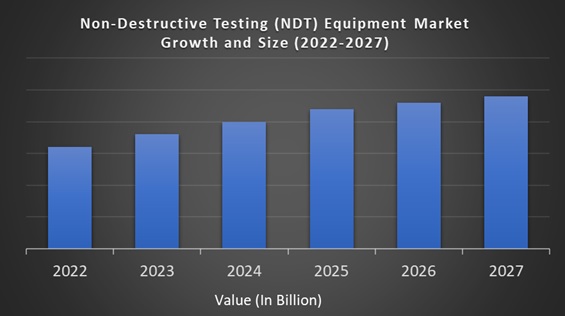 Non-Destructive Testing (NDT) Equipment Market Scenario:
Due to defect identification at complicated locations and uneven surfaces, projects utilizing non-destructive testing procedures take less time to complete. The need for non-destructive testing is expected to increase in the next years as the risk of failure is reduced. Furthermore, when compared to other NDT equipment, the efficacy of defect detection and the ease of operation of ultrasonic equipment are two of the most important elements driving the rising usage of ultrasonic testing. Furthermore, improvements in ultrasonic technology are projected to increase the use of this diagnostic technique during the next six years due to its simplicity. These factors are further responsible for the global Non-Destructive Testing (NDT) Equipment Market growth.
Over the forecast period, the Non-Destructive Testing (NDT) Equipment Market share is predicted to expand significantly. This expansion might be linked to increased urbanization in developing countries like India and China, which necessitates large-scale building and industrial projects. Because of the pace of such projects, the executors must use testing techniques to guarantee that the work is of high quality. This tendency is projected to have a beneficial influence on Non-Destructive Testing (NDT) Equipment Market's size in these countries, increasing the market's worldwide penetration.
Recent Developments in the Non-Destructive Testing (NDT) Equipment Industry:
Carnival Corporation & plc, the world's biggest leisure travel operator with a fleet of 87 ships visiting over 700 ports around the world, has teamed with Bureau Veritas to provide health and safety services (NDT) to help guests and staff return to cruising.

ControleMesure Systemes founded its American subsidiary, Control Mesure SystemesInc (CMS Inc), in Long Island City, NY, in December 2020. A local presence in the United States allows for the quick response and effective connection with American consumers. CMS, which already has a network of agents in more than 15 countries, is now focusing on growing the American market in order to meet the growing need for NDT. CMS did market analyses in the United States and began creating a network of ties with local players after establishing its presence in Mexico.
REPORT COVERAGE:
| | |
| --- | --- |
| REPORT METRIC | DETAILS |
| Market Size Available | 2021 – 2027 |
| Base Year | 2021 |
| Forecast Period | 2022 - 2027 |
| CAGR | 6.7% |
| Segments Covered | By Offering, Test Method, Vertical and Region |
| Various Analyses Covered | Global, Regional & Country Level Analysis, Segment-Level Analysis, DROC, PESTLE Analysis, Porter's Five Forces Analysis, Competitive Landscape, Analyst Overview on Investment Opportunities |
| Regions Covered | North America, Europe, APAC, Latin America, Middle East & Africa |
| Market Leaders Profiled | Ashtead Technology, Eddyfi, Fischer Technologies Inc, General Electric, Nikon Corporation, Mistras Group, Olympus Corporation, Sonatest, Yxlon International, Zetec, Inc and Others. |
Non-Destructive Testing (NDT) Equipment Market Growth:
Over the projected period, the non-destructive testing (NDT) market is expected to grow due to an increase in industrial activity in both emerging and developed countries.
Non-Destructive Testing (NDT) Equipment Market Drivers:
Material, construction, and strength are all held to the highest standards in the aircraft industry. Non-destructive examination (NDE), non-destructive evaluation (NDE), and non-destructive inspection are various terms for the same method (NDI). Failures in strength, surface, and cracks can result in a variety of tragic accidents and deaths. NDT is a commonly used testing method for inspecting aircraft parts and components prior to assembly. Fatigue cracks in aircraft components are common and might form over a period of time. In order to detect indicators of damage, about 80% of inspections are carried out using the visual inspection testing technique in airplanes all over the world, which further increases the global non-destructive testing (NDT) equipment market growth during the forecast period. However, in the examination of an aircraft component, numerous testing methods and techniques are gaining momentum, including liquid penetration, acoustic emission testing, electromagnetic testing, ground penetration, radiography, magnetic particle, and eddy current testing. The future expansion of the non-destructive testing equipment industry will be aided by the availability of effective technologies for detecting cracks, faults, and leaks in aviation systems, components, and parts.
In the oil and gas, power, and automotive sectors, the NDT methodology includes research and development (R&D) approaches to training and service-based supply chains. This technology is used in the oil and gas sector to check the interior and exterior corrosion of oil and gas pipelines. Visual inspection, liquid penetrant examination, magnetic particle inspection, and ultrasonic inspection are among the procedures employed. The approach is used to examine pressure systems and steam and gas turbines in the power sector. This approach is used to check fuel rods, tiny valves, waste containers, and waste management equipment in nuclear power plants. As a result, the NDT market is growing due to increased demand for this approach in the gas and oil sector and the power industry.
Non-Destructive Testing (NDT) Equipment Market Restraints:
Several customers throughout the world have complained about the testing and analysis method's shortcomings. Only high-value sophisticated instruments can be used for NDT. For maximum precision, analysis to discover fractures, faults, and leakages, as well as troubleshooting, requires modern gear and instruments. As a result, a scarcity of certified and competent workers to run testing devices is expected to limit the global Non- destructive equipment market growth. To handle instrumentation, a high degree of training and multiple certifications is required, resulting in significant prices for service providers functioning in the global non-destructive testing equipment market.
Non-Destructive Testing (NDT) Equipment Market Segmentation Analysis:
By Offering:
In 2022, services dominated the global non-destructive testing equipment market, accounting for 75.2 percent of total revenue, and this trend is expected to continue throughout the forecast period. The high upfront cost of non-destructive testing equipment, as well as the technical challenges associated with its deployment/installation, are the primary reasons why end-users opt to outsource non-destructive testing. Another limitation preventing new non-destructive testing equipment installations throughout the world is a scarcity of qualified non-destructive testing employees. Moreover, because of the government regulations governing workplace safety, end-users are increasingly outsourcing their non-destructive testing activities to third-party service providers. During the projection period, the equipment segment is expected to increase steadily. The availability of state-of-the-art variants as a result of technological advancements is expected to contribute to the segment's growth. The availability of improved variations has increased the equipment's applicability, resulting in an increase in demand. During the projection period, new installations are expected to be triggered by a revival in the industrial sector, particularly in rising markets such as India and China.
By Test Method
Traditional NDT Method

Visual Testing

Magnetic Particle Testing

Liquid Penetrant Testing

Eddy Current Testing

Ultrasonic Testing

Radiographic Testing

Digital/Advanced NDT Method

Digital Radiography (DR)

Phased Array Ultrasonic Testing (PAUT)

Pulsed Eddy Current (PEC)

Time-Of-Flight Diffraction (TOFD)

Alternating Current Field Measurement (ACFM)

Automated Ultrasonic Testing (AUT)
In 2022, the traditional test technique segment led the global non- destructive testing equipment market, accounting for 80.5 percent of total revenue. Traditional NDT procedures such as visual testing, magnetic particle testing, liquid penetrant testing, eddy current testing, ultrasonic testing, and radiographic testing are all seeing the increased application. In comparison to other traditional non-destructive testing procedures, ultrasonic detectors are expected to dominate the market. They are simple to operate, lightweight, and provide precise results. Ultrasonic testing is growing more popular as a result, and this trend is expected to continue in the coming years. The phased array ultrasonic testing (PAUT) segment led the market in 2022, accounting for 21.0 percent of the total. This increase can be attributed to the increasing use of PAUT in comparison to other digital NDT techniques. The PAUT method's detailed visualization feature assists in determining the defect's size, depth, shape, and orientation. PAUT is a type of ultrasonic testing that employs several transducers and sets of ultrasonic testing (UT) probes made up of a variety of smaller components.
By Vertical:
Oil & Gas

Manufacturing

Aerospace and Defense

Construction

Automotive

Power Generation

Others
In 2022, the manufacturing vertical category dominated the non-destructive testing (NDT) market, accounting for 22.0 percent of total revenue. The increase can be attributable to the growing number of products throughout the world. The manufacturing industry is likely to implement several NDT methods, resulting in a rise in worldwide demand for non-destructive testing services. In the past, non-destructive testing was used widely in oil and gas applications. Cracks in pipelines, both underground and above ground, have been detected using ultrasonic and eddy current examinations. As a consequence of expanded understanding, non-destructive testing procedures are now being applied in a range of fields, including aerospace, defense, and automotive. Power grids and hydroelectric power plants are among the industries that make up the power generating division. With a CAGR of more than 8.0 percent during the projection period, the category is predicted to rise steadily. The significant acceptance rate of non-destructive testing techniques in power generation is due to the continuous rise in power demand in emerging countries since the use of non-destructive testing techniques ensures quicker production rates.
Geographical Segmentation Analysis:
North America - the United States and Canada

Europe - United Kingdom, Spain, Germany, Italy, and France

The Asia Pacific - India, Japan, China, Australia, Singapore, Malaysia, South Korea, New Zealand, and Southeast Asia

Latin America - Brazil, Argentina, Mexico, and Rest of LATAM

The Middle East and Africa - Africa and Middle East (Saudi Arabia, UAE, Lebanon, Jordan, Cyprus)
Non-Destructive Testing (NDT) Equipment Market Regional Analysis:
North America emerged as the most dominant segment in 2022 in the global non-destructive testing equipment market, with a revenue share of more than 36.0 percent. This is owing to the extensive usage of nondestructive testing techniques in a range of applications, as well as the qualified workforce and a number of nondestructive testing training institutes in the region. In addition, power generated from shale oil in the United States and Canada is expected to accelerate the region's growth. Furthermore, an increased emphasis on the use of NDT to avoid unexpected system failures is predicted to fuel the regional market.
Over the projection period, the Asia Pacific market is estimated to grow at a CAGR of more than 9.0 percent. Manufacturing, construction, and electricity generation all grew in the region, adding to the region's growth. Despite the fact that the region now has a skilled labor shortage, this is projected to improve in the next years as more people become aware of and adopt non-destructive testing procedures.
Furthermore, the Middle East is seen as a potential market for NDT technologies because to the significant presence of the oil and gas sector.
Key Players in the Market:
Major Key Players in the Global Non-Destructive Testing (NDT) Equipment Market are
Mistras Group

Olympus Corporation

Sonatest

Yxlon International

Zetec, Inc