Oil and Gas Robotics Market Size, Growth, Share (2022-2027)
Inspection robotics are used to perform inspection and maintenance tasks on industrial resources reducing human intervention, increasing operational productivity, and improving well-being. There are a few types of mechanical arrangements accessible in the oil, gas, and petrochemical industries, ranging from subsea frames to versatile automated frames.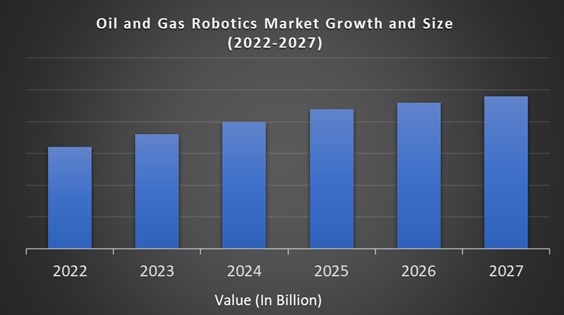 Inspection robots in the oil and gas industry are intelligent robots and devices developed and used for the inspection, monitoring, and surveillance of oil and gas pipelines, platforms, platforms, storage tanks, and other oil and gas structures. Oil and gas examination robots incorporate Unmanned Underwater Vehicles (UUVs), Unmanned Aerial Vehicles (UAVs), and Unmanned Ground Vehicles (UGVs). UUVs incorporate distantly worked submerged vehicles (ROVs) and self-sufficient submerged vehicles (AUVs). The absolute worldwide venture (capital use) of investigation robots in the oil and gas industry will increment to $ 2.85 billion every 2025, addressing a strong development of XX% each year somewhere in the range of 2016 and 2025.
Recent Developments in Oil and Gas Robotics Industry:
Honeybee Robotics has long supported NASA exploration missions. The company's systems for drilling, coring, and physical sampling of Mars, the Moon, and asteroids are designed to support scientific research and human exploration.

FMC Technologies, Inc. (NYSE: FTI) reported today that it had finished the exchange to get the excess 55% of the exceptional portions of Schilling Robotics LLC ("Schilling").

Flyability will present Elios 2, and a live demonstration of the BVLOS UAS RVI confined space at the ASME Robotics for Inspection and Maintenance Forum in Disaster City, TX.

AeroVironment, which claims to be the largest drone supplier to the US Army, is also an example of a pure and profitable robotics company.

ABB India announced on Friday the opening of its new robotics plant in Bangalore to support the digital transformation of manufacturing in India.
OIL AND GAS ROBOTICS MARKET REPORT COVERAGE:
| | |
| --- | --- |
| REPORT METRIC | DETAILS |
| Market Size Available | 2021 – 2027 |
| Base Year | 2021 |
| Forecast Period | 2022 - 2027 |
| CAGR | xx% |
| Segments Covered | By Product, Application, Component, and Region. |
| Various Analyses Covered | Global, Regional & Country Level Analysis, Segment-Level Analysis, DROC, PESTLE Analysis, Porter's Five Forces Analysis, Competitive Landscape, Analyst Overview on Investment Opportunities |
| Regions Covered | North America, Europe, APAC, Latin America, Middle East & Africa |
| Market Leaders Profiled | ABB Ltd.,AeroVironment Inc.,Alstom Inspection Robots,Cyberhawk Innovations Ltd.,ECA Group,Flyability S.A.,FMC Technologies Inc.,Honeybee Robotics,Hydrovision Ltd.,IKM Subsea AS,ING Robotic Aviation,International Submarine Engineering (ISE) Ltd.,Inuktun Services Ltd.,MISTRAS Group Inc.,OC Robotics,Seegrid,Sky-Futures,VDOS and Others. |
Drivers and Restraints of Oil and Gas Robotics Market:
Drivers:
Increasing investments in research, creation, and drilling exercises and the number of upstream companies around the world are needed by oil manufacturers such as the United States and OPEC to drive inspection robotics in the oil and gas robotics market.
The oil and gas industry is extremely mind-boggling and dangerous by nature. Due to the staggering cost of inspecting oil and gas pipelines, storage tanks, and stages using ordinary strategies, the oil and gas industries are forced to rethink their current percentage of commercial mechanization. Offshore fields, often located in scandalous conditions, pose fundamental safety challenges for both man and the environment. As offshore drilling exercises move into deep and ultra-deepwater, exercise well-being, for example, submerged maintenance and inspection, becomes increasingly important. This, in turn, leads to increased interest in inspection robotics. The oil and gas industry is now focused on increasing its operating expenses by investing in the latest innovations.
Restraints:
A robot automation task can be troublesome, particularly for organizations with no related knowledge. High capital consumption is required for the acquisition of the robot, yet in addition for joining, programming and upkeep. Now and again, a custom mix might be required, which can additionally add to your all-out cost. Organizations don't generally have space and foundation to execute robots.
Oil and Gas Robotics Market Segmentation Analysis:
By Product:
Remotely operated vehicles

Autonomous underwater vehicles

Unmanned aerial vehicles

Unmanned ground vehicles
The autonomous underwater vehicles segment is leading with the highest shares of the market. An autonomous underwater vehicle (AUV) is an unmanned submersible vehicle that does not require any real-time input or command from a human operator or driver and therefore operates autonomously. AUVs are robotic vehicles pre-programmed with mission parameters and then deployed to the ocean. An unmanned ground vehicle (UGV) is a vehicle that operates in contact with the ground and without a human presence on board.
By Application:
Inspection

Monitoring

Surveillance
By application, the inspection segment is leading with the dominant shares of the market. The purpose of the inspection is to verify the climatic conditions; the product is manufactured in accordance with the standards and the specification by checking the products at random. At the program level, the purpose of monitoring and evaluation is to systematically monitor implementation and results and to measure the effectiveness of programs. It helps determine exactly when a program is on track and when changes may be necessary.
By Component:
The hardware segment is anticipated to rule the largest shares of the oil and gas robotics market. PC hardware alludes to the actual pieces of a PC and related peripherals. Internal equipment gadgets incorporate motherboards, hard drives, and RAM. The interior equipment parts of a PC are regularly called segments, while the outer equipment gadgets are by and large called peripherals. Programming is the projects and schedules of a PC or the equipment program of an electronic gadget that makes it work.
Geographical Segmentation Analysis:
North America - the United States and Canada

Europe - United Kingdom, Spain, Germany, Italy, and France

The Asia Pacific - India, Japan, China, Australia, Singapore, Malaysia, South Korea, New Zealand, and Southeast Asia

Latin America - Brazil, Argentina, Mexico, and Rest of LATAM

The Middle East and Africa - Africa and Middle East (Saudi Arabia, UAE, Lebanon, Jordan, Cyprus)
Region Analysis:
Among these, the Asia-Pacific region is expected to be an important part due to high adoption from countries such as China and India. Asia-Pacific has just launched major projects to investigate the offshore oil and gas industry. The oilfield directors have also distributed a large amount of cash for the advancement of offshore fields, which in turn, is expected to offer an open door to a remarkable business development for robotic inspection in the oil industry market for oil and gas.
IMPACT OF COVID-19 ON OIL AND GAS ROBOTICS MARKET:
A significant trend that has been observed in the Asia-Pacific region is the displacement of the manufacturing capabilities of many multinational companies outside of China. Although most of the potential destination countries for manufacturing, such as India, Thailand and the Philippines, among others, belong to the same Asia-Pacific region, investment in manufacturing capacity outside of China will increase. Therefore, this offers a significant growth opportunity for industrial robot suppliers to quickly partner with investors in countries such as India, Thailand and the Philippines to take advantage of the situation. Market players must assess countries 'manufacturing infrastructure and propose end-to-end and integrated robotic solutions to improve the quality and efficiency of countries' production. The COVID-19 outbreak has become a global stress test. As the number of people infected with the virus continues to rise around the world, uncertainties about global economic growth increase. The COVID-19 disease has infected more than 1.8 million people worldwide, with the United States accounting for approximately 30% of cases. Globally, the death toll has exceeded 110,860, according to the latest Worldometer statistics (as of April 12, 2020). The number continues to rise and the duration of the pandemic remains difficult to predict. Following a slowdown in global demand for industrial robots due to the COVID-19 pandemic, major suppliers of industrial robots are expected to struggle through 2020.
Key Players in the Market:
Major Key Players in the Global Oil and Gas Robotics Market are
ABB Ltd.

AeroVironment Inc.

Alstom Inspection Robots

Cyberhawk Innovations Ltd.

ECA Group

Flyability S.A.

FMC Technologies Inc.

Honeybee Robotics

Hydrovision Ltd.

IKM Subsea AS

ING Robotic Aviation

International Submarine Engineering (ISE) Ltd.

Inuktun Services Ltd.

MISTRAS Group Inc.

OC Robotics

Seegrid

Sky-Futures

VDOS