Oil Condition Monitoring Market Size, Growth (2022-2027)
The Global Oil Condition Monitoring Market size was worth US$ 1.06 billion in 2021 and is anticipated to succeed in the valuation of US$ 1.47 billion by 2027 and is predicted to register a CAGR of 6.1% during 2022-2027.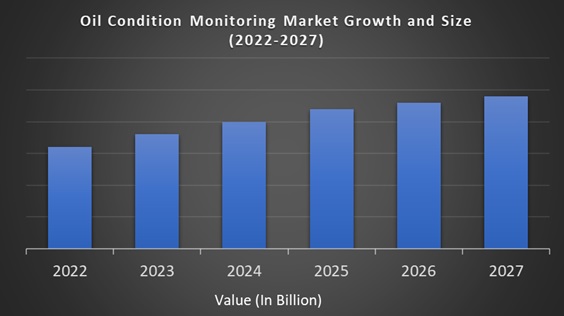 Oil Condition Monitoring Market Scenario:
Oil is a critical component in the transportation sector for powering engines and lubricating moving components. Customers prioritise oil because it is a critical component that affects productivity and profitability. Asset health and efficiency can be monitored, and any concerns can be remedied rapidly, by monitoring the quality and properties of the oil. These are the major characteristics that drives the global oil condition monitoring market share during 2022-2027. On the other hand, Oil condition monitoring is a typical method of measuring and analysing contamination and deterioration in lubricants and fuel oils over the course of their lives, and it is an important part of predictive maintenance in most process industries.
Furthermore, assessing the oil condition provides significant insights into equipment health, and subsequent harm can be avoided by identifying the level of contamination and the element, gasoline, water, or acid that caused the oil degradation and loss of lubrication which further assists the global oil condition monitoring market size in the predicted period.
Recent Developments within the Oil Condition Monitoring Industry:
BP completes acquisition of BP Midstream Partners LP. It has completed the previously announced acquisition of all outstanding common units of BPMP that were not already owned directly or indirectly by bp or its affiliates, making BPMP a wholly-owned subsidiary of bp.

Intertek has introduced Carbonclear, the world's first certification programme that independently certifies the upstream carbon intensity per barrel of oil. Carbonclear provides producers with continual opportunities to cut carbon emissions and participate in the transition to a low-carbon economy by offering unparalleled transparency on the carbon effect of cradle-to-gate activities across all stages of oil and gas exploration and production.
REPORT COVERAGE:
| | |
| --- | --- |
| REPORT METRIC | DETAILS |
| Market Size Available | 2021 – 2027 |
| Base Year | 2021 |
| Forecast Period | 2022 - 2027 |
| CAGR | 6.1% |
| Segments Covered | By Product Type, Vertical and Region |
| Various Analyses Covered | Global, Regional & Country Level Analysis, Segment-Level Analysis, DROC, PESTLE Analysis, Porter's Five Forces Analysis, Competitive Landscape, Analyst Overview on Investment Opportunities |
| Regions Covered | North America, Europe, APAC, Latin America, Middle East & Africa |
| Market Leaders Profiled | Chevron, Parker Hannifin, General Electric, BP, Shell, Eaton, Intertek Group, SGS, Bureau Veritas, Trico and Others. |
Oil Condition Monitoring Market Growth:
Demand for cost-effective solutions for managing the health of machinery is on the rise. Therefore, this factor is primary responsible for the global oil condition monitoring market growth in the next six years.
Oil Condition Monitoring Market Drivers:
Oil condition monitoring market is predicted to expand in popularity as the importance of lean manufacturing and just-in-time inventory management grows, as does the focus on product quality, particularly in process industries. The primary industries that employ vibration monitoring to track the health of their machinery include chemicals, petrochemicals, oil & gas, power generation, aerospace & defence, and manufacturing. The oil condition monitoring market is likely to increase as a result of this.
Furthermore, proper oil condition monitoring prevents leaks and machinery breakdowns, as well as excessive time loss. As a result of this issue, the demand for oil condition monitoring is rapidly increasing. Other factors driving the growth of the oil condition monitoring market include a surge in demand for cost-effective solutions and the availability of electricity.
Moreover, the oil condition monitoring market is being transformed by big data analytics, effective data storage technologies, and parallel processing. Big data analytics, with the capability of processing large volumes of data, has accelerated the analysis process of the data generated by oil quality sensors. Big data analytics provides benefits such as easier oil quality benchmarking, improved data transparency, and effective collaboration of multiple oil quality testing results. Oil quality monitoring powered by big data reduces the overall cost of ownership for assets and allows businesses to run more efficiently.
Oil Condition Monitoring Market Restraints:
To attain operational excellence in their manufacturing processes, several organisations are actively investing in on-site oil condition monitoring systems, which include sensors, portable kits, and on-site laboratories. To utilise these systems correctly, a certain amount of knowledge is required. The restricted availability of trained employees in these areas is an issue because a few systems are placed at remote or difficult-to-reach locations. The major parameters of monitoring systems, such as system optimization, software updates, networking, and data transmission, require expertise to verify. This is the major factor that hinders the global oil condition monitoring market volume in the upcoming years.
The cost associated with the training that is needed to analyses these tools is very costly; these factors are expected to hamper the global oil condition monitoring market growth in the near future Furthermore, the rate of installation of oil condition monitoring systems is very high, which is another major stumbling block for the market.
Over the projected period, increased awareness among manufacturing companies regarding oil condition monitoring, which can assist to minimise maintenance costs, is expected to generate significant potential prospects for this global oil condition monitoring market.
Oil Condition Monitoring Market Segmentation Analysis:
By Product Type:
Turbine

Compressor

Engine

Hydraulic System

Others
By 2027, the turbine category is estimated to hold the greatest proportion of the global oil condition monitoring market. One of the most often utilised predictive maintenance technologies is turbine oil analysis. Turbines are used in a variety of applications and require routine maintenance in order to function properly. Turbines in industries like power generating and transportation are subjected to extreme pressures. Furthermore, constant oil quality monitoring is required to guarantee that turbines run smoothly.
By Vertical Type:
Transportation

Industrial

Oil & Gas

Power Generation

Mining
One of the emerging areas that has seen a quick uptake of oil condition monitoring market is power production. The power generation sector employs a variety of machines, equipment, and components. Engines, turbines, gearboxes, and compressors operate at high temperatures and pressures, deteriorating the oil quality utilised in these machines. Oil condition monitoring aids in the detection of minor issues inside the equipment prior to a catastrophic collapse.
Geographical Segmentation Analysis:
North America - the United States and Canada

Europe - United Kingdom, Spain, Germany, Italy, and France

The Asia Pacific - India, Japan, China, Australia, Singapore, Malaysia, South Korea, New Zealand, and Southeast Asia

Latin America - Brazil, Argentina, Mexico, and Rest of LATAM

The Middle East and Africa - Africa and Middle East (Saudi Arabia, UAE, Lebanon, Jordan, Cyprus)
Oil Condition Monitoring Market Regional Analysis:
In 2020, the market in North America was the largest, and it is expected to remain so throughout the forecast period. The demand for oil condition monitoring systems and solutions in North America is driven by factors such as an increased focus on optimum asset utilisation, stringent government regulations for workplace and personnel safety, and stringent quality control in the oil and gas, transportation, and manufacturing industries. The North America area accounted for $184.8 million in 2018, and is predicted to reach $339.9 million by 2026, rising at a CAGR of 7.9% over the forecasted period.
The Asia-Pacific region is expected to lead the market over the forecast period, with a CAGR of 9.2 percent and a projected market value of $300.6 million. The expanding number of transportations in this region is projected to boost market expansion in the near future, according to the report.
Key Players in the Market:
Major Key Players in the Global Oil Condition Monitoring Market are
Parker Hannifin

Eaton

Intertek Group

SGS

Bureau Veritas

Trico