Omega 3 Market Size, Share, and Growth Rate:
Omega 3 Market Size USD 4.1 Billion in 2019, and it is expected to reach USD 8.6 Billion by the end of 2025, growing at a CAGR of 13.1% during the forecast period 2021-2026.
Since omega-3 has become increasingly popular in other applications, several works is underway to determine the effects of omega-3 on the health of babies and children. It was found to be related to positive cognitive results in childhood intake of DHA-rich formula in infantile years. For boys, the bulk of brain development takes place during gestation and the first two years of life.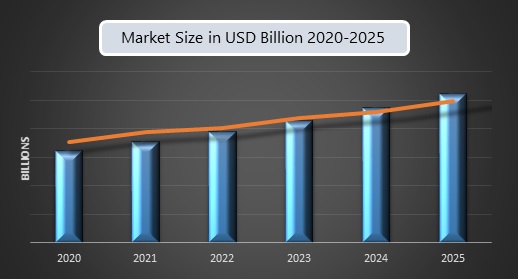 Babies need DHA and ARA during this time. Such nutrients are largely responsible for brain development, which is the main reason why omega-3 infant food products are being increased. As the number of workers in a household, including women, rises, parents find it difficult to track their children's health continuously. This has turned your attention to synthesis.
Key Insights on Omega 3 Market:
The industry is driven by the increasing penetration of omega3 in the API market. This is in response to increased understanding of health care and chronic diseases, expanded scope of drug use and legislation that promote the use of drugs in formulations for children.
In line with this trend, main companies operating on the market are concentrating on gaining certification of their goods to optimize scope. In the last few years, the sector has also seen big acquisitions.
Omega-3 fatty acids have many health benefits, boosting the global omega-3 drug market and rising the need for omega-3 supplements. In the pediatric nutrition industry, Omega-3 has a significant application which is expected to drive the demand during the forecast period. Recent demand for highly effective and convenient concentrate increases the demand for omega-3 products.
Recent developments in the Omega 3 Industry:
A majority stake in KD Pharma Bexbach GmbH was acquired in May 2013 by Caption AG to provide capital for growth. KD Pharma Bexbach GmbH is one of the leading companies known for the development, use as an ingredient for pharmaceuticals and food supplements of highly purified omega-3 fatty acids.

IngreVita EPA / DHA Omega-3 oil was launched in March 2015 by Cargill, Incorporated (U.S.). The company is consolidating its portfolio by incorporating the non-GMO components with the release of this drug.

Thanks to the purchase of ocean food in Canada in August 2014, the Royal DS Mission (Netherlands) spent US$ 30 m to extend and upgrade its production facility in Nova Scotia, Germany.
Omega 3 Market Drivers and Limitations:
The Omega 3 market size is exponentially expanding owing to the following:
Public understanding and emphasis on preventive medicine of the health benefits of omega-3.

Increased demand in functional foods and medications for Omega-3.

Boost user profiling and new markets for existing applications.
Restraints of the Omega 3 market can be:
High initial cost of installation.

Fisheries conservation concerns lead to low fish oil production.

Fisheries Sustainability Issues lead to low fish oil production.

Raw material competition and smaller catch quotas are raising the price of fish oil.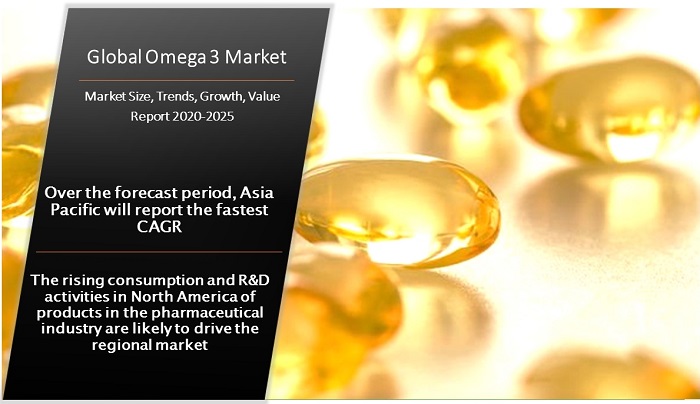 Detailed Segmentation of the Omega 3 Market:
Market Analysis – By Type:
Market Analysis – By Application:
Dietary Supplements

Functional Foods & Beverages

Pharmaceuticals

Infant Formula
Market Analysis – By Source:
Segmentation Insights:
The omega 3 markets is divided into additional and functional products, pharmaceuticals, and immediate formulae, pet & animal feeds in terms of use. Due to various consumer health benefits, rising R&D initiatives and lower health care costs, Supplement & Functional Food Segment predominate in the global Omega 3 market. Dietary supplements help maintain adult health and nutritional adequacy and are therefore expected to increase dietary supplements ' intake of omega 3.
Babies want DHA and ARA during infancy periods. Such nutrients are largely responsible for brain development, which is the main reason why sales of omega-3 nutritional products in children are that. With a growing number of working people, including women, in a family, parents find it difficult to monitor their children's health constantly. This has turned their attention to synthetically engineered products that can improve their children's health.
Geographical Segmentation of the Market:
North America

Europe

Latin America

Asia Pacific

Middle East and Africa

Rest of the World
Geographical Classification of the Market by Country wise:
Omega-3 Market is geographically divided into, North America Omega-3 Market (United States, Canada), Latin America Omega-3 Industry (Brazil, Argentina, Mexico), Middle East and Africa Omega-3 Market (Saudi Arabia, United Arab Emirates, Lebanon, Jordan, Cyprus), Europe Omega-3 Market (United Kingdom, France, Germany, Spain, Italy), Asia Pacific Omega-3 Market (China, India, Japan, South America, Australia, New Zealand, and Southeast Asia).
Asia Pacific will be expected to the fastest CAGR:
Over the forecast period, Asia Pacific will report the fastest CAGR. Increasing demand for products in countries like China, India and Australia drives the region's growth. The wide use of fish oil and increased awareness of nutrition boost the demand for the product further in the daily diet. The overall market development is expected también to propel the growing cultivation of krill fish in the South China Sea and the Indian Ocean. The rising consumption and R&D activities in North America of products in the pharmaceutical industry are likely to drive the regional market. In addition, increased use of improved medicines should further stimulate demand in the region.
Research Methodology:
Market research involves studying market trends, growth patterns, and understanding the influence of variables like macro and microeconomic conditions, geopolitical and demographic conditions on the market value and market dynamics.
The research methodology used to calculate and forecast the Omega 3 market began by collecting information on the market key players' sales using multiple sources via secondary research. In order to identify market segmentation, supplier offers have been considered.
Leading Companies mentioned in this Market Research Report are:
Aker BioMarine

GC Rieber Oils AS

Lonza

Axellus

BASF SE

DSM

Omega Protein Corporation

Luhua Biomarine (Shandong) Co., Ltd.

Croda International Plc

FMC Corporation
New product design and capacity expansion are the main operating approaches adopted by manufacturers.
Key highlights of the research report:
This report provides a detailed quantitative analysis of the current market and estimates for the years 2019-2024, which help identify the prevailing market opportunities.

Important changes in market dynamics.

Report and evaluation of recent developments in the industry.

Competitive intelligence helps to understand the competitive scenario in geographical regions.

The key players in the market are described in detail in this report, and their strategies are analyzed in-depth to understand the competitive advantage of the market better.
1. Introduction
1.1 Market Definition
1.2 Study Deliverables
1.3 Base Currency, Base Year and Forecast Periods
1.4 General Study Assumptions
2. Research Methodology
2.1 Introduction
2.2 Research Phases
2.2.1 Secondary Research
2.2.2 Primary Research
2.2.3 Econometric Modelling
2.2.4 Expert Validation
2.3 Analysis Design
2.4 Study Timeline
3. Overview
3.1 Executive Summary
3.2 Key Inferences
3.3 Epidemology
4. Drivers, Restraints, Opportunities, and Challenges Analysis (DROC)
4.1 Market Drivers
4.2 Market Restraints
4.3 Key Challenges
4.4 Current Opportunities in the Market
5. Market Segmentation
5.1 Type
5.1.1 Introduction
5.1.2 DHA
5.1.3 EPA
5.1.4 ALA
5.1.5 Y-o-Y Growth Analysis, By Type
5.1.6 Market Attractiveness Analysis, By Type
5.1.7 Market Share Analysis, By Type
5.2 Application
5.2.1 Introduction
5.2.2 Dietary Supplements
5.2.3 Functional Foods and Beverages
5.2.4 Pharmaceuticals
5.2.5 Infant Formula
5.2.6 Y-o-Y Growth Analysis, By Application
5.2.7 Market Attractiveness Analysis, By Application
5.2.8 Market Share Analysis, By Application
5.3 Source
5.3.1 Introduction
5.3.2 Marine
5.3.3 Plant
5.3.4 Y-o-Y Growth Analysis, By Source
5.3.5 Market Attractiveness Analysis, By Source
5.3.6 Market Share Analysis, By Source
6. Geographical Analysis
6.1 Introduction
6.1.1 Regional Trends
6.1.2 Impact Analysis
6.1.3 Y-o-Y Growth Analysis
6.1.3.1 By Geographical Area
6.1.3.2 By Type
6.1.3.3 By Application
6.1.3.4 By Source
6.1.4 Market Attractiveness Analysis
6.1.4.1 By Geographical Area
6.1.4.2 By Type
6.1.4.3 By Application
6.1.4.4 By Source
6.1.5 Market Share Analysis
6.1.5.1 By Geographical Area
6.1.5.2 By Type
6.1.5.3 By Application
6.1.5.4 By Source
6.2 North America
6.1.1 Introduction
6.1.2 United States
6.1.3 Canada
6.3 Europe
6.2.1 Introduction
6.2.2 U.K
6.2.3 Spain
6.2.4 Germany
6.2.5 Italy
6.2.6 France
6.4 Asia-Pacific
6.3.1 Introduction
6.3.2 China
6.3.3 India
6.3.4 Japan
6.3.5 Australia
6.3.6 South Korea
6.5 Latin America
6.4.1 Introduction
6.4.2 Brazil
6.4.3 Argentina
6.4.4 Mexico
6.4.5 Rest of Latin America
6.6 Middle East & Africa
6.5.1 Introduction
6.5.2 Middle-East
6.5.3 Africa
7. Strategic Analysis
7.1 PESTLE analysis
7.1.1 Political
7.1.2 Economic
7.1.3 Social
7.1.4 Technological
7.1.5 Legal
7.1.6 Environmental
7.2 Porter's Five analysis
7.2.1 Bargaining Power of Suppliers
7.2.2 Bargaining Power of Consumers
7.2.3 Threat of New Entrants
7.2.4 Threat of Substitute Products and Services
7.2.5 Competitive Rivalry within the Industry
8. Market Leaders' Analysis
8.1 Aker BioMarine
8.1.1 Overview
8.1.2 Product Analysis
8.1.3 Financial analysis
8.1.4 Recent Developments
8.1.5 SWOT analysis
8.1.6 Analyst View
8.2 Rieber Oils AS and Lonza
8.3 Axellus
8.4 BASF SE
8.5 DSM
8.6 Omega Proteine Company
8.7 Luhua Biomarine (Shandong) Co., Ltd
8.8 Croda International Plc
8.9FMC Corporation
9. Competitive Landscape
9.1 Market share analysis
9.2 Merger and Acquisition Analysis
9.3 Agreements, collaborations and Joint Ventures
9.4 New Product Launches
10. Market Outlook and Investment Opportunities
Appendix
a) List of Tables
b) List of Figures
Global, regional and country-level analysis and forecasts of the study market; providing Insights on the major countries/regions in which this industry is blooming and to also identify the regions that are still untapped

The segment-level analysis in terms of Type, Application, and Source along with market size forecasts and estimations to detect key areas of industry growth in detail

Identification of key drivers, restraints, opportunities, and challenges (DROC) in the market and their impact on shifting market dynamics

Study of the effect of exogenous and endogenous factors that affect the global market; which includes broadly demographic, economics, and political, among other macro-environmental factors presented in an extensive PESTLE Analysis

Study the micro environment factors that determine the overall profitability of an Industry, using Porter's five forces analysis for analysing the level of competition and business strategy development

A comprehensive list of key market players along with their product portfolio, current strategic interests, key financial information, legal issues, SWOT analysis and analyst overview to study and sustain the market environment

Competitive landscape analysis listing out the mergers, acquisitions, collaborations in the field along with new product launches, comparative financial studies and recent developments in the market by the major companies

An executive summary, abridging the entire report in such a way that decision-making personnel can rapidly become acquainted with background information, concise analysis and main conclusions

Expertly devised analyst overview along with Investment opportunities to provide both individuals and organizations a strong financial foothold in the market
Global Omega 3 Market By Region, From 2021-2026 ( USD Million )

Global Omega 3 Market By Type, From 2021-2026 ( USD Million )

Global DHA Market By Region, From 2021-2026 ( USD Million )

Global EPA Market By Region, From 2021-2026 ( USD Million )

Global ALA Market By Region, From 2021-2026 ( USD Million )

Global Omega 3 Market By Application, From 2021-2026 ( USD Million )

Global Dietary Supplements Market By Region, From 2021-2026 ( USD Million )

Global Functional Foods & Beverages Market By Region, From 2021-2026 ( USD Million )

Global Pharmaceuticals Market By Region, From 2021-2026 ( USD Million )

Global Infant Formula Market By Region, From 2021-2026 ( USD Million )

Global Omega 3 Market By Source, From 2021-2026 ( USD Million )

Global Marine Market By Region, From 2021-2026 ( USD Million )

Global Plant Market By Region, From 2021-2026 ( USD Million )