Solid Oxide Fuel Cell Market Size (2022-2027):
The Solid Oxide Fuel Cell Market size will grow to USD 6.6 billion by 2027 from USD 1.6 billion in 2021, at a CAGR of 33.9 % during the forecast period 2022-2027.
Solid oxide fuel cells are defined as the devices that are installed with a ceramic membrane which makes them conduct ions and allow currents at higher temperatures. They're electrochemical units that utilize non-porous & solid metal oxide electrolytes to convert chemical energy into thermal energy and electricity using hydrogen fuel. These units are readily used across various applications due to their ability to work at elevated temperatures, stability, high efficiency, and acceptability of varied kinds of fuels. Consequently, rapidly rising energy demand, including rising measures to adopt green power generation sources, fosters solid oxide cell market growth. Increasing interest in developing and deploying energy-efficient systems to satisfy additional power requirements will further complement the industry size.
Market Drivers:
Factors like rising environmental concerns and increasing demand for clean electrical energy are expected to be major drivers driving the market. The rising demand for clean energy over concerns of the environmental impact of energy generation from conventional sources like coal and gas is predicted to assist grow the solid oxide fuel cells market. Government policies and incentives provided for cell s are a number of the important driving factors for the expansion of the solid oxide fuel cell industry. States like California, Delaware, and Connecticut lead in cell programs and offer incentives and subsidies for fuel cell installations, resulting in Solid oxide fuel cell and other fuel installations within the US.
Market Restraints:
Solid oxide fuel cells are a complex integration of various chemical elements for the electro-catalytic oxidation of methane, LP gas, and other natural gas-based fuels to get electricity. Conventional ceramic electrolytes don't offer high operational efficiency at such temperatures; therefore, yttria-stabilized zirconia (YSZ) is required as an electrolyte. Moreover, a study conducted by a research institution in the US concluded that cell performance increases further when YSZ composite electrodes also are utilized with the electrolyte. Zirconium is a component that has titanium-like properties and has a particularly high melting temperature of 1,852°C. However, the value of per unit zirconium is nearly double the per-unit cost of conventional ceramic-based electrolytes. This increases cell manufacturing and installation costs, which is one of the main restraints for this market.
REPORT INFOGRAPHIC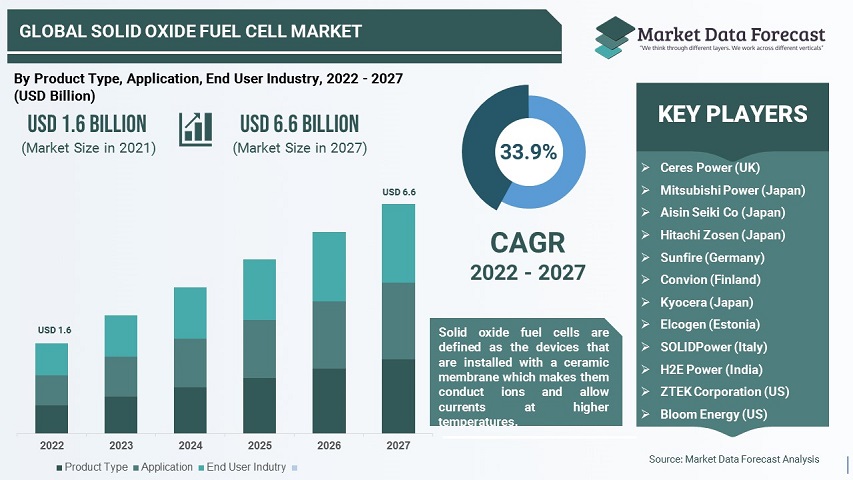 Market Opportunities:
Data centers are the fastest-growing end users for the facility generation application within the US. Operating a data center is very power-consuming and power intensive. Additionally, data centers require uninterrupted power 24*7 so on minimize the loss of valuable data. Fuel cells, including solid oxide fuel cells, have previously seen tremendous growth within the United States. Solid oxide fuel cell adoption for data centers by Google, IBM, and Equinix has increased growth at a fast rate within the US Solid Oxide Fuel Cell market. Currently, the entire Solid oxide fuel cell adoption by data centers remains minuscule with reference to the entire data centers within the US, thus making it one of the foremost lucrative end-use segments for Solid oxide fuel cells.
In the military sector, stationary and portable power generation by Solid oxide fuel cells is on the rise. Additionally, the necessity for noiseless and efficient power generation for military application creates a chance for Solid oxide fuel cells during this segment. The developments in Solid oxide fuel cell which is used as applications for the military application are expected to extend with opportunities for the expansion of this market further.
SOLID OXIDE FUEL CELL MARKET REPORT COVERAGE:
| | |
| --- | --- |
| REPORT METRIC | DETAILS |
| Market Size Available | 2021 – 2027 |
| Base Year | 2021 |
| Forecast Period | 2022 - 2027 |
| CAGR | 33.9% |
| Segments Covered | By Product Type, Application, End-User Industry, and Region. |
| Various Analyses Covered | Global, Regional & Country Level Analysis, Segment-Level Analysis, DROC, PESTLE Analysis, Porter's Five Forces Analysis, Competitive Landscape, Analyst Overview on Investment Opportunities |
| Regions Covered | North America, Europe, APAC, Latin America, Middle East & Africa |
| Market Leaders Profiled | Ceres Power (UK), Mitsubishi Power (Japan), Aisin Seiki Co (Japan), Hitachi Zosen (Japan), Sunfire (Germany), Convion (Finland), Kyocera (Japan), Elcogen (Estonia), SOLIDPower (Italy), Watt Fuel Cell Corporation (US), H2E Power (India), ZTEK Corporation (US), Bloom Energy (US) and Others. |
Market Segmentation:
Solid Oxide Fuel Cell Market -

By Product Type:
Among the planar and tubular types, the planar segment is anticipated to account for the largest share in the market of solid oxide fuel cells. The marketplace for the planar segment is driven by the simple geometry and comparatively easier construction process. As its construction is comparatively simple, it's the foremost commonly used solid oxide cell type.
Solid Oxide Fuel Cell Market -

By Application:
Portable

Transport

Stationary
Based on application, the SOFC market is often primarily trifurcated into stationery, transport, and portable. Stationary application is projected to possess the dominating share in terms of volume also as revenue. The setup of large-scale power generation facilities and developing distributed energy generation infrastructure is expected to positively impact the segment size. The research programs, and new collaborations between industry players to effectively enter the niche automotive Solid oxide fuel cell sector, is about to boost the transport segment growth.
Solid Oxide Fuel Cell Market -

By End-User Industry:
Data Centres

Commercial and Retail

APU
Based on end-users, this market is often majorly divided into commercial, data centers, military & defense, etc. The commercial sector is projected to carry a considerable stake across the world due to the setup of recent fuel cell-powered combined heat & power (CHP) power plants with various power outputs. Energy-efficient and innovative CHP generation solutions deliver eco-friendly ways to satisfy rising energy needs by various buildings while having no atmospheric emissions and high electrical productivity. The data centers segment is expected to be dominant because of increasing research and pilot testing programs across new verticals to implement high energy savings together with significant emission declines.
Regional Analysis:
North America

Asia Pacific

Europe

Latin America

The Middle East and Africa
The US is that the largest and fastest-growing market within the region. The expansion during this country is often attributed to the high demand for cell power generation and the increasing research and development for hydrogen generation. Additionally, government policies and subsidies, including the Solid-State Energy Conversion Alliance (SECA), and the Department of Energy's (DoE's) Program, are the major factors for the growth of Solid oxide fuel cells within the US market.
Impact Of COVID-19 Pandemic on Solid Oxide Fuel Cell Market:
The outbreak of COVID-19 across the world in the first half of 2020 forced multiple countries to travel into complete lockdown. Since governments and native authorities issued strict guidelines, all non-essential operations were halted. This adversely affected the Solid oxide fuel cell market due to the suspension of activities of end-users.
Market Key Players:
The prominent players operating in the solid oxide fuel cell market key players are:
Ceres Power (UK)

Mitsubishi Power (Japan)

Aisin Seiki Co (Japan)

Hitachi Zosen (Japan)

Sunfire (Ge

rmany)

Convion (Finland)

Kyocera (Japan)

Elcogen (Estonia)

SOLIDPower (Italy)

Watt Fuel Cell Corporation (US)

H2E Power (India)

ZTEK Corporation (US)

Bloom Energy (US)
Recent Developments:
In November 2020, SK E & E&C and Bloom Energy signed an agreement with Korea's Changwon RE100 to develop a solid oxide fuel cell Project. Under this project, both companies will supply 100% hydrogen-powered solid-oxide fuel cells and electrolyzes.
1. Introduction
1.1 Market Definition
1.2 Scope of the report
1.3 Study Assumptions
1.4 Base Currency, Base Year and Forecast Periods
2. Research Methodology
2.1 Analysis Design
2.2 Research Phases
2.2.1 Secondary Research
2.2.2 Primary Research
2.2.3 Data Modelling
2.2.4 Expert Validation
2.3 Study Timeline
3. Report Overview
3.1 Executive Summary
3.2 Key Inferencees
4. Market Dynamics
4.1 Impact Analysis
4.1.1 Drivers
4.1.2 Restaints
4.1.3 Opportunities
4.2 Regulatory Environment
4.3 Technology Timeline & Recent Trends
5. Competitor Benchmarking Analysis
5.1 Key Player Benchmarking
5.1.1 Market share analysis
5.1.2 Products/Service
5.1.3 Regional Presence
5.2 Mergers & Acquistion Landscape
5.3 Joint Ventures & Collaborations
6. Market Segmentation
6.1 Solid Oxide Fuel Cell Market, By Product Type
6.1.1 Planar
6.1.2 Tubular
6.1.3 Market Size Estimations & Forecasts (2022 - 2027)
6.1.4 Y-o-Y Growth Rate Analysis
6.1.5 Market Attractiveness Index
6.2 Solid Oxide Fuel Cell Market, By Application
6.2.1 Portable
6.2.2 Transport
6.2.3 Stationary
6.2.4 Market Size Estimations & Forecasts (2022 - 2027)
6.2.5 Y-o-Y Growth Rate Analysis
6.2.6 Market Attractiveness Index
6.3 Solid Oxide Fuel Cell Market, By End-User Industry
6.3.1 Data Centres
6.3.2 Commercial and Retail
6.3.3 APU
6.3.4 Market Size Estimations & Forecasts (2022 - 2027)
6.3.5 Y-o-Y Growth Rate Analysis
6.3.6 Market Attractiveness Index
7. Geographical Landscape
7.1 Global Identity Governance and Administration Market, by Region
7.2 North America - Market Analysis (2018 - 2024)
7.2.1 By Country
7.2.1.1 USA
7.2.1.2 Canada
7.2.2 By Product Type
7.2.3 By Application
7.2.4 By End-User Industry
7.3 Europe
7.3.1 By Country
7.3.1.1 UK
7.3.1.2 France
7.3.1.3 Germany
7.3.1.4 Spain
7.3.1.5 Italy
7.3.1.6 Rest of Europe
7.3.2 By Product Type
7.3.3 By Application
7.3.4 By End-User Industry
7.4 Asia Pacific
7.4.1 By Country
7.4.1.1 China
7.4.1.2 India
7.4.1.3 Japan
7.4.1.4 South Korea
7.4.1.5 South East Asia
7.4.1.6 Australia & NZ
7.4.1.7 Rest of Asia-Pacific
7.4.2 By Product Type
7.4.3 By Application
7.4.4 By End-User Industry
7.5 Latin America
7.5.1 By Country
7.5.1.1 Brazil
7.5.1.2 Argentina
7.5.1.3 Mexico
7.5.1.4 Rest of Latin America
7.5.2 By Product Type
7.5.3 By Application
7.5.4 By End-User Industry
7.6 Middle East and Africa
7.6.1 By Country
7.6.1.1 Middle East
7.6.1.2 Africa
7.6.2 By Product Type
7.6.3 By Application
7.6.4 By End-User Industry
8. Key Player Analysis
8.1 Ceres Power (UK)
8.1.1 Business Description
8.1.2 Products/Service
8.1.3 Financials
8.1.4 SWOT Analysis
8.1.5 Recent Developments
8.1.6 Analyst Overview
8.2 Mitsubishi Power (Japan)
8.3 Aisin Seiki Co (Japan)
8.4 Hitachi Zosen (Japan)
8.5 Sunfire (Germany)
8.6 Convion (Finland)
8.7 Kyocera (Japan)
8.8 Elcogen (Estonia)
8.9 SOLIDPower (Italy)
8.10 Watt Fuel Cell Corporation (US)
8.11 H2E Power (India)
8.12 ZTEK Corporation (US)
8.13 Bloom Energy (US)
9. Market Outlook & Investment Opportunities
Appendix
List of Tables
List of Figures
Global Solid Oxide Fuel Cell Market By Region, From 2022 - 2027 ( USD Billion )

Global Solid Oxide Fuel Cell Market By Product Type, From 2022 - 2027 ( USD Billion )

Global Planar Market By Region, From 2022 - 2027 ( USD Billion )

Global Tubular Market By Region, From 2022 - 2027 ( USD Billion )

Global Solid Oxide Fuel Cell Market By Application, From 2022 - 2027 ( USD Billion )

Global Portable Market By Region, From 2022 - 2027 ( USD Billion )

Global Transport Market By Region, From 2022 - 2027 ( USD Billion )

Global Stationary Market By Region, From 2022 - 2027 ( USD Billion )

Global Solid Oxide Fuel Cell Market By End-User Industry, From 2022 - 2027 ( USD Billion )

Global Data Centres Market By Region, From 2022 - 2027 ( USD Billion )

Global Commercial and Retail Market By Region, From 2022 - 2027 ( USD Billion )

Global APU Market By Region, From 2022 - 2027 ( USD Billion )