Sucrose Esters Market Growth and Forecast (2022 - 2027):
The global Sucrose Esters Market size was estimated to be USD 76 billion in 2021 and is likely to reach a valuation of USD 106 billion by 2026 at a CAGR of about 6% over the envisioned period. Key factors driving the growth of the sucrose ester market include increased consumption of prepared foods in developing countries and the multifunctional nature of sucrose esters.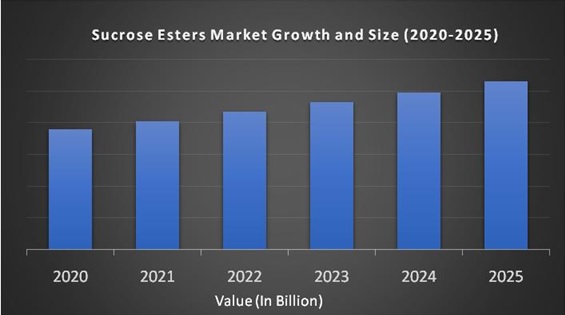 Market Overview:
Sucrose esters are produced by esterification of sucrose from palm oil to edible fatty acids that can be employed as an emulsifier in almost any food. In addition to emulsification, sucrose esters have other functions, such as aeration, organization, protection of proteins, and crystallization of fats or sugars. Sucrose esters are unique in a way that can improve other emulsifiers, improve bubble structure, prevent protein from browning, prevent starch prematurely, prevent fatty flowers in chocolate, and accelerate crystallization in sugar confectionery. Another interesting property of sugar ester is that they are soluble in water and have a high hydrophilic-lipophilic balance value. The stability of the emulsion depends largely on the size of the oil drop. The smaller the drop of oil, the better is the stability. Sucrose esters provide excellent emulsifying properties, resulting in very small oil drop emulsions.
Recent Developments in Sucrose Esters Industry:
In January 2019, BASF (Germany) launched Plus, the emulsified protector, a skincare product that contains organic and natural ingredients. This enabled the company to provide green ingredients to environmentally sensitive consumers.

In April 2019, Croda International began expanding its personal care business by opening organizational and sensory labs in France and Singapore. This expansion will help companies improve their industrial performance while maintaining ethical and social values.

In July 2019, Croda International (UK) released new ISO 16128 data online to help consumers easily search for organic and natural ingredients in cosmetic formulations.
REPORT COVERAGE:
| | |
| --- | --- |
| REPORT METRIC | DETAILS |
| Market Size Available | 2021 – 2027 |
| Base Year | 2021 |
| Forecast Period | 2022 - 2027 |
| CAGR | 6% |
| Segments Covered | By Application, Form and Region |
| Various Analyses Covered | Global, Regional & Country Level Analysis, Segment-Level Analysis, DROC, PESTLE Analysis, Porter's Five Forces Analysis, Competitive Landscape, Analyst Overview on Investment Opportunities |
| Regions Covered | North America, Europe, APAC, Latin America, Middle East & Africa |
| Market Leaders Profiled | Croda International Plc, BASF SE, Evonik AG, Sisterna B.V., Alfa Chemicals, P&G Chemicals, Mitsubishi Chemical Holdings Corporation, Stearinerie Dubois, Dai-Ichi Kogyo Seiyaku Co. Ltd and Others. |
Sucrose Esters Market Growth:
Increased trends in the intake of prepared foods in developing countries and the multifunctional nature of sucrose esters are supposed to drive market growth over the outlook period.
Drivers:
The global sucrose ester market is booming as the trend toward spending on ready-to-use products in emerging and developed countries increases. Also, it is estimated that the multifunctional nature of sucrose esters will promote the growth of sucrose ester markets over the forecast period. Another key factor driving the market is the increasing use of sucrose esters in bakeries, confectioneries, cereals, dairy products, meat products, and various products such as soups and sauces. The use of sucrose esters as a low-fat alternative to maximize the mouthfeel that fat provides also helps to popularize sucrose esters worldwide. In addition to the emulsification, sugar crystallization, aeration, texturing, and protein-protecting properties of sucrose esters will benefit the sucrose ester market by increasing its application in the food sector. As the propensity of the general population for beauty and personal care products has increased, the consumption of sucrose esters in these new applications has increased. Globally, lifestyle changes, growth in per capita income and spending are key factors expected to increase demand for cosmetics and personal care products and to rise demand for the sucrose ester market. Various uses of sucrose esters when discarded give companies the freedom to use sucrose esters to make other products. The demand for sucrose esters is supposed to increase if sucrose esters are applied multiple times as raw materials.
Sucrose esters are generally employed as emulsifiers and preservatives in the food and beverage sector. As the demand for processed foods increases and disposable income increases in regions such as Europe and North America, the sucrose ester market is likely to be promoted. Sucrose esters are used directly in the manufacture of cosmetics and personal care products, medicines, food and beverages, and manufacturers of these types of products must obtain strict approvals before selling them to the market. Strict government laws, regulations, and interference with the approval process are the biggest challenges in the market. Manufacturers have been trying to test sucrose esters against a variety of common lactic acid bacteria, and the use of sucrose esters to inhibit various microorganisms is likely to encourage the sucrose ester market in the projection period. Many food and beverage industries are making a positive change towards using sucrose esters for the "fat filler". Sucrose esters have the ability to replace fats or act as an alternative to fats, which may accelerate the market for sucrose ester in the future. Furthermore, sucrose esters act as excellent emulsifiers because they have a maximum cost of hydrophilic/lipophilic balance. Since sucrose esters are excellent emulsifiers, they can be better used in the food industry, especially to preserve the quality of processed foods.
Restraints:
Reagent costs during the formulation process are hampering the market growth. Competition with alternatives such as lecithin, monoglycerides, and sorbitan esters is presumed to limit the growth of sucrose esters to some extent.
Sucrose Esters Market Segmentation Analysis:
By Application:
Food & Beverages

Cosmetics & Personal Care

Detergents & Cleansers

Pharmaceuticals

Textiles

Others
By Form:
Geographical Segmentation Analysis:
North America - the United States and Canada

Europe - United Kingdom, Spain, Germany, Italy, and France

The Asia Pacific - India, Japan, China, Australia, Singapore, Malaysia, South Korea, New Zealand, and Southeast Asia

Latin America - Brazil, Argentina, Mexico, and Rest of LATAM

The Middle East and Africa - Africa and Middle East (Saudi Arabia, UAE, Lebanon, Jordan, Cyprus)
Regional Analysis:
Regional segmentation of the global sucrose esters market is separated as the Middle East and Africa, North America, Asia Pacific, Latin America, and Europe. The regional segments are divided into the United States, Canada, Mexico, the United Kingdom, France, Germany, China, Japan, India, Korea, Brazil and Argentina. The Asia Pacific region is likely to be among the fastest-growing markets in the sucrose ester business. Sucrose esters are very popular with manufacturers of bakeries, confectioneries, dairy products, grains and other processed food and drink products in developing countries in Asia Pacific and Latin America, not for their emulsifying properties, but for their emulsifying properties. Replace fat or act as a low-fat alternative.
The Asia Pacific region is having a high demand for sucrose esters in the making of dairy, confectionery and bakery products. Furthermore, increased awareness of the functional benefits of sucrose esters has increased the use of personal care products. They help improve the sensory properties of natural oils and butters that have contributed to the growth of sucrose ester markets in countries such as China, Japan, and India. Therefore, the increasing demand for low-fat products is expected to support the growth of the sucrose ester market worldwide. Europe is foreseen to dominate the world market for sucrose esters during the forecast period. Europe's sucrose ester market is dominant by default, including mass production and consumption of bakery, dairy and confectionery products. Furthermore, the propensity of food and beverage manufacturers to produce innovative products using new ingredients will stimulate the growth of the sucrose market. As consumer awareness increases, manufacturers have met the standards set by the EU, offsetting growth in the European market. Increased urbanization in Latin America and a slight increase in spending on cosmetics and skincare products are estimated to have skyrocketed in the sucrose ester market. The Middle East and Africa are projected to be potential markets for sucrose esters as the number of personal hygiene products sold in the Middle East increases and the number of industries along with Africa's industrial activities increase.
Key Players in the Market:
Major Key Players in the Global Sucrose Esters Market are
Croda International Plc

BASF SE

Evonik AG

Sisterna B.V.

Alfa Chemicals

P&G Chemicals

Mitsubishi Chemical Holdings Corporation

Stearinerie Dubois

Dai-Ichi Kogyo Seiyaku Co. Ltd
1. Introduction
1.1 Market Definition
1.2 Scope of the report
1.3 Study Assumptions
1.4 Base Currency, Base Year and Forecast Periods
2. Research Methodology
2.1 Analysis Design
2.2 Research Phases
2.2.1 Secondary Research
2.2.2 Primary Research
2.2.3 Data Modelling
2.2.4 Expert Validation
2.3 Study Timeline
3. Report Overview
3.1 Executive Summary
3.2 Key Inferencees
4. Market Dynamics
4.1 Impact Analysis
4.1.1 Drivers
4.1.2 Restaints
4.1.3 Opportunities
4.2 Regulatory Environment
4.3 Technology Timeline & Recent Trends
5. Competitor Benchmarking Analysis
5.1 Key Player Benchmarking
5.1.1 Market share analysis
5.1.2 Products/Service
5.1.3 Regional Presence
5.2 Mergers & Acquistion Landscape
5.3 Joint Ventures & Collaborations
6. Market Segmentation
6.1 Sucrose Esters Market, By Form
6.1.1 Liquid
6.1.2 Powder
6.1.3 Pellets
6.1.4 Market Size Estimations & Forecasts (2022 - 2027)
6.1.5 Y-o-Y Growth Rate Analysis
6.1.6 Market Attractiveness Index
6.2 Sucrose Esters Market, By Application
6.2.1 Food & Beverages
6.2.2 Detergents & Cleansers
6.2.3 Cosmetic & Personal Care
6.2.4 Pharmaceuticals
6.2.5 Textiles
6.2.6 Market Size Estimations & Forecasts (2022 - 2027)
6.2.7 Y-o-Y Growth Rate Analysis
6.2.8 Market Attractiveness Index
7. Geographical Landscape
7.1 Global Identity Governance and Administration Market, by Region
7.2 North America - Market Analysis (2022 - 2027)
7.2.1 By Country
7.2.1.1 USA
7.2.1.2 Canada
7.2.2 By Form
7.2.3 By Application
7.3 Europe
7.3.1 By Country
7.3.1.1 UK
7.3.1.2 France
7.3.1.3 Germany
7.3.1.4 Spain
7.3.1.5 Italy
7.3.1.6 Rest of Europe
7.3.2 By Form
7.3.3 By Application
7.4 Asia Pacific
7.4.1 By Country
7.4.1.1 China
7.4.1.2 India
7.4.1.3 Japan
7.4.1.4 South Korea
7.4.1.5 South East Asia
7.4.1.6 Australia & NZ
7.4.1.7 Rest of Asia-Pacific
7.4.2 By Form
7.4.3 By Application
7.5 Latin America
7.5.1 By Country
7.5.1.1 Brazil
7.5.1.2 Argentina
7.5.1.3 Mexico
7.5.1.4 Rest of Latin America
7.5.2 By Form
7.5.3 By Application
7.6 Middle East and Africa
7.6.1 By Country
7.6.1.1 Middle East
7.6.1.2 Africa
7.6.2 By Form
7.6.3 By Application
8. Key Player Analysis
8.1 Evonik Industries
8.1.1 Business Description
8.1.2 Products/Service
8.1.3 Financials
8.1.4 SWOT Analysis
8.1.5 Recent Developments
8.1.6 Analyst Overview
8.2 BASF SE
8.3 Procter & Gamble
8.4 Croda International PLC
8.5 Alfa Chemicals
8.6 Mitsubishi Chemicals
8.7 Sisterna
8.8 World Chem Industries
8.9 Stearinerie Dubois
8.10 Dai-Ichi Kogyo Seiyaku Co. Ltd
9. Market Outlook & Investment Opportunities
Appendix
List of Tables
List of Figures
Global Sucrose Esters Market By Region, From 2022 - 2027 ( USD Billion )

Global Sucrose Esters Market By Form, From 2022 - 2027 ( USD Billion )

Global Liquid Market By Region, From 2022 - 2027 ( USD Billion )

Global Powder Market By Region, From 2022 - 2027 ( USD Billion )

Global Pellets Market By Region, From 2022 - 2027 ( USD Billion )

Global Sucrose Esters Market By Application, From 2022 - 2027 ( USD Billion )

Global Food & Beverages Market By Region, From 2022 - 2027 ( USD Billion )

Global Detergents & Cleansers Market By Region, From 2022 - 2027 ( USD Billion )

Global Cosmetic & Personal Care Market By Region, From 2022 - 2027 ( USD Billion )

Global Textiles Market By Region, From 2022 - 2027 ( USD Billion )

Global Pharmaceutical Market By Region, From 2022 - 2027 ( USD Billion )