Sugar Toppings Market Size, Growth, Forecast (2023-2028)
The global Sugar Toppings Market size was calculated to be USD 4.88 billion in 2022, and it is determined to reach a valuation of USD 6.93 billion by 2028 at a CAGR of 6.0 % during the projection period. Industry channels contribute greatly to sugar sales globally.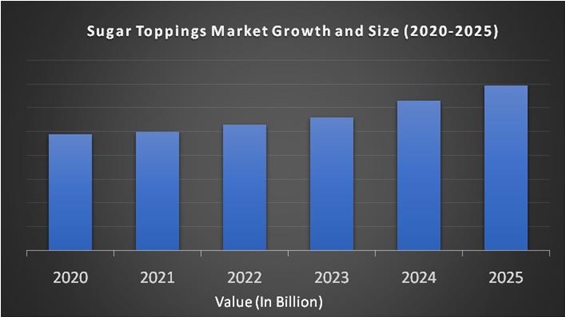 Market Overview:
Sugar is a carbohydrate that is used in food to induce sweetness. Sugar is derived from various sources, such as sugar cane. There are several types of sugars, such as monosaccharides (monosaccharides), galactose, and fructose. The sugar consumed by humans is called sucrose and, when consumed, hydrolyzes to glucose and fructose. Sugar is used primarily as a sweetener in bakery and commercial beverages. Sugar toppings are used as toppings or as ingredients in pastry and bakery products to enhance the flavor and provide a great look. It is made from finely crushed minced sugar and turned into powder. Rich in ingredients like cream cheese, butter, spices and egg whites. Sugar ingredients are used to decorate cookies, baked goods, sweets, cakes, etc. with the desired flavor and color. Used in various industries such as chocolate, rubber, confectionery, bakery, and other industries. In bakery and confectionery, sugar is mainly used as a sugar coating to improve the flavor and give it an attractive appearance. Sugar toppings are used in powder form and are crushed sugar. Various ingredients like butter, cream cheese, egg whites and spices are always abundant. It is used in various products such as confectionery, chocolate, chewing gum, cakes, etc.
Recent Developments in Sugar Toppings Industry:
MoninInclaunched white peach, wild strawberry, and Morelo cherry flavored syrup that can be integrated with both alcoholic and non-alcoholic beverages. These products have enhanced the company's presence in the fruit-flavored syrup market.

R. Torre & Company presented Torani Sweet Heat Syrup. This product contains red pepper, which gives the drink a pungent flavor. It can be used for drinks like mocha, cocktails, lemonade, and smoothies. The launch of this product improved the company's position in the hot syrup segment.

Monin has introduced the latest on-trend premium syrup, such as biscuit butter syrup and Hawaiian island syrup. These are made from sugar cane and natural flavors.
REPORT COVERAGE:
| | |
| --- | --- |
| REPORT METRIC | DETAILS |
| Market Size Available | 2022 – 2028 |
| Base Year | 2022 |
| Forecast Period | 2023 - 2028 |
| CAGR | 6.0% |
| Segments Covered | By Type, Channel and Region |
| Various Analyses Covered | Global, Regional & Country Level Analysis, Segment-Level Analysis, DROC, PESTLE Analysis, Porter's Five Forces Analysis, Competitive Landscape, Analyst Overview on Investment Opportunities |
| Regions Covered | North America, Europe, APAC, Latin America, Middle East & Africa |
| Market Leaders Profiled | The Hershey Company, The Kraft Heinz Company, Monin Inc, The J.M. Smucker Company, Pinnacle Foods, Inc, Quaker Oats Company, Regal Food Products Group Plc, Baldwin Richardson Foods Company, R. Torre & Company, Inc, W.T. Lynch Foods Ltd and others. |
Sugar Toppings Market Growth:
The Sugar Toppings market is anticipated to progress rapidly as the call for end-use applications rises. The wet cover is considered the fastest-growing portion in the international marketplace.
Drivers:
Market demand for sugar coverage is increasing as consumption of confectionery products increases in all regions and consumption of mortgage coverage products increases. Furthermore, the growth of the market is due to the propensity for branded foods in the combined countries, such as India, Brazil and the Middle East. The sugar topping market is growing at a significant rate worldwide, driven by growth in the retail market, rising disposable income, and a trend toward confectionery futures. Rapid urbanization and an increase in the world population are touted to fuel this business growth. The sugar topping market has grown with a fast lifestyle, increased demand for ready-to-eat food, and increased interest in people with food. As demand for confectionery and bakery products increases, the market is expected to show profitable growth during the forecast period. Sugar toppings worldwide are growing at a significant rate due to the expansion of the retail market. One of the reasons that is promoting the development of the sugar cane market is the rise in disposable income and the surge in the intake of confectionery products. Factors that are expected to accelerate market growth in the near future include confectionery souvenirs, exponential population growth, and rapid urbanization. The sugar topping market is growing as consumer interest in ready-to-eat foods increases, as lifestyles and delicacies change rapidly. Consumption of wet sugar toppings is higher. The sugar hedging market is growing at a modest pace worldwide, driven by growth in the retail market, rising disposable income, and a growing trend toward confectionery gift futures. Population urbanization and exponential growth are expected to lead the market. There are certain factors, such as the increased demand for bakery and confectionery products, which promote the growth of the world market for sugar coverage. The introduction of mortgage coverage in the market will increase the growth opportunities of manufacturers. An increasing number of small sugar coating manufacturers in all regions can adopt the manufacturing process to manufacture sugar coating from large players, creating more opportunities.
Restraints:
The urge for foods with sugar toppings is witnessing shortfall in developed economies like the United States, Canada, Denmark, and the Netherlands, owing to the rise in awareness about obesity across the world with the intake of several sugary foods and beverages. This factor is the only negative aspect of the sugar coverage market.
Geographical Segmentation Analysis:
North America - the United States and Canada

Europe - United Kingdom, Spain, Germany, Italy, and France

The Asia Pacific - India, Japan, China, Australia, Singapore, Malaysia, South Korea, New Zealand, and Southeast Asia

Latin America - Brazil, Argentina, Mexico, and Rest of LATAM

The Middle East and Africa - Africa and Middle East (Saudi Arabia, UAE, Lebanon, Jordan, Cyprus)
Sugar Toppings Market Segmentation Analysis:
By Type:
By Channel:
Industrial

Grocery

Foodservice
Regional Analysis:
The global sugar toppings market is currently led by Europe because of the augmented consumption of confectionery products along with changes in consumer preference for mortgage hedging products. Europe and North America are considered mature markets for sugar toppings. North America has contributed to a good market share worldwide. Changes in lifestyle and eating habits in North America are expected to spur market growth. The region's largest consumer base consumes high-calorie foods compared to other regions, opening new growth paths in the coming years. The European Union is a major producer of sugar beet sugar in most of northern Europe. The most competitive production regions are in northern France, Germany, the United Kingdom, and Poland. These areas are witnessing an increase in demand for sugar and in supply chains. Asian countries that grow with a variety of production systems and consumption patterns produce around 40% of the total sugar produced in the world. In the Asia Pacific, demand for beverage sources and breakfast syrup is expected to increase. Asian countries that grow with a variety of production systems and consumption patterns produce around 40% of the total sugar produced in the world. Growing demand for sugar coverage in countries such as India, China, Bangladesh, Sri Lanka and Pakistan, and developing countries such as Brazil, China and India, such as Thailand, Vietnam, Indonesia and the Philippines, are expected to spur the global market growth. of sugar topping. The Middle East is a promising market and we look forward to opening new opportunities in the coming years.
Key Players in the Market:
Major Key Players in the Global Sugar Toppings Market are
The Hershey Company

The Kraft Heinz Company

Monin Inc

The J.M. Smucker Company

Pinnacle Foods, Inc

Quaker Oats Company

Regal Food Products Group Plc

Baldwin Richardson Foods Company

R. Torre & Company, Inc

W.T. Lynch Foods Ltd