Waste Management Market Size, Trends (2021 - 2026)
The size of Waste Management Market size was around USD 455 Billion by revenue, at the end of 2021. It is anticipated to grow at a CAGR of 7.05 % to reach close to USD 512 Billion by the end of 2026.
Waste management is generally a process of handling junk scrap and the procedure involved to recycle them. Advanced Disposal Works, Veolia Environment S.A, and Biffa Group are some of the major industry players working in the waste management business. Waste management business includes industries, which operate by collection, storage, and disposal of waste, starting from ordinary household waste to the waste generated at nuclear power plants. Effective waste management can be considered as a solution to the extinction of available energy sources. So many businesses are offering waste management services of a range of kinds, and several governments also operate the waste management business for safety and better. The waste management business is wide, covering the collection, transport, processing, recycling or disposal, and monitoring of waste materials.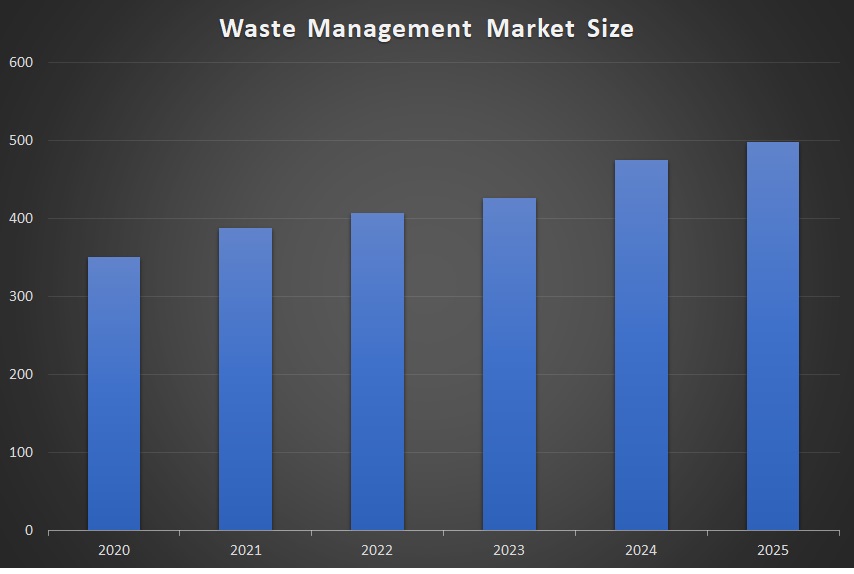 Lessening people's health & productivity, the intoxication of water bodies, and air-related releases are some of the significant issues related to the mismanagement of solid waste. Escalating urbanization along with a constant escalation in the worldwide population has boosted up the implementation of solid waste management procedures for thrown-away goods while maintaining the economical, technical, and social feasibility of the treatment works. Continuous hard work toward resource recovery collaborated with the escalating call for segregated solid waste management implementations across developed agglomerates will boost the industry expansion. The phrase waste management is usually related to composites made by human activity and is usually taken place to decrease their effect on health, the environment or aesthetics. Waste management is also taken place to get back resources from it with the help of recycling. Waste management can have solid, liquid, gaseous or radioactive things, with different techniques and branches of expertise for each of them. Waste management differs greatly for developed and growing nations, for towns and villages, and for residential and industrial producers.
Recent Developments
To address the escalating worries of plastic scrap in the nation of India, 32 businesses that are PepsiCo India, Coca-Cola India, Bisleri, Diageo, and Reliance firms have come together to introduce a packaging waste management business and have an aim prepare over Rupees 1,000 crore for the employment.

European Plastics converters introduced the third Edition of recycling review. The Trade association, European Plastics Converters (EuPC), has confirmed the initiation of the third edition of its survey on the usage of recycled polymers in Europe by plastics converters in association with Polymer Comply Europe (PCE).
Waste Management Market Drivers and Restraints
The escalation in environmental awareness, quick industrialization, escalation in population, and escalation in urbanization boost the expansion of the worldwide waste management industry. In addition to that, practices of strict government rules toward open dumping are estimated to boost the waste management industry expansion. The development of the global waste management industry is driven by an escalation in the adoption of proactive government rules to decrease non allowed dumping. In addition to that, ascend in population and globalization has led to the growth in the total scrap waste worldwide. The urban population manufactured approximately 1.9 billion tons of municipal solid waste (MSW) in 2019 that is estimated to rise to 2.4 billion tones by the year 2025. Furthermore, escalation in industrialization in developing nations, like India, China, and Taiwan, has led to the advancement of, oil & gas, automobile, and medical businesses that is the reason for a huge amount of scrap and the reason to cause pollution. These factors are estimated to highly contribute to the extension of the global market. Nevertheless, the high price of procuring and operating waste management solutions is estimated to hinder market expansion.
Conversely, a rise in awareness among the public and government agencies about these solutions and rise in the urge to create waste-to-energy solutions are presumed to offer high growth potential for leading players over the calculated period. The development of the global waste management business is also complemented by rising concerns related to ecological issues, technological developments, the need to secure renewable resources, and funding in improving waste disposal methods. Waste collection procedures account for almost thrice the revenue covered by waste disposal, while the sale of recyclable materials and the energy made from waste makes more than 10 times that amount.
The scarcity of areas for effective waste disposal and focus on energy and resource recovery is driving the industry expansion. On the other side, lesser sustainability in waste management and less significance towards waste management are restraining the industry expansion. In addition to that, the increase in the purchase of recyclable products is offering immense opportunities for market expansion.
REPORT COVERAGE
| | |
| --- | --- |
| REPORT METRIC | DETAILS |
| Market Size Available | 2020 – 2025 |
| Base Year | 2020 |
| Forecast Period | 2021 - 2026 |
| CAGR | 7.05% |
| Segments Covered | By Type, Service and Region |
| Various Analyses Covered | Global, Regional & Country Level Analysis, Segment-Level Analysis, DROC, PESTLE Analysis, Porter's Five Forces Analysis, Competitive Landscape, Analyst Overview on Investment Opportunities |
| Regions Covered | North America, Europe, APAC, Latin America, Middle East & Africa |
| Market Leaders Profiled | Tox Free Solutions Ltd, Waste Management, Republic Services, Waste Connections, and Casella Waste Systems, SUEZ Environnement, CI Complete Compliance Corp, Adama Technologies Corp, Blue Vista Technologies Inc, Stericycle Inc, and Veolia Environnement |

Waste Management Market Segmentation:
Waste Management Market - By Type
Municipal waste

Industrial waste

Hazardous waste
Municipal solid waste is estimated to reach USD 261.0 billion by 2025, rising at a CAGR of about 6% during the determined period.
Waste Management Market - By Disposal Methods
Landfills

Incineration

Recycling
Waste Management Market - By Region
North America Waste management Industry includes U.S, Canada.

Europe Waste management Industry includes the UK, France, Spain, Germany, Italy, Russia, Sweden, Denmark, Switzerland, Netherlands, Turkey, Czech Republic, & Rest of Europe.

Asia Pacific Waste management Industry includes India, China, Japan, South Korea, Australia & New Zealand, Thailand, Malaysia, Vietnam, Philippines, Indonesia, Singapore, & the Rest of APAC.

Latin America Waste management Industry includes Brazil, Mexico, Argentina, Chile, & the Rest of LATAM.

Middle East & Africa Waste management Industry includes KSA, UAE, Israel, the rest of GCC countries, South Africa, Ethiopia, Kenya, Egypt, Sudan, & the rest of MEA.
Europe, Asia Pacific, and North America are known to have close to 80% of the global waste management market share. More number of population, the presence of a high making segment, and rising customer spending have made the Asia Pacific region one of the significant contributors of solid waste in the world. As a result, the present waste collection & treatment facilities have been choked due to the presence of a large population per square mile complemented by the ongoing industrial segment advancement. The market studies for solid waste management in the Asia Pacific region will experience great development due to practices of olden day waste management techniques & implementations, most notably in middle- and low-income countries.
Key players in the global waste management market:
Tox Free Solutions Ltd,

Waste Management,

Republic Services,

Waste Connections,

Casella Waste Systems,

SUEZ Environnement,

CI Complete Compliance Corp,

Adama Technologies Corp,

Blue Vista Technologies Inc,

Stericycle Inc,

Veolia Environnement.
1. Introduction
1.1 Market Definition
1.2 Study Deliverables
1.3 Base Currency, Base Year and Forecast Periods
1.4 General Study Assumptions
2. Research Methodology
2.1 Introduction
2.2 Research Phases
2.2.1 Secondary Research
2.2.2 Primary Research
2.2.3 Econometric Modelling
2.2.4 Expert Validation
2.3 Analysis Design
2.4 Study Timeline
3. Overview
3.1 Executive Summary
3.2 Key Inferences
3.3 Epidemology
4. Drivers, Restraints, Opportunities, and Challenges Analysis (DROC)
4.1 Market Drivers
4.2 Market Restraints
4.3 Key Challenges
4.4 Current Opportunities in the Market
5. Market Segmentation
5.1 Type
5.1.1 Introduction
5.1.2 Municipal Waste
5.1.3 Industrial Waste
5.1.4 Hazardous Waste
5.1.5 Y-o-Y Growth Analysis, By Product
5.1.6 Market Attractiveness Analysis, By Product
5.1.7 Market Share Analysis, By Product
5.2 Service
5.2.1 Introduction
5.2.2 Collection
5.2.3 Disposal
5.2.4 Y-o-Y Growth Analysis, By Type
5.2.5 Market Attractiveness Analysis, By Type
5.2.6 Market Share Analysis, By Type
6. Geographical Analysis
6.1 Introduction
6.1.1 Regional Trends
6.1.2 Impact Analysis
6.1.3 Y-o-Y Growth Analysis
6.1.3.1 By Geographical Area
6.1.3.2 By Type
6.1.3.3 By Service
6.1.4 Market Attractiveness Analysis
6.1.4.1 By Geographical Area
6.1.4.2 By Type
6.1.4.3 By Service
6.1.5 Market Share Analysis
6.1.5.1 By Geographical Area
6.1.5.2 By Type
6.1.5.3 By Service
6.2 North America
6.1.1 Introduction
6.1.2 United States
6.1.3 Canada
6.3 Europe
6.2.1 Introduction
6.2.2 U.K
6.2.3 Spain
6.2.4 Germany
6.2.5 Italy
6.2.6 France
6.4 Asia-Pacific
6.3.1 Introduction
6.3.2 China
6.3.3 India
6.3.4 Japan
6.3.5 Australia
6.3.6 South Korea
6.5 Latin America
6.4.1 Introduction
6.4.2 Brazil
6.4.3 Argentina
6.4.4 Mexico
6.4.5 Rest of Latin America
6.6 Middle East & Africa
6.5.1 Introduction
6.5.2 Middle-East
6.5.3 Africa
7. Strategic Analysis
7.1 PESTLE analysis
7.1.1 Political
7.1.2 Economic
7.1.3 Social
7.1.4 Technological
7.1.5 Legal
7.1.6 Environmental
7.2 Porter's Five analysis
7.2.1 Bargaining Power of Suppliers
7.2.2 Bargaining Power of Consumers
7.2.3 Threat of New Entrants
7.2.4 Threat of Substitute Products and Services
7.2.5 Competitive Rivalry within the Industry
8. Market Leaders' Analysis
8.1 Clean Harbors
8.1.1 Overview
8.1.2 Product Analysis
8.1.3 Financial analysis
8.1.4 Recent Developments
8.1.5 SWOT analysis
8.1.6 Analyst View
8.2 Daiseki Co. Ltd
8.3 Waste Management Inc
8.4 Suez Environment S.A
8.5 Advanced Disposal Services
8.6 Veolia Environment S.A
8.7 Covanta
8.8 Remondis AG & Co. Kg
8.9 Biffa Group
8.10 Hitachi Zosen Corporation
9. Competitive Landscape
9.1 Market share analysis
9.2 Merger and Acquisition Analysis
9.3 Agreements, collaborations and Joint Ventures
9.4 New Product Launches
10. Market Outlook and Investment Opportunities
Appendix
a) List of Tables
b) List of Figures
Global, regional and country-level analysis and forecasts of the study market; providing Insights on the major countries/regions in which this industry is blooming and to also identify the regions that are still untapped

Segment-level analysis in terms of By Service, Type and along with market size forecasts and estimations to detect key areas of industry growth in detail

Identification of key drivers, restraints, opportunities, and challenges (DROC) in the market and their impact on shifting market dynamics

Study of the effect of exogenous and endogenous factors that affect the global market; which includes broadly demographic, economics, and political, among other macro-environmental factors presented in an extensive PESTLE Analysis

Study the micro environment factors that determine the overall profitability of an Industry, using Porter's five forces analysis for analyzing the level of competition and business strategy development

A comprehensive list of key market players along with their product portfolio, current strategic interests, key financial information, legal issues, SWOT analysis and analyst overview to study and sustain the market environment

Competitive landscape analysis listing out the mergers, acquisitions, collaborations in the field along with new product launches, comparative financial studies and recent developments in the market by the major companies

An executive summary, abridging the entire report in such a way that decision-making personnel can rapidly become acquainted with background information, concise analysis and main conclusions

Expertly devised analyst overview along with Investment opportunities to provide both individuals and organizations a strong financial foothold in the market
Global Waste Management Market By Region, From 2021-2026(USD Billion )

Global Waste Management Market By Type, From 2021-2026( USD Billion )

Global Municipal Waste Market By Region, From 2021-2026( USD Billion )

Global Industrial Waste Market By Region, From 2021-2026( USD Billion )

Global Hazardous Waste Market By Region, From 2021-2026( USD Billion )

Global Waste Management Market By Service, From 2021-2026( USD Billion )

Global Collection Market By Region, From 2021-2026( USD Billion )

Global Disposal Market By Region, From 2021-2026( USD Billion )