3D Scanning Market Size & Growth (2020 - 2025)
The global 3D scanning market size was USD 4.30 Billion in 2019 and is expected to expand at a CAGR 7.9 % to reach USD 7.24 Billion by 2025 during the forecast period of 2020 – 2025.
3D scanning is the method of examining a real-world object or environment in order to gather information on its shape and possibly its appearance. The data collected can then be used to build digital 3D models.
Collected 3D data is useful for various applications. The entertainment industry commonly uses such technologies in the development of films and video games, including virtual reality. Certain specific applications of this technology involve augmented reality, motion capture, gesture recognition, robotic mapping, industrial design, reverse engineering and prototyping, orthotics and prosthetics, digitalization of cultural artifacts, and quality control/inspection.
REPORT COVERAGE:
| | |
| --- | --- |
| REPORT METRIC | DETAILS |
| Market Size Available | 2019 – 2025 |
| Base Year | 2019 |
| Forecast Period | 2020 - 2025 |
| Segments Covered | By Type, Application, End-use & Region |
| Various Analyses Covered | Global, Regional & Country Level Analysis, Segment-Level Analysis, DROC, PESTLE Analysis, Porter's Five Forces Analysis, Competitive Landscape, Analyst Overview on Investment Opportunities |
| Regions Covered | North America, Europe, APAC, Latin America, Middle East & Africa |
| Market Leaders Profiled | Hexagon AB, Autodesk, Inc, Nikon, Metrology NV, FARO Technologies, Basis Software, Inc, David Vision Systems GmbH, Fuel3D Technologies Limited, Artec, 3DCreaform, Inc & GOM GmbH |
Recent Developments of 3D Scanning Market
In June 2018, Hexagon AB launched Leica RTC360, a laser scanner equipped with state-of-the-art computing technology that enables the rapid and highly accurate creation of 3D models in the field. According to the company, this is the world's first 3D laser scanner with automatic field pre-registration.
In February 2019, 3D Systems announced the release of a new version of Geomagic for SOLIDWORKS, with enhanced design, user interface and support for different scanning systems and export-import formats. The business planned to make the latest version available as of March 2019.
In October 2018, US-based Lune wave, a start-up developing 3D antenna and radar sensor software for use in self-driving vehicles and other applications, received USD 5 million in seed funding.
Drivers
In the recent past, technological advances in the hardware and software market have greatly revolutionized the development industry. Increasing demands of the user to view and feel the item in a real environment have led to the need for 3D scanning and printing tools that create a strong impression of real-life experience and convey a less retro-manufactured look. The realistic portrayal of product design during production allows it more attractive for established suppliers to draw a large customer base through innovative designs. This is a significant driver of the 3D scanning market.

Design and image modeling have a vital role to play in providing enhanced 3D presentations. Innovative technologies, such as 3D projections and interactive design, give the users synchronized experience. This is a significant driver of the market.
Restraints
The crowded industry with players ranging from small start-ups to market giants, one has to invest in R&D heavily to stay afloat and keep up with the innovations of the industry, this can be considered as a small restraint to the 3D Scanning market.
This Research Report Includes the Segmentation & Sub-segmentation of 3D Scanning Market until 2024.
3D Scanning Market - By Type
Laser Scanner

Optical Scanner

Structured Light Scanner
Based on the Type, the Structured light scanners are projected to grow significantly from 2019 to 2024. The 3D laser scanner is expected to lead by 2024 in terms of market volume.
The structured light scanner uses a stable light source with a uniform electron flow capability such as LEDs. Such devices provide high precision and speed, making them exorbitantly priced and deployed in highly complex organized scanning, where accuracy in the mapping of coordinates is of paramount importance; for example, in aero design and custom-made automotive parts design. Also, 3D scanning and post-printing technologies are substantial evidence of rapid progress in the 3D laser scanning field, allowing users to dynamically change their models and create practical prototypes in the maritime and architecture industries.
3D Scanning Market - By Application
Quality Control & Inspection

Reverse Engineering

Virtual Simulation

Others
Based on the Application, the Quality control and inspection accounted for the largest market share in 2018, due to increasing knowledge of advanced medical technology and the need to collect large volumes of 3D data for analysis.
The reverse engineering market is expected to see significant growth over the forecast period. Reverse engineering is becoming more common among other applications. For example, suppliers that initially supplied the components often cease to function. In such cases, it is necessary to re-engineer parts and components for the supply of replacement parts and original parts for follow-up production, which in turn is expected to boost the growth of the segment.
3D Scanning Market - By End-Use
Healthcare

Aerospace

Defense & Architecture and construction
3D Scanning Market - Region
North America

U.S

Canada

Europe

Norway

Germany

Sweden

Asia Pacific

China

India

Japan

Latin America and Middle East Africa

Brazil

Saudi Arabia
Based on the Region, North America retained a significant market share in 2018 and became one of the most successful markets. Rising R&D investment, coupled with high technology adoption in the automotive sector and environmental scanning and modeling operations, is expected to further drive regional development in the near future.
The Asia Pacific is expected to see significant opportunities for growth in the automotive and architectural sectors over the forecast period. For example, 3D scanning is used across a range of application areas, such as automotive, civil surveying, architecture, urban topography, reverse engineering, dentistry, mining, performance archeology, and mechanical dimensional inspection.
Some of the promising companies leading the 3D Scanning Market are:
Hexagon AB

Autodesk, Inc

Nikon Metrology NV

FARO Technologies

Basis Software, Inc

David Vision Systems GmbH

Fuel3D Technologies Limited

Artec 3D

Creaform, Inc

GOM GmbH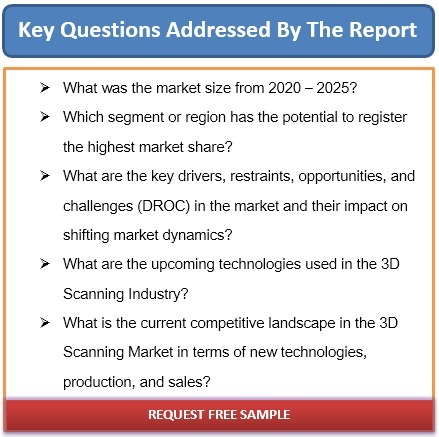 1. Introduction
1.1 Market Definition
1.2 Study Deliverables
1.3 Base Currency, Base Year and Forecast Periods
1.4 General Study Assumptions
2. Research Methodology
2.1 Introduction
2.2 Research Phases
2.2.1 Secondary Research
2.2.2 Primary Research
2.2.3 Econometric Modelling
2.2.4 Expert Validation
2.3 Analysis Design
2.4 Study Timeline
3. Overview
3.1 Executive Summary
3.2 Key Inferences
3.3 Epidemology
4. Drivers, Restraints, Opportunities, and Challenges Analysis (DROC)
4.1 Market Drivers
4.2 Market Restraints
4.3 Key Challenges
4.4 Current Opportunities in the Market
5. Market Segmentation
5.1 By Type
5.1.1 Introduction
5.1.2 Laser Scanner
5.1.3 Optical Scanner
5.1.4 Structured Light Scanner
5.1.5 Other
5.1.6 Y-o-Y Growth Analysis
5.1.7 Market Attractiveness Analysis
5.1.8 Market Share Analysis
5.2 By Application
5.2.1 Introduction
5.2.2 quality control and inpection
5.2.3 reverse engineering
5.2.4 virtual simulation
5.2.5 Others
5.2.6 Y-o-Y Growth Analysis
5.2.7 Market Attractiveness Analysis
5.2.8 Market Share Analysis
5.3 By End-Use
5.3.1 Introduction
5.3.2 Healthcare
5.3.3 Aerospace and Defence
5.3.4 Architecture and construction
5.3.5 Y-o-Y Growth Analysis
5.3.6 Market Attractiveness Analysis
5.3.7 Market Share Analysis
6. Geographical Analysis
6.1 Introduction
6.1.1 Regional Trends
6.1.2 Impact Analysis
6.1.3 Y-o-Y Growth Analysis
6.1.3.1 By Geographical Area
6.1.3.2 By Type
6.1.3.3 By Application
6.1.3.4 By End-Use
6.1.4 Market Attractiveness Analysis
6.1.4.1 By Geographical Area
6.1.4.2 By Type
6.1.4.3 By Application
6.1.4.4 By End-Use
6.1.5 Market Share Analysis
6.1.5.1 By Geographical Area
6.1.5.2 By Type
6.1.5.3 By Application
6.1.5.4 By End-Use
6.2 North America
6.1.1 Introduction
6.1.2 United States
6.1.3 Canada
6.3 Europe
6.2.1 Introduction
6.2.2 U.K
6.2.3 Spain
6.2.4 Germany
6.2.5 Italy
6.2.6 France
6.4 Asia-Pacific
6.3.1 Introduction
6.3.2 China
6.3.3 India
6.3.4 Japan
6.3.5 Australia
6.3.6 South Korea
6.5 Latin America
6.4.1 Introduction
6.4.2 Brazil
6.4.3 Argentina
6.4.4 Mexico
6.4.5 Rest of Latin America
6.6 Middle East & Africa
6.5.1 Introduction
6.5.2 Middle-East
6.5.3 Africa
7. Strategic Analysis
7.1 PESTLE analysis
7.1.1 Political
7.1.2 Economic
7.1.3 Social
7.1.4 Technological
7.1.5 Legal
7.1.6 Environmental
7.2 Porter's Five analysis
7.2.1 Bargaining Power of Suppliers
7.2.2 Bargaining Power of Consumers
7.2.3 Threat of New Entrants
7.2.4 Threat of Substitute Products and Services
7.2.5 Competitive Rivalry within the Industry
8. Market Leader Analysis
8.1 Hexagon AB
8.1.1 Overview
8.1.2 Product Analysis
8.1.3 Financial analysis
8.1.4 Recent Developments
8.1.5 SWOT analysis
8.1.6 Analyst View
8.2 Autodesk, Inc.
8.3 Nikon Metrology NV
8.4 FARO Technologies
8.5 Basis Software, Inc
8.6 David Vision Systems GmbH
8.7 Fuel3D Technologies Limited
8.8 Artec 3D
8.9 Creaform, Inc.
8.10 GOM GmbH
9. Competitive Landscape
9.1 Market share analysis
9.2 Merger and Acquisition Analysis
9.3 Agreements, collaborations and Joint Ventures
9.4 New Product Launches
10. Market Outlook and Investment Opportunities
Appendix
a) List of Tables
b) List of Figures
Global,Regional and country-level analysis and forecasts of the study market; providing Insights on the major countries/regions in which this industry is blooming and to also identify the regions that are still untapped

The segment-level analysis in terms of by type, application, end-use,along with market size forecasts and estimations to detect key areas of industry growth in detail

Identification of key drivers, restraints, opportunities, and challenges (DROC) in the market and their impact on shifting market dynamics

Study of the effect of exogenous and endogenous factors that affect the global market; which includes broadly demographics, economics, and political, among other macro-environmental factors presented in an extensive PESTLE Analysis

Study the microenvironment factors that determine the overall profitability of an Industry, using Porter's five forces analysis for analyzing the level of competition and business strategy development

A comprehensive list of key market players along with with their product portfolio, current strategic interests, key financial information, legal issues, SWOT analysis and analyst overview to study and sustain the market environment

Competitive landscape analysis listing out the mergers, acquisitions, collaborations in the field along with new product launches, comparative financial studies and recent developments in the market by the major companies

An executive summary, abridging the entire report in such a way that decision-making personnel can rapidly become acquainted with background information, concise analysis, and main conclusions

Expertly devised analyst overview along with Investment opportunities to provide both individuals and organizations a strong financial foothold in the market
Global 3D Scanning Market By Region, From 2020-2025 ( USD Billion )

Global 3D Scanning Market By Type, From 2020-2025 ( USD Billion )

Global Laser Scanner Market By Region, From 2020-2025 ( USD Billion )

Global Optical Scanner Market By Region, From 2020-2025 ( USD Billion )

Global Structured Light Scanner Market By Region, From 2020-2025 ( USD Billion )

Global 3D Scanning Market By Application, From 2020-2025 ( USD Billion )

Global Quality Control and Inspection Market By Region, From 2020-2025 ( USD Billion )

Global Reverse Engineering Market By Region, From 2020-2025 ( USD Billion )

Global Virtual Simulation Market By Region, From 2020-2025 ( USD Billion )

Global Others Market By Region, From 2020-2025 ( USD Billion )

Global 3D Scanning Market By End-Use, From 2020-2025 ( USD Billion )

Global Healthcare Market By Region, From 2020-2025 ( USD Billion )

Global Aerospace and Defense Market By Region, From 2020-2025 ( USD Billion )

Global Architecture and Construction Market By Region, From 2020-2025 ( USD Billion )