Advanced wound care products provide much-needed relief to the people who are suffering from chronic wounds, which take a significant amount of time to heal and are expensive to treat. Technology in this area has grown manifold. Advanced wound care products are gradually replacing traditional wound care products due to their efficacy and usefulness in managing wounds by enabling faster healing.
Advanced Wound care market offers solutions to patients suffering from chronic wounds, by providing them readily accessible and reasonably priced products which can be used at one's convenience. Treatment in advanced wound care includes interventions therapies and products such as foam dressings, hydrocolloids, antimicrobial dressings, film dressings, alginate dressings, collagen products, gauze composites, and hydrogels among others. As technology progresses and becomes more viable, the quality of life of patients afflicted with chronic wounds improves.
Recent Developments
Axio Biosolutions

which was the first Indian company to get the USFDA approval in 2018 with the development of its innovative hemostatic dressing Axiostat recently introduced another product called MaxioCel, and a next-generation wound care dressing made of chitosan. This new dressing has already shown greater pain management and scar reduction properties than traditional dressing.

Gemco Medical

, a company based in Ohio, USA recently announced the introduction of a new range of advanced wound care range of products called GEMCORE360Ëš. The product line includes various products aimed at keeping the wound environment moist, address bioburden, reduce pain and increase overall patient comfort.

Franciscan Health Rensselaer

opened an Advanced Wound Healing Center in Rensselaer County, New York, USA. The

center

is expected to cater to patients with hard to heal wounds and will be located at Franciscan Health Rensselaer East entrance in front of the Emergency Department entrance.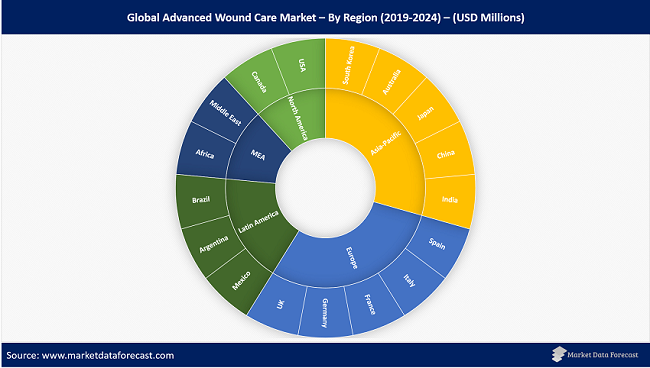 Drivers and Restraints of Market
Technological advances mainly drive this market, Increasing Aging Population, problems associated with ineffective traditional wound healing methods, Growing Incidences of Chronic Wounds and diabetes, initiatives taken by the government, and a pressing need for swift and safer treatment of chronic wounds. Due to the rise in the average income levels across the developing world many people who were previously unable to afford medical care are now able to receive medical treatment. This has helped the market considerably. Attempts to lower the duration of hospital stay to reduce the surgical healthcare expenses and the growing inclination towards products that enhance therapeutic outcomes are also driving the demand for the advanced wound care market.
The High cost associated with the treatment and reimbursement issues for the new technologies serve as factors which hinder the market. Lack of awareness about the advancements in the technology in many underdeveloped areas of the world is also a significant challenge for the market.
Market Value and Growth
Advanced Wound Care Market is valued at USD 9.4 billion in 2019 and is projected to grow at a Compound Annual Growth Rate (CAGR) of 4.52 % during the forecast period to a net market size of USD 11.8 billion in 2024.
Market Segmentation
Type, application and end users have segmented the global advanced wound care market.
By type, the global advanced wound care market can be broken down into dressings, therapy devices, and active wound care. The dressing segment accounts for the most significant portion of the global market. However, aggressive wound care is the fastest growing segment in this category.
Dressing segment was the largest as of 2019 while the active wound care market is projected to be the fastest growing category for the period of 2019-2024.
By application, the market can be categorized into skin ulcers, surgical wounds, and burn wounds. The surgical wounds segment leads to the global market. However, skin ulcer is the fastest growing segment in this category.
Surgical wounds were the market leader, but skin ulcer segment is anticipated to grow faster than all other segments during the forecast period of 2019-2024.
By the end user, the market is segregated into inpatient services and outpatient services. The inpatient facilities segment grabs the most significant chunk of the global market. However, outpatient service is the fastest growing segment in this category.
Inpatient facilities were the more significant market while outpatient facilities category was the faster-growing market as of 2019.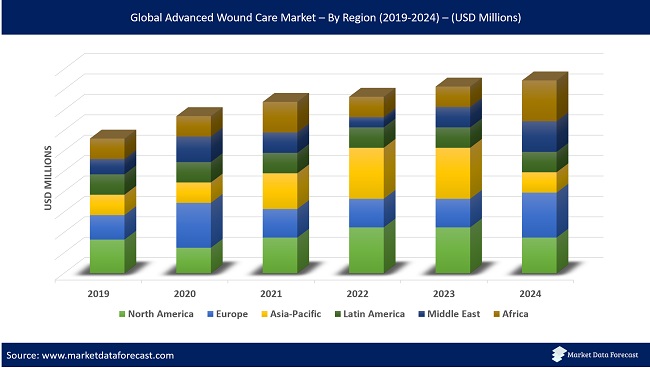 Based on geography, the market has been segmented into North America, Europe, Asia-Pacific and the Rest of the World. North America leads the market with the largest market share in the world followed by Europe and Asia. The Asia Pacific market, which consists of fast-developing economies has remained mostly untapped. However, this market is expanding steadily and has created abundant opportunities for the launch of new products. In terms of prospective growth potential, the Asia-Pacific advanced wound care market is expected to witness the fastest growth. However, lack of awareness and price sensitivity has considerably hindered the growth of the developed wound care market in developing countries such as India, China, Brazil, and others.
The North America market has more significance with trends showing that people desire more efficient solutions for their illnesses. This technology is especially inclined towards the elderly population, for whom easily accessible healthcare is paramount.
Key Players
The major companies dominating this market for its products and services are Acelity L.P., Inc. (U.S.), Smith and Nephew Plc. (U.K) (market share is around 15-20%), Mölnlycke Health Care (Sweden), ConvaTec, Inc. (U.S.), Coloplast Corp. (Denmark), 3M Healthcare (U.S), Medtronic (U.S), Integra Lifesciences Corporation (U.S.), Organogenesis Inc. (U.S.) among others.
Smith and Nephew Plc. is a British Multinational Medical Equipment Manufacturer that was founded in the year 1856 in Kingston Upon Hull. It is one of the largest producers of products used in advanced wound management, arthroscopy, trauma and clinical therapy, and orthopedic reconstruction. It is headquartered in London and Hull, United Kingdom. It was led by Roberto Quarta who functioned as its chairman and Namal Nawana who acted as its CEO.
Research Report Key Highlights
This report gives a brief description of the Advanced Wound Care Market and provides a glimpse into what would be covered in the full report.

Growth, Drivers & Restrictions, Market Segmentation, and Key players are covered in this Report Description.

This report description provides a rough estimate of what the complete report contains and the final report can be customized according to the client's needs and specifications.

This could be potentially useful for companies operating in chemical, pharmaceutical, healthcare, and other allied industries due to its broad scope and coverage.

The complete report if purchased will contain an analysis of various aspects of the industry using Porter's five forces analysis.
1.Introduction
1.1 Market Definition
1.2 Study Deliverables
1.3 Base Currency, Base Year and Forecast Periods
1.4 General Study Assumptions
2. Research Methodology
2.1 Introduction
2.2 Analysis Design
2.3 Research Phases
2.3.1 Secondary Research
2.3.2 Primary Research
2.3.3 Econometric Modelling
2.3.4 Expert Validation
2.4 Study Timeline
3. Overview
3.1 Executive Summary
3.2 Key Inferences
3.3 New Developments
4. Drivers, Restraints, Opportunities, and Challenges Analysis (DROC)
4.1 Market Drivers
4.2 Market Restraints
4.3 Key Challenges
4.4 Current Opportunities in the Market
5. Market Segmentation
5.1 By Type
5.1.1 Dressings
5.1.2 Therapy Devices
5.1.3 Active wound care
5.2 By Application
5.2.1 Skin ulcers
5.2.2 Surgical wounds
5.2.3 Burn Wounds
5.3 By End User
5.3.1 In-patient services
5.3.2 Out-patient services
6. Geographical Analysis
6.1 North America
6.1.1 United States
6.1.2 Canada
6.2 Europe
6.2.1 United Kingdom
6.2.2 Germany
6.2.3 France
6.2.4 Italy
6.2.5 Spain
6.3 Asia-Pacific
6.3.1 China
6.3.2 India
6.3.3 Japan
6.4 Latin America
6.4.1 Brazil
6.4.2 Rest of Latin America
6.5 Middle East & Africa
6.5.1 Middle East
6.5.2 Africa
7.Strategic Analysis
7.1 PESTLE analysis
7.1.1 Political
7.1.2 Economic
7.1.3 Social
7.1.4 Technological
7.1.5 Legal
7.1.6 Environmental
7.2 Porter's Five analysis
7.2.1 Bargaining Power of Suppliers
7.2.2 Bargaining Power of Consumers
7.2.3 Threat of New Entrants
7.2.4 Threat of Substitute Products and Services
7.2.5 Competitive Rivalry within the Industry
8.Market Leaders' Analysis
8.1 Acelity
8.1.1 Overview
8.1.2 Product Analysis
8.1.3 Strategic Evaluation and Operations
8.1.4 Financial analysis
8.1.5 Legal issues
8.1.6 Recent Developments
8.1.7 SWOT analysis
8.1.8 Analyst View
8.2 Coloplast
8.3 3M Health care
8.4 Medtronic
8.5 Integra Lifesciences
8.6 Derma Sciences
8.7 ConvaTac
8.8 Smith & Nephew
8.9 Molnylcke
8.10 Organogenesis
9.Competitive Landscape
9.1 Market share analysis
9.2 Merger and Acquisition Analysis
9.3 Agreements, collaborations, and Joint Ventures
9.4 New Product Launches
10.Expert Opinions
10.1 Market Outlook
10.2 Investment Opportunities
Appendix
a) List of Tables
b) List of Figures
1. Global Advanced Wound Care Market By Type From 2019-2024 ( USD Billion )
2. Global Dressings Market By Region From 2019-2024 ( USD Billion )
3. Global Therapy Devices Market By Region From 2019-2024 ( USD Billion )
4. Global Active Wound Care Market By Region From 2019-2024 ( USD Billion )
5. Global Advanced Wound Care Market By Application From 2019-2024 ( USD Billion )
6. Global Skin Ulcers Market By Region From 2019-2024 ( USD Billion )
7. Global Surgical Wounds Market By Region From 2019-2024 ( USD Billion )
8. Global Burn Wounds Market By Region From 2019-2024 ( USD Billion )
9. Global Advanced Wound Care Market By End User From 2019-2024 ( USD Billion )
10. Global In-patients Market By Region From 2019-2024 ( USD Billion )
11. Global Out-patients Market By Region From 2019-2024 ( USD Billion )
12. North America Advanced Wound Care Market By Type From 2019-2024 ( USD Billion )
13. North America Dressings Market By Region From 2019-2024 ( USD Billion )
14. North America Therapy Devices Market By Region From 2019-2024 ( USD Billion )
15. North America Active Wound Care Market By Region From 2019-2024 ( USD Billion )
16. North America Advanced Wound Care Market By Application From 2019-2024 ( USD Billion )
17. North America Skin Ulcers Market By Region From 2019-2024 ( USD Billion )
18. North America Surgical Wounds Market By Region From 2019-2024 ( USD Billion )
19. North America Burn Wounds Market By Region From 2019-2024 ( USD Billion )
20. North America Advanced Wound Care Market By End User From 2019-2024 ( USD Billion )
21. North America In-patients Market By Region From 2019-2024 ( USD Billion )
22. North America Out-patients Market By Region From 2019-2024 ( USD Billion )
23. United States Advanced Wound Care Market By Type From 2019-2024 ( USD Billion )
24. United States Advanced Wound Care Market By Application From 2019-2024 ( USD Billion )
25. United States Advanced Wound Care Market By End User From 2019-2024 ( USD Billion )
26. Canada Advanced Wound Care Market By Type From 2019-2024 ( USD Billion )
27. Canada Advanced Wound Care Market By Application From 2019-2024 ( USD Billion )
28. Canada Advanced Wound Care Market By End User From 2019-2024 ( USD Billion )
29. Europe Surgical Wounds Market By Region From 2019-2024 ( USD Billion )
30. Europe Burn Wounds Market By Region From 2019-2024 ( USD Billion )
31. Europe Advanced Wound Care Market By End User From 2019-2024 ( USD Billion )
32. Europe In-patients Market By Region From 2019-2024 ( USD Billion )
33. Europe Out-patients Market By Region From 2019-2024 ( USD Billion )
34. U.K. Advanced Wound Care Market By Type From 2019-2024 ( USD Billion )
35. U.K. Advanced Wound Care Market By Application From 2019-2024 ( USD Billion )
36. U.K. Advanced Wound Care Market By End User From 2019-2024 ( USD Billion )
37. Germany Advanced Wound Care Market By Type From 2019-2024 ( USD Billion )
38. Germany Advanced Wound Care Market By Application From 2019-2024 ( USD Billion )
39. Germany Advanced Wound Care Market By End User From 2019-2024 ( USD Billion )
40. France Advanced Wound Care Market By Type From 2019-2024 ( USD Billion )
41. France Advanced Wound Care Market By Application From 2019-2024 ( USD Billion )
42. France Advanced Wound Care Market By End User From 2019-2024 ( USD Billion )
43. Italy Advanced Wound Care Market By Type From 2019-2024 ( USD Billion )
44. Italy Advanced Wound Care Market By Application From 2019-2024 ( USD Billion )
45. Italy Advanced Wound Care Market By End User From 2019-2024 ( USD Billion )
46. Spain Advanced Wound Care Market By Type From 2019-2024 ( USD Billion )
47. Spain Advanced Wound Care Market By Application From 2019-2024 ( USD Billion )
48. Spain Advanced Wound Care Market By End User From 2019-2024 ( USD Billion )
49. Asia-Pacific Advanced Wound Care Market By Type From 2019-2024 ( USD Billion )
50. Asia-Pacific Dressings Market By Region From 2019-2024 ( USD Billion )
51. Asia-Pacific Therapy Devices Market By Region From 2019-2024 ( USD Billion )
52. Asia-Pacific Active Wound Care Market By Region From 2019-2024 ( USD Billion )
53. Asia-Pacific Advanced Wound Care Market By Application From 2019-2024 ( USD Billion )
54. Asia-Pacific Skin Ulcers Market By Region From 2019-2024 ( USD Billion )
55. Asia-Pacific Surgical Wounds Market By Region From 2019-2024 ( USD Billion )
56. Asia-Pacific Burn Wounds Market By Region From 2019-2024 ( USD Billion )
57. Asia-Pacific Advanced Wound Care Market By End User From 2019-2024 ( USD Billion )
58. Asia-Pacific In-patients Market By Region From 2019-2024 ( USD Billion )
59. Asia-Pacific Out-patients Market By Region From 2019-2024 ( USD Billion )
60. Japan Advanced Wound Care Market By Type From 2019-2024 ( USD Billion )
61. Japan Advanced Wound Care Market By Application From 2019-2024 ( USD Billion )
62. Japan Advanced Wound Care Market By End User From 2019-2024 ( USD Billion )
63. China Advanced Wound Care Market By Type From 2019-2024 ( USD Billion )
64. China Advanced Wound Care Market By Application From 2019-2024 ( USD Billion )
65. China Advanced Wound Care Market By End User From 2019-2024 ( USD Billion )
66. India Advanced Wound Care Market By Type From 2019-2024 ( USD Billion )
67. India Advanced Wound Care Market By Application From 2019-2024 ( USD Billion )
68. India Advanced Wound Care Market By End User From 2019-2024 ( USD Billion )
69. Latin America Advanced Wound Care Market By Type From 2019-2024 ( USD Billion )
70. Latin America Dressings Market By Region From 2019-2024 ( USD Billion )
71. Latin America Therapy Devices Market By Region From 2019-2024 ( USD Billion )
72. Latin America Active Wound Care Market By Region From 2019-2024 ( USD Billion )
73. Latin America Advanced Wound Care Market By Application From 2019-2024 ( USD Billion )
74. Latin America Skin Ulcers Market By Region From 2019-2024 ( USD Billion )
75. Latin America Surgical Wounds Market By Region From 2019-2024 ( USD Billion )
76. Latin America Burn Wounds Market By Region From 2019-2024 ( USD Billion )
77. Latin America Advanced Wound Care Market By End User From 2019-2024 ( USD Billion )
78. Latin America In-patients Market By Region From 2019-2024 ( USD Billion )
79. Latin America Out-patients Market By Region From 2019-2024 ( USD Billion )
80. Brazil Advanced Wound Care Market By Type From 2019-2024 ( USD Billion )
81. Brazil Advanced Wound Care Market By Application From 2019-2024 ( USD Billion )
82. Brazil Advanced Wound Care Market By End User From 2019-2024 ( USD Billion )
83. Rest of Latin America Advanced Wound Care Market By Type From 2019-2024 ( USD Billion )
84. Rest of Latin America Advanced Wound Care Market By Application From 2019-2024 ( USD Billion )
85. Rest of Latin America Advanced Wound Care Market By End User From 2019-2024 ( USD Billion )
86. Middle East & Africa Advanced Wound Care Market By Type From 2019-2024 ( USD Billion )
87. Middle East & Africa Dressings Market By Region From 2019-2024 ( USD Billion )
88. Middle East & Africa Therapy Devices Market By Region From 2019-2024 ( USD Billion )
89. Middle East & Africa Active Wound Care Market By Region From 2019-2024 ( USD Billion )
90. Middle East & Africa Advanced Wound Care Market By Application From 2019-2024 ( USD Billion )
91. Middle East & Africa Skin Ulcers Market By Region From 2019-2024 ( USD Billion )
92. Middle East & Africa Surgical Wounds Market By Region From 2019-2024 ( USD Billion )
93. Middle East & Africa Burn Wounds Market By Region From 2019-2024 ( USD Billion )
94. Middle East & Africa Advanced Wound Care Market By End User From 2019-2024 ( USD Billion )
95. Middle East & Africa In-patients Market By Region From 2019-2024 ( USD Billion )
96. Middle East & Africa Out-patients Market By Region From 2019-2024 ( USD Billion )
97. Middle East Advanced Wound Care Market By Type From 2019-2024 ( USD Billion )
98. Middle East Advanced Wound Care Market By Application From 2019-2024 ( USD Billion )
99. Middle East Advanced Wound Care Market By End User From 2019-2024 ( USD Billion )
100. Africa Advanced Wound Care Market By Type From 2019-2024 ( USD Billion )
101. Africa Advanced Wound Care Market By Application From 2019-2024 ( USD Billion )
102. Africa Advanced Wound Care Market By End User From 2019-2024 ( USD Billion )