Allergen-Free Food Market Size Analysis 2022 - 2027:
Allergen-Free Food Market size was at USD x.xx million in 2019 and is anticipated to reach over USD x.xx million, recording a CAGR of x.xx% throughout the outlook period 2022 - 2027.
Allergen-free food includes anti-diabetic foods, gluten-free, lactose-free, and others. Many people are allergic to gluten, lactose or are unable to consume high-calorie products due to diabetes, which has led food manufacturers to produce allergen-free food. Additionally, many consumers now prefer allergen-free foods and beverages in the belief that they will aid their digestive health, weight management, and general well-being.
Recent Developments in Allergen-Free Food Market:
Mondelēz, a former Kraft Foods spin-off and maker of iconic brands like Oreo, Chips Ahoy, Ritz, Cadbury, and Trident, announced that it has acquired Enjoy Life Foods, the leading brand in the Free From category and a member of SnackSafely Manufacturers Association.

Nestlé SA has entered into an agreement to acquire Aimmune Therapeutics, Inc., Brisbane, California, for $ 2.6 billion. Aimmune Therapeutics develops and markets treatments to prevent food allergies.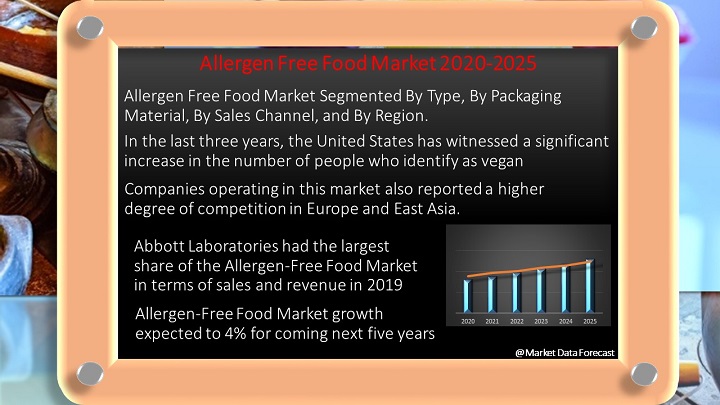 Allergen-Free Food Market Drivers and Restraints:
Better access to information has made consumers very skeptical about the ingredients found in their food. A growing number of them are moving away from products with synthetic ingredients to those with organic ingredients. Globally, demand for personalized meat substitutes and dairy products has exploded, as has health spending per capita. With increased awareness, consumers realize the importance of allergen-free foods in maintaining a healthy lifestyle. Additionally, government initiatives to encourage the use of natural ingredients have created an environment conducive to the growth of the global allergen-free food market. To capitalize on prevailing trends, some of the largest companies are targeting strategic collaborations. For example; In July 2017, Cargill Incorporated and Delacon entered into a strategic partnership to strengthen their presence in the Allergen-Free Food Market for artificial foods. With the increasing incidence of foodborne illness, modern consumers are more comfortable re-evaluating their food choices. Beet powder is an instant hit with some consumer sectors.
The clean label refers to food products with natural, familiar, and simple ingredients that are easy to recognize, understand and pronounce, without artificial ingredients or synthetic chemicals. Consumers' preference for foods with fewer ingredients has forced food manufacturers to exclude artificial ingredients and chemical modifiers from their food production. The main certification and labeling authorities around the world have required companies to provide correct labeling on their food packaging. Incorrect packaging or labeling is one of the main causes of product recalls. As a result, some of the leading companies are developing a range of plant-based and organic foods, without compromising functionality. National food safety authorities and the Secretariat of the International Food Safety Authorities Network (INFOSAN) are seeking more information on the potential role of food in transmitting the virus through local and international trade. Meanwhile, the World Health Organization has recommended certain standards to maintain hygiene and food safety practices to prevent the transmission of COVID-19 through food. These trends will drive the demand for clean and ultimately allergen-free food in the coming years.
Allergen-Free Food Market Segmentation:
According to the type, the global allergen-free food market is segmented into gluten-free, lactose-free, diabetic, and other foods. Among all of them, the lactose-free segment dominates the market followed by the gluten-free segment. The increase in diabetes cases among the population is driving the growth of the market for diabetic food during the forecast period.
Based on packaging material, the global allergen-free food market is divided into glass, plastic, metal, paper, and others. Among them, the paper and plastic segments are considered the fastest growing.
Based on the distribution channel, the allergen-free food market is bifurcated into store-based and non-store-based. Among them, the store-based distribution channel dominates the worldwide market. The availability of a wide range followed by the convenience of finding all products under one roof is the driving force behind the growth of this segment.
Allergen-Free Food Market Report Statistics:
| | |
| --- | --- |
| REPORT METRIC | DETAILS |
| Market Size Available | 2019 – 2025 |
| Base Year | 2019 |
| Forecast Period | 2020 - 2025 |
| CAGR | X.X% |
| Various Analyses Covered | Global, Regional & Country Level Analysis, Segment-Level Analysis, DROC, PESTLE Analysis, Porter's Five Forces Analysis, Competitive Landscape, Analyst Overview on Investment Opportunities |
| Market Leaders Profiled | Boulder Brands, Inc., Abbott Laboratories, Mead Johnson Nutrition Company, Kraft Heinz Company, Kellogg Co., General Mills, Danone SA, and Nestle. |
Impact of covid-19 on Allergen-Free Food Market
The coronavirus pandemic had its immense impact on the food and beverage industry, with the shutdown of manufacturing units and the temporary closure of hotels, restaurants, and cafes. Due to this, all the associated industries in the F&B sector, such as allergen-free foods have registered declined sales and revenue. However, this slump is temporary as people become more aware of foods they consume in order to avoid lifestyle diseases like obesity, celiac, diabetes, etc., which is likely to act positively for the allergen-free foods market in the coming years.
Allergen Free Food Market Regional Analysis:
The global Allergen-Free Food market has been divided by geography into North America, Asia Pacific, Europe, Latin America, and the Middle East and Africa. While Europe and North America are seen as leading markets for allergen-free foods, East Asia and South Asia are supposed to show higher growth prospects.
Nearly 15 million people in the United States have food allergies, and nearly 6 million of them are children. Almost 17 million people suffer from food allergies in Europe. This, combined with the increasing prevalence of lactose intolerance, is driving demand for allergen-free and non-GMO products in the region. In the last three years, the United States has witnessed a significant increase in the number of people who identify as vegan. This creates many opportunities for the expansion of the allergen-free food market in North America. In Asia-Pacific, the market will mainly benefit from changes in consumer preferences. Meanwhile, Latin America is the fifth most important market for the health food industry worldwide, attracting some of the giants of the Brazilian market. The global market for allergen-free foods is characterized by large capital investment in developed markets. As shown in the graph below, Europe and North America show high capital investments, despite higher income volatility than the rest of the world. Companies operating in this market also reported a higher degree of competition in Europe and East Asia.
Leading Company
Abbott Laboratories had the largest share of the Allergen-Free Food Market in terms of sales and revenue in 2019.
Allergen Free Food Market Key Players:
Key players in the Global Allergen-Free Food Market include Boulder Brands, Inc., Abbott Laboratories, Mead Johnson Nutrition Company, Kraft Heinz Company, Kellogg Co., General Mills, Danone SA, and Nestle.
1. Introduction
1.1 Market Definition
1.2 Scope of the report
1.3 Study Assumptions
1.4 Base Currency, Base Year and Forecast Periods
2. Research Methodology
2.1 Analysis Design
2.2 Research Phases
2.2.1 Secondary Research
2.2.2 Primary Research
2.2.3 Data Modelling
2.2.4 Expert Validation
2.3 Study Timeline
3. Report Overview
3.1 Executive Summary
3.2 Key Inferencees
4. Market Dynamics
4.1 Impact Analysis
4.1.1 Drivers
4.1.2 Restaints
4.1.3 Opportunities
4.2 Regulatory Environment
4.3 Technology Timeline & Recent Trends
5. Competitor Benchmarking Analysis
5.1 Key Player Benchmarking
5.1.1 Market share analysis
5.1.2 Products/Service
5.1.3 Regional Presence
5.2 Mergers & Acquistion Landscape
5.3 Joint Ventures & Collaborations
6. Market Segmentation
6.1 Allergen Free Food Market, By Type
6.1.1 Diabetes Food
6.1.2 Lactose-Free
6.1.3 Gluten-Free
6.1.4 Market Size Estimations & Forecasts (2019-2024)
6.1.5 Y-o-Y Growth Rate Analysis
6.1.6 Market Attractiveness Index
6.2 Allergen Free Food Market, By Packaging
6.2.1 Paper
6.2.2 Metal
6.2.3 Plastic
6.2.4 Glass
6.2.5 Market Size Estimations & Forecasts (2019-2024)
6.2.6 Y-o-Y Growth Rate Analysis
6.2.7 Market Attractiveness Index
6.3 Allergen Free Food Market, By Distribution Channel
6.3.1 Non-Store Based
6.3.2 Store Based
6.3.3 Market Size Estimations & Forecasts (2019-2024)
6.3.4 Y-o-Y Growth Rate Analysis
6.3.5 Market Attractiveness Index
7. Geographical Landscape
7.1 Global Identity Governance and Administration Market, by Region
7.2 North America - Market Analysis (2018 - 2024)
7.2.1 By Country
7.2.1.1 USA
7.2.1.2 Canada
7.2.2 By Type
7.2.3 By Packaging
7.2.4 By Distribution Channel
7.3 Europe
7.3.1 By Country
7.3.1.1 UK
7.3.1.2 France
7.3.1.3 Germany
7.3.1.4 Spain
7.3.1.5 Italy
7.3.1.6 Rest of Europe
7.3.2 By Type
7.3.3 By Packaging
7.3.4 By Distribution Channel
7.4 Asia Pacific
7.4.1 By Country
7.4.1.1 China
7.4.1.2 India
7.4.1.3 Japan
7.4.1.4 South Korea
7.4.1.5 South East Asia
7.4.1.6 Australia & NZ
7.4.1.7 Rest of Asia-Pacific
7.4.2 By Type
7.4.3 By Packaging
7.4.4 By Distribution Channel
7.5 Latin America
7.5.1 By Country
7.5.1.1 Brazil
7.5.1.2 Argentina
7.5.1.3 Mexico
7.5.1.4 Rest of Latin America
7.5.2 By Type
7.5.3 By Packaging
7.5.4 By Distribution Channel
7.6 Middle East and Africa
7.6.1 By Country
7.6.1.1 Middle East
7.6.1.2 Africa
7.6.2 By Type
7.6.3 By Packaging
7.6.4 By Distribution Channel
8. Key Player Analysis
8.1 Abbott Laboratories
8.1.1 Business Description
8.1.2 Products/Service
8.1.3 Financials
8.1.4 SWOT Analysis
8.1.5 Recent Developments
8.1.6 Analyst Overview
8.2 Boulder Brands, Inc
8.3 Mead Johnson Nutrition Company
8.4 Kraft Heinz Company
8.5 Kellogg Co
8.6 General Mills
8.7 Danone SA
8.8 Nestle SA
9. Market Outlook & Investment Opportunities
Appendix
List of Tables
List of Figures
Global Allergen Free Food Market By Region, From 2020-2025 ( USD Billion )

Global Allergen Free Food Market By Type, From 2020-2025 ( USD Billion )

Global Diabetes Food Market By Region, From 2020-2025 ( USD Billion )

Global Lactose-Free Market By Region, From 2020-2025 ( USD Billion )

Global Gluten-Free Market By Region, From 2020-2025 ( USD Billion )

Global Allergen Free Food Market By Packaging, From 2020-2025 ( USD Billion )

Global Paper Market By Region, From 2020-2025 ( USD Billion )

Global Metal Market By Region, From 2020-2025 ( USD Billion )

Global Plastic Market By Region, From 2020-2025 ( USD Billion )

Global Glass Market By Region, From 2020-2025 ( USD Billion )

Global Allergen Free Food Market By Distribution Channel, From 2020-2025 ( USD Billion )

Global Non-Store Based Market By Region, From 2020-2025 ( USD Billion )

Global Store Based Market By Region, From 2020-2025 ( USD Billion )

North America Allergen Free Food Market By Type, From 2020-2025 ( USD Billion )

North America Diabetes Food Market By Region, From 2020-2025 ( USD Billion )

North America Lactose-Free Market By Region, From 2020-2025 ( USD Billion )

North America Gluten-Free Market By Region, From 2020-2025 ( USD Billion )

North America Allergen Free Food Market By Packaging, From 2020-2025 ( USD Billion )

North America Paper Market By Region, From 2020-2025 ( USD Billion )

North America Metal Market By Region, From 2020-2025 ( USD Billion )

North America Plastic Market By Region, From 2020-2025 ( USD Billion )

North America Glass Market By Region, From 2020-2025 ( USD Billion )

North America Allergen Free Food Market By Distribution Channel, From 2020-2025 ( USD Billion )

North America Non-Store Based Market By Region, From 2020-2025 ( USD Billion )

North America Store Based Market By Region, From 2020-2025 ( USD Billion )

United States Allergen Free Food Market By Type, From 2020-2025 ( USD Billion )

United States Allergen Free Food Market By Packaging, From 2020-2025 ( USD Billion )

United States Allergen Free Food Market By Distribution Channel, From 2020-2025 ( USD Billion )

Canada Allergen Free Food Market By Type, From 2020-2025 ( USD Billion )

Canada Allergen Free Food Market By Packaging, From 2020-2025 ( USD Billion )

Canada Allergen Free Food Market By Distribution Channel, From 2020-2025 ( USD Billion )

Europe Allergen Free Food Market By Type, From 2020-2025 ( USD Billion )

Europe Diabetes Food Market By Region, From 2020-2025 ( USD Billion )

Europe Lactose-Free Market By Region, From 2020-2025 ( USD Billion )

Europe Gluten-Free Market By Region, From 2020-2025 ( USD Billion )

Europe Allergen Free Food Market By Packaging, From 2020-2025 ( USD Billion )

Europe Paper Market By Region, From 2020-2025 ( USD Billion )

Europe Metal Market By Region, From 2020-2025 ( USD Billion )

Europe Plastic Market By Region, From 2020-2025 ( USD Billion )

Europe Glass Market By Region, From 2020-2025 ( USD Billion )

Europe Allergen Free Food Market By Distribution Channel, From 2020-2025 ( USD Billion )

Europe Non-Store Based Market By Region, From 2020-2025 ( USD Billion )

Europe Store Based Market By Region, From 2020-2025 ( USD Billion )

U.K. Allergen Free Food Market By Type, From 2020-2025 ( USD Billion )

U.K. Allergen Free Food Market By Packaging, From 2020-2025 ( USD Billion )

U.K. Allergen Free Food Market By Distribution Channel, From 2020-2025 ( USD Billion )

Germany Allergen Free Food Market By Type, From 2020-2025 ( USD Billion )

Germany Allergen Free Food Market By Packaging, From 2020-2025 ( USD Billion )

Germany Allergen Free Food Market By Distribution Channel, From 2020-2025 ( USD Billion )

France Allergen Free Food Market By Type, From 2020-2025 ( USD Billion )

France Allergen Free Food Market By Packaging, From 2020-2025 ( USD Billion )

France Allergen Free Food Market By Distribution Channel, From 2020-2025 ( USD Billion )

Italy Allergen Free Food Market By Type, From 2020-2025 ( USD Billion )

Italy Allergen Free Food Market By Packaging, From 2020-2025 ( USD Billion )

Italy Allergen Free Food Market By Distribution Channel, From 2020-2025 ( USD Billion )

Spain Allergen Free Food Market By Type, From 2020-2025 ( USD Billion )

Spain Allergen Free Food Market By Packaging, From 2020-2025 ( USD Billion )

Spain Allergen Free Food Market By Distribution Channel, From 2020-2025 ( USD Billion )

Asia Pacific Allergen Free Food Market By Type, From 2020-2025 ( USD Billion )

Asia Pacific Diabetes Food Market By Region, From 2020-2025 ( USD Billion )

Asia Pacific Lactose-Free Market By Region, From 2020-2025 ( USD Billion )

Asia Pacific Gluten-Free Market By Region, From 2020-2025 ( USD Billion )

Asia Pacific Allergen Free Food Market By Packaging, From 2020-2025 ( USD Billion )

Asia Pacific Paper Market By Region, From 2020-2025 ( USD Billion )

Asia Pacific Metal Market By Region, From 2020-2025 ( USD Billion )

Asia Pacific Plastic Market By Region, From 2020-2025 ( USD Billion )

Asia Pacific Glass Market By Region, From 2020-2025 ( USD Billion )

Asia Pacific Allergen Free Food Market By Distribution Channel, From 2020-2025 ( USD Billion )

Asia Pacific Non-Store Based Market By Region, From 2020-2025 ( USD Billion )

Asia Pacific Store Based Market By Region, From 2020-2025 ( USD Billion )

Japan Allergen Free Food Market By Type, From 2020-2025 ( USD Billion )

Japan Allergen Free Food Market By Packaging, From 2020-2025 ( USD Billion )

Japan Allergen Free Food Market By Distribution Channel, From 2020-2025 ( USD Billion )

China Allergen Free Food Market By Type, From 2020-2025 ( USD Billion )

China Allergen Free Food Market By Packaging, From 2020-2025 ( USD Billion )

China Allergen Free Food Market By Distribution Channel, From 2020-2025 ( USD Billion )

India Allergen Free Food Market By Type, From 2020-2025 ( USD Billion )

India Allergen Free Food Market By Packaging, From 2020-2025 ( USD Billion )

India Allergen Free Food Market By Distribution Channel, From 2020-2025 ( USD Billion )

Australia Allergen Free Food Market By Type, From 2020-2025 ( USD Billion )

Australia Allergen Free Food Market By Packaging, From 2020-2025 ( USD Billion )

Australia Allergen Free Food Market By Distribution Channel, From 2020-2025 ( USD Billion )

South Korea Allergen Free Food Market By Type, From 2020-2025 ( USD Billion )

South Korea Allergen Free Food Market By Packaging, From 2020-2025 ( USD Billion )

South Korea Allergen Free Food Market By Distribution Channel, From 2020-2025 ( USD Billion )

Latin America Allergen Free Food Market By Type, From 2020-2025 ( USD Billion )

Latin America Diabetes Food Market By Region, From 2020-2025 ( USD Billion )

Latin America Lactose-Free Market By Region, From 2020-2025 ( USD Billion )

Latin America Gluten-Free Market By Region, From 2020-2025 ( USD Billion )

Latin America Allergen Free Food Market By Packaging, From 2020-2025 ( USD Billion )

Latin America Paper Market By Region, From 2020-2025 ( USD Billion )

Latin America Metal Market By Region, From 2020-2025 ( USD Billion )

Latin America Plastic Market By Region, From 2020-2025 ( USD Billion )

Latin America Glass Market By Region, From 2020-2025 ( USD Billion )

Latin America Allergen Free Food Market By Distribution Channel, From 2020-2025 ( USD Billion )

Latin America Non-Store Based Market By Region, From 2020-2025 ( USD Billion )

Latin America Store Based Market By Region, From 2020-2025 ( USD Billion )

Brazil Allergen Free Food Market By Type, From 2020-2025 ( USD Billion )

Brazil Allergen Free Food Market By Packaging, From 2020-2025 ( USD Billion )

Brazil Allergen Free Food Market By Distribution Channel, From 2020-2025 ( USD Billion )

Argentina Allergen Free Food Market By Type, From 2020-2025 ( USD Billion )

Argentina Allergen Free Food Market By Packaging, From 2020-2025 ( USD Billion )

Argentina Allergen Free Food Market By Distribution Channel, From 2020-2025 ( USD Billion )

Mexico Allergen Free Food Market By Type, From 2020-2025 ( USD Billion )

Mexico Allergen Free Food Market By Packaging, From 2020-2025 ( USD Billion )

Mexico Allergen Free Food Market By Distribution Channel, From 2020-2025 ( USD Billion )

Rest of Latin America Allergen Free Food Market By Type, From 2020-2025 ( USD Billion )

Rest of Latin America Allergen Free Food Market By Packaging, From 2020-2025 ( USD Billion )

Rest of Latin America Allergen Free Food Market By Distribution Channel, From 2020-2025 ( USD Billion )

Middle East and Africa Allergen Free Food Market By Type, From 2020-2025 ( USD Billion )

Middle East and Africa Diabetes Food Market By Region, From 2020-2025 ( USD Billion )

Middle East and Africa Lactose-Free Market By Region, From 2020-2025 ( USD Billion )

Middle East and Africa Gluten-Free Market By Region, From 2020-2025 ( USD Billion )

Middle East and Africa Allergen Free Food Market By Packaging, From 2020-2025 ( USD Billion )

Middle East and Africa Paper Market By Region, From 2020-2025 ( USD Billion )

Middle East and Africa Metal Market By Region, From 2020-2025 ( USD Billion )

Middle East and Africa Plastic Market By Region, From 2020-2025 ( USD Billion )

Middle East and Africa Glass Market By Region, From 2020-2025 ( USD Billion )

Middle East and Africa Allergen Free Food Market By Distribution Channel, From 2020-2025 ( USD Billion )

Middle East and Africa Non-Store Based Market By Region, From 2020-2025 ( USD Billion )

Middle East and Africa Store Based Market By Region, From 2020-2025 ( USD Billion )

Middle East Allergen Free Food Market By Type, From 2020-2025 ( USD Billion )

Middle East Allergen Free Food Market By Packaging, From 2020-2025 ( USD Billion )

Middle East Allergen Free Food Market By Distribution Channel, From 2020-2025 ( USD Billion )

Africa Allergen Free Food Market By Type, From 2020-2025 ( USD Billion )

Africa Allergen Free Food Market By Packaging, From 2020-2025 ( USD Billion )

Africa Allergen Free Food Market By Distribution Channel, From 2020-2025 ( USD Billion )