Animal Feed Additives Market Growth and Forecast (2021-2026):
The Global Animal Feed Additives Market size was worth US$ 15 billion in 2021, and it is estimated that it will reach US$ 18 billion by 2026 with an annual expansion rate of 2% over the conjecture period between 2021 and 2026.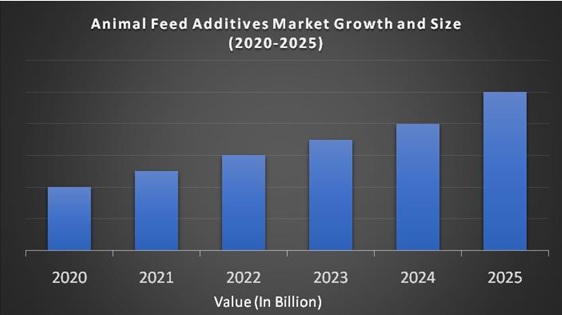 Market Overview:
Feed additives are an essential component of increasing meat production. Feed additives are widely used in animal feed for a variety of benefits, including achieving nutritional balance and promoting animal health. Animal feed additives are mixed with plain feeds to provide nutrition and enhance the overall growth of the animal. Feed additives offer benefits such as weight gain, better digestion of feed, and prevention of various diseases. The diversity of applications including nutritional value, food preservation, imparting texture and flavor of food have become the main drivers of market growth. Feed additives are substances that are used to improve animal health. Feed additives are incorporated in different doses and forms depending on the breed and species of the animal.
Recent Developments in Animal Feed Additives Industry:
In March 2019, BASF SE launched Natuphos E phytase in Indonesia. When added to feed, it is an enzyme that improves animal health.
REPORT COVERAGE:
| | |
| --- | --- |
| REPORT METRIC | DETAILS |
| Market Size Available | 2020 – 2026 |
| Base Year | 2020 |
| Forecast Period | 2021 - 2026 |
| CAGR | 2% |
| Segments Covered | By Product, Livestock, Form, Source and Region |
| Various Analyses Covered | Global, Regional & Country Level Analysis, Segment-Level Analysis, DROC, PESTLE Analysis, Porter's Five Forces Analysis, Competitive Landscape, Analyst Overview on Investment Opportunities |
| Regions Covered | North America, Europe, APAC, Latin America, Middle East & Africa |
| Market Leaders Profiled | Cargill, Inc, Danisco Animal Nutrition, Koninklijke DSM NV, BASF SE, Archer Daniels Midland Company, Nutreco NV, Evonik Industries AG, Addcon Group, KeminIndustries Inc, Aliphos Belgium SA, Alltech, Inc, Phibro Animal Health Corporation, Ajinomoto Co., Inc, Biomin, Adisseo France SAS and Others. |
Animal Feed Additives Market Growth:
Growing concerns about the safety and quality of meat products are pushing the limits of the global animal feed additives market.
Drivers:
The demand for animal feed additives is constantly increasing, and this is an achievement that can be recognized as consumption of poultry and meat feeds increases worldwide. Improving animal feed with a variety of nutrients can help prevent disease outbreaks, as well as improve weight gain and digestion in animals. Feed additives play an important role in protecting the health and quality of raw livestock, so it is very important for manufacturers to ensure the welfare of livestock and livestock, so there is a significant demand for nutritional food products. Therefore, there is a possibility that the adoption of feed additives will increase in the coming years. These developments are expected to have a positive impact on the expansion of the global animal feed additives market. These additives play an important role in increasing the nutritional value of meat and meat products to meet the growing demand for healthy and nutritious meat and feed. Additives are important components for improving the health and performance of animals. As meat consumption increases with the recent disease outbreak, the need for additives in poultry, water and other animal products is expected to increase demand for products. Eating feed that contains the right number of additives has a positive effect on livestock, including better digestion and reproduction. Therefore, these products cyclically affect the properties of human food. Significant increases in livestock farming will increase the demand for animal feed additives during the forecast period. These factors are expected to further restrict the market growth during the outlook period. Increased consumption of meat products due to rising consumer per capita and changes in consumer behavior towards a high protein diet will further strengthen the growth of the industry.
The global market for animal feed additives will expand as concerns about the safety and quality of meat and meat products increased due to the outbreak of numerous diseases in livestock, such as foot-and-mouth disease, bird flu, swine flu, etc., during the last decade. Cows are a major source of dairy products throughout the world. Also, the benefits of additives and increased awareness of the recent emergence of various diseases have had a positive effect on demand. Increased meat consumption due to rapidly increasing energy needs has led to increased demand for a variety of processed products, such as poultry and dairy products. The changing climate and the availability of poor-quality feed products have been known to cause many diseases to livestock in recent years, which has accelerated the demand for high quality feed additives. The development of new technologies together with the continuous improvement of finished products will lead to industrial growth. Increased life expectancy, limited water availability and optimal feed utilization in the meat industry will further strengthen demand for products.
Restraints:
Since feed additives are supplied by contract, price instability and the volatility of the raw material supply of feed additives is a major concern for manufacturers. These contracts are exposed to unsystematic risks such as climate change, interest rate volatility, and geopolitical tensions. These factors can hamper the growth of the animal feed additives market. Product and raw material cost issues, especially for specialty products such as acidifiers, enzymes and minerals, are expected to become major challenges for market participants in the global feed additives market in the coming years. Diverse regulatory structures, unstable economies and higher operating costs are the main limitations of the market. Rising feed additive raw material prices is another major challenge in the global feed additive market. Furthermore, strict government regulations related to product approvals are another factor that is expected to pose some challenge to the growth of the global market for animal feed additives.
Impact of COVID 19 on the Animal Feed Additives Market:
The COVID-19 pandemic has had a major impact on animal feed additives around the world. The world suffers from containment and self-isolation, but the workforce is gradually beginning to work with a life that returns to normal. However, the outlook for food additives remains poor and is expected to worsen.
Animal Feed Additives Market Segmentation Analysis:
Based on the product, the market for additives for animal feed is divided into vitamins, amino acids, antibiotics, acidulants, antioxidants, enzymes, etc. Amino acids accounted for 33.6% of the total market in terms of sales in 2019. Demand was supported by increasing consumer awareness of the benefits associated with using food additives to reduce the prevalence of disease. Amino acids are considered a protein component for the health of livestock. Amino acids play a role in improving gut health, food intake, reproductive and metabolic processes, among other things. Antibiotics also improve the quality of meat; they are rich in protein and low in fat. The overuse of antibiotics as growth promoters has made the local bacterial population more resistant to antibiotics. Traces of antibiotics in meat can also affect human health due to the presence of an excess of growth promoters.
By livestock, the market is segmented by poultry and has become a major livestock segment with expected revenue of $ 1.92 trillion in 2019. The rise in diseases such as bird flu has led to regulations and standards. strict, further increasing the demand for certain additives. Furthermore, global poultry production is expected to increase at a rapid pace, which is expected to increase the demand for poultry feed during the forecast period.
By form, the global animal feed additives market is divided into dry and liquid. Based on the source, the market is bifurcated into natural and synthetic.
Geographical Segmentation Analysis:
North America - the United States and Canada

Europe - United Kingdom, Spain, Germany, Italy, and France

The Asia Pacific - India, Japan, China, Australia, Singapore, Malaysia, South Korea, New Zealand, and Southeast Asia

Latin America - Brazil, Argentina, Mexico, and Rest of LATAM

The Middle East and Africa - Africa and Middle East (Saudi Arabia, UAE, Lebanon, Jordan, Cyprus)
Regional Analysis:
North America accounted for 21% of the total market share in 2019. Also, the high availability of raw materials such as glucose, corn and corn are expected to drive demand during the forecast period. Asia Pacific is expected to growth as the largest regional market for animal feed additives. The region has seen a significant increase in demand due to strong economic growth from emerging economies such as China, Indonesia and India. Coupled with China's rapid economic growth, rising demand due to factors such as lifestyle changes in India, Indonesia, and Vietnam and rising disposable income are expected to increase local demand for nutrient-rich animal feed. in the next years. The Russian animal feed additives market is also expected to show strong growth during the forecast period due to high regional production and consumption rates. The size of the European animal feed additives market, led by Germany, France and the UK, is expected to grow by more than 3.5% due to strong application prospects in the livestock industry. Latin America, driven by the size of the Brazilian and Argentine feed additives market, will grow more than 4% during the forecast period. This growth can be attributed to increased investment in agribusiness, coupled with government initiatives to promote agriculture, as nutrition and health of livestock must be maintained, and industrial growth promoted.
Key Players in the Market:
Major Key Players in the Global Animal Feed Additives Market are
Cargill, Inc

Danisco Animal Nutrition

Koninklijke DSM NV

BASF SE

Archer Daniels Midland Company

Nutreco NV

Evonik Industries AG

Addcon Group

KeminIndustries Inc

Aliphos Belgium SA

Alltech, Inc

Phibro Animal Health Corporation

Ajinomoto Co., Inc

Biomin

Adisseo France SAS
1. Introduction
1.1 Market Definition
1.2 Scope of the report
1.3 Study Assumptions
1.4 Base Currency, Base Year and Forecast Periods
2. Research Methodology
2.1 Analysis Design
2.2 Research Phases
2.2.1 Secondary Research
2.2.2 Primary Research
2.2.3 Data Modelling
2.2.4 Expert Validation
2.3 Study Timeline
3. Report Overview
3.1 Executive Summary
3.2 Key Inferencees
4. Market Dynamics
4.1 Impact Analysis
4.1.1 Drivers
4.1.2 Restaints
4.1.3 Opportunities
4.2 Regulatory Environment
4.3 Technology Timeline & Recent Trends
5. Competitor Benchmarking Analysis
5.1 Key Player Benchmarking
5.1.1 Market share analysis
5.1.2 Products/Service
5.1.3 Regional Presence
5.2 Mergers & Acquistion Landscape
5.3 Joint Ventures & Collaborations
6. Market Segmentation
6.1 Animal Feed Additives Market, By Product
6.1.1 Vitamins
6.1.2 Antibiotics
6.1.3 Feed Enzymes
6.1.4 Acidifiers
6.1.5 Amino Acids
6.1.6 Antioxidants
6.1.7 Market Size Estimations & Forecasts (2021-2026)
6.1.8 Y-o-Y Growth Rate Analysis
6.1.9 Market Attractiveness Index
6.2 Animal Feed Additives Market, By Livestock
6.2.1 Ruminants
6.2.2 Poultry
6.2.3 Swine
6.2.4 Aquatic Animal
6.2.5 Market Size Estimations & Forecasts (2021-2026)
6.2.6 Y-o-Y Growth Rate Analysis
6.2.7 Market Attractiveness Index
6.3 Animal Feed Additives Market, By Form
6.3.1 Dry
6.3.2 Liquid
6.3.3 Market Size Estimations & Forecasts (2021-2026)
6.3.4 Y-o-Y Growth Rate Analysis
6.3.5 Market Attractiveness Index
6.4 Animal Feed Additives Market, By Source
6.4.1 Natural
6.4.2 Synthetic
6.4.3 Market Size Estimations & Forecasts (2021-2026)
6.4.4 Y-o-Y Growth Rate Analysis
6.4.5 Market Attractiveness Index
7. Geographical Landscape
7.1 Global Identity Governance and Administration Market, by Region
7.2 North America - Market Analysis (2021-2026)
7.2.1 By Country
7.2.1.1 USA
7.2.1.2 Canada
7.2.2 By Product
7.2.3 By Livestock
7.2.4 By Form
7.2.5 By Source
7.3 Europe
7.3.1 By Country
7.3.1.1 UK
7.3.1.2 France
7.3.1.3 Germany
7.3.1.4 Spain
7.3.1.5 Italy
7.3.1.6 Rest of Europe
7.3.2 By Product
7.3.3 By Livestock
7.3.4 By Form
7.3.5 By Source
7.4 Asia Pacific
7.4.1 By Country
7.4.1.1 China
7.4.1.2 India
7.4.1.3 Japan
7.4.1.4 South Korea
7.4.1.5 South East Asia
7.4.1.6 Australia & NZ
7.4.1.7 Rest of Asia-Pacific
7.4.2 By Product
7.4.3 By Livestock
7.4.4 By Form
7.4.5 By Source
7.5 Latin America
7.5.1 By Country
7.5.1.1 Brazil
7.5.1.2 Argentina
7.5.1.3 Mexico
7.5.1.4 Rest of Latin America
7.5.2 By Product
7.5.3 By Livestock
7.5.4 By Form
7.5.5 By Source
7.6 Middle East and Africa
7.6.1 By Country
7.6.1.1 Middle East
7.6.1.2 Africa
7.6.2 By Product
7.6.3 By Livestock
7.6.4 By Form
7.6.5 By Source
8. Key Player Analysis
8.1 Cargill, Inc
8.1.1 Business Description
8.1.2 Products/Service
8.1.3 Financials
8.1.4 SWOT Analysis
8.1.5 Recent Developments
8.1.6 Analyst Overview
8.2 Danisco Animal Nutrition
8.3 Koninklijke DSM NV
8.4 BASF SE
8.5 Archer Daniels Midland Company
8.6 Nutreco NV
8.7 Evonik Industries AG
8.8 Addcon Group
8.9 Kemin Industries Inc
8.10 Aliphos Belgium SA
9. Market Outlook & Investment Opportunities
Appendix
List of Tables
List of Figures
Global, regional and country-level analysis and forecasts of the study market; providing Insights on the major countries/regions in which this industry is blooming and to also identify the regions that are still untapped

The Segment-level analysis in terms of By Product, Livestock, Form, Source and along with market size forecasts and estimations to detect key areas of industry growth in detail

Identification of key drivers, restraints, opportunities, and challenges (DROC) in the market and their impact on shifting market dynamics

Study of the effect of exogenous and endogenous factors that affect the global market; which includes broadly demographic, economics, and political, among other macro-environmental factors presented in an extensive PESTLE Analysis

Study the micro environment factors that determine the overall profitability of an Industry, using Porter's five forces analysis for analysing the level of competition and business strategy development

A comprehensive list of key market players along with their product portfolio, current strategic interests, key financial information, legal issues, SWOT analysis and analyst overview to study and sustain the market environment

Competitive landscape analysis listing out the mergers, acquisitions, collaborations in the field along with new product launches, comparative financial studies and recent developments in the market by the major companies

An executive summary, abridging the entire report in such a way that decision-making personnel can rapidly become acquainted with background information, concise analysis and main conclusions

Expertly devised analyst overview along with Investment opportunities to provide both individuals and organizations a strong financial foothold in the market
Global Animal Feed Additives Market By Region, From 2021-2026 ( USD Billion )

Global Animal Feed Additives Market By Product, From 2021-2026 ( USD Billion )

Global Vitamins Market By Region, From 2021-2026 ( USD Billion )

Global Antibiotics Market By Region, From 2021-2026 ( USD Billion )

Global Feed Enzymes Market By Region, From 2021-2026 ( USD Billion )

Global Acidifiers Market By Region, From 2021-2026 ( USD Billion )

Global Amino Acids Market By Region, From 2021-2026 ( USD Billion )

Global Antioxidants Market By Region, From 2021-2026 ( USD Billion )

Global Animal Feed Additives Market By Livestock, From 2021-2026 ( USD Billion )

Global Ruminants Market By Region, From 2021-2026 ( USD Billion )

Global Poultry Market By Region, From 2021-2026 ( USD Billion )

Global Swine Market By Region, From 2021-2026 ( USD Billion )

Global Aquatic Animal Market By Region, From 2021-2026 ( USD Billion )

Global Animal Feed Additives Market By Form, From 2021-2026 ( USD Billion )

Global Dry Market By Region, From 2021-2026 ( USD Billion )

Global Liquid Market By Region, From 2021-2026 ( USD Billion )

Global Animal Feed Additives Market By Source, From 2021-2026 ( USD Billion )

Global Natural Market By Region, From 2021-2026 ( USD Billion )

Global Synthetic Market By Region, From 2021-2026 ( USD Billion )