Asia Pacific Smoothies Market Size Analysis 2021-2026:
Asia Pacific Smoothies Market size was worth USD 1.92 billion in 2021 and is projected to grow at a CAGR of 10%, to reach USD 3 billion by 2026. Smoothie is a thick nonalcoholic beverage made from raw vegetables or fruits along with some other ingredients. Other ingredients used in smoothie include water, ice, sweeteners, chocolate, nuts, dairy products such as milk and yogurt, and other nutritional supplements.
Smoothies which include a large serving of fruits and vegetables are recommended for a healthy diet. However, the use of too many sweeteners, protein powders, and ice creams is not healthy. Smoothies consist of high dietary fiber content making them healthier than fruit juices. Green smoothies made from healthy vegetables are gaining prominence, especially in health conscious people. Smoothies with increased carbohydrate content by using sugar additives can themselves replace a meal.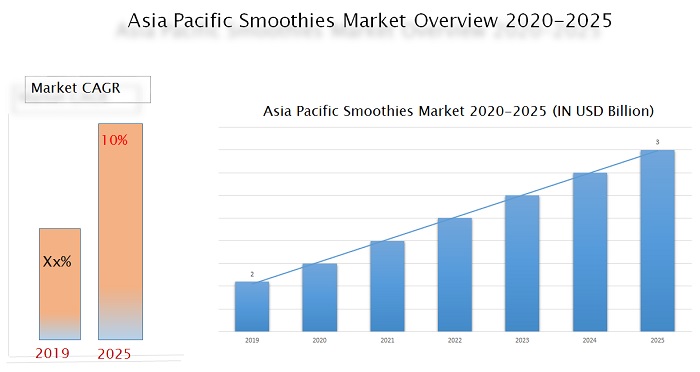 For More Information: Download Sample Report
Asia Pacific Smoothies Market Growth Drivers:
An increasing number of health-conscious people, changing lifestyles and food habits, and health benefits associated with smoothies are some of the major factors driving the smoothies market. Increasing popularity for meal replacement food and beverages, growing prominence for juice and smoothie bars, and increasing demand for non-carbonated soft drinks are also expected to propel the smoothies market. High prices of smoothies and packaging problems as they are made from raw ingredients are the major factors restraining the growth of the smoothies market.
Asia Pacific Smoothies Market Segmentation:
The Smoothies market is segmented by product, distribution channel, and region. Based on the product, the market is segmented into fruit-based smoothies and dairy-based Smoothies. Fruit-based smoothies hold the largest market share and are also expected to be the fastest-growing segment. This is attributed to the growing demand for healthy beverages. Fruit-based smoothies are further segmented into organic and inorganic smoothies. Inorganic smoothies are expected to be the largest segment as most of the fruits and vegetables produced from farms are inorganic. Organic smoothies are expected to be the fastest-growing segment as the demand for organic fruits and vegetables is increasing. On the basis of distribution channels, the market is segmented into Restaurants, Smoothie bars, Supermarkets, and Convenience Stores. Smoothie bars and convenience stores are the major revenue generators for the smoothie market.
Region Classification and Growth Insights of the Smoothies Market in the Asia Pacific:
On the basis of region, the Asia Pacific Smoothies market is segmented into China, India, Japan, Australia, and South Korea. Asia Pacific is expected to be the fastest-growing market with a CAGR of over 9% due to the increasing number of people with disposable incomes and changing food habits. Also, Fruits and vegetables are cheaper in this region as China and India are the largest producers.
Prominent Players Covered in the market report are:
Some of the major players in the Smoothies market are Smoothie King, Maui Wowi Hawaiian Coffees & Smoothies, Suja Juice, Innocent Drinks, Bolthouse Farms, Jamba Juice Company, Ella's Kitchen Ltd, Barfresh Food Group, Inc and Tropical Smoothie Cafe.
1. Introduction
1.1 Market Definition
1.2 Study Deliverables
1.3 Base Currency, Base Year and Forecast Periods
1.4 General Study Assumptions
2. Research Methodology
2.1 Introduction
2.2 Research Phases
2.2.1 Secondary Research
2.2.2 Primary Research
2.2.3 Econometric Modelling
2.2.4 Expert Validation
2.3 Analysis Design
2.4 Study Timeline
3. Overview
3.1 Executive Summary
3.2 Key Inferences
3.3 Epidemology
4. Drivers, Restraints, Opportunities, and Challenges Analysis (DROC)
4.1 Market Drivers
4.2 Market Restraints
4.3 Key Challenges
4.4 Current Opportunities in the Market
5. Market Segmentation
5.1 Product
5.1.1 Introduction
5.1.2 Fruit-based Smoothies
5.1.2.1 Organic Smoothies
5.1.2.2 Inorganic Smoothies
5.1.3 Dairy-based Smoothies
5.1.4 Y-o-Y Growth Analysis, By Product
5.1.5 Market Attractiveness Analysis, By Product
5.1.6 Market Share Analysis, By Product
5.2 Distribution Channel
5.2.1 Introduction
5.2.2 Restaurants
5.2.3 Smoothie bars
5.2.4 Supermarkets
5.2.5 Convenience Stores
5.2.6 Y-o-Y Growth Analysis, By Distribution Channel
5.2.7 Market Attractiveness Analysis, By Distribution Channel
5.2.8 Market Share Analysis, By Distribution Channel
6. Geographical Analysis
6.1 Introduction
6.1.1 Regional Trends
6.1.2 Impact Analysis
6.1.3 Y-o-Y Growth Analysis
6.1.3.1 By Geographical Area
6.1.3.2 By Product
6.1.3.3 By Distribution Channel
6.1.4 Market Attractiveness Analysis
6.1.4.1 By Geographical Area
6.1.4.2 By Product
6.1.4.3 By Distribution Channel
6.1.5 Market Share Analysis
6.1.5.1 By Geographical Area
6.1.5.2 By Product
6.1.5.3 By Distribution Channel
6.2 China
6.3 India
6.4 Japan
6.5 South Korea
6.6 Australia
7. Strategic Analysis
7.1 PESTLE analysis
7.1.1 Political
7.1.2 Economic
7.1.3 Social
7.1.4 Technological
7.1.5 Legal
7.1.6 Environmental
7.2 Porter's Five analysis
7.2.1 Bargaining Power of Suppliers
7.2.2 Bargaining Power of Consumers
7.2.3 Threat of New Entrants
7.2.4 Threat of Substitute Products and Services
7.2.5 Competitive Rivalry within the Industry
8. Market Leaders' Analysis
8.1 Smoothie King
8.1.1 Overview
8.1.2 Product Analysis
8.1.3 Financial analysis
8.1.4 Recent Developments
8.1.5 SWOT analysis
8.1.6 Analyst View
8.2 Maui Wowi Hawaiian Coffees & Smoothies
8.3 Suja Juice
8.4 Innocent Drinks
8.5 Bolthouse Farms
8.6 Jamba Juice Company
8.7 Ella's Kitchen Ltd
8.8 Barfresh Food Group, Inc
8.9 Tropical Smoothie Café
9. Competitive Landscape
9.1 Market share analysis
9.2 Merger and Acquisition Analysis
9.3 Agreements, collaborations and Joint Ventures
9.4 New Product Launches
10. Market Outlook and Investment Opportunities
Appendix
a) List of Tables
b) List of Figures