Smoothies Market Size, Share, and Growth Analysis:
Smoothies Market Size was calculated at USD 12.10 billion in 2019 and is anticipated to touch USD 17.00 billion by the end of the assessment period with a CAGR of 10.1% throughout the calculated period of 2021-2026. Smoothie is a thick nonalcoholic beverage made from raw vegetables or fruits along with some other ingredients. Other ingredients used in smoothies include water, ice, sweeteners, chocolate, nuts, dairy products such as milk and yogurt, and other nutritional supplements. North American smoothies market leads the global market due to the high demand for healthy non-alcoholic drinks in this region. Asia Pacific smoothies market is estimated to be the speedy-growing market with a CAGR of over 9% due to the growing number of people with disposable incomes and changing food habits.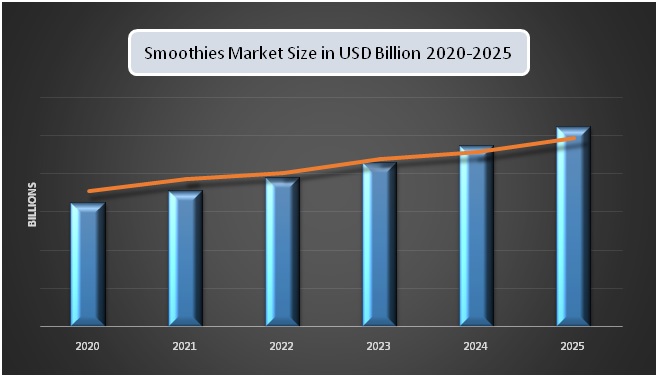 Recent Developments in Smoothies Market:
In September 2018, Focus Brands (FBI) completed the acquisition of the Jamba Juice smoothie chain in a transaction valued at approximately $ 200 million. Pursuant to the terms of the agreement, an FBI subsidiary has launched a takeover bid for all outstanding common shares of Jamba at a price of $ 13 per share in cash.

In February 2013, Coca-Cola took over Innocent after the young founders of the ethical smoothie maker decided to sell their remaining shares, for the staggering £ 100 million, according to reports. The soft drink empire, which already owned 58% of Innocent, took bets from founders Richard Reed, Adam Balon, and John Wright in a deal that gives Coca Cola at least 90% ownership and values Innocent at £ 320 million regions.

The smoothie brand, which will rub elbows with the Tropicana and Copella juice brands, will be a key element in PepsiCo's effort to increase revenue in its juice division and counter government criticism that its products, such as Walkers potato chips contribute to obesity. PepsiCo will also use the PJ brand to strengthen its ties to McDonald's.

In November 2017, the Fazer Group acquires the leading Nordic shake brand Froosh, which is a leading smoothie brand in Finland and Sweden and the second famous brand in Denmark and Norway. By acquiring Froosh, Fazer will enter a new category and expand its presence in the retail industry.

In October 2017, Peak Foods LLC, a manufacturer of frozen whipped toppings for the food and retail markets, acquired Blendtopia, a Nashville-based startup that offers high-quality, nutrient-rich superfood shakes in select retail locations and online. Blendtopia founder Tiffany Taylor will join the Peak Foods team and coordinate sales, marketing, and product development for the smoothie line.

Kellogg's venture capital fund is seeking "next-generation innovation," which increases its access to new ideas and trends, an approach that is becoming more common among the world's largest food companies. Unilever and Tate & Lyle have implemented venture capital weapons, while other companies have chosen the acquisition path, buying innovative startups that exploit the latest consumer trends. Hershey acquired Krave without uneven nitrite in 2015, and General Mills took over natural and organic specialist Annie a year earlier.

In October 2019, A Manitowoc Company acquired a frozen smoothie startup. The Nashville acquisition of Blendtopia was made through the Lakeside Foods joint venture, Peak Foods. Blendtopia produces high-quality, nutrient-rich superfood shakes sold in select online and retail stores. The Peak Foods team will be in charge of manufacturing and operations.
Smoothies Market Growth and Demand Analysis:
Smoothies which include a large serving of fruits and vegetables are recommended for a healthy diet. However, the use of too many sweeteners, protein powders, and ice creams is not healthy. Smoothies consist of high dietary fiber content making them healthier than fruit juices. Green smoothies made from healthy vegetables are gaining prominence, especially in health-conscious people. Smoothies with increased carbohydrate content by using sugar additives can themselves replace a meal.
An increasing number of health-conscious people, changing lifestyles and food habits, and health benefits associated with smoothies are some of the major factors driving the smoothies market. Increasing popularity for meal replacement food and beverages, growing prominence for juice and smoothie bars, and increasing demand for non-carbonated soft drinks are also expected to propel the smoothies market.
High prices of smoothies and packaging problems as they are made from raw ingredients are the major factors restraining the growth of the smoothies market.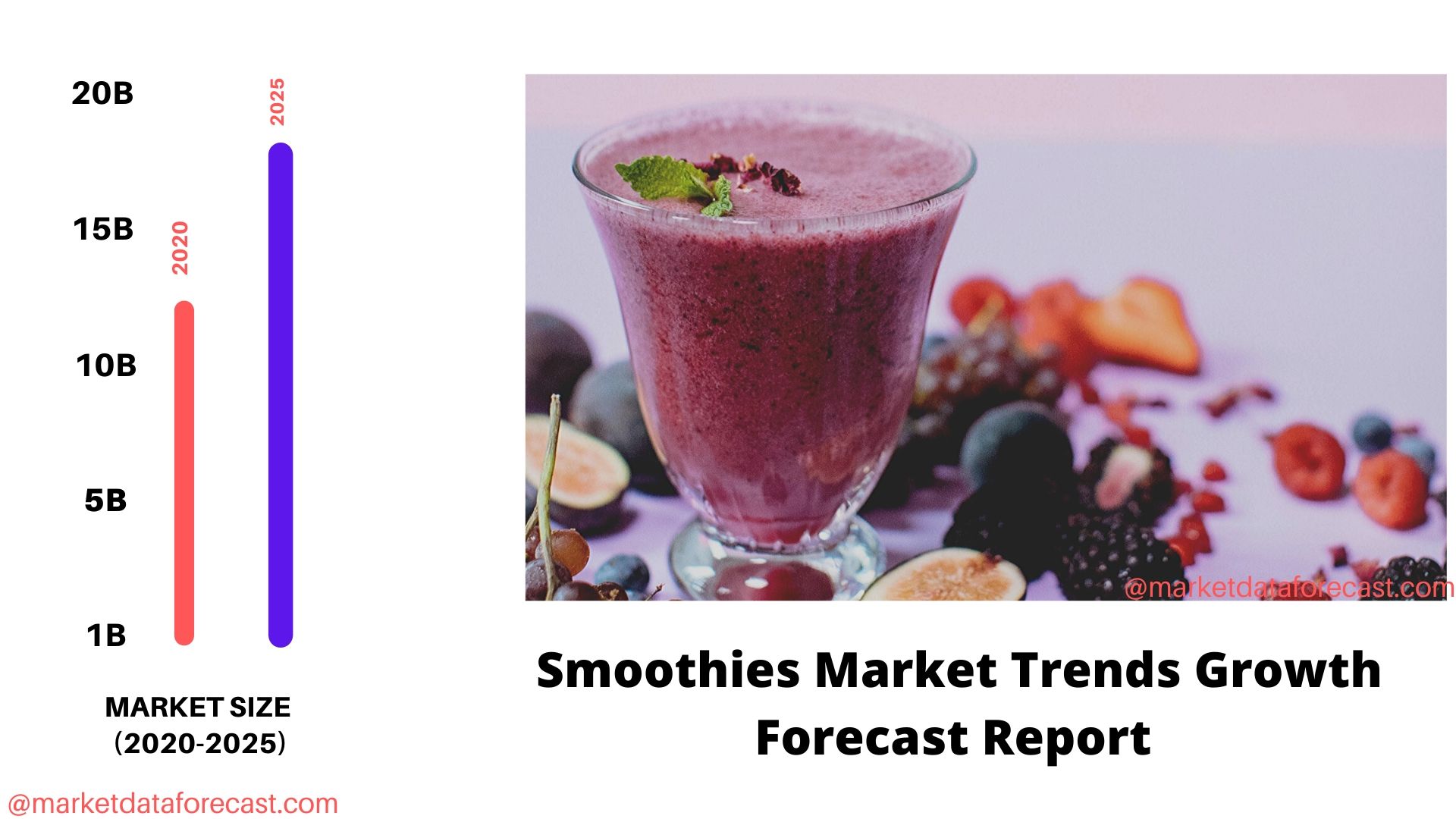 For more information download Sample Brochure
With the growing trend for green smoothies, there is a rise in demand for smoothies incorporated with green leafy vegetables, such as kale, spinach, lettuce, and green cabbage leaves, to improve digestion and the immune system, and minimize unhealthy cravings. Additionally, due to rising health care costs, consumers are inclined to use smoothies as one of the breakfasts as well as snacks to stay healthy. Increased consumer awareness of the benefits associated with the product is also spurring market growth. The growing demand for functional foods and beverages is also driving the growth of smoothies. In addition, continued product launches in this area are expected to stimulate the smoothie market for years to come.
Also, the strategic initiatives undertaken by the main market players will accelerate the growth of the market. Additionally, increasing consumer awareness of health and changes in lifestyle and eating habits, as well as health benefits, are driving growth in the global smoothie market. Carbohydrate intake, especially when smoothies are made without sugar, is low. So most gym coaches recommend shakes for people who are considering losing weight. Thus, smoothies have become perfect meal replacements. Plus, they're healthier than other snack products and offer good taste, convenience, and portability.
Impact of COVID-19 on Smoothies Market:
As the effects of COVID-19 are felt around the world, food and beverage companies have faced extreme challenges in terms of making, supply, and distribution. Although there has been a decline in store-based sales due to the shutdown of sales channels, the market for smoothies is touted to expand in the coming years with the rising consumer interest for plant- and fruit-based products in their diet to improve immunity.
Detailed Segmentation of the Smoothies Industry:
Based on Product:
Fruit-based smoothies

Dairy-based Smoothies.
Fruit-based smoothies hold the largest market share and are also expected to be the fastest-growing segment. This is attributed to the growing demand for healthy beverages. Fruit-based smoothies are further segmented into organic and inorganic smoothies.
Inorganic smoothies are expected to be the largest segment as most of the fruits and vegetables produced from farms are inorganic. Organic smoothies are expected to be the fastest-growing segment as the demand for organic fruits and vegetables is increasing.
Smoothies Industry – By Distribution Channel
Restaurants

Smoothie bars

Supermarkets

Convenience Stores

Smoothie bars
North America dominates the Smoothies Market:
Smoothies Market is geographically classified into, Latin America Smoothies Industry (Brazil, Argentina, Mexico), North America Smoothies Market (United States, Canada), Europe Smoothies Industry (United Kingdom, France, Germany, Spain, Italy), Middle East and Africa Smoothies Industry (Saudi Arabia, United Arab Emirates, Lebanon, Jordan, Cyprus), Asia Pacific Smoothies Industry (China, India, Japan, South America, Australia, New Zealand, and Southeast Asia).
North America dominates the smoothie market due to the high demand for healthy nonalcoholic beverages in this region. Asia Pacific is expected to be the fastest-growing market with a CAGR of over 9% due to the increasing number of people with disposable incomes and changing food habits.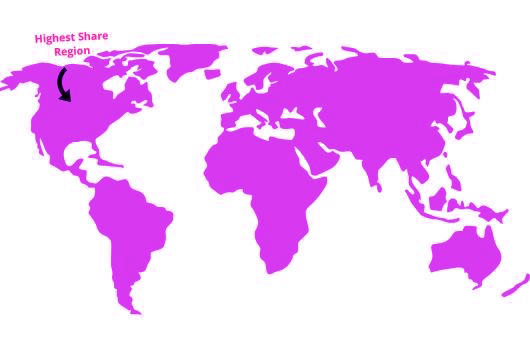 To know more about Region and Country Analysis Report Ask for Customization
Geographical Classification of the Smoothies Market:
North America

Europe

Asia Pacific

Latin America

The Middle East and Africa

Rest of the World
Leading Company:
PepsiCo, Inc. had the largest share of the Smoothies Market in terms of sales revenue in 2020. PepsiCo has declared it will sell Tropicana, Naked, and other excellent juice brands to private equity company PAI Partners. PAI Partners is a pre-eminent private equity company, investing in market-leading firms through the worldwide
Competitor Analysis and Key Players Mentioned in this Market are:
PepsiCo, Inc

Smoothie King

Maui Wowi Hawaiian Coffees & Smoothies

Suja Juice

Innocent Drinks

Bolthouse Farms

Jamba Juice Company

Ella's Kitchen Ltd

Barfresh Food Group

Inc and Tropical Smoothie Cafe
Key Questions Answered by the Report?
What are the opportunities for Smoothies Market?
Who are the major current and potential competitors in the market?
What is the major end-user segment of the Smoothies Market?
What are the key feasible strategies adopted by leading players operating in the Smoothies Market?
What are the new emerging technologies of the market?
What are the key dynamics and trends governing the market?
---
1. Introduction
1.1 Market Definition
1.2 Study Deliverables
1.3 Base Currency, Base Year and Forecast Periods
1.4 General Study Assumptions
2. Research Methodology
2.1 Introduction
2.2 Research Phases
2.2.1 Secondary Research
2.2.2 Primary Research
2.2.3 Econometric Modelling
2.2.4 Expert Validation
2.3 Analysis Design
2.4 Study Timeline
3. Overview
3.1 Executive Summary
3.2 Key Inferences
3.3 Epidemology
4. Drivers, Restraints, Opportunities, and Challenges Analysis (DROC)
4.1 Market Drivers
4.2 Market Restraints
4.3 Key Challenges
4.4 Current Opportunities in the Market
5. Market Segmentation
5.1 Product
5.1.1 Introduction
5.1.2 Fruit-based Smoothies
5.1.2.1 Organic Smoothies
5.1.2.2 Inorganic Smoothies
5.1.3 Dairy-based Smoothies
5.1.4 Y-o-Y Growth Analysis, By Product
5.1.5 Market Attractiveness Analysis, By Product
5.1.6 Market Share Analysis, By Product
5.2 Distribution Channel
5.2.1 Introduction
5.2.2 Restaurants
5.2.3 Smoothie bars
5.2.4 Supermarkets
5.2.5 Convenience Stores
5.2.6 Y-o-Y Growth Analysis, By Distribution Channel
5.2.7 Market Attractiveness Analysis, By Distribution Channel
5.2.8 Market Share Analysis, By Distribution Channel
6. Geographical Analysis
6.1 Introduction
6.1.1 Regional Trends
6.1.2 Impact Analysis
6.1.3 Y-o-Y Growth Analysis
6.1.3.1 By Geographical Area
6.1.3.2 By Product
6.1.3.3 By Distribution Channel
6.1.4 Market Attractiveness Analysis
6.1.4.1 By Geographical Area
6.1.4.2 By Product
6.1.4.3 By Distribution Channel
6.1.5 Market Share Analysis
6.1.5.1 By Geographical Area
6.1.5.2 By Product
6.1.5.3 By Distribution Channel
6.2 North America
6.1.1 Introduction
6.1.2 United States
6.1.3 Canada
6.3 Europe
6.2.1 Introduction
6.2.2 U.K
6.2.3 Spain
6.2.4 Germany
6.2.5 Italy
6.2.6 France
6.4 Asia-Pacific
6.3.1 Introduction
6.3.2 China
6.3.3 India
6.3.4 Japan
6.3.5 Australia
6.3.6 South Korea
6.5 Latin America
6.4.1 Introduction
6.4.2 Brazil
6.4.3 Argentina
6.4.4 Mexico
6.4.5 Rest of Latin America
6.6 Middle East & Africa
6.5.1 Introduction
6.5.2 Middle-East
6.5.3 Africa
7. Strategic Analysis
7.1 PESTLE analysis
7.1.1 Political
7.1.2 Economic
7.1.3 Social
7.1.4 Technological
7.1.5 Legal
7.1.6 Environmental
7.2 Porter's Five analysis
7.2.1 Bargaining Power of Suppliers
7.2.2 Bargaining Power of Consumers
7.2.3 Threat of New Entrants
7.2.4 Threat of Substitute Products and Services
7.2.5 Competitive Rivalry within the Industry
8. Market Leaders' Analysis
8.1 Smoothie King
8.1.1 Overview
8.1.2 Product Analysis
8.1.3 Financial analysis
8.1.4 Recent Developments
8.1.5 SWOT analysis
8.1.6 Analyst View
8.2 Maui Wowi Hawaiian Coffees & Smoothies
8.3 Suja Juice
8.4 Innocent Drinks
8.5 Bolthouse Farms
8.6 Jamba Juice Company
8.7 Ella's Kitchen Ltd
8.8 Barfresh Food Group, Inc
8.9 Tropical Smoothie Café
9. Competitive Landscape
9.1 Market share analysis
9.2 Merger and Acquisition Analysis
9.3 Agreements, collaborations and Joint Ventures
9.4 New Product Launches
10. Market Outlook and Investment Opportunities
Appendix
a) List of Tables
b) List of Figures
Global, and country-level analysis and forecasts of the study market; providing Insights on the major countries/regions in which this industry is blooming and to also identify the regions that are still untapped
Segment-level analysis in terms and forecasts and estimations to detect key areas of industry growth in detail
Identification of key drivers, restraints, opportunities and challenges (DROC) in the market and their impact on shifting market dynamics
Study of the effect of exogenous and endogenous factors that affect the global market; which includes broadly demographic, economics, and political, among other macro-environmental factors presented in an extensive PESTLE Analysis
Study the micro environment factors that determine the overall profitability of an Industry, using Porter's five forces analysis for analyzing the level of competition and business strategy development
A comprehensive list of key market players along with their product portfolio, current strategic interests, key financial information, legal issues, SWOT analysis and analyst overview to study and sustain the market environment
Competitive landscape analysis listing out the mergers, acquisitions, collaborations in the field along with new product launches, comparative financial studies and recent developments in the market by the major companies
An executive summary, abridging the entire report in such a way that decision-making personnel can rapidly become acquainted with background information, concise analysis and main conclusions
Expertly devised analyst overview along with Investment opportunities to provide both individuals and organizations a strong financial foothold in the market
Global Smoothies Market By Region, From 2020-2025( USD Billion )

Global Smoothies Market By Product, From 2020-2025( USD Billion )

Global Fruit-based Smoothies Market By Region, From 2020-2025( USD Billion )

Global Dairy-based Smoothies Market By Region, From 2020-2025( USD Billion )

Global Smoothies Market By Distribution Channel, From 2020-2025( USD Billion )

Global Restaurants Market By Region, From 2020-2025( USD Billion )

Global Smoothie bars Market By Region, From 2020-2025( USD Billion )

Global Supermarkets Market By Region, From 2020-2025( USD Billion )

Global Convenience Stores Market By Region, From 2020-2025( USD Billion )

Global Smoothies Market By Fruit-Based Smoothies, From 2020-2025( USD Billion )

Global Organic Smoothies Market By Region, From 2020-2025( USD Billion )

Global Inorganic Smoothies Market By Region, From 2020-2025( USD Billion )

North America Smoothies Market By Product, From 2020-2025( USD Billion )

North America Fruit-based Smoothies Market By Region, From 2020-2025( USD Billion )

North America Dairy-based Smoothies Market By Region, From 2020-2025( USD Billion )

North America Smoothies Market By Distribution Channel, From 2020-2025( USD Billion )

North America Restaurants Market By Region, From 2020-2025( USD Billion )

North America Smoothie bars Market By Region, From 2020-2025( USD Billion )

North America Supermarkets Market By Region, From 2020-2025( USD Billion )

North America Convenience Stores Market By Region, From 2020-2025( USD Billion )

United States Smoothies Market By Product, From 2020-2025( USD Billion )

United States Smoothies Market By Distribution Channel, From 2020-2025( USD Billion )

Canada Smoothies Market By Product, From 2020-2025( USD Billion )

Canada Smoothies Market By Distribution Channel, From 2020-2025( USD Billion )

North America Smoothies Market By Fruit-Based Smoothies, From 2020-2025( USD Billion )

North America Organic Smoothies Market By Region, From 2020-2025( USD Billion )

North America Inorganic Smoothies Market By Region, From 2020-2025( USD Billion )

United States Smoothies Market By Fruit-Based Smoothies, From 2020-2025( USD Billion )

Canada Smoothies Market By Fruit-Based Smoothies, From 2020-2025( USD Billion )

Europe Smoothies Market By Product, From 2020-2025( USD Billion )

Europe Fruit-based Smoothies Market By Region, From 2020-2025( USD Billion )

Europe Dairy-based Smoothies Market By Region, From 2020-2025( USD Billion )

Europe Smoothies Market By Distribution Channel, From 2020-2025( USD Billion )

Europe Restaurants Market By Region, From 2020-2025( USD Billion )

Europe Smoothie bars Market By Region, From 2020-2025( USD Billion )

Europe Supermarkets Market By Region, From 2020-2025( USD Billion )

Europe Convenience Stores Market By Region, From 2020-2025( USD Billion )

U.K. Smoothies Market By Product, From 2020-2025( USD Billion )

U.K. Smoothies Market By Distribution Channel, From 2020-2025( USD Billion )

Germany Smoothies Market By Product, From 2020-2025( USD Billion )

Germany Smoothies Market By Distribution Channel, From 2020-2025( USD Billion )

France Smoothies Market By Product, From 2020-2025( USD Billion )

France Smoothies Market By Distribution Channel, From 2020-2025( USD Billion )

Italy Smoothies Market By Product, From 2020-2025( USD Billion )

Italy Smoothies Market By Distribution Channel, From 2020-2025( USD Billion )

Spain Smoothies Market By Product, From 2020-2025( USD Billion )

Spain Smoothies Market By Distribution Channel, From 2020-2025( USD Billion )

Europe Smoothies Market By Fruit-Based Smoothies, From 2020-2025( USD Billion )

Europe Organic Smoothies Market By Region, From 2020-2025( USD Billion )

Europe Inorganic Smoothies Market By Region, From 2020-2025( USD Billion )

U.K. Smoothies Market By Fruit-Based Smoothies, From 2020-2025( USD Billion )

Germany Smoothies Market By Fruit-Based Smoothies, From 2020-2025( USD Billion )

France Smoothies Market By Fruit-Based Smoothies, From 2020-2025( USD Billion )

Italy Smoothies Market By Fruit-Based Smoothies, From 2020-2025( USD Billion )

Spain Smoothies Market By Fruit-Based Smoothies, From 2020-2025( USD Billion )

Asia-Pacific Smoothies Market By Product, From 2020-2025( USD Billion )

Asia-Pacific Fruit-based Smoothies Market By Region, From 2020-2025( USD Billion )

Asia-Pacific Dairy-based Smoothies Market By Region, From 2020-2025( USD Billion )

Asia-Pacific Smoothies Market By Distribution Channel, From 2020-2025( USD Billion )

Asia-Pacific Restaurants Market By Region, From 2020-2025( USD Billion )

Asia-Pacific Smoothie bars Market By Region, From 2020-2025( USD Billion )

Asia-Pacific Supermarkets Market By Region, From 2020-2025( USD Billion )

Asia-Pacific Convenience Stores Market By Region, From 2020-2025( USD Billion )

Japan Smoothies Market By Product, From 2020-2025( USD Billion )

Japan Smoothies Market By Distribution Channel, From 2020-2025( USD Billion )

China Smoothies Market By Product, From 2020-2025( USD Billion )

China Smoothies Market By Distribution Channel, From 2020-2025( USD Billion )

India Smoothies Market By Product, From 2020-2025( USD Billion )

India Smoothies Market By Distribution Channel, From 2020-2025( USD Billion )

Australia Smoothies Market By Product, From 2020-2025( USD Billion )

Australia Smoothies Market By Distribution Channel, From 2020-2025( USD Billion )

South Korea Smoothies Market By Product, From 2020-2025( USD Billion )

South Korea Smoothies Market By Distribution Channel, From 2020-2025( USD Billion )

Asia-Pacific Smoothies Market By Fruit-Based Smoothies, From 2020-2025( USD Billion )

Asia-Pacific Organic Smoothies Market By Region, From 2020-2025( USD Billion )

Asia-Pacific Inorganic Smoothies Market By Region, From 2020-2025( USD Billion )

Japan Smoothies Market By Fruit-Based Smoothies, From 2020-2025( USD Billion )

China Smoothies Market By Fruit-Based Smoothies, From 2020-2025( USD Billion )

India Smoothies Market By Fruit-Based Smoothies, From 2020-2025( USD Billion )

Australia Smoothies Market By Fruit-Based Smoothies, From 2020-2025( USD Billion )

Latin America Smoothies Market By Product, From 2020-2025( USD Billion )

Latin America Fruit-based Smoothies Market By Region, From 2020-2025( USD Billion )

Latin America Dairy-based Smoothies Market By Region, From 2020-2025( USD Billion )

Latin America Smoothies Market By Distribution Channel, From 2020-2025( USD Billion )

Latin America Restaurants Market By Region, From 2020-2025( USD Billion )

Latin America Smoothie bars Market By Region, From 2020-2025( USD Billion )

Latin America Supermarkets Market By Region, From 2020-2025( USD Billion )

Latin America Convenience Stores Market By Region, From 2020-2025( USD Billion )

Brazil Smoothies Market By Product, From 2020-2025( USD Billion )

Brazil Smoothies Market By Distribution Channel, From 2020-2025( USD Billion )

Argentina Smoothies Market By Product, From 2020-2025( USD Billion )

Argentina Smoothies Market By Distribution Channel, From 2020-2025( USD Billion )

Mexico Smoothies Market By Product, From 2020-2025( USD Billion )

Mexico Smoothies Market By Distribution Channel, From 2020-2025( USD Billion )

Rest of Latin America Smoothies Market By Product, From 2020-2025( USD Billion )

Rest of Latin America Smoothies Market By Distribution Channel, From 2020-2025( USD Billion )

Latin America Smoothies Market By Fruit-Based Smoothies, From 2020-2025( USD Billion )

Latin America Organic Smoothies Market By Region, From 2020-2025( USD Billion )

Latin America Inorganic Smoothies Market By Region, From 2020-2025( USD Billion )

Brazil Smoothies Market By Fruit-Based Smoothies, From 2020-2025( USD Billion )

Argentina Smoothies Market By Fruit-Based Smoothies, From 2020-2025( USD Billion )

Mexico Smoothies Market By Fruit-Based Smoothies, From 2020-2025( USD Billion )

Middle East & Africa Smoothies Market By Product, From 2020-2025( USD Billion )

Middle East & Africa Fruit-based Smoothies Market By Region, From 2020-2025( USD Billion )

Middle East & Africa Dairy-based Smoothies Market By Region, From 2020-2025( USD Billion )

Middle East & Africa Smoothies Market By Distribution Channel, From 2020-2025( USD Billion )

Middle East & Africa Restaurants Market By Region, From 2020-2025( USD Billion )

Middle East & Africa Smoothie bars Market By Region, From 2020-2025( USD Billion )

Middle East & Africa Supermarkets Market By Region, From 2020-2025( USD Billion )

Middle East & Africa Convenience Stores Market By Region, From 2020-2025( USD Billion )

Middle East Smoothies Market By Product, From 2020-2025( USD Billion )

Middle East Smoothies Market By Distribution Channel, From 2020-2025( USD Billion )

Africa Smoothies Market By Product, From 2020-2025( USD Billion )

Africa Smoothies Market By Distribution Channel, From 2020-2025( USD Billion )

Middle East & Africa Smoothies Market By Fruit-Based Smoothies, From 2020-2025( USD Billion )

Middle East & Africa Organic Smoothies Market By Region, From 2020-2025( USD Billion )

Middle East & Africa Inorganic Smoothies Market By Region, From 2020-2025( USD Billion )

Middle East Smoothies Market By Fruit-Based Smoothies, From 2020-2025( USD Billion )

Africa Smoothies Market By Fruit-Based Smoothies, From 2020-2025( USD Billion )