Aloe Vera Drink Market Size, Growth, Forecast (2023-2028)
The Global Aloe vera Drink Market size is valued at US$ 80 Million in 2022 and is anticipated to increase at US$ 183 Million by 2028, with a growing CAGR 11.30% of in the next six years.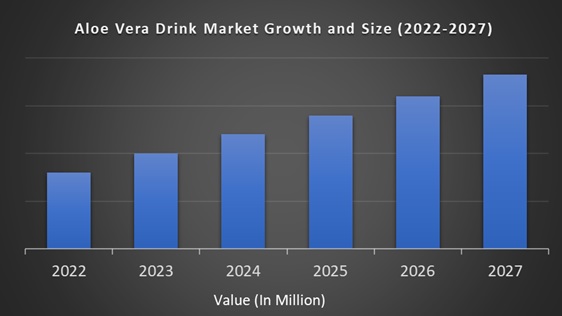 Market Overview:
Aloe vera is grown abundantly in tropical countries and is widely used in Ayurvedic and homeopathic medicines. Aloe vera has long been used as a multipurpose treatment for medical benefits. It generally grows in tropical regions and contains nutrients such as vitamins A, C, E, and B12, and minerals such as magnesium, zinc, and potassium. Aloe vera drinks are made by grinding or crushing the leaves of aloe vera plants and can be considered useful food supplements through various steps to purify the extracted liquid. Aloe vera drinks are more beneficial for health when mixed with amla, tulsi, giloy juice, etc., preferably on an empty stomach. They are mainly used as a supplemental drink to boost immunity. Aloe vera drink extract is widely used in the food and beverage industry and helps prevent various diseases. Aloe vera drinks are made through various stages of crushing or crushing the entire aloe vera leaf and then filtering and purifying the liquid. It has a smooth, long-lasting flavor and the juice blends easily into smoothies and shakes. Thus, it makes aloe vera drinks a popular food supplement.
Recent Developments in Aloe Vera Drink Industry:
In April 2018, the aloe vera beverage brand Simplee Aloe responded to the introduction of the British sugar tax by launching two new aloe vera mortgage waters in the UK.
In January 2018, Baidyanath Ayurved released four natural juices: Aloe Vera, Karella Amra, Advisory, and giloy.
Aloe Vera Drink Market Growth:
Aloe Vera extracts are considered to contain more than 200 biologically active ingredients, and as attention to vitamin deficiency increases, it complements the growth of the aloe vera drinks market.
REPORT COVERAGE:
| | |
| --- | --- |
| REPORT METRIC | DETAILS |
| Market Size Available | 2022 – 2028 |
| Base Year | 2022 |
| Forecast Period | 2023 - 2028 |
| Segments Covered | By Type, Product Type, Distribution Channel and Region |
| Various Analyses Covered | Global, Regional & Country Level Analysis, Segment-Level Analysis, DROC, PESTLE Analysis, Porter's Five Forces Analysis, Competitive Landscape, Analyst Overview on Investment Opportunities |
| Regions Covered | North America, Europe, APAC, Latin America, Middle East & Africa |
| Market Leaders Profiled | ALO Drinks, Suja Life, Aloe Farms Inc, ESI spa, Aloe Drink For Life, Forever Living Products International, Inc, Baby International Co., Ltd, Savia, Simplee Aloe, OKF America International, Houssy Global, NAM VIET F&B, Aloe for Life, Grace Foods, RitaFood, Drink Co., Ltd, Okyalo, Tory's Choice Inc and Others. |
Drivers:
Aloe vera juice is widely accepted by populations of all ages. As a result of its wide application, juices from a variety of foods in the food and beverage industry are the main drivers of growth in the global aloe vera Drink market. Additionally, awareness of the benefits of drinking aloe vera juice is gaining public attention worldwide. One of the newest developments in the food and beverage industry is the large-scale use of aloe vera in different types of beverages. Therefore, the global market for aloe vera-based beverages supports medicinal ingredients in liquids that aid digestion. Aloe vera-based beverages contain various vitamins, amino acids, and folic acid, which strengthen the body's immune system. It has an alkaline effect on the body, helping to remove acidified foods from the body more quickly. Aloe vera is a gelatin plant food, and the main benefit of eating gelatin plant foods in your diet is that the gel travels through the intestine, absorbing toxins and eliminating it through the colon. Aloe vera drink helps increase the water content of the intestines to overcome constipation problems, helping the body to detoxify. Another important factor is that it helps to lose weight and control energy. Thus, it helps maintain your healthy weight and increase your energy level. Additionally, aloe vera-based drinks help maintain healthy skin as well as soothe minor skin irritations, scratches, wounds, and burns.
One of the main reasons for the growth of aloe vera-based drinks is high demand. More people know how to use aloe vera. The demand for aloe vera-based beverages encouraged suppliers to regularly modify their products in a variety of flavors, consumer prefer to use this new type of aloe vera-based drink because it is popular with consumers.
Besides, as consumption of scented beverages increases worldwide, the market is growing as demand for aloe vera products increases. Along with an increase in skin diseases, an increase in the aging of the population and an increased awareness of aloe vera juice contribute to the growth of the market. In addition, there is increased concern about vitamin deficiency and increased adoption of functional beverages primarily in developing countries to offset Aloe vera Drink market growth.
Restraints:
Aloe vera drinks have several side effects, so an overdose can lead to liver dysfunction, nausea, and allergic reactions. Aloe vera drinks contain anthraquinone, so drinking them in large amounts can increase your risk of diarrhea. During pregnancy, it can cause miscarriages and congenital deficits, so its mild and irritating properties should limit the consumption of aloe vera drinks. Eating aloe vera-based drinks while breastfeeding can cause severe diarrhea in your baby. The high price is also one of the limiting factors. This drink is more expensive than other regular juice and beverage products, making it not affordable for the average consumer to consume every day.
Aloe Vera Drink Market Segmentation Analysis:
Depending on the type, the global aloe vera drink market is divided into flavor and non-flavor. Unflavored foods occupy a dominant position in aloe vera drinks and are used as medicinal drinks, so they are expected to maintain dominance during the forecast period. Just as eating habits increase digestion problems among people. Since aloe is known to calm, purify and improve digestion of the digestive tract, it is now used as a medical drink for the treatment of digestion, and the use of aloe vera drinks is increasing. The interesting thing about taking aloe is that it is an adaptive substance, so it can help with constipation or diarrhea and adjust the elimination cycle as needed.
By product type, the worldwide market is separated into ready to drink juice, crush, and pulp. Of these, the ready to drink segment is anticipated to develop with a considerable CAGR in the coming years.
Based on distribution channel, the market is divided into supermarket/hypermarket, convenience store, pharmaceutical shops, and e-commerce. Overall, the offline distribution accounted around 93% of Aloe Vera market share in 2019. However, online channels are expected to show double-digit growth during the forecast period.
Geographical Segmentation Analysis:
North America - the United States and Canada

Europe - United Kingdom, Spain, Germany, Italy, and France

The Asia Pacific - India, Japan, China, Australia, Singapore, Malaysia, South Korea, New Zealand, and Southeast Asia

Latin America - Brazil, Argentina, Mexico, and Rest of LATAM

The Middle East and Africa - Africa and Middle East (Saudi Arabia, UAE, Lebanon, Jordan, Cyprus)
Regional Analysis:
The global aloe vera Drink market is classified in North America, South America, Europe, Asia Pacific (APAC), the Middle East and Africa (MEA). Asia Pacific (APAC) has the largest market share of Aloe Vera Drink. Market growth in the region is driven by population growth and the growing demand for beverages with high health benefits. Increased consumption in developing countries like China and India has become a major market driver for APAC's aloe vera beverage market. The main driving force behind the aloe vera beverage market is people's increased perception of healthy food and beverage consumption. However, Europe is seeing a growing demand for healthy drinks due to people's perception of healthy food, followed by APAC in terms of market share of Aloe Vera Drink, and the easy availability of aloe vera drinks in supermarkets. The hypermarket/supermarket culture is gaining popularity in Europe, which will drive the growth of the Aloe Vera market during the outlook period. It is constantly growing with investment and development in Eastern Europe. Poland has started dynamic growth for 30 years as new overseas retailers and luxury brands enter the market with 30 new global brand operations in recent years. The rise of retail trade in Russia as a result of the completion of 63 new complexes in 40 Russian cities. In Western Europe, there is a positive attitude that retailers can expand their region by investing in outdated shopping malls.
Key Players in the Market:
Major Key Players in the Global Aloe Vera Drink Market are
ALO Drinks

Suja Life

Aloe Farms Inc

ESI spa

Aloe Drink For Life

Forever Living Products International, Inc

Baby International Co., Ltd

Savia

Simplee Aloe

OKF America International

Houssy Global

NAM VIET F&B

Aloe for Life

Grace Foods

RitaFood

Drink Co., Ltd

Okyalo

Tory's Choice Inc