Electrolyte Drinks Market Size, Growth, Forecast (2022-2027)
The global Electrolyte Drinks Market size was estimated to be USD 1.42 billion in 2021, and it is envisioned to reach a valuation of USD 1.82 billion by 2027, accounting for a CAGR of 3.2% over the envisioned period. Electrolytic drinks are gaining ground around the world with the rise in physical activities of Millennium and Generation Z demographics.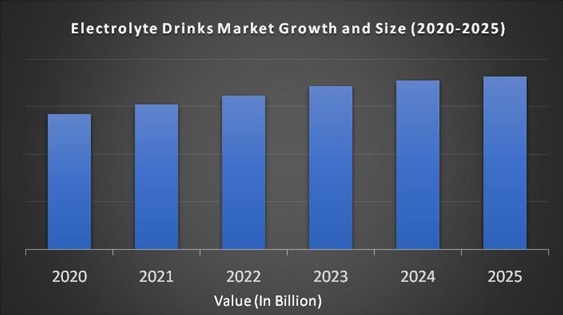 Market Overview:
Electrolyte is the scientific term for "salt". Electrolytic drinks consist of salt and sugar in ionizing substances such as water. Electrolyte drinks generally help maintain energy and recover from exercise. Electrolyte drinks are specially created beverages that are supposed to develop ions when mixed with body fluids. Electrolytic drinks have gone from being specialty products to one of the fastest-growing products worldwide. The main use of the drink is to compensate for the loss of electrolytes in athletes or people who exercise regularly. The amount of electrolyte varies from person to person due to various parameters such as age, sex, fitness, duration of exercise, and environmental factors. Electrolytic drinks are of three types: isotonic, low and high. Electrolyte drinks can be purchased via different sales channels like department stores, vending machines, convenience stores, and online platforms. These drinks are used in various stages of exercise, such as before, during, and after completion. Electrolyte drinks offer instant energy and physical stimulation. Elements like caffeine and taurine that offer irritation, and vital for muscle development and cardiovascular health are the main components of these electrolyte drinks.
Recent Developments in Electrolyte Drinks Industry:
Gatorade will launch Gatorade Zero as a new product on the market. This product reduces sugar content to completely shake consumers of Electrolyte Drinks.

PowerAde presents a new product that includes coconut water. According to a recent study, coconut water can be as useful to consumers as drinks with electrolytes. PowerAde then attempted to use this information to create a new product.

American sports-themed food and beverage maker Gatorade announced the launch of BOLT24. Bolt24 is free from artificial flavors and sweeteners, and to help athletes stay hydrated 24 hours a day, the company's new drink is a low-calorie electrolyte drink.

Coca-Cola, which owns Powerade, also invested in BodyArmor, aElectrolyte Drinks that started with the support of Kobe Bryant.
REPORT COVERAGE:
| | |
| --- | --- |
| REPORT METRIC | DETAILS |
| Market Size Available | 2021 – 2027 |
| Base Year | 2021 |
| Forecast Period | 2022 - 2027 |
| CAGR | 3.2% |
| Segments Covered | By Type, Application, Distribution Channel and Region |
| Various Analyses Covered | Global, Regional & Country Level Analysis, Segment-Level Analysis, DROC, PESTLE Analysis, Porter's Five Forces Analysis, Competitive Landscape, Analyst Overview on Investment Opportunities |
| Regions Covered | North America, Europe, APAC, Latin America, Middle East & Africa |
| Market Leaders Profiled | Pepsi, AJE, Coco-Cola, Body Armor Superdrink, Pacific Health Labs, Otsuka Pharmaceutical, Fraser & Neave Limited (F&N) and Others. |
Electrolyte Drinks Market Growth:
Electrolyte drinks are geared toward athletes and adults who exercise regularly, and because the product suggests a healthy lifestyle, the average buyer is a top payer.
Drivers:
Market growth is fueled by increased health and fitness awareness, acceptance of healthy beverage alternatives, and willingness to pay for these products. Additionally, there is an increasing propensity for beverages and drinks that do not have unhealthy ingredients and may provide functional or health benefits. Manufacturers of electrolyte hydration drinks are aimed at athletes, hikers, and those who are actively involved in physical activities. This product helps prevent dehydration and replenish multiple electrolytes such as sodium, potassium, calcium, magnesium, and phosphate, which are important for muscle and nerve stimulation. Excessive physical exercise causes fluid loss through excessive sweating, requires the same restorations, and mineral loss varies from person to person. Manufacturers are introducing various flavors and variations to improve palatability. Increased health awareness and changes in consumer lifestyles are key factors driving the global electrolyte drinks market. It also helps with market growth due to increased demand for convenience drinks, increased sports activities, increased income, and increased urbanization. The growth of the athlete community in developing countries and the increase in athletes are some of the other factors driving the market.
In addition, market growth is supposed to accelerate as the consumer's propensity for physical fitness increases and the number of gyms and health clubs increases. Manufacturers are concentrating on extending their product portfolios by launching innovative flavors with additional health advantages. They are targeted at different ages due to the popularity of electrolyte drinks among teens and adults. This change is mainly due to the growing consumer interest in fitness and health. Furthermore, the consumption of carbonated beverages leads to a notable decrease in most of the most important markets in the world, so the demand for electrolytic beverages is mounting and is foreseen to attract attention in terms of sales over the prediction period. Since electrolyte drinks are no longer the choice of athletes, it is likely to attract new consumers in the global electrolyte beverage market in the coming years. North America is one of the leading markets for electrolyte drinks as health problems increase and fitness awareness increases. In particular, increased use of electrolyte beverages during exercise sessions in gyms is presumed to provide growth opportunities for the market.
Restraints:
Excessive use of electrolyte drinks has been linked to health risks such as frequent urination, poor sleep, and abnormal heartbeat, which is a major limitation on the market. With fewer side effects for natural and organic products, the consumer trend toward natural and organic products is hampering the market growth. However, the production of electrolytic beverages from natural ingredients like natural sweeteners will accelerate market growth by offering manufacturers the opportunity to add value to their products.
Electrolyte Drinks Market Segmentation Analysis:
By Type:
Hypertonic

Hypotonic

Isotonic
By Application:
By Distribution Channel:
Supermarkets/Hypermarkets

Pharmacies

Online Stores
Geographical Segmentation Analysis:
North America - the United States and Canada

Europe - United Kingdom, Spain, Germany, Italy, and France

The Asia Pacific - India, Japan, China, Australia, Singapore, Malaysia, South Korea, New Zealand, and Southeast Asia

Latin America - Brazil, Argentina, Mexico, and Rest of LATAM

The Middle East and Africa - Africa and Middle East (Saudi Arabia, UAE, Lebanon, Jordan, Cyprus)
Regional Analysis:
Geographically, the global electrolyte drinks market is analyzed in North America, Europe, Asia Pacific and LAMEA. North America and Europe are the largest markets and represent more than 50% of the total share. The market dominion is due to the rising preference among consumers for healthy beverages compared to regular sweet drinks. Furthermore, as participation in trekking and other similar activities increases, the consumer base that participates in physical activity is increasing. This will lead to the growth of the global electrolytic drinks market. In addition, the European region is expected to post significant growth during the outlook period, due to the increased acceptance of various innovative products without preservatives and low or low sugar content. Moreover, the market will be further strengthened by government support regulations. For example, the UK government has introduced additional taxes on sugary drinks, causing manufacturers to move their portfolios, relocate and restructure their portfolios to accommodate the market with sugar-free or low-sugar drinks. The Asia Pacific region is foreseen to record the fastest growth rate during the projection period. This growth is recognized by increasing health and wellness awareness and a large customer base across the region. Countries like India and China are contributing significantly to the growth of the market as the number of professional people increases.
Key Players in the Market:
Major Key Players in the Global Electrolyte Drinks Market are
Pepsi

AJE

Coco-Cola

Body Armor Superdrink

Pacific Health Labs

Otsuka Pharmaceutical

Fraser & Neave Limited (F&N)
1. Introduction
1.1 Market Definition
1.2 Study Deliverables
1.3 Base Currency, Base Year and Forecast Periods
1.4 General Study Assumptions
2. Research Methodology
2.1 Introduction
2.2 Research Phases
2.2.1 Secondary Research
2.2.2 Primary Research
2.2.3 Econometric Modelling
2.2.4 Expert Validation
2.3 Analysis Design
2.4 Study Timeline
3. Overview
3.1 Executive Summary
3.2 Key Inferences
3.3 Epidemology
4. Drivers, Restraints, Opportunities, and Challenges Analysis (DROC)
4.1 Market Drivers
4.2 Market Restraints
4.3 Key Challenges
4.4 Current Opportunities in the Market
5. Market Segmentation
5.1 By Type
5.1.1 Introduction
5.1.2 Hypertonic
5.1.3 Hypotonic
5.1.4 Isotonic
5.1.5 Y-o-Y Growth Analysis
5.1.6 Market Attractiveness Analysis
5.1.7 Market Share Analysis
5.2 By Application
5.2.1 Introduction
5.2.2 Sports
5.2.3 Medical Centers
5.2.4 Y-o-Y Growth Analysis
5.2.5 Market Attractiveness Analysis
5.2.6 Market Share Analysis
5.3 By Distribution Channel
5.3.1 Introduction
5.3.2 SuperMarkets/Hypermarkets
5.3.3 Pharmacies
5.3.4 Online Stores
5.3.5 Y-o-Y Growth Analysis
5.3.6 Market Attractiveness Analysis
5.3.7 Market Share Analysis
6. Geographical Analysis
6.1 Introduction
6.1.1 Regional Trends
6.1.2 Impact Analysis
6.1.3 Y-o-Y Growth Analysis
6.1.3.1 By Geographical Area
6.1.3.2 By Distribution Channel
6.1.3.3 By Application
6.1.3.4 By Type
6.1.4 Market Attractiveness Analysis
6.1.4.1 By Geographical Area
6.1.4.2 By Distribution Channel
6.1.4.3 By Application
6.1.4.4 By Type
6.1.5 Market Share Analysis
6.1.5.1 By Geographical Area
6.1.5.2 By Distribution Channel
6.1.5.3 By Application
6.1.5.4 By Type
6.2 North America
6.1.1 Introduction
6.1.2 United States
6.1.3 Canada
6.3 Europe
6.2.1 Introduction
6.2.2 U.K
6.2.3 Spain
6.2.4 Germany
6.2.5 Italy
6.2.6 France
6.4 Asia-Pacific
6.3.1 Introduction
6.3.2 China
6.3.3 India
6.3.4 Japan
6.3.5 Australia
6.3.6 South Korea
6.5 Latin America
6.4.1 Introduction
6.4.2 Brazil
6.4.3 Argentina
6.4.4 Mexico
6.4.5 Rest of Latin America
6.6 Middle East & Africa
6.5.1 Introduction
6.5.2 Middle-East
6.5.3 Africa
7. Strategic Analysis
7.1 PESTLE analysis
7.1.1 Political
7.1.2 Economic
7.1.3 Social
7.1.4 Technological
7.1.5 Legal
7.1.6 Environmental
7.2 Porter's Five analysis
7.2.1 Bargaining Power of Suppliers
7.2.2 Bargaining Power of Consumers
7.2.3 Threat of New Entrants
7.2.4 Threat of Substitute Products and Services
7.2.5 Competitive Rivalry within the Industry
8. Market Leader Analysis
8.1 Pepsi
8.1.1 Overview
8.1.2 Product Analysis
8.1.3 Financial analysis
8.1.4 Recent Developments
8.1.5 SWOT analysis
8.1.6 Analyst View
8.2 AJE
8.3 Coco Cola
8.4 Body Armor Superdrink
8.5 Pacific Health Labs
8.6 Otsuka Pharmaceutical
8.7 Fraser & Neave Limited (F&N)
9. Competitive Landscape
9.1 Market share analysis
9.2 Merger and Acquisition Analysis
9.3 Agreements, collaborations and Joint Ventures
9.4 New Product Launches
10. Market Outlook and Investment Opportunities
Appendix
a) List of Tables
b) List of Figures
Global Electrolyte Drinks Market By Region, From 2022 - 2027 ( USD Billion )

Global Electrolyte Drinks Market By Type, From 2022 - 2027 ( USD Billion )

Global Hypotonic Market By Region, From 2022 - 2027 ( USD Billion )

Global Hypertonic Market By Region, From 2022 - 2027 ( USD Billion )

Global Isotonic Market By Region, From 2022 - 2027 ( USD Billion )

Global Electrolyte Drinks Market By Applications, From 2022 - 2027 ( USD Billion )

Global Sports Market By Region, From 2022 - 2027 ( USD Billion )

Global Medical Centres Market By Region, From 2022 - 2027 ( USD Billion )

Global Electrolyte Drinks Market By Distribution Channel, From 2022 - 2027 ( USD Billion )

Global Supermarkets/Hypermarkets Market By Region, From 2022 - 2027 ( USD Billion )

Global Pharmacies Market By Region, From 2022 - 2027 ( USD Billion )

Global Online platform Market By Region, From 2022 - 2027 ( USD Billion )