Almond Drinks Market Size, Growth, Forecast (2023-2028)
The Global Almond Drinks Market size was estimated at US$ 5.2 billion in 2022, and it is predicted that it will reach US$ 13.3 billion by 2028 with an annual development rate of 14.3% between 2023 and 2028.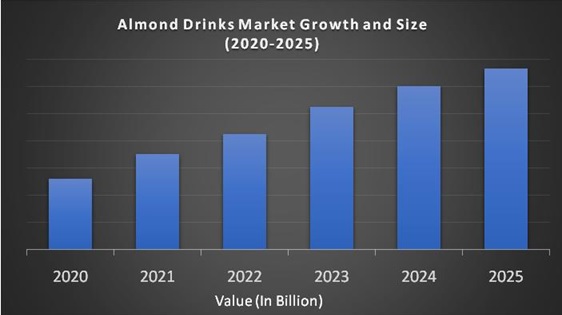 Market Overview:
The almond drink, also called almond milk, is made from crushed almonds and water, and has a pleasant taste and a creamy texture similar to normal milk. Almond drinks are extracted from ground almonds with a peanut flavor and a creamy texture. Almond drinks are lactose-free, preferred by people who are lactose-resistant and avoid dairy products, including vegan consumers. Almonds contain protein, vitamins, and fiber and serve as a rich source of energy. Almond milk is preferred in the food industry for the manufacture of beverages such as cheese, dessert, snacks and cold-pressed milk. Almond drinks have a creamy, nutty texture and are made with crushed almonds and water and other additives. They are lactose-free, low in calories, and popular with people who are resistant to lactose and dairy products. 'Dairy and gluten free' is the most prominent feature of almond drinks and is popular with consumers sensitive to lactose and gluten intolerance. Beverages are also a rich source of energy and contain protein, vitamins, and fiber. Most dairy products contain high calories and lactose, and almond drinks contain no cholesterol or saturated fat, low sodium, and high fat (such as omega fatty acids), helping to reduce the risk of high blood pressure and diseases related to heart.
Recent Developments in Almond Drinks Industry:
In October 2019, the American beverage maker Blue Diamond expanded the Almond Breeze brand with the launch of Almond Milk Hot Chocolate.
In August 2019, the British supermarket chain Lidl began offering vegan milk flavored with almonds and oats in the Just Free line.
In May 2019, India-based ITC Limited plans to export almond-based dairy drinks to the Middle East market, mainly Saudi Arabia and Dubai.
Almond Drinks Market Growth:
The driving force behind the global almond drink market is the increasing demand for lactose-free food due to ease of digestion, which is expected to contribute significantly to the global almond drinks market by 2025.
REPORT COVERAGE:
| | |
| --- | --- |
| REPORT METRIC | DETAILS |
| Market Size Available | 2022 – 2028 |
| Base Year | 2022 |
| Forecast Period | 2023 - 2028 |
| CAGR | 14.3% |
| Segments Covered | By Form, Application, Flavor, Distribution Channel and Region |
| Various Analyses Covered | Global, Regional & Country Level Analysis, Segment-Level Analysis, DROC, PESTLE Analysis, Porter's Five Forces Analysis, Competitive Landscape, Analyst Overview on Investment Opportunities |
| Regions Covered | North America, Europe, APAC, Latin America, Middle East & Africa |
| Market Leaders Profiled | Pressery, Fuerst Day Lawson, Alpro, The Luz Almond Company Pty Ltd, Provamel, Dream, Malk Organics, Natura Foods, Nutriops S.L, Blue Diamond Growers, Rude Health and Others. |
Drivers:
Almond drinks are low in carbohydrates and do not significantly increase blood sugar levels, constantly reducing the risk of diabetes. Intake of almond drinks provides excellent benefits for weight control, maintaining bone health, strength and smooth digestion. Almond milk contains 50% of the RDA for Vitamin E, which contains antioxidants that are essential for skin health and protect from sun damage. Key factors, such as a greater preference for almond drinks as an alternative to milk, are estimated to taste better than milk, are easier to prepare, more nutritious, and a higher demand for liquid products on the move have a positive impact in the growth of the almond drinks market. Balloon during the forecast period. Thiamine is a water-soluble B vitamin present in almonds that plays an important role in energy metabolism and cell growth, development and function. As health awareness of dairy substitutes increases, product coverage will increase. Almond drinks are gaining popularity with health-conscious consumers. Vitamin E contains antioxidants that help maintain skin health. Market growth is expected to accelerate further as awareness of various benefits increases. Some maintain bone health, weight, muscle strength, and are easy to digest, and low levels of B vitamins and carbohydrates help maintain sugar in the body.
Almond drinks are high in healthy fats and low in sodium that are the main factors driving growth in consumption and changes in consumer preferences and are expected to drive growth in target markets.
Consuming almond milk reduces the risk of high blood pressure and heart disease, and its calorie content is low, unlike normal dairy products. The increase in consumers of lactose intolerance is one of the main drivers of the world market for almond drinks. Increasing awareness of the use of lactose-free dairy products in everyday life to help maintain the level of galactose in the body is one of the main driving forces in the worldwide market. The increase in lactose intolerance levels is one of the main driving forces in the market. Therefore, the global almond drinks market is expected to show strong growth during the estimated period.
Restraints:
Factors such as the high price of almonds and the availability of other vegetable dairy substitutes such as soy and pea drinks are once again enabling market growth. The main limitation in the almond drink market is the price. It is low in protein and can cause protein deficiency when consumed alone. Almonds are expensive and the price of milk increases, making them unsuitable for the general public. People with weak digestion may experience abdominal cramps due to consumption. These factors can hinder the growth of the global almond drink market.
Almond Drinks Market Segmentation Analysis:
Depending on the form, the products are divided into sweetened and unsweetened. By flavor, the product comes in plain, vanilla and chocolate flavors, which is highly demanded by children. As the use of beverages such as pudding, ice cream, baked goods, smoothies, and shakes increases, plain flavor is expected to play a significant role in the almond beverage market. As the number of diabetics worldwide increases, the demand for sugar-free products will increase and the market share of almond milk will increase.
The almond drinks market is classified as desserts, cheese and snacks, beverages and cosmetics, depending on the application. Beverages have the largest market share in almond drinks as their use as a dairy substitute increase. The dairy replacement market is expected to grow at a compound annual rate of over 15% by 2024 and boost demand for products. Food is significantly related to its use in cheese, desserts, snacks, and baked goods. Rich in vitamin E and oxidants, it helps nourish and restore damaged skin. These are used in rose water cleansing lotions to remove dirt and impurities from the skin.
By distribution channel, the almond drinks market is divided into supermarkets/hypermarket, retail stores, online stores and others. Urban and semi-urban populations prefer this due to the availability of the product, so supermarkets have a large share. The number of stores in large companies like Walmart has increased significantly. With the growth of the online platform, discounts and easy delivery, online sales have increased by approximately 10%. Department stores and grocery stores are experiencing significant growth with significant participation as local demand for products increases.
Geographical Segmentation Analysis:
North America - the United States and Canada

Europe - United Kingdom, Spain, Germany, Italy, and France

The Asia Pacific - India, Japan, China, Australia, Singapore, Malaysia, South Korea, New Zealand, and Southeast Asia

Latin America - Brazil, Argentina, Mexico, and Rest of LATAM

The Middle East and Africa - Africa and Middle East (Saudi Arabia, UAE, Lebanon, Jordan, Cyprus)
Regional Analysis:
The North American market currently holds the lion's share of revenue and is expected to maintain its leadership during the forecast period. Consumers are more aware of their health and prefer nutrition over content. In the United States, it has exceeded soymilk consumption and accounts for approximately 60% of vegetable milk sales. The demand for dairy-free beverages in the region is increasing as many lactose-intolerant consumers in this region, low-calorie food priorities and increased health awareness. As demand for almond drinks increases among lactose-free consumers, the global almond drink market is expected to intensify its growth, significantly increasing the market sales contribution during the forecast period. Asia Pacific is the fastest-growing market for almond drinks due to population growth and disposable income. The growth of the vegan population will have a positive impact on the growth of the product. Europe, led by Germany and the United Kingdom, is expected to experience significant growth as the number of dairy substitutes increases. The presence of the main almond producers, Spain and Italy further alleviated the availability of walnuts for milk production.
Key Players in the Market:
Major Key Players in the Global Almond Drinks Market are
Pressery

Fuerst Day Lawson

Alpro

The Luz Almond Company Pty Ltd

Provamel

Dream

Malk Organics

Natura Foods

Nutriops S.L

Blue Diamond Growers

Rude Health