Dairy Products Market Size, Growth, Forecast (2022-2027)
The global Dairy Products Market size was worth USD 519.3 million in 2021, and it is envisioned to reach a valuation of USD 739.4 million by the end of 2027, rising at a CAGR of 7.18% over the projection period. The dairy industry is among the most dynamic markets around the world and is multiplying on almost all demographics.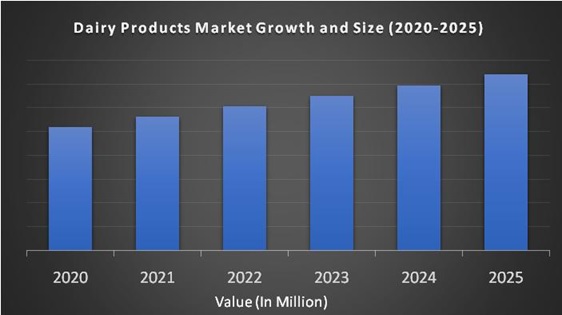 Market Overview:
The dairy industry is mainly made up of companies that operate selling milk, cheese and butter products. Dairy industry operators mainly produce products like yogurt, pasteurized milk, cream, concentrated and evaporated milk. The dairy industry also manufactures alternative dairy products made from soy and other non-dairy ingredients. The dairy industry was particularly volatile due to fluctuating crude oil prices and the economic downturn. Dairy products and beverages, essential elements of our diet, are in high demand and are expected to continue to do so over the outlook period. Because many manufacturers around the world address the needs of the health-conscious public, low-fat, lactose-free, and cholesterol-free dairy products have been marketed.
Recent Developments in Dairy Products Industry:
Danone is constantly innovating and manufacturing products to attract a large population base. The company developed a program called Nutriplanet. The program is intended to better identify customer tastes, nutritional needs, and habits. The program also helps local milk producers maintain the quality of their dairy products and improve their farming practices.

In May 2017, PepsiCo India announced plans to enter the dairy market of India in the near future.
REPORT COVERAGE:
| | |
| --- | --- |
| REPORT METRIC | DETAILS |
| Market Size Available | 2021 – 2027 |
| Base Year | 2021 |
| Forecast Period | 2022 - 2027 |
| CAGR | 7.18% |
| Segments Covered | By Type, Application and Region |
| Various Analyses Covered | Global, Regional & Country Level Analysis, Segment-Level Analysis, DROC, PESTLE Analysis, Porter's Five Forces Analysis, Competitive Landscape, Analyst Overview on Investment Opportunities |
| Regions Covered | North America, Europe, APAC, Latin America, Middle East & Africa |
| Market Leaders Profiled | Arla Foods UK Plc, Nestle SA, Fonterra Group Cooperative Limited, Kraft Foods, Amul, Danone, Meiji Dairies Corp, Groupe Lactalis SA, Unilever N, Parmalat S.P.A and Others. |
Dairy Products Market Growth:
Due to the increased consumption of milk and the environmental benefits associated with commodities, the global demand for dairy products is increasing significantly.
Drivers:
The global dairy products market is expected to grow significantly over the prediction period. The demand for milk and dairy products like cheese and butter increases every day as the world population increases. Global population-based growth, growth in per capita income, increased consumer awareness of the nutritional value of dairy products, and changes in consumer diet patterns are key drivers of market growth. Advanced technology is needed to meet these needs by increasing milk handling capacity and maintaining product quality. In addition, technological advances and innovations to obtain more milk from dairy animals are also expected to accelerate market growth. The use of technologically advanced transportation to maintain the efficiency and quality of dairy products during long-distance exports is also supposed to accelerate the growth of the market. There is no strict regulatory framework, and increased funding from the public and private sectors is spurring growth in the global dairy products market. The thriving agricultural and livestock industry in many parts of the world is responsible for increasing the production of dairy products. Dairy cows are primarily used in the production of numerous dairy products, while buffalo milk is also used in many countries, such as India, Egypt, China, and the Philippines. An increasing number of convenience stores, supermarkets, department stores and hypermarkets around the world are driving the market growth.
Government arbitration plays a pivotal role in controlling the market growth. Due to their nutritional value and benefits, dairy products are also administered to patients whose clinical experts have some disabilities and undergo surgery. The foodservice and food processing industries and food retailers are the main customers of this product. The governments of the main dairy-producing countries, such as Canada, monitor the price structure and production quantities of the main dairy products. Favorable rules and regulations are formed by government agencies to protect government agencies from fluctuations in foreign market prices. We also monitor dairy storage processes to keep these products longer and avoid unnecessary waste. To capture this growing market demand, the main actors introduced new products with better quality and higher nutritional value. Sedentary lifestyles, unhealthy eating habits, and increased awareness of nutritional foods are estimated to increase market demand. These products include tons of milk, skim milk, low-fat energy drinks, seasonal fruit yogurt, and delicious yogurt sauce. Increasing household incomes, especially in urban areas, are also assumed to change lifestyles and preferences.
Restraints:
Manufacturers face various challenges during processing to maintain the original taste, texture and odor of dairy products worldwide. Therefore, these factors impeded the growth of the global dairy products market. Dairy products are exported to regions where weather conditions, unsatisfied supply and demand relationships, unfavorable government actions, and currency exchange rates play an important limit.
Dairy Products Market Segmentation Analysis:
By Type:
Lactose Free Milk

Cream And Frozen

Cheese

Yogurt

Butter

Buttermilk

Ice Cream
By Application:
Frozen Food

Bakery And Confectionery

Clinical Nutrition
Geographical Segmentation Analysis:
North America - the United States and Canada

Europe - United Kingdom, Spain, Germany, Italy, and France

The Asia Pacific - India, Japan, China, Australia, Singapore, Malaysia, South Korea, New Zealand, and Southeast Asia

Latin America - Brazil, Argentina, Mexico, and Rest of LATAM

The Middle East and Africa - Africa and Middle East (Saudi Arabia, UAE, Lebanon, Jordan, Cyprus)
Regional Analysis:
North America is foreseen to dominate the global dairy products market. The main factors that account for the majority are the management of a larger number of livestock, higher production of lactose, a greater perception of nutritional products by people and the introduction of advanced equipment for milk processing. The Asia Pacific area is expected to among the fastest-growing regions over the outlook period. India contributes around 16% of dairy production worldwide Population growth, increased consumption of dairy products and increased economic growth in the region are major causes of growth. India, called the "oyster" of the global dairy industry, is probably the world's largest producer of dairy products. It is expected to take a large share of the global dairy market. Dairy products such as buttermilk, butter, ghee, bell cheese (cottage cheese), dahi (yogurt), lace and milk-based sweets are part of the rich culinary tradition of India and are consumed regularly. China, Indonesia, Malaysia, Bangladesh and Thailand are also seeing increasing demand for dairy products. New Zealand has been a major milk exporter for the past year. New Zealand has been tracked by the European region. Countries such as Mexico, China and Russia are among the main importers of dairy products worldwide. This declaration modifies trade in terms of dairy consumption in the international market. Especially used in North America, Europe, Asia Pacific, the Middle East, and Africa and South America. Focus on the main companies operating in the region. Latin America is expected to record high growth rates. It houses Brazil, the second-largest dairy farm in the world, after India. Argentina, Peru, Venezuela, Uruguay and Mexico also expect significant growth.
Key Players in the Market:
Major Key Players in the Global Dairy Products Market are
Arla Foods UK Plc

Nestle SA

Fonterra Group Cooperative Limited

Kraft Foods, Inc.

Amul

Danone

Meiji Dairies Corp

Groupe Lactalis SA

Unilever N

Parmalat S.P.A
1. Introduction
1.1 Market Definition
1.2 Scope of the report
1.3 Study Assumptions
1.4 Base Currency, Base Year and Forecast Periods
2. Research Methodology
2.1 Analysis Design
2.2 Research Phases
2.2.1 Secondary Research
2.2.2 Primary Research
2.2.3 Data Modelling
2.2.4 Expert Validation
2.3 Study Timeline
3. Report Overview
3.1 Executive Summary
3.2 Key Inferencees
4. Market Dynamics
4.1 Impact Analysis
4.1.1 Drivers
4.1.2 Restaints
4.1.3 Opportunities
4.2 Regulatory Environment
4.3 Technology Timeline & Recent Trends
5. Competitor Benchmarking Analysis
5.1 Key Player Benchmarking
5.1.1 Market share analysis
5.1.2 Products/Service
5.1.3 Regional Presence
5.2 Mergers & Acquistion Landscape
5.3 Joint Ventures & Collaborations
6. Market Segmentation
6.1 Dairy Products Market, By Type
6.1.1 Lactose Free Milk
6.1.2 Cream And Frozen
6.1.3 Cheese
6.1.4 Yogurt
6.1.5 Butter
6.1.6 Buttermilk
6.1.7 Ice Cream
6.1.8 Market Size Estimations & Forecasts (2022-2027)
6.1.9 Y-o-Y Growth Rate Analysis
6.1.10 Market Attractiveness Index
6.2 Dairy Products Market, By Application
6.2.1 Frozen Food
6.2.2 Bakery And Confectionery
6.2.3 Clinical Nutrition
6.2.4 Market Size Estimations & Forecasts (2022-2027)
6.2.5 Y-o-Y Growth Rate Analysis
6.2.6 Market Attractiveness Index
7. Geographical Landscape
7.1 Global Identity Governance and Administration Market, by Region
7.2 North America - Market Analysis (2022-2027)
7.2.1 By Country
7.2.1.1 USA
7.2.1.2 Canada
7.2.2 By Type
7.2.3 By Application
7.3 Europe
7.3.1 By Country
7.3.1.1 UK
7.3.1.2 France
7.3.1.3 Germany
7.3.1.4 Spain
7.3.1.5 Italy
7.3.1.6 Rest of Europe
7.3.2 By Type
7.3.3 By Application
7.4 Asia Pacific
7.4.1 By Country
7.4.1.1 China
7.4.1.2 India
7.4.1.3 Japan
7.4.1.4 South Korea
7.4.1.5 South East Asia
7.4.1.6 Australia & NZ
7.4.1.7 Rest of Asia-Pacific
7.4.2 By Type
7.4.3 By Application
7.5 Latin America
7.5.1 By Country
7.5.1.1 Brazil
7.5.1.2 Argentina
7.5.1.3 Mexico
7.5.1.4 Rest of Latin America
7.5.2 By Type
7.5.3 By Application
7.6 Middle East and Africa
7.6.1 By Country
7.6.1.1 Middle East
7.6.1.2 Africa
7.6.2 By Type
7.6.3 By Application
8. Key Player Analysis
8.1 Arla Foods UK Plc
8.1.1 Business Description
8.1.2 Products/Service
8.1.3 Financials
8.1.4 SWOT Analysis
8.1.5 Recent Developments
8.1.6 Analyst Overview
8.2 Nestle SA
8.3 Fonterra Group Cooperative Limited
8.4 Kraft Foods, Inc.
8.5 Amul
8.6 Danone
8.7 Meiji Dairies Corp
8.8 Groupe Lactalis SA
8.9 Unilever N
8.10 Parmalat S.P.A
9. Market Outlook & Investment Opportunities
Appendix
List of Tables
List of Figures
Global Dairy Products Market By Region, From 2022-2027 ( USD Billion )

Global Dairy Products Market By Type, From 2022-2027 ( USD Billion )

Global Lactose Free Milk Market By Region, From 2022-2027 ( USD Billion )

Global Cream And Frozen Market By Region, From 2022-2027 ( USD Billion )

Global Cheese Market By Region, From 2022-2027 ( USD Billion )

Global Yogurt Market By Region, From 2022-2027 ( USD Billion )

Global Butter Market By Region, From 2022-2027 ( USD Billion )

Global Buttermilk Market By Region, From 2022-2027 ( USD Billion )

Global Ice Cream Market By Region, From 2022-2027 ( USD Billion )

Global Dairy Products Market By Application, From 2022-2027 ( USD Billion )

Global Frozen Food Market By Region, From 2022-2027 ( USD Billion )

Global Bakery And Confectionery Market By Region, From 2022-2027 ( USD Billion )

Global Clinical Nutrition Market By Region, From 2022-2027 ( USD Billion )