Dairy Ingredients Market Size, Growth, Forecast (2023-2028)
The Global Dairy Ingredients Market Size was worth US$ 53.8 billion in 2022, and it is estimated to reach a valuation of US$ 81.4 billion by the end of 2028, expanding at an annual compound rate of above 7% between 2022 and 2027. Knowledge of the functional properties of dairy ingredients enables food technicians to utilize possible contributions to the product's features to meet consumer expectations.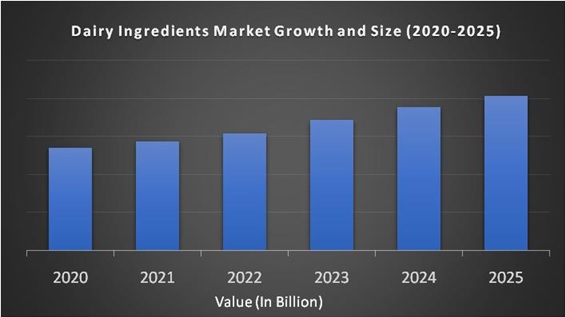 Market Overview:
Dairy ingredients are mainly extracted from milk and whey and are used to develop different types of products with diverse applicability. For example, these ingredients provide food with nutritional and health benefits, flavor and other properties. Traditional heat treatment methods are used to produce dairy ingredients and to cool and taste, while membrane separation techniques are used for the same purpose. Dairy Ingredients are used as constituents in many foods. They have a unique flavor, pleasant texture and excellent nutritional value.
In many cases, dairy ingredients provide easy-to-use labels for packaged foods. In addition, these ingredients have many properties, such as whey protein concentrate, and the isolate has gelling properties and also helps absorb moisture content; Caseinate has the ability to emulsify and stabilize; Lactose helps brown during the heating process. However, lactose has crystallization properties and the hydrolytic activity of the enzyme lactase, which is very important for frozen and confectionery products. Therefore, food manufacturers can choose suitable dairy ingredients to ensure the quality of food.
Recent Developments in Dairy Ingredients Industry:
On March 27, 2018, the French dairy cooperative Laita and its subsidiary Epi Ingredients launched a new nutrient, ESI Nutrition.

French-based dairy company Danone has launched five new products in its product line, Icelandic Skyer, Laban, Iran, Lacy and Strazisto. These five products are rich in protein with high-fat content and are available in 5 countries, including India, Turkey, Greece and Lebanon.

Arla Foods Ingredients opens a new production plant in Denmark. The facility can produce 4,000 tons of high-quality whey and casein hydrolyzate each year.

PowerBar has launched a new line of whey products under the Clean Whey brand, which does not have an artificial sweetener formulation and contains 2 grams of sugar.

Epigamy launched India's first lactose-free boat, which has creamy texture, low-fat, high-protein Greek yogurt.
REPORT COVERAGE:
| | |
| --- | --- |
| REPORT METRIC | DETAILS |
| Market Size Available | 2022 – 2028 |
| Base Year | 2022 |
| Forecast Period | 2023 - 2028 |
| CAGR | 7% |
| Segments Covered | By Form, Type, Application and Region |
| Various Analyses Covered | Global, Regional & Country Level Analysis, Segment-Level Analysis, DROC, PESTLE Analysis, Porter's Five Forces Analysis, Competitive Landscape, Analyst Overview on Investment Opportunities |
| Regions Covered | North America, Europe, APAC, Latin America, Middle East & Africa |
| Market Leaders Profiled | Frieslandcampina, Fonterra Co-Operative Group Limited, Dairy Farmers of America, Arla Foods, Glanbia PLC, Euroserum, Groupe Lactalis, Saputo Inc, Devondale Murray Goulburn, Volac International Limited and Others. |
Dairy Ingredients Market Growth:
Complemented by the application of versatile dairy ingredients and increased consumer awareness of consumers' healthy eating habits, consumption of functional ready-to-eat foods is increasing, and the global market for dairy ingredients is growing.
Drivers:
As awareness of maintaining a healthy lifestyle for people increases, the importance of strengthening food and beverage nutrition is supposed to have a positive impact in the next eight years. Vegans are expected to consume functional foods enriched with protein to supplement their protein needs will have a significant effect on the market. Food and beverage companies have launched new products, including Kellogg, which is presumed to increase demand for whey and milk powder as demand for protein supplements increases. The ingredients of dairy products in the form of milk powder are reinforced in the preparation of infant products, as they provide a superficial microbiological level, high thermal stability and promote prolonged processing work in the production of infant formulas. Most consumers generally use it as a supplement along with resistance exercises to support improved protein synthesis and help lean tissue mass.
As diet foods become more aware of nutritional supplements, their knowledge of protein-rich foods is expected to fuel the use of dairy ingredients, including whey, in the next eight years. The level of innovation led by Danone, a baby food maker in emerging countries, including China and India, is anticipated to increase demand for powdered milk in the next eight years. Regulatory support for the inclusion of whey protein in food and beverages by the US FDA is assumed. The USA and the UK government will have a substantial impact in the next eight years. Health problems arise between people. R&D activation associated with innovative solutions using dairy ingredients, growth in applications such as confectionery and dairy products, and increased urbanization drive the market growth.
However, the availability of milk substitutes and lactose intolerance and the appearance of milk allergies interfere with this growth. Milk Protein Concentrate (MPC) has functional properties similar to acidic casein and was developed by CO2 infusion, a potential alternative to casein and caseinate components. Recent developments in advanced technologies, such as adsorption chromatography, have created elements with prebiotic benefits, making them an excellent opportunity for market growth.
Restraints:
The presence of alternatives such as vegetable proteins, increased intolerance to lactose and milk allergies among the population, islimiting this market growth.
Dairy Ingredients Market Segmentation Analysis:
By Form:
By Type:
Milk Powder

Whey Ingredients

Milk Protein Concentrates

Milk Protein Isolates

Lactose & Derivatives

Caasein & Caseinates

Milk Protein Hydrolysates
By Application:
Bakery & Confectionery

Dairy products

Convenience Foods

Infant Milk Formulas

Sports & Clinical Nutrition
Geographical Segmentation Analysis:
North America - the United States and Canada

Europe - United Kingdom, Spain, Germany, Italy, and France

The Asia Pacific - India, Japan, China, Australia, Singapore, Malaysia, South Korea, New Zealand, and Southeast Asia

Latin America - Brazil, Argentina, Mexico, and Rest of LATAM

The Middle East and Africa - Africa and Middle East (Saudi Arabia, UAE, Lebanon, Jordan, Cyprus
Regional Analysis:
The market for dairy ingredients finds coverage in Europe, North America, Latin America, Asia Pacific and the Middle East and Africa. Asia-Pacific is the fastest-growing region in the market due to events such as the increase in disposable income of the population in emerging markets, including China, India, Bangladesh, Thailand, Malaysia and Indonesia. The Asia-Pacific dairy ingredients market is likely to account for a large part of sales in the global business and is expected to maintain its leadership during the forecast period. As people's health awareness increases, demand for nutritious food and drinks is supposed to increase, and it is expected to lead the market for dairy ingredients in the Asia Pacific. Changes in local eating habits are anticipated to drive regional growth during the outlook period. In addition, favorable government regulations are foreseen to boost investment in the region's food and beverage industry.
European demand was 3,439.2 kilotons. Increased spending by sports professionals and people working on nutritional products in Germany, France, the UK and Russia to improve muscle strength is expected to promote the use of milk powder as a functional ingredient. MEA is expected to grow at an average annual rate of 3.1% from 2016 to 2024. It is presumed to break new ground during propensity movement forecasts in the upstream oil and gas sector to facilitate investment in the food sector and national drinks by governments of countries in the Middle East such as Saudi Arabia, United Arab Emirates and Qatar.
Top Leading Company:
The product innovations in Nestlé are foreseen to stimulate the use of dairy ingredients as a functional element as demand for dairy products increases in emerging markets, including China and India.
Key Players in the Market:
Major Key Players in the Global Dairy Ingredients Market are
Frieslandcampina

Fonterra Co-Operative Group Limited

Dairy Farmers of America

Arla Foods

Glanbia PLC

Euroserum

Groupe Lactalis

Saputo Inc

Devondale Murray Goulburn

Volac International Limited