Dairy Blends Market Size, Growth, Forecast (2023-2028)
The global Dairy Blends Market size was worth US$ 2.8 billion in 2022, and it is estimated to reach a valuation of US$ 3.56 billion by the end of 2028, rising at an annual compound rate of 8.1% between 2023 and 2028. The availability of numerous flavors drives the demand for dairy blends across the world.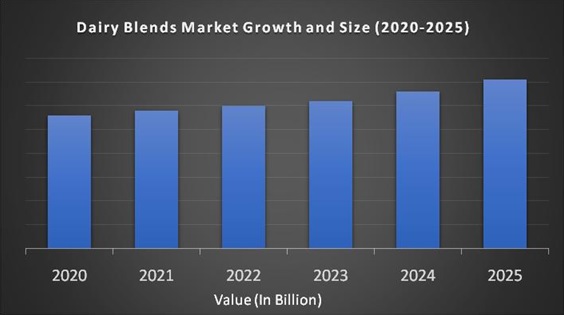 Market Overview:
The concentrated cream mixture mixed with butter is called the Dairy Blends. They consist of butter or processed fat blends without saturated fat. Dairy blends contain vegetable oils so that they can be spread on bread. They can be mixed with other ingredients such as sugar, salt, aromas, spices and other vegetable oils according to the taste and preferences of the consumer. Dairy blends are dairy blends made from thick creams of vegetable oils, cocoa, almonds, or other non-dairy products. It is made from a butter mixture mixed with vegetable oil or processed butter fat without saturated fat.
The Dairy Blends improves the pure and practical flavor of the product. However, mixing with other protein sources offers nutritional benefits to consumers. Dairy products have become an integral part of daily meals because they provide flavor and health to consumers. Dairy mixes are widely used in a variety of industries, including frozen desserts, chocolate and confectionery, infant nutrition and baby food, dietary supplements, and beverage industries.
Recent Developments in Dairy Blends Industry:
In August 2019, Dairy Farmers of America (DFA) launched a product line that combines blends of dairy and vegetable milk. There are five variants: Dairy Plus Original, Dairy Plus Almond Van unsweetened, Dairy Plus Almond Sweetened Vanilla, Dairy Plus Almond Chocolate, Dairy Plus Almond Oat Original. The company aims to expand its current portfolio with this launch.

In September 2019, the Dairy Farmers of America brand launched an innovative line of mixed dairy drinks with oatmeal and almonds. This version allows end-users to benefit from dairy and vegetable alternatives. This new brand will help you increase your product line and your company's sales.
REPORT COVERAGE:
| | |
| --- | --- |
| REPORT METRIC | DETAILS |
| Market Size Available | 2022 – 2028 |
| Base Year | 2022 |
| Forecast Period | 2023 - 2028 |
| CAGR | 8.1% |
| Segments Covered | By Type, Form, Application and Region |
| Various Analyses Covered | Global, Regional & Country Level Analysis, Segment-Level Analysis, DROC, PESTLE Analysis, Porter's Five Forces Analysis, Competitive Landscape, Analyst Overview on Investment Opportunities |
| Regions Covered | North America, Europe, APAC, Latin America, Middle East & Africa |
| Market Leaders Profiled | Anchor, Agri-Mark, Dohler GMB, Agropur Cooperative, Fonterra Cooperative, Koninklije viv Buisman B.V, Advanced Food Products, Hormel Foods Corp, All American Foods Inc and Others. |
Dairy Blends Market Growth:
Due to the increased health awareness among customers and the nutritional benefits of these products, consumers have been able to opt for dairy blends due to various health benefits, such as improved immune function and a lower risk of many diseases such as diabetes.
Drivers:
Dairy Blends are mainly used in infant formulas, ice creams and yogurt premixes. The rising birth rate has increased the demand for infant formula and baby food. This is supposed to promote market growth during the outlook period. The working female population has witnessed significant growth in recent years due to increased urbanization in countries such as India and China. The busy lifestyle made it difficult for such women to cook baby food. Dairy mixes are an excellent alternative to traditional baby foods, such as rice and porridge, since the cooking time of baby foods is shortened. In addition, this product contains all the essential nutrients necessary for the healthy growth of the baby. Dairy mixes are a healthier alternative to traditional dairy products like whole milk. They contain all the critical dairy nutrients and are low in fat. This advantage has increased the popularity of the products among consumers with disabilities, such as obesity and high cholesterol levels. This is expected to increase demand for the product, driving the market growth during the forecast period.
Dairy mixes are used with bakery products such as pieces of bread as toppings or spreads. These mixtures can be mixed with salt, sugar or flavors according to the taste and preferences of the consumer. Therefore, manufacturers are focusing on mixing dairy products with innovative flavors. This is assumed to increase demand for the product during the prediction period. Due to changes in social and economic patterns, urbanization, purchasing power and awareness of healthy foods, changes in existing eating patterns and eating habits, and growing desire, demand for mixed dairy products are increasing rapidly. They are especially popular with the working class, teens, and singles. Many popular snacks like French fries, candy, and snack mixes are high in calories, fat, and excess sugar. Healthy alternatives, like dairy snacks, are conveniently taken on the go and, due to their high nutritional density, lead the dairy mix market by providing vitamins, minerals and energy that fuel the body.
Restraints:
To manufacture dairy mixes, the final product must meet the standards provided by the Codex Alimentarius Commission. This may be a potential threat to the global market during the expected period. The valuable benefits of the product and the perception of a drop in the global price of Dairy Blends products are some of the challenges that limit the growth of the market. Concerns about the deterioration in the taste of consumable products among manufacturers of Dairy Blends are one of the challenges of the industry.
Dairy Blends Market Segmentation Analysis:
By Type:
Dairy/Non-Dairy Ingredients

Dairy Mixtures

Dairy as Functional Ingredient

Dairy as carrier

Others
By Form:
By Application:
Yogurt

Bakery

Feed

Beverage

Infant formula

Cheese Blends

Ice Cream
Geographical Segmentation Analysis:
North America - the United States and Canada

Europe - United Kingdom, Spain, Germany, Italy, and France

The Asia Pacific - India, Japan, China, Australia, Singapore, Malaysia, South Korea, New Zealand, and Southeast Asia

Latin America - Brazil, Argentina, Mexico, and Rest of LATAM

The Middle East and Africa - Africa and Middle East (Saudi Arabia, UAE, Lebanon, Jordan, Cyprus)
Regional Analysis:
The Asia Pacific dairy blends market had the largest share of 38.0% in 2018. Most of the demand for dairy mixes was driven by high fertility rates, led by China, and the increase in infant foods and formulas. Also, the world's leading suppliers of dairy products are located in Australia and New Zealand. Additionally, dairy blends are cheaper, more comfortable to store, and have a longer shelf life than alternative products such as milk and butter. This is expected to increase the growth of the dairy mix market during the forecast period.
North America dairy blends market had the second-largest share in 2018, with higher consumption of dairy products in the region. However, due to strict regulations imposed by FAO on these products, the market is not presumed to grow significantly. In addition, the introduction of dairy substitutes, such as foods and beverages such as soy, is expected to hamper the market growth in North America and Europe. Latin America, the Middle East and Africa are anticipated to experience significant growth, as many manufacturers focus on increasing sales by taking advantage of underdeveloped countries in the region. However, market growth in these countries may be painful in the outlook period due to consumer preferences for dairy products and traditional forms.
Key Players in the Market:
Major Key Players in the Global Dairy Blends Market are
Anchor

Agri-Mark

Dohler GMB

Agropur Cooperative

Fonterra Cooperative

Koninklije viv Buisman B.V

Advanced Food Products

Hormel Foods Corp

All American Foods Inc.