Dairy Whitener Market Size, Growth, Forecast (2023-2028)
The Global Dairy Whitener Market size is valued at US$ 10 Billion in 2022 and is anticipated to increase at US$ 17 Billion by 2028, with a growing CAGR 6% of in the next six years.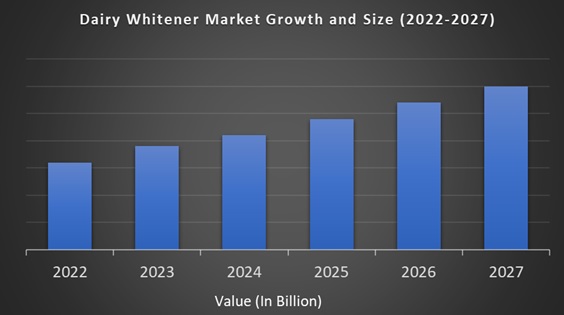 Market Overview:
Dairy whitener, also termed as milk powder, is extensively employed as a substitute to milk in beverages like tea and coffee. They are also used in other foods such as hot chocolate, puddings, soups, and sauces. In addition to whitening, dairy bleaching agents improve the overall flavor by adding mouthfeel, body, and flavor to added beverages. They are available in liquid, powder or condensed form and can vary greatly in fat and sugar content. Dairy bleach is manufactured using a spray drying method in cow/buffalo milk or a mixture of different milks from multiple sources. The liquid is removed from the milk and can be easily used in the preparation of tea or coffee by adding sugar or sweeteners. They are available in powder or liquid form.
Recent Developments in Dairy Whitener Industry:
In August 2017, the FSSAI issued guidelines for the operation of the revised regulations regarding the revised standards for milk and dairy products (including dairy bleaching agents).

Arla Food, a farmer-owned dairy cooperative, is expected to invest around € 52.7 billion for sustainable growth and respond to growing demand for dairy products.
REPORT COVERAGE:
| | |
| --- | --- |
| REPORT METRIC | DETAILS |
| Market Size Available | 2022 – 2028 |
| Base Year | 2022 |
| Forecast Period | 2023 - 2028 |
| CAGR | 6% |
| Segments Covered | By Application, Distribution Channel and Region |
| Various Analyses Covered | Global, Regional & Country Level Analysis, Segment-Level Analysis, DROC, PESTLE Analysis, Porter's Five Forces Analysis, Competitive Landscape, Analyst Overview on Investment Opportunities |
| Regions Covered | North America, Europe, APAC, Latin America, Middle East & Africa |
| Market Leaders Profiled | Nestlé SA, Britannia Industries Ltd, Mother Dairy Fruit & Vegetable Private Limited, Gujarat Cooperative Milk Marketing Federation Ltd, Nutshell, Fonterra, Danone, Amul, Arla Foods, Kraft Heinz and Others. |
Dairy Whitener Market Growth:
The global dairy whitening market is expected to be driven by increased consumption of tea and coffee across the globe.
Drivers:
The global dairy whitening market is expected to grow at an impressive growth rate during the conjecture period as tea and coffee consumption increases worldwide. Compared to fresh milk, additional features like portability are accelerating the expansion of the dairy whitening industry around the world. The increased preference for other low-dairy beverage alternatives will have a major impact on the dairy whitening market, leading to slow consumption in the USA and Europe. Along with the 'lactose intolerance' factor, an increase in public health awareness leads to a decrease in consumption levels as the market share of other beverages such as coffee and bottled water increases. However, dairy whitening manufacturers can reverse the decline curve in Western countries with new product innovations, including organic and specialty transformations. Population growth, growth in disposable income, urbanization rates, ease of use and storage, poor lifestyles, and changes in eating habits are some of the factors that expand the growth of the market. The market is primarily driven by increased consumption of dairy ingredients with superior bleaching ingredients, with additional sugars that are readily available for tea or coffee. In addition to whitening, dairy bleaching agents enhance the overall flavor of the product by adding flavor and aroma to the added beverage. The growing demand for fast food is due to the busy agenda of consumers. This contains various processed and packaged foods that have an extended shelf life and easy usage. Therefore, consumer preferences for these foods are more geared towards dairy bleaching agents than normal milk.
Additionally, dairy bleach offers a number of advantages over regular milk, such as convenience, portability, and long shelf life, as the number of workers seeking a convenient and healthy alternative increases, strengthening the global dairy whitening market. Increment in shelf life, easy handling, and the ready-to-use form are the crucial aspects of driving their consumption. Furthermore, as the demand for improved milk protein and fat content increases, it is expected to provide innovation opportunities for dairy whitening manufacturers and develop new product technologies. Manufacturers are investigating 'ultrafiltration' techniques that use buffalo milk to produce medium-fat, protein-rich dairy bleaching agents for rich, sensational quality. The infant formula industry is anticipated to offer a huge opportunity for the global dairy whitening market growth. Because of its application in the infant formula, the increased sales of infant formula directly impact the need for dairy whitener agents over the calculated period. Factors such as a rise in the population birth rate and a decline in overall mortality are resulting in an increase in the child population, are expected to drive the global dairy whitening market.
Restraints:
With increased health awareness, consumers who prefer dairy whitening agents over milk and conventional dairy products can hinder the growth of the dairy whitening market. Furthermore, the lack of product awareness and the presence of counterfeit products in developing countries in Asia Pacific, the Middle East and Africa have hampered the growth of the global market.
Dairy Whitener Market Segmentation Analysis:
By Application:
Infant Formula

Confectionaries

Bakeries

Nutritional Foods
By Distribution Channel:
Convenience Stores

Supermarkets and Hypermarkets

Food and Drinks Specialists
Geographical Segmentation Analysis:
North America - the United States and Canada

Europe - United Kingdom, Spain, Germany, Italy, and France

The Asia Pacific - India, Japan, China, Australia, Singapore, Malaysia, South Korea, New Zealand, and Southeast Asia

Latin America - Brazil, Argentina, Mexico, and Rest of LATAM

The Middle East and Africa - Africa and Middle East (Saudi Arabia, UAE, Lebanon, Jordan, Cyprus)
Regional Analysis:
By region, the global dairy whitening market has been spread across North America, Europe, Asia Pacific, Latin America and the Middle East, and Africa. The North American dairy whitening market is subdivided into the United States, Canada, and Mexico. North America ranks second in the worldwide dairy whitening market, which is due to coffee drinkers in the area. The United States is the second-largest producer of milk in the world, but the demand for milk and dairy products for whitening in the United States is greater than the supply. North America is expected to occupy a large part of the dairy whitening market during the estimated period as there are several famous market players in the region, increased consumption of tea and coffee, and increased demand for whitening products with a high shelf life. In addition, during the forecast period, demand for dairy whitening products was expected to increase in the Americas.
The European dairy whitening market has been classified in the United Kingdom, France, Italy, Germany, Spain and other countries. The Asia Pacific market is supposed to record the fastest growth rate during the outlook period due to increased consumer spending on convenience products, changes in people's lifestyles, and an increase in market participants in the Asia Pacific region. The dairy whitening market in the Asia Pacific is divided into China, India, Japan, Australia, and New Zealand. The dairy whitening industry in other parts of the world is divided into South America, the Middle East, and Africa. Due to population growth, rapid urbanization, and many factors, such as those who drink significant amounts of tea in countries such as China and India, the dairy whitening market in the Asia Pacific area has expanded.
Key Players in the Market:
Major Key Players in the Global Dairy Whitener Market are
Nestlé SA

Britannia Industries Ltd

Mother Dairy Fruit & Vegetable Private Limited

Gujarat Cooperative Milk Marketing Federation Ltd

Nutshell

Fonterra

Danone

Amul

Arla Foods

Kraft Heinz