Tea Market Size, Growth, Forecast (2022-2027)
The Global Tea Market size was worth US$ 12.63 billion in 2021, and it is estimated to reach a valuation of US$ 20.03 billion by the end of 2027, expanding at an annual compound rate of 5.5% between 2022 and 2027. Market growth will continue during the forecast period due to increased world demand for tea.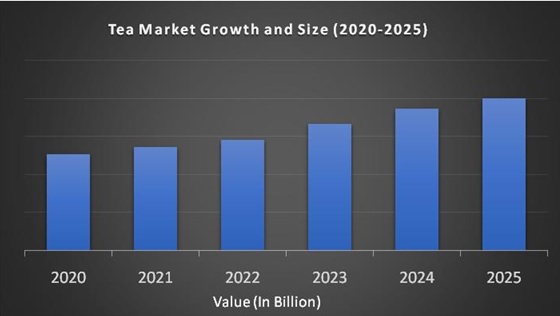 Market Overview:
Tea is one of the most popular and frequently consumed and preferred beverages worldwide. The chemicals, antioxidants, and flavonoids in tea plants help maintain the healthy functioning of the human body. Tea is a traditional drink produced worldwide, which is the oldest and most popular non-alcoholic caffeine-containing beverage. Tea processing is a method of transforming the leaves of a tea plant into dry leaves. Tea has antioxidant properties due to the presence of polyphenols and is practically carcinogenic. It also has anticancer activity and is effective against other cancers such as lung, prostate cancer, esophageal cancer, gastric cancer, and pancreatic cancer.
The tea is rich in fluorine and aluminum, and has different amino acids, develops strong immunity, increases metabolism and lowers cholesterol. There are different types of teas, such as green tea, white tea, black tea, yellow tea, oolong tea, and fermented tea. The most consumed teas are black, green and oolong tea. Each variant of tea has a different smell, taste and shape. The leading technologies involved in tea making are oxidation and drying. The steps involved in tea processing are plucking, wilting, suspending, oxidation or fermentation, fixing, shaping, and drying.
Recent Developments in Tea Industry:
Green Hills introduced herbal teas flavored with rum and honey for consumers seeking mortgage beverages. This product is alcohol-free and rich in licorice, apple, cinnamon, and star anise, giving it an alcohol-like flavor.

In 2019 Multipak Ltd showed impressive performance and better-shared value with famous Luk Yu tea during the review period. The Luk Yu brand was dedicated to the owner and writer Lu Yu (spelling Luk Yu in Mandarin Chinese) during the Tang Dynasty (7th to 10th centuries) and is widely known as the first known tea sage.

The best players of 2019, Unilever, are increasingly focusing on the organic and specialized store strategies of the Lipton and Elephant brands.
REPORT COVERAGE:
| | |
| --- | --- |
| REPORT METRIC | DETAILS |
| Market Size Available | 2021 – 2027 |
| Base Year | 2021 |
| Forecast Period | 2022 - 2027 |
| CAGR | 5.5% |
| Segments Covered | By Type, Packaging, Distribution Channel and Region |
| Various Analyses Covered | Global, Regional & Country Level Analysis, Segment-Level Analysis, DROC, PESTLE Analysis, Porter's Five Forces Analysis, Competitive Landscape, Analyst Overview on Investment Opportunities |
| Regions Covered | North America, Europe, APAC, Latin America, Middle East & Africa |
| Market Leaders Profiled | Associated British Foods Plc, Unilever Group, Tata Global Beverages, Nestle S.A., Barry's Tea Limited, Mcleod Russel India Limited, Hain Celestial Group, Inc, TaeTea, The Republic of Tea, Inc, ITO EN, Ltd., and Others. |
Tea Market Growth:
The demand for premium tea varieties will increase in the coming years, and the willingness of consumers to increase spending by increasing the income available to consumers.
Drivers:
Along with the trend of tea and green tea with numerous flavors, the growing number of tea-preferring consumers is driving the growth of the world tea market. It is expected to continue to grow during the prediction period. The components like flavonoids, antioxidants and phytochemicals available in tea help improve various functions of the human body. Increasing awareness of the benefits of drinking tea for patients suffering from combat arthritis, cardiovascular disease and hypertension will pave the way for market growth in the years to come. With an increased awareness of benefits, such as strengthening the immune system, strengthening bones and teeth, cardiovascular disease, reducing the risk of kidney stones and cancer, and controlling blood cholesterol levels, expected to increase demand for products.
If the consumer's disposable income increases and you are willing to invest more money in various products, manufacturers can introduce premium and exclusive blends. They have introduced a variety of healthy ingredients into tea blends with the goal of general health conditions like obesity, diabetes, and heart disorder. Market growth is supposed to accelerate further as applications in the beauty and cosmetics industries increase. The growing popularity of organic tea is supposed to have a positive impact on the growth of the global tea market. Manufacturers improve product quality and flavor through R&D and attract more consumers. Black, green and herbal teas are the prominent types of products for consumers around the world.
Green tea is famous for its various antioxidant properties, which is why pregnant women increasingly consume it, health-conscious people and the elderly. Instead of soft drinks, increased acceptance of tea, especially among health-conscious consumers, is an essential factor driving market growth. Based on its low caffeine and high antioxidant content, tea is an excellent drink for consumers of all ages. Higher demand for products is assumed to foster market innovation. However, tea consumption is presumed to increase worldwide. Also, the market will strengthen during the forecast period if there are various flavors and types of tea available at reasonable prices.
Restraints:
Changes in consumer preferences and fluctuations in labor wages can hinder the market growth. Furthermore, an increase in coffee consumption will serve as a significant limitation in the market. Other factors, such as resource limitations and climate change, can negatively affect the market.
Tea Market Segmentation Analysis:
By Type:
Green Tea

Black Tea

Fruit/Herbal Tea
By Packaging:
Plastic Containers

Loose Tea

Paper Boards

Aluminium Tin

Tea Bags
By Distribution Channel:
Supermarkets

Speciality Stores

Convenience Stores

Online Stores
Geographical Segmentation Analysis:
North America - the United States and Canada

Europe - United Kingdom, Spain, Germany, Italy, and France

The Asia Pacific - India, Japan, China, Australia, Singapore, Malaysia, South Korea, New Zealand, and Southeast Asia

Latin America - Brazil, Argentina, Mexico, and Rest of LATAM

The Middle East and Africa - Africa and Middle East (Saudi Arabia, UAE, Lebanon, Jordan, Cyprus)
Regional Analysis:
By region, the Asia Pacific region is anticipated to be the fastest-growing region in terms of revenue. Emerging countries are seeing increasing demand for processed foods along with an increasing population, and demand for tea is expected to increase in the region. Developed countries in North America and Europe are assumed to grow significantly due to increased consumer preference for tea and the popularity of healthy beverage options. The Middle East and Africa regions are supposed to show significant growth during the outlook period due to increased demand for tea by foreigners who love tea.
North America is expected to post an average annual growth rate of 5.9% from 2019 to 2025. Products from companies such as Twinings, Numi Organic Tea, and Tata Global Beverages are likely to be readily available. Indian specialty store Teabox has released exclusive teas using only organic, all-natural ingredients that are refrigerated to preserve the freshness and odor of the products. As a result, these products are more expensive than ordinary products. The Middle East and Africa (MEA) tea market are likely to expand to the fastest CAGR of 7.3% during the forecast period. Countries like Turkey and Iran are some of the best consumers in the world. Growth is assumed to accelerate further due to rising per capita income, increased awareness of product benefits, and changing food and beverage trends.
Leading Company:
Tata Global Beverages and ApeejaySurrendra Group produce a wide range of high-end consumer products in India and across the world.
Key Players in the Market:
Major Key Players in the Global Tea Market are
Associated British Foods Plc.

Unilever Group

Tata Global Beverages

Nestle S.A.

Barry's Tea Limited

Mcleod Russel India Limited

Hain Celestial Group, Inc

TaeTea

The Republic of Tea, Inc.

ITO EN, Ltd.
1. Introduction
1.1 Market Definition
1.2 Scope of the report
1.3 Study Assumptions
1.4 Base Currency, Base Year and Forecast Periods
2. Research Methodology
2.1 Analysis Design
2.2 Research Phases
2.2.1 Secondary Research
2.2.2 Primary Research
2.2.3 Data Modelling
2.2.4 Expert Validation
2.3 Study Timeline
3. Report Overview
3.1 Executive Summary
3.2 Key Inferences
4. Market Dynamics
4.1 Impact Analysis
4.1.1 Drivers
4.1.2 Restraints
4.1.3 Opportunities
4.2 Regulatory Environment
4.3 Technology Timeline & Recent Trends
5. Competitor Benchmarking Analysis
5.1 Key Player Benchmarking
5.1.1 Market share analysis
5.1.2 Products/Service
5.1.3 Regional Presence
5.2 Mergers & Acquisition Landscape
5.3 Joint Ventures & Collaborations
6. Market Segmentation
6.1 Tea Market, By Type
6.1.1 Green Tea
6.1.2 Black Tea
6.1.3 Fruit/Herbal Tea
6.1.4 Market Size Estimations & Forecasts (2022 - 2027)
6.1.5 Y-o-Y Growth Rate Analysis
6.1.6 Market Attractiveness Index
6.2 Tea Market, By Packaging
6.2.1 Plastic Containers
6.2.2 Loose Tea
6.2.3 Paper Boards
6.2.4 Aluminium Tin
6.2.5 Tea Bags
6.2.6 Market Size Estimations & Forecasts (2022 - 2027)
6.2.7 Y-o-Y Growth Rate Analysis
6.2.8 Market Attractiveness Index
6.3 Tea Market, By Distribution Channel
6.3.1 Supermarkets
6.3.2 Speciality Stores
6.3.3 Convenience Stores
6.3.4 Online Stores
6.3.5 Market Size Estimations & Forecasts (2022 - 2027)
6.3.6 Y-o-Y Growth Rate Analysis
6.3.7 Market Attractiveness Index
7. Geographical Landscape
7.1 Global Identity Governance and Administration Market, by Region
7.2 North America - Market Analysis (2022 - 2027)
7.2.1 By Country
7.2.1.1 USA
7.2.1.2 Canada
7.2.2 By Type
7.2.3 By Packaging
7.2.4 By Distribution Channel
7.3 Europe
7.3.1 By Country
7.3.1.1 UK
7.3.1.2 France
7.3.1.3 Germany
7.3.1.4 Spain
7.3.1.5 Italy
7.3.1.6 Rest of Europe
7.3.2 By Type
7.3.3 By Packaging
7.3.4 By Distribution Channel
7.4 Asia Pacific
7.4.1 By Country
7.4.1.1 China
7.4.1.2 India
7.4.1.3 Japan
7.4.1.4 South Korea
7.4.1.5 South East Asia
7.4.1.6 Australia & NZ
7.4.1.7 Rest of Asia-Pacific
7.4.2 By Type
7.4.3 By Packaging
7.4.4 By Distribution Channel
7.5 Latin America
7.5.1 By Country
7.5.1.1 Brazil
7.5.1.2 Argentina
7.5.1.3 Mexico
7.5.1.4 Rest of Latin America
7.5.2 By Type
7.5.3 By Packaging
7.5.4 By Distribution Channel
7.6 Middle East and Africa
7.6.1 By Country
7.6.1.1 Middle East
7.6.1.2 Africa
7.6.2 By Type
7.6.3 By Packaging
7.6.4 By Distribution Channel
8. Key Player Analysis
8.1 Associated British Foods Plc.
8.1.1 Business Description
8.1.2 Products/Service
8.1.3 Financials
8.1.4 SWOT Analysis
8.1.5 Recent Developments
8.1.6 Analyst Overview
8.2 Unilever Group
8.3 Tata Global Beverages
8.4 Nestle S.A.
8.5 Barry's Tea Limited
8.6 Mcleod Russel India Limited
8.7 Hain Celestial Group, Inc
8.8 TaeTea
8.9 The Republic of Tea, Inc.
8.10 ITO EN, Ltd.
9. Market Outlook & Investment Opportunities
Appendix
List of Tables
List of Figures
Global Tea Market By Region, From 2022 - 2027 ( USD Billion )

Global Tea Market By Type, From 2022 - 2027 ( USD Billion )

Global Green Tea Market By Region, From 2022 - 2027 ( USD Billion )

Global Black Tea Market By Region, From 2022 - 2027 ( USD Billion )

Global Fruit/Herbal Tea Market By Region, From 2022 - 2027 ( USD Billion )

Global Tea Market By Packaging, From 2022 - 2027 ( USD Billion )

Global Plastic Containers Market By Region, From 2022 - 2027 ( USD Billion )

Global Loose Tea Market By Region, From 2022 - 2027 ( USD Billion )

Global Paper Boards Market By Region, From 2022 - 2027 ( USD Billion )

Global Aluminium Tin Market By Region, From 2022 - 2027 ( USD Billion )

Global Tea Bags Market By Region, From 2022 - 2027 ( USD Billion )

Global Tea Market By Distribution Channel, From 2022 - 2027 ( USD Billion )

Global Supermarkets Market By Region, From 2022 - 2027 ( USD Billion )

Global Speciality Stores Market By Region, From 2022 - 2027 ( USD Billion )

Global Convenience Stores Market By Region, From 2022 - 2027 ( USD Billion )

Global Online Stores Market By Region, From 2022 - 2027 ( USD Billion )