Bubble Tea Market Size Analysis 2021-2026:
Bubble Tea Market size is expected at USD 22.02 billion in 2021 and is anticipated to extent an over of USD 3.39 billion by the end of the assessment period. The Bubble Tea Market is estimated to experience reasonable growth to record a CAGR of 7.2% throughout the estimate period (2021-2026)..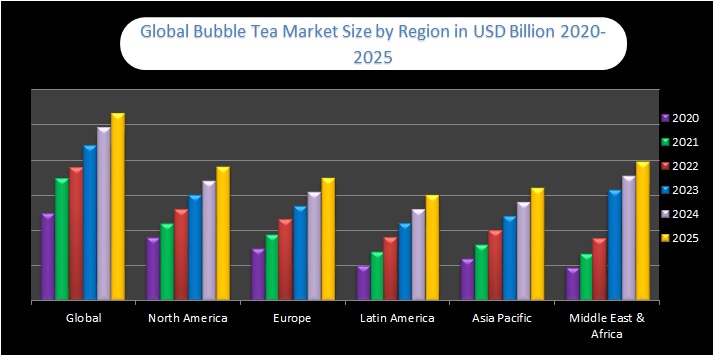 What is Bubble Tea?
Bubble tea has different names, it also known as bubble milk tea, pearl milk tea, boba tea, and simply boba. In the 1980s in Tainan and Taichung invented these Taiwanese tea-based drinks. Maximum of the bubble tea recipes have a tea base added with the milk or fruits. Bubble tea has stood attainment grip in emerging markets, owing to growth in its attractiveness. Moreover, evolution in health consciousness and upsurge in acceptance of healthy beverages such as black tea, white tea, green tea, and oolong tea amongst users drive the Bubble Tea Market growth.
Market Drivers and Restraints:
There are different types and flavors available in the market, such as fruit flavors, green jasmine, and black tea. Fruit flavored tea has different types, such as fruity cream drink and sweet fruit drink. The lactose intolerant population has the option of consuming black tea, green jasmine, green tea, and others. The availability of different types of boba tea gives the consumer more options. Its outlets are also launching new flavors and formulations to attract consumers.
In addition, the movement of millennials towards these products due to their demand for premium tea varieties with unique flavor offerings has contributed to the growth. Diseases such as obesity and diabetes associated with increased sugar intake have led consumers to turn to sugar alternatives such as stevia, agave, and honey. These are the types of natural sweeteners that are added to boba tea to replace or reduce sugar intake. Consumers prefer these products for their beneficial properties, such as antioxidants, anti-inflammatory, and anticancer. Despite the growing demand for this tea as an innovative beverage, the wide availability of other caffeinated beverages such as coffee and coffee consumption trends in Western countries is a limitation. The increasing inclusion of coffee in the diet as an energy booster coupled with its increased convenience of consumption as a ready-to-drink beverage to suit consumers' active lifestyles has led to increased demand.
The variety of convenient coffee categories offers a plethora of innovative coffees such as cold coffee, cold coffee, nitro coffee, and canned carbonated coffee. It has caught the attention of consumers considerably. Furthermore, the availability of many flavors in coffee such as caramel, hazelnut, caramel and vanilla would also hamper the growth of global consumption.
Global Bubble Tea Market is segmented and sub-segmented into the following as:
The bubble tea market is categorized By Base Ingredient, By Flavors, and By Component.
Based on the Base Ingredient segment is sub-classified into Green Tea, Oolong Tea, Black Tea, and White Tea. Based on Flavors, it is subdivided into the coffee flavor, fruit flavor, original flavor, chocolate flavor, and others. And Based on Component, is divided into tapioca pearls, creamer, sweetener, flavor, liquid, and others.
According to a research study, based on Base Ingredient segment, the sub-segment black tea made high revenue in 2019, and also this sub-segment is projected to maintain this flow trend in coming years.
The segment By Flavor, in 2019, the fruit flavor was utmost major segment calculated for the large share in the Global Bubble Tea Market. The segment liquid component was the most prominent segment accounting for the highest share in the bubble tea market
Geographical Analysis of the Global Bubble Tea Market:
The Global Bubble Tea Market is categorized into North America (United States, Canada), Asia Pacific (India, China, Japan, Korea, Singapore, Australia, and Malaysia), Europe (United Kingdom, Italy, Spain, France, Germany, and Landon), Latin America (Brazil, Mexico, and Argentina), Middle East and Africa (United Arab Emirates, Saudi Arabia, and South Africa), and Rest of the world.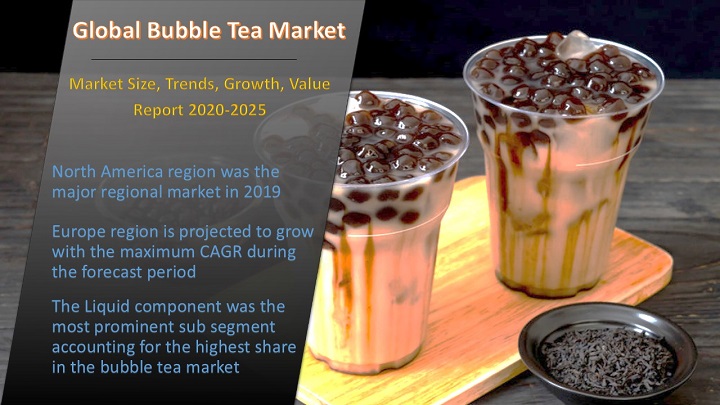 Regional Insights:
Among all regions, the North America region was the major regional market in 2019. North America bubble tea market can be recognized to the increase in cognizance regarding healthy lifestyle and larger consumption of healthy beverages. Europe region is projected to grow with the maximum CAGR during the forecast period.
The origin and reinvention of bubble tea dates back to Taiwan. Subsequently, it spread rapidly to the countries of Asia Pacific in recent years. Currently, the Asia-Pacific region has the largest market share and is expected to grow at a CAGR of 10.07% over the forecast period. Vietnam and Taiwan are expected to make the biggest sales. Many manufacturers are launching new restaurants / cafes to attract consumers and strengthen their market presence. After Asia-Pacific, North America is also expected to have the second largest share during the forecast period.
Countries in North America and Europe are gradually increasing the consumption of this tea due to the increasing popularity of fruity tea drinks. Additionally, there has been an increase in boba stores in the US and UK, which has contributed to the growth of the bubble tea market. Consumers are turning to non-alcoholic and low-alcohol beverages. This changed his preferences for such tasty tea-based drinks. The Middle East and Africa is one of the main emerging regions, which will generate significant opportunities in the bubble tea during the forecast period due to the increase in the consumption of tea and coffee as beverages. Nootropics among college students and the working class population are a key driver for the growth of the market.
The Latin America region is expected to see moderate growth during the forecast period due to increased health awareness and increased adoption of healthy beverages such as green tea, black tea, oolong tea, and white tea between consumers driving the market.
The Major Key Players Covered in the Global Bubble Tea Market report are:
Some of the major players listed in the global bubble tea market report include Bobabox Limited, Bubble Tea House Company, Cuppotee, Fokus Inc., Gong Cha, Lollicup USA, Inc., Sumo's (M) SdnBhd, Ten Ren's Tea Time, The Bubble Tea Company, and Troika JC, Bubble Tea Supply Inc., ChaTime, CoCo Fresh, Quickly, Kung Fu Tea, BobaLoca, Happylemon, Share Tea, T Bun International, Fanale Drinks, Grand Chainly, and Huey-Yuhe Enterprise.
Detailed Segmentation Analysis of the Global Bubble Tea Market:
Bubble Tea Market By Base Ingredient:
Black Tea

Green Tea

Oolong Tea

White Tea
Bubble Tea Market By Flavor:
Original Flavor

Coffee Flavor

Fruit Flavor

Chocolate Flavor

Others
Bubble Tea Market By Component:
Flavor

Creamer

Sweetener

Liquid

Tapioca Pearls

Others
1. Introduction
1.1 Market Definition
1.2 Scope of the report
1.3 Study Assumptions
1.4 Base Currency, Base Year and Forecast Periods
2. Research Methodology
2.1 Analysis Design
2.2 Research Phases
2.2.1 Secondary Research
2.2.2 Primary Research
2.2.3 Data Modelling
2.2.4 Expert Validation
2.3 Study Timeline
3. Report Overview
3.1 Executive Summary
3.2 Key Inferencees
4. Market Dynamics
4.1 Impact Analysis
4.1.1 Drivers
4.1.2 Restaints
4.1.3 Opportunities
4.2 Regulatory Environment
4.3 Technology Timeline & Recent Trends
5. Competitor Benchmarking Analysis
5.1 Key Player Benchmarking
5.1.1 Market share analysis
5.1.2 Products/Service
5.1.3 Regional Presence
5.2 Mergers & Acquistion Landscape
5.3 Joint Ventures & Collaborations
6. Market Segmentation
6.1 Bubble Tea Market, By Base Ingredient
6.1.1 Black Tea
6.1.2 Green Tea
6.1.3 Ooling Tea
6.1.4 white Tea
6.1.5 Market Size Estimations & Forecasts (2019-2024)
6.1.6 Y-o-Y Growth Rate Analysis
6.1.7 Market Attractiveness Index
6.2 Bubble Tea Market, By Flavor
6.2.1 Original Flavor
6.2.2 Coffee Flavor
6.2.3 Fruit Flavor
6.2.4 Market Size Estimations & Forecasts (2019-2024)
6.2.5 Y-o-Y Growth Rate Analysis
6.2.6 Market Attractiveness Index
6.3 Bubble Tea Market, By Component
6.3.1 Flavor
6.3.2 Creamer
6.3.3 Sweetener
6.3.4 Liquid
6.3.5 Market Size Estimations & Forecasts (2019-2024)
6.3.6 Y-o-Y Growth Rate Analysis
6.3.7 Market Attractiveness Index
7. Geographical Landscape
7.1 Global Identity Governance and Administration Market, by Region
7.2 North America - Market Analysis (2018 - 2024)
7.2.1 By Country
7.2.1.1 USA
7.2.1.2 Canada
7.2.2 By Base Ingredient
7.2.3 By Flavor
7.2.4 By Component
7.3 Europe
7.3.1 By Country
7.3.1.1 UK
7.3.1.2 France
7.3.1.3 Germany
7.3.1.4 Spain
7.3.1.5 Italy
7.3.1.6 Rest of Europe
7.3.2 By Base Ingredient
7.3.3 By Flavor
7.3.4 By Component
7.4 Asia Pacific
7.4.1 By Country
7.4.1.1 China
7.4.1.2 India
7.4.1.3 Japan
7.4.1.4 South Korea
7.4.1.5 South East Asia
7.4.1.6 Australia & NZ
7.4.1.7 Rest of Asia-Pacific
7.4.2 By Base Ingredient
7.4.3 By Flavor
7.4.4 By Component
7.5 Latin America
7.5.1 By Country
7.5.1.1 Brazil
7.5.1.2 Argentina
7.5.1.3 Mexico
7.5.1.4 Rest of Latin America
7.5.2 By Base Ingredient
7.5.3 By Flavor
7.5.4 By Component
7.6 Middle East and Africa
7.6.1 By Country
7.6.1.1 Middle East
7.6.1.2 Africa
7.6.2 By Base Ingredient
7.6.3 By Flavor
7.6.4 By Component
8. Key Player Analysis
8.1 Bobabox Limited
8.1.1 Business Description
8.1.2 Products/Service
8.1.3 Financials
8.1.4 SWOT Analysis
8.1.5 Recent Developments
8.1.6 Analyst Overview
8.2 Bubble Tea House Company
8.3 Cuppotee
8.4 Fokus Inc
8.5 Gong Cha
8.6 Lollicup USA
8.7 Ten Ren's Tea Time
8.8 The Bubble Tea Company
9. Market Outlook & Investment Opportunities
Appendix
List of Tables
List of Figures
Global, regional and country-level analysis and forecasts of the study market; providing Insights on the major countries/regions in which this industry is blooming and to also identify the regions that are still untapped
Segment-level analysis in terms of Base Ingredients, Flavor, Component, along with market size forecasts and estimations to detect key areas of industry growth in detail
Identification of key drivers, restraints, opportunities, and challenges (DROC) in the market and their impact on shifting market dynamics
Study of the effect of exogenous and endogenous factors that affect the global market; which includes broadly demographic, economics, and political, among other macro-environmental factors presented in an extensive PESTLE Analysis
Study the micro environment factors that determine the overall profitability of an Industry, using Porter's five forces analysis for analysing the level of competition and business strategy development
A comprehensive list of key market players along with their product portfolio, current strategic interests, key financial information, legal issues, SWOT analysis and analyst overview to study and sustain the market environment
Competitive landscape analysis listing out the mergers, acquisitions, collaborations in the field along with new product launches, comparative financial studies and recent developments in the market by the major companies
An executive summary, abridging the entire report in such a way that decision-making personnel can rapidly become acquainted with background information, concise analysis and main conclusions
Expertly devised analyst overview along with Investment opportunities to provide both individuals and organizations a strong financial foothold in the market
1. Introduction
1.1 Market Definition
1.2 Scope of the report
1.3 Study Assumptions
1.4 Base Currency, Base Year and Forecast Periods
2. Research Methodology
2.1 Analysis Design
2.2 Research Phases
2.2.1 Secondary Research
2.2.2 Primary Research
2.2.3 Data Modelling
2.2.4 Expert Validation
2.3 Study Timeline
3. Report Overview
3.1 Executive Summary
3.2 Key Inferencees
4. Market Dynamics
4.1 Impact Analysis
4.1.1 Drivers
4.1.2 Restaints
4.1.3 Opportunities
4.2 Regulatory Environment
4.3 Technology Timeline & Recent Trends
5. Competitor Benchmarking Analysis
5.1 Key Player Benchmarking
5.1.1 Market share analysis
5.1.2 Products/Service
5.1.3 Regional Presence
5.2 Mergers & Acquistion Landscape
5.3 Joint Ventures & Collaborations
6. Market Segmentation
6.1 Bubble Tea Market, By Base Ingredient
6.1.1 White Tea
6.1.2 Oolong Tea
6.1.3 Green Tea
6.1.4 Black Tea
6.1.5 Market Size Estimations & Forecasts (2021-2026)
6.1.6 Y-o-Y Growth Rate Analysis
6.1.7 Market Attractiveness Index
6.2 Bubble Tea Market, By Component
6.2.1 Tapioca Pearls
6.2.2 Liquid
6.2.3 Sweetener
6.2.4 Creamer
6.2.5 Flavor
6.2.6 Market Size Estimations & Forecasts (2021-2026)
6.2.7 Y-o-Y Growth Rate Analysis
6.2.8 Market Attractiveness Index
6.3 Bubble Tea Market, By Flavor
6.3.1 Chocolate Flavor
6.3.2 Fruit Flavor
6.3.3 Coffee Flavor
6.3.4 Original Flavor
6.3.5 Market Size Estimations & Forecasts (2021-2026)
6.3.6 Y-o-Y Growth Rate Analysis
6.3.7 Market Attractiveness Index
7. Geographical Landscape
7.1 Global Identity Governance and Administration Market, by Region
7.2 North America - Market Analysis (2018 - 2024)
7.2.1 By Country
7.2.1.1 USA
7.2.1.2 Canada
7.2.2 By Base Ingredient
7.2.3 By Component
7.2.4 By Flavor
7.3 Europe
7.3.1 By Country
7.3.1.1 UK
7.3.1.2 France
7.3.1.3 Germany
7.3.1.4 Spain
7.3.1.5 Italy
7.3.1.6 Rest of Europe
7.3.2 By Base Ingredient
7.3.3 By Component
7.3.4 By Flavor
7.4 Asia Pacific
7.4.1 By Country
7.4.1.1 China
7.4.1.2 India
7.4.1.3 Japan
7.4.1.4 South Korea
7.4.1.5 South East Asia
7.4.1.6 Australia & NZ
7.4.1.7 Rest of Asia-Pacific
7.4.2 By Base Ingredient
7.4.3 By Component
7.4.4 By Flavor
7.5 Latin America
7.5.1 By Country
7.5.1.1 Brazil
7.5.1.2 Argentina
7.5.1.3 Mexico
7.5.1.4 Rest of Latin America
7.5.2 By Base Ingredient
7.5.3 By Component
7.5.4 By Flavor
7.6 Middle East and Africa
7.6.1 By Country
7.6.1.1 Middle East
7.6.1.2 Africa
7.6.2 By Base Ingredient
7.6.3 By Component
7.6.4 By Flavor
8. Key Player Analysis
8.1 Chatime Group
8.1.1 Business Description
8.1.2 Products/Service
8.1.3 Financials
8.1.4 SWOT Analysis
8.1.5 Recent Developments
8.1.6 Analyst Overview
8.2 Tiger Sugar Korea
8.3 Chatime Group
8.4 Kung Fu Tea
8.5 Quickly
8.6 CoCo Fresh Tea & Juice
8.7 Gong Cha
8.8 Bubble Tea Supply
9. Market Outlook & Investment Opportunities
Appendix
List of Tables
List of Figures